Are you headed to Pittsburgh, Pennsylvania, soon? If so, you'll want to learn a few things you can do to enjoy the Steel City during your visit. The 63rd-largest city in the United States earned its nickname because it was once the largest steel producer in the world. Today, Pittsburgh is home to technology, manufacturing, and great sports teams like the Pittsburgh Pirates, the Pittsburgh Steelers, and the Pittsburgh Penguins. Read on and discover all the ways to have fun and enjoy the Steel City on your next trip to Pittsburgh.
Strip District
Originally home to mills and factories in the early 19th century, the half-square-mile area northeast of Pittsburgh's central business district is now known as the Strip District. Since many of those businesses left town by the end of the last century, this area has become home to artists, antique dealers, farmers markets, and other vendors. Whether you choose to stay in the Strip District or elsewhere, make sure you research and book your hotel in advance to get the best possible rate. By doing this early, you'll enjoy a stress-free vacation in Pittsburgh.
Andy Warhol Museum
As the largest museum in North America dedicated to one artist, the Andy Warhol Museum is an essential destination on your next trip to Pittsburgh. With 17 galleries and thousands of paintings, prints, sculptures, and photographs, the pop art lover in you will appreciate this museum.
Andy Warhol Museum
117 Sandusky Street
Pittsburgh, PA 15212
Heinz History Center
If you love ketchup and condiments of all kinds, then you might think that the Heinz History Center is all about just that. But you'd be wrong. Instead, the Heinz History Center is the largest history museum in Pennsylvania. Whether you're interested in the history of Western Pennsylvania or maybe the living museum at the Historic Village, you'll find it all here.
Heinz History Center
1212 Smallman Street
Pittsburgh, PA 15222
Duquesne Incline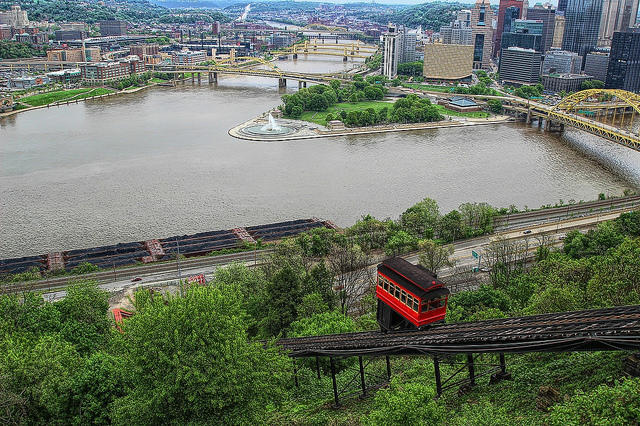 Would you believe that there's a funicular in Pittsburgh? The Duquesne Incline, which scales Mt. Washington, is one to remember. A funicular is a cable railroad, especially one on a mountainside, in which ascending and descending cars are counterbalanced. Ever watch the movie "Flashdance?" If so, you saw it there, and you know you want to reenact scenes from that movie on your trip to Pittsburgh.
"What a feeling
Bein's believin'
I can have it all now
I'm dancing for my life!"
Go ahead and dance your way over to the Duquesne Incline, open Monday through Saturday from 5:30 a.m. to 12:30 a.m. and Sundays and holidays from 7 a.m. to 12:30 a.m. This affordable attraction in Pittsburgh costs only $5 for a roundtrip ticket for adults and $2.50 for children. It's free for Pennsylvania seniors and certain college students.
Duquesne Incline
1197 West Carson Street
Pittsburgh, PA 15219
Pittsburgh Zoo & PPG Aquarium
Did you know that the Pittsburgh Zoo & PPG Aquarium is one of only six zoo and aquarium combinations in the United States? Opened in 1898, the Pittsburgh Zoo has since become a nonprofit organization, but it's still run by the Zoological Society of Pittsburgh. Inside, you'll find a wide variety of animals in the seven sections of the zoo, all of which will appeal to adults and children. You'll find big cats, bears, apes, and more at the Pittsburgh Zoo & PPG Aquarium.
Pittsburgh Zoo & PPG Aquarium
7340 Butler Street
Pittsburgh, PA 15206
How will you enjoy your next vacation in Pittsburgh? Share your trip ideas with me and let me know what you have planned.