Hermitage Vegetarian Restaurant Stockholm
I have a confession to make. I have a thing for vegetarian restaurants. "Well, duh", you say but I'm serious. I love to see how vegetarians eat around the world. During my recent European adventure, the second destination on my trip was Sweden. For my first meal in Stockholm, I headed straight to a vegetarian restaurant I read about online that has a vegan and vegetarian buffet. It sounded fast and simple, which is the perfect combination for me. Here's my Insider's Guide to Hermitage Vegetarian Restaurant Stockholm.
After arriving at my second hotel in Stockholm, Hotel Birger Jarl, I decided to venture out on a 30-minute walk into Gamla Stan (Old Town) for a late lunch/early dinner. It was a free walking tour around Stockholm, so you could stop wherever you wanted to and go off on your own. It worked out pretty well because I got to see some sights and build up an appetite for the next restaurant I was going to go to.
Along the way I had to stop, of course, to take a picture of this little alleyway Ignatiigränd or Mårtin Klink's alley. How could I pass up this shot? I loved how the sun peeked through and left shadows all along the yellow exterior walls of the buildings with the perfectly lined up cobblestone below. I took a few quick pictures and it was time to move on as my stomach was rumbling and demanding food.
Before leaving the hotel I had plotted out my directions on my iPhone, but somehow I ended up in that alley and arrived from the rear of Hermitage Vegetarian Restaurant. It was only when I turned the corner that I could see the front of the restaurant and the bright green signage. The big windows all around the restaurant offer great views and loads of natural light inside. Depending on the weather, you might want to sit outside as they do have outdoor seating available.
While I arrived a little before 5 pm, I was a little surprised to find the restaurant empty but for one guy on the opposite side of the restaurant with his face buried in his food. I stood there looking around, wondering what to do or if the restaurant was even open. I decided to walk over to the counter to see if someone was behind it and it was then that the man rose from his seat and went behind the counter to wait on me. I asked about the buffet, he told me the price, I paid, and he went back to eating. The price was SEK 130 (or about $15 US), which might seem pricey, but that's not an outrageous price for a meal in Stockholm. My friend owns a restaurant and her prices are similar to this. She decided to Start a small business and she loves every aspect of it! I don't mind paying a bit more money if I'm receiving quality food.
With no clear instructions on what to do other than to grab a plate from the counter, I realized that if I wanted to know about any of the dishes, I would have to ask. Before looking at any of the food to see if I had questions, I first put my things down at a table near the front of the restaurant and returned to the buffet. I then took a plate from the counter and made my way toward the salad bar and hot buffet cart. As nothing is labeled on the buffet, you have to use your judgment as to whether or not you think you might like something.
TSG Tip: While the majority of the food served on the buffet at Hermitage Vegetarian Restaurant is vegan, some dishes are vegetarian.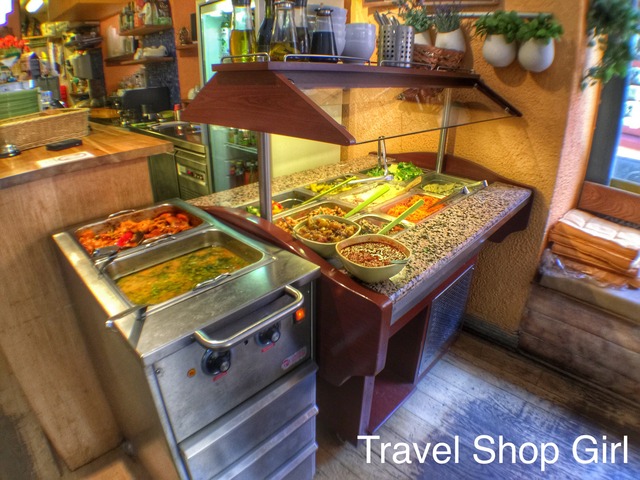 The buffet, while small, does offer both hot and cold items. On the cold side of the buffet are cold prepared salads, hummus, and chutneys, which were rather self-explanatory. On the day that I visited, the hot side contained a ratatouille dish and a lentil soup. I chose both hot dishes, some hummus, a bean salad, some kind of slaw, and a piece of bread. Bread, butter, and flatware are available at the counter near the desserts. You can order something to drink when you pay for the buffet, but I chose the mint and lemon-infused water, which is free and available behind the counter.
TSG Tip: The eclectic global food offerings on the buffet rotate regularly at Hermitage , so you'll probably find different options each time you visit.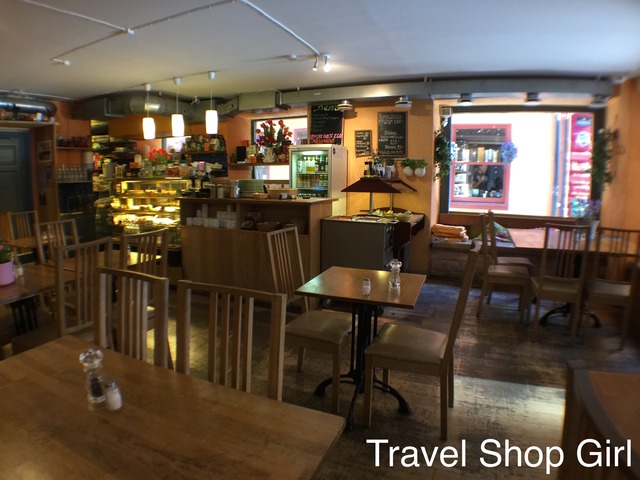 With nearly every seat open inside the restaurant, I found a spot near the front window at a large communal table with great views toward the street. The restaurant feels like someone's home and is small and cozy with hardwood floors and lots of decorative pillows on the benches. But it's the windows that make this restaurant light, bright and inviting on the inside. I couldn't pass on the free WiFi, a nice little benefit of visiting this restaurant.
My meal began with a bowl of lentil soup, which was a little on the over-seasoned (way too much dill) and spicy side, which I didn't mind at all, but could be alarming for anyone who doesn't like spice. I'm not usually that picky, but lentil soup is one of those great basic soups that you usually can't ruin. Sometimes it's best to let the ingredients do all the talking and not drown the rich flavor with too much seasoning. The other items on my plate, from the cold salads to the ratatouille were underseasoned and bland, but with salt and pepper available, it was more than edible.
The biggest disappointment came after I was nearly finished with my meal and the restaurant began filling up with customers. It was obvious that some of these people had been to Hermitage before because they knew exactly what to do. So imagine my surprise when I saw someone reach down below the hot buffet and open the drawers. Yes, there was more food including potatoes and rice, which would have been a nice accompaniment to my meal. I wondered if the lentil soup was soup at all or if it was Lentil Daal that was to be served over rice. Oh well…
While I was ecstatic to find a vegetarian restaurant like Hermitage in Stockholm, the old school vegetarian buffet has been done to death. It wasn't the worst vegetarian restaurant I've ever visited, but it certainly wasn't the best. I did see others loading up on food since it's an all you can eat, but I prefer quality over quantity. Overall I'd say it served its purpose, which was to provide me with a vegetarian meal (where was the protein?), but in the 21st century, I'm expecting more and so should you.
Hermitage
Address: Stora Nygatan 11, 111 27 Stockholm, Sweden
Phone:+46 8 411 95 00
Website: https://gastrogate.com/restaurang/hermitage/
Email: aramavagian@yahoo.se
Hours:
Monday to Friday: 11:00 to 20:00
Saturday and Sunday: 12:00 to 20:00