Taking the Ferry to St. John
My last morning at the Ritz-Carlton in St. Thomas was quickly coming to a close and as I readied for my trip to St. John, I was glad that the weather was cooperating. Once I am back at home I will have a more detailed review of the Ritz-Carlton including more pictures. Our driver in St. Thomas, Mr. Campbell Rey, met us once again to escort us this time to the ferry terminal at Red Hook. If you are looking to take the ferry to St. John, you can take it as an individual passenger or you can take your car over on a separate ferry. The charge per car is $45 for a roundtrip ticket on the car barge between Red Hook (St. Thomas) and Cruz Bay (St. John).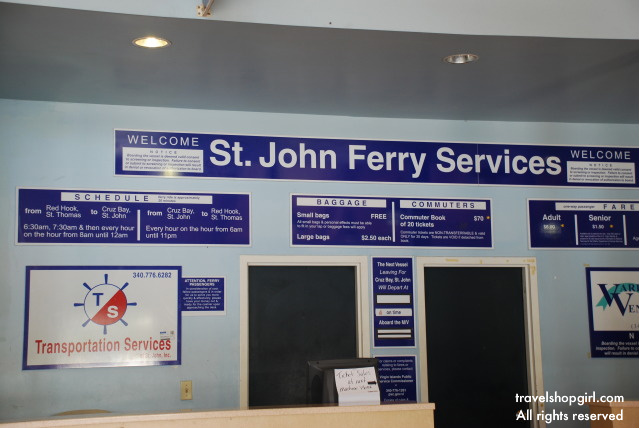 If you don't want to drive, don't worry as you simply pay $6 per person ($1 for children 2-11) for a one-way ticket from Red Hook to Cruz Bay. You are allowed a carry on bag, but if you have bigger bags you'll need to pay $2.50 per bag at the counter and bring those stubs along with your ferry ticket when boarding the ferry. The ferry has regular service starting at 6:30 am, 7:30 am, and then hourly from 8 am until midnight. Please note that this is a different terminal from the one in Charlotte Amalie. You can read more about the different ferry services offered here.
You'll definitely want to arrive with more than enough time to spare in order to purchase your tickets and not have to run to make the ferry. While you wait, there is a rum bar and bathrooms, but that's pretty much it to keep you occupied until the ferry is ready for you to board. No overhead announcements are made when it's time to board. You'll simply notice that someone is collecting tickets and that's when you know it's time to go. I had two bags to check so after giving my ticket to the ticket collector, she tagged my bags and I brought them to an area by the front of the ferry and they were then loaded onto the boat.
After that, I jumped on and went up to the top of the boat to get a good seat outside in the sun. The Capitol Venture isn't a fancy boat, but she does what she is supposed to do, which is to carry passengers back and forth between St. Thomas and St. John in about 20 minutes time. If you have ever taken a tender while on a cruise ship, this is the same kind of boat service that the ferry offers.
The views of the surrounding islands mixed with the amazing blue waters is unbelievable. I don't know how anyone could take this trip and A) not appreciate the beauty but B) not have a camera to take photos. I felt like I never had my finger off the shutter the entire trip! There were sailboats out in the water as well and I felt as if someone was framing each and every shot specifically for me.
Soon the 20-minute ride was over and we were quickly docked at Cruz Bay on St. John. I walked down the steps and out the door where I waited for my bags. Don't forget to tip the young men that help you load and unload your bag. It's the least you can do for good service, right? We only had to walk a few feet before we met our next driver, Kenneth Louis, our driver for our two days in St. John and so our adventure on St. John began. More information about this great little island to follow.