Imagine waking up to this view every morning! There's something about seeing the Sydney Opera House that takes your breath away, at least it did for me. I have always wanted to see it up close and to not only do that, but have a view of it from my hotel room only made my stay in Sydney and at the Sydney Harbour Marriott Hotel at Circular Quay that much more special. If you haven't already read the first part of my review of this hotel with a perfect location, check it out to see great pictures of the hotel and my room.
After getting situated in our room, we decided to grab something quick to eat in the bar lobby at Macquarie Lounge. The tasty hummus and olive tapenade along with Grissini sticks and bread were tasty and the perfect accompaniment to the cocktail I ordered. The marinated peppers weren't too shabby either.
And so the question then is what cocktail did you order? I had the Strawberry Lush: Muddled fresh strawberries, strawberry liqueur, topped with sparkling wine. It was light and fresh and a completely girly kind of drink. You can carry on a conversation or sit back, relax, and people watch while you nibble on your food and have a few cocktails.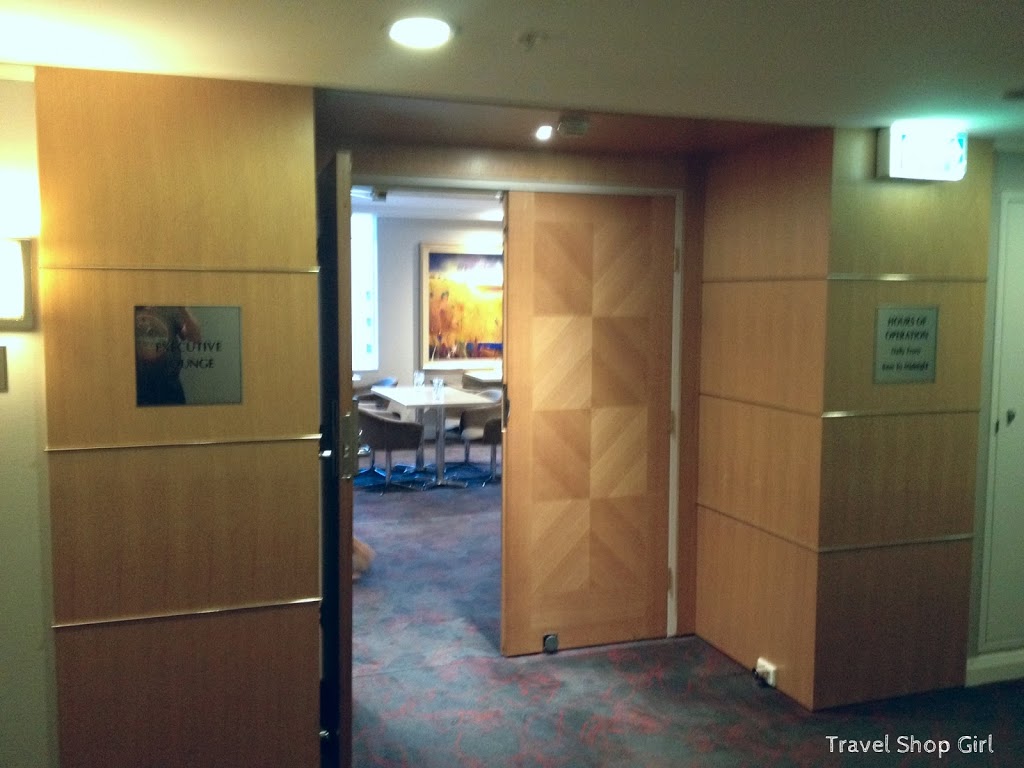 For breakfast the next morning, we ventured up to the Executive Lounge located on the thirtieth floor of the hotel. This is not the only restaurant in the hotel for breakfast, but because we're Marriott Reward members, we are entitled to use the Executive Lounge during our stay.
All I could think about was coffee and I was elated when I found the beautifully lit Schaerer espresso machine sitting all alone waiting for me to use it. Why thank you! Yes, I will have a couple of lattes!
In the front room when you enter are several tables with an assortment of self serve baked goods like bagels, muffins, croissants, and more.
Opposite the baked goods table is another area with juice and cereal. On the other side of this wall is a an area with more traditional type breakfast foods like eggs, breakfast meat, etc. and employees there to wait on you, but I was running in and grabbing coffee when I snapped a few pictures. They also offer yogurt, fruits salad, cold meat and fish plater in addition to scrambled eggs and the like.
I was completely fascinated that not only did they offer fresh honey, but that they had a honeycomb with fresh honey oozing slowly out that you could use in your breakfast. If you love honey, then you would definitely want some in your tea, cereal, or maybe even with your toast.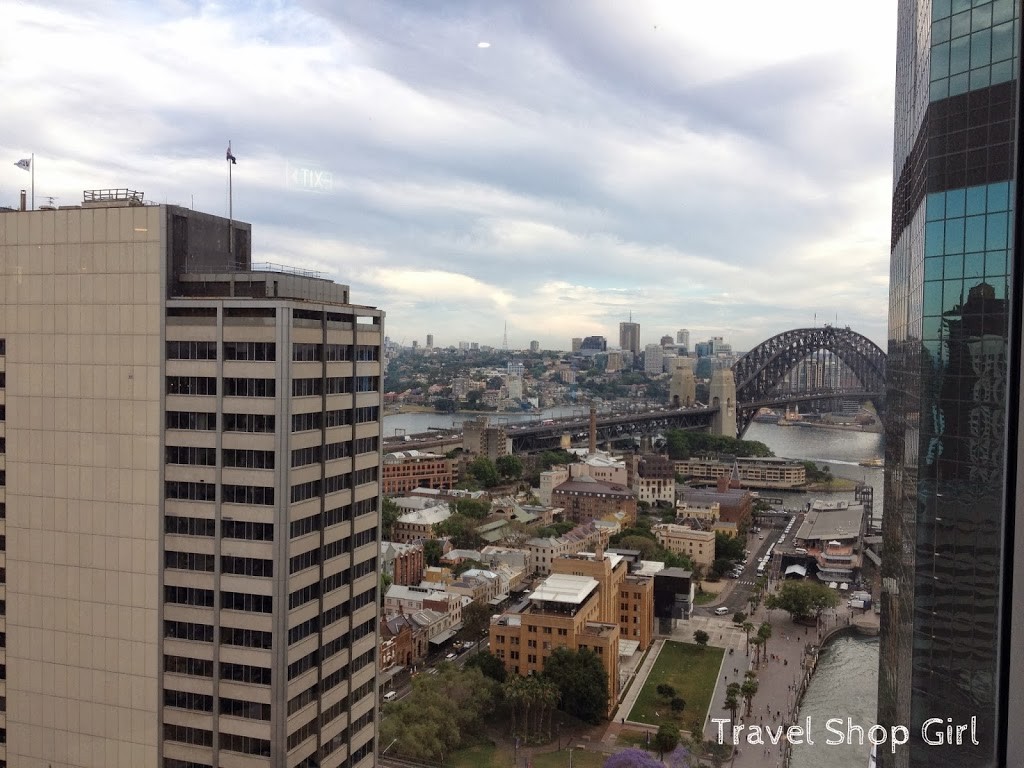 The spacious Executive Lounge offers great views of the city and this picture was taken showing another fantastic view of Sydney Harbour Bridge.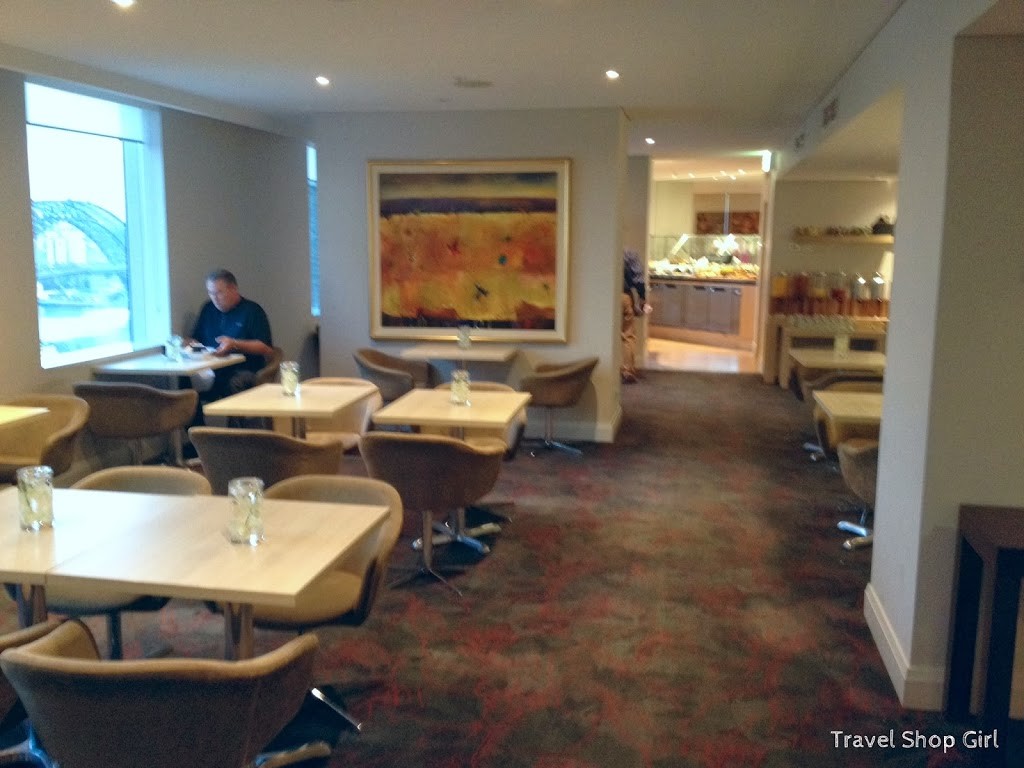 You can pull up a chair and sit down and enjoy your meal in the light colored Executive Lounge before heading out for the day. In the evening they also offer drinks (soda, beer, wine, and spirits) along with canapés from 5:30-7:30 pm. While you definitely wouldn't want to make a meal out of it, it's ideal for a quick bite and a beverage, especially if you plan on dining later in the evening.
What might you find near the Sydney Harbour Marriott Hotel? I was pleasantly surprised to see that the Museum of Sydney was across the street from the hotel. From Sydney Living Museums:
Opened in 1995, the Museum of Sydney is a modern museum on a historic site. It's a place with many layers and meanings.The site of the colony's first Government House built 1788, it was also the point of first contact between the Gadigal people of Sydney and the British exiles arriving on the First Fleet. Today this place remains a symbol of 1788, a turning point in history.

---

The museum's evocative displays interpret the archaeological remains of first Government House, and explore stories about Sydney past and present. Exhibits focus on the pre-1788 character of Sydney, its history during the lifetime of first Government House 1788-1846, and the continuing stories of Sydney's people and places, as it has developed into the metropolis it is today.
In case you're wondering why the lobby bar was called Maquarie Lounge, here's your answer. The hotel itself is located in Macquarie Place, the first formally laid out public space in Sydney in 1810. The above obelisk located in the park is from 1818 and was designed by the New South Wales Government Architect, Francis Greenway. It records the distance to various locations in New South Wales along the earliest roads developed in the colony. How's that for history?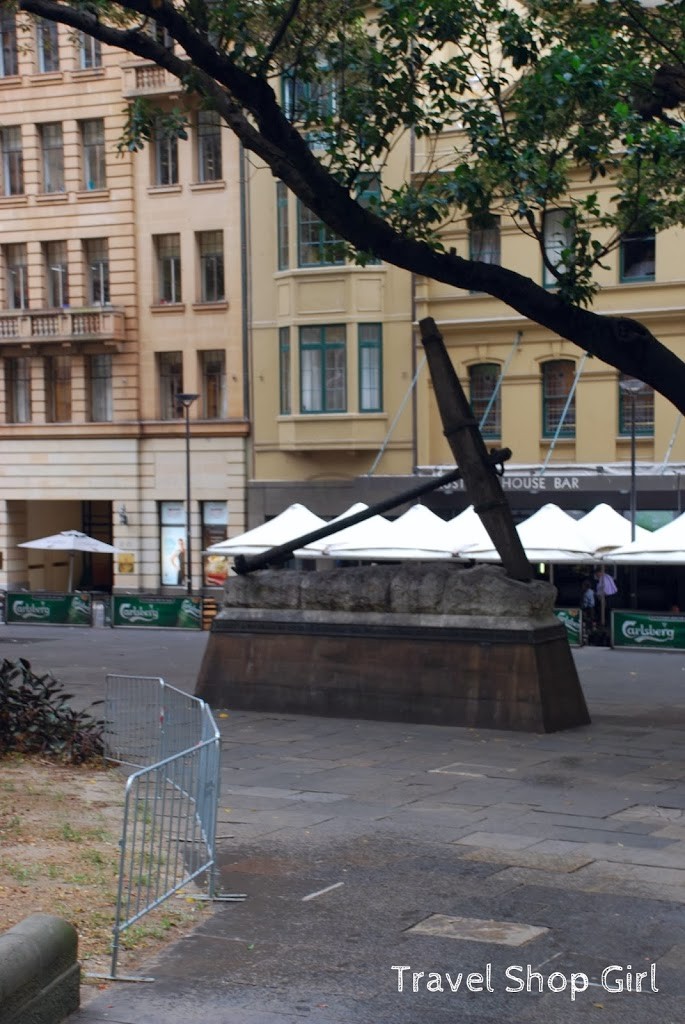 Also located in Macquarie Place is the Anchor from the HMS Sirius, the First Fleet flagship. The First Fleet is the 11 ships which left Great Britain on 13 May 1787 to found a penal colony that would become the first European settlement in Australia.
At night as the evening sky begins to fade from blue to black, the lights of the city create a golden hue against the harbor. The city of Sydney is alive and beckoning for you to come visit and experience not only it's amazing culture, but it's incredible inhabitants. I felt so incredibly welcomed by Australia and hope that it won't be long before I can go back for an extended visit. I'll be covering more about Sydney in my next post along with my amazing cruise on the Celebrity Solstice in future posts.
Sydney Harbour Marriott Hotel at Circular Quay
30 Pitt Street, Sydney, 2000 Australia
Website: www.sydneyharbourmarriott.com.au
FaceBook: www.facebook.com/shmarriott
Telephone: +61 2 9259 7000