El Dorado Royale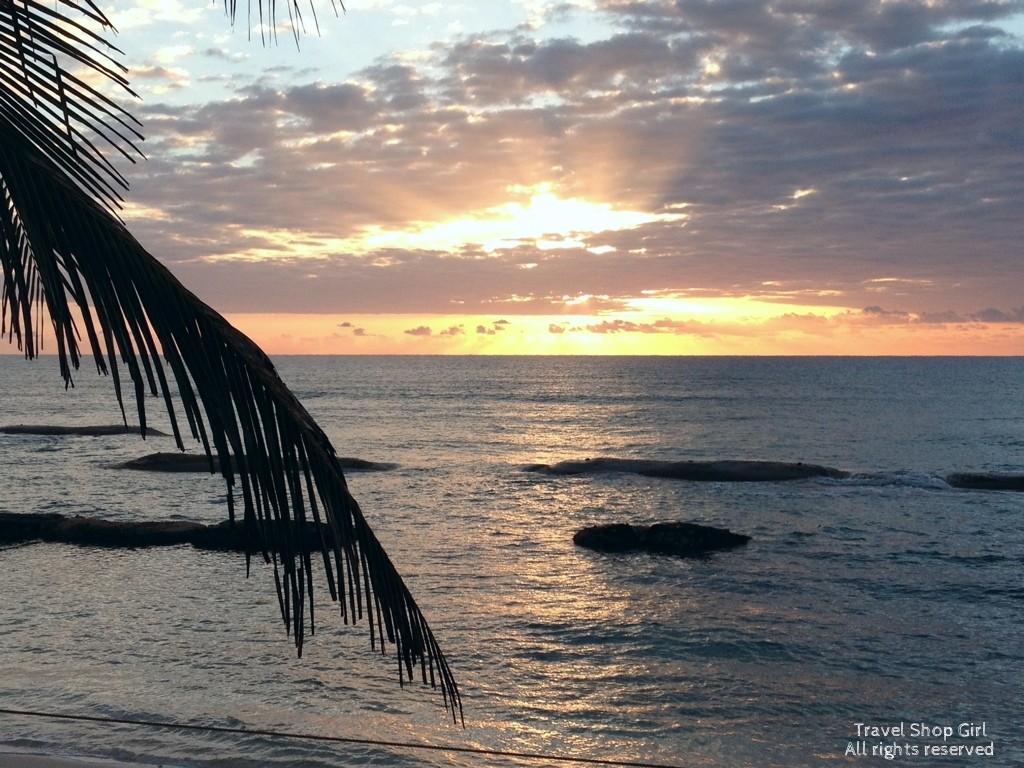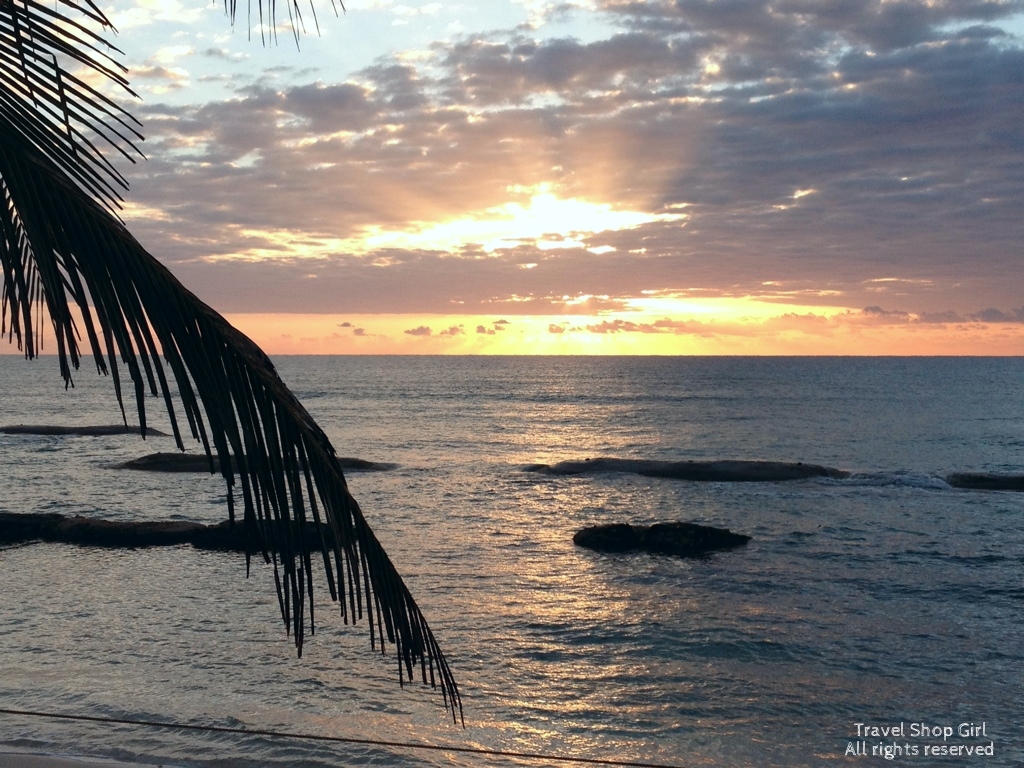 Voted one of Conde Nast Traveler´s Top 100 Hotels in the world, El Dorado Royale, a Spa Resort, by Karisma is Mexico´s premier adults-only, beachfront resort. Couples, wedding parties and honeymooners can savor a Gourmet Inclusive experience for a vacation that fosters togetherness.
Only 25 minutes south of the airport in Cancun, this luxuriously romantic resort stretches along a secluded beach. The resort provides indulgences from gourmet cuisine, to swim-up suites, to a lavish spa and concierge service.
Gourmet Inclusive Package Features
While some resorts boast their all-inclusive package, El Dorado Royale takes it one step further and has created the Gourmet Inclusive vacation experience.
Welcome glass of Sparkling wine and refreshing towel.
All Gourmet meals and specialty bites
Alcoholic and non-alcoholic beverages from a selection of domestic and international premium brands.
Minibar with beer, water, soft drinks stocked once a day.
Daily and nightly activity program with live music & shows.
Bicycles provided to ride around the premises.
Non-motorized water sports: kayak and snorkeling gear.
Scuba clinics in the pool.
Hospitality Desk
13 swimming pools, one of which is a natural salt-water pool.
2 hard surface lighted tennis courts. Rackets and balls provided free of charge. Restrictions apply to be used at night.
Complimentary Shuttle to Cancun and Playa del Carmen. Reservation required.
Personal Concierge Service from 8 am to 11 pm
Fitness center, Sauna and Steam Room
24 hours room service (restrictions apply on rainy days)
Taxes and gratuities included
El Dorado Royale Greenhouse
While staying at El Dorado Royale, I learned about their Greenhouse.  Although you may never see the greenhouse, a 70,000 square foot greenhouse facility, you certainly will experience it. The Greenhouse produces vegetables and herbs not only for El Dorado Royale, but for the other resorts in the Karisma product including sister El Dorado Spa Resorts and Hotels and Azul Hotels. They grow organic vegetables and herbs including cucumbers, bell peppers, chilies, basil, cilantro, and mint. If you wanted to see the greenhouse, tours depart from the main lobby several days a week. El Dorado Royale's resort greenhouse was the first of its kind in the region and had its first harvest in 2009.
Accommodations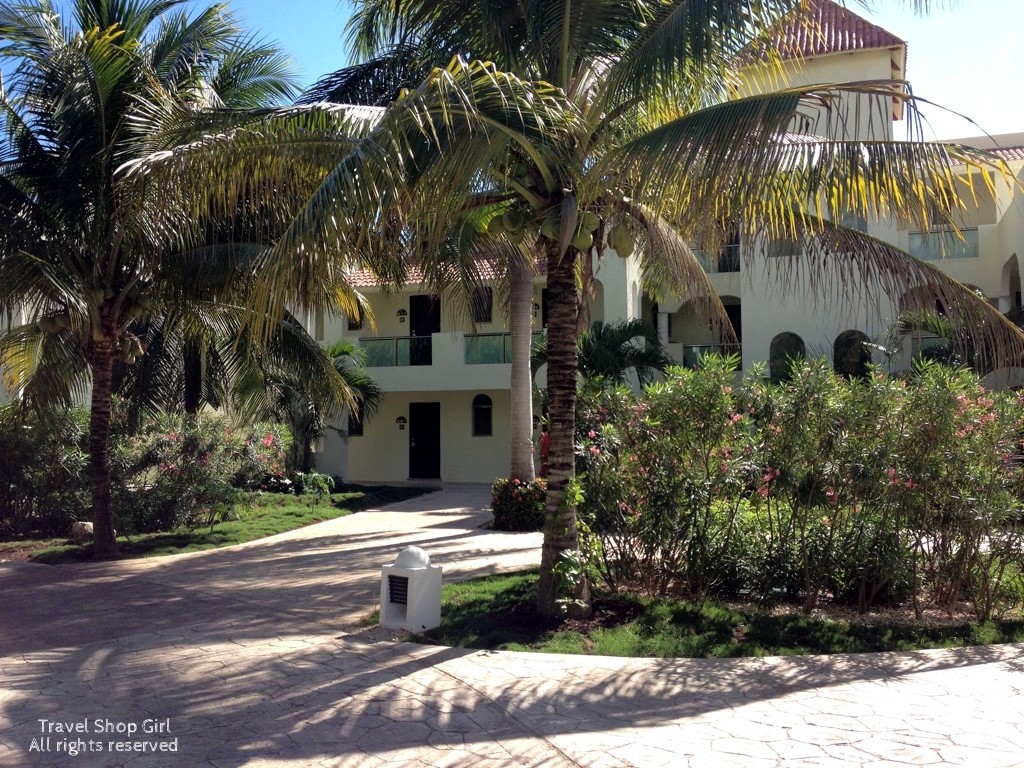 The resort has 476 suites in eight categories spread out over the entire 450 acre resort. My only hesitation might be for someone with mobility issues as it could be more difficult for you to get around since the resort is so spread out and there aren't any elevators within the individual buildings.
Don't worry about being too far away from anything at any time as there are always employees on golf carts willing to give you a ride any time of the day or night. I have to admit I was a little overwhelmed when I first arrived thinking I would never find my way around, but in less than a day I was navigating my way around the resort quite easily. I would definitely pick up a bike if I was staying here for a week and ride every morning or run along the paths.
My Luxury Jacuzzi Junior Suite
Whether you stay in one of the Junior Suites (Jacuzzi, Ocean View Jacuzzi, Ocean Front Jacuzzi, Swim Up Jacuzzi or Luxury Jacuzzi), a Royal Suite, or a Two Bedroom Presidential Suite, you simply can't go wrong. I was staying in one of the Luxury Jacuzzi Junior Suites and it was huge.
The Luxury Jacuzzi Junior Suite was newly renovated and measured approximately 590 square feet. My room had a king size bed, but these rooms also available with two double beds. The decor is more traditional with local Mexican motifs. The room also had a sitting area as well an small table where you could eat a snack or like me, use your laptop.
The bathroom was big and spacious with a large Jacuzzi tub, which sits adjacent to the bed opposite a pane of glass.
Sectioned off into areas, the bathroom has one area for the toilet, one for the shower, one for the tub, and one for the sink area. Sounds simple enough, but there is one caveat to this floor plan. The entire room is set with light sensors to reduce lighting costs.
In theory, this is a great idea and believe me, I am all about reduce, reuse, recycle. However, my thought on this is that a man came up with the idea and determined how long the lights should stay on. Why? Try blow drying your hair or putting on make up here and you'll soon discover that you have some crazy dance moves and you find ways to keep those lights on. The first time it was funny, but after that I was downright annoyed.
Balcony Views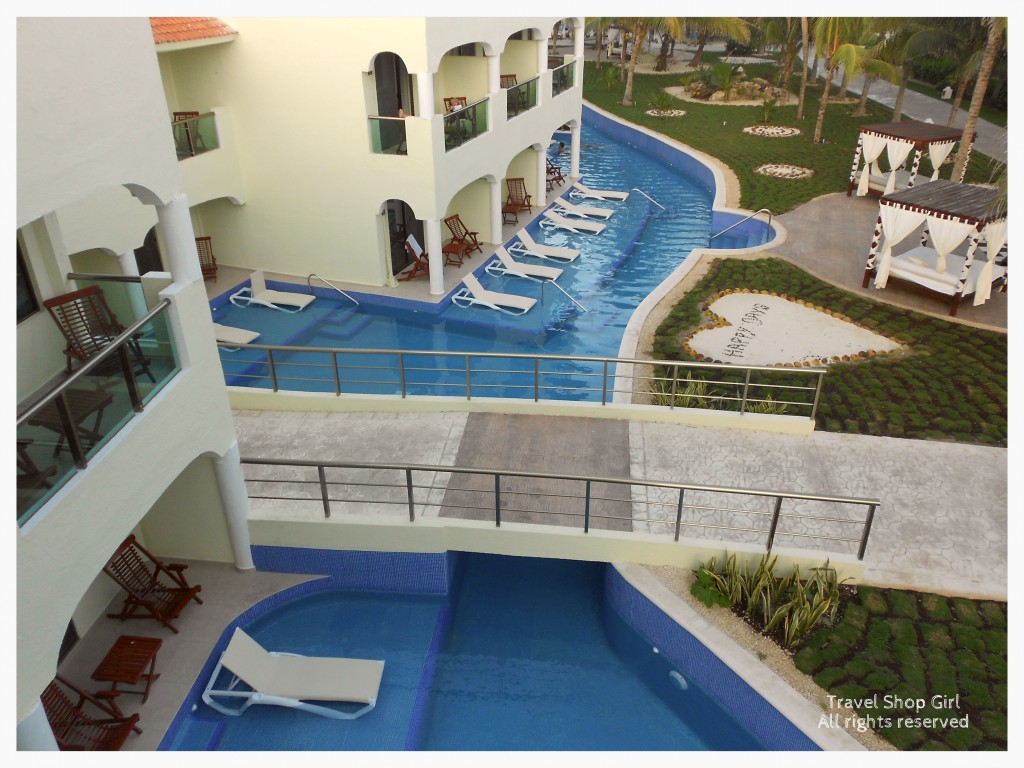 But have no worries as you can't stay annoyed for very long here.  With a balcony overlooking the swim up suites below and a view of the ocean over the palm trees, it didn't take me long to start relaxing and really appreciate the view.
Here's an alternate view showing my balcony and the view to the right and just a little inside my suite.  Not too shabby!
Some balconies even have a hammock already strung up and ready to use. I opted for my chair in the morning with a cup of coffee and with a breeze and a view to die for, I was completely happy.
How's this for a view? There's no complaining about anything when you see the sun rise or set over the water and the breeze gently swaying the palm trees below. No matter what time of day, the view was always glorious.  
Gourmet Inclusive Restaurants
The exquisite restaurants and bars of El Dorado Royale epitomize the excellent quality and customized service that forms the Gourmet Inclusive vacation experience.
Cocotal – International Cuisine: Delightful flavors from all over the world are served à la carte every day. For those in rush, breakfast dining offers food displays with fresh fruits, pastries, cereals, omelet stations and more.
D'Italia – Contemporary Italian: With five-star service, soaring ceilings and lush interiors, D'Italia offers couples in love the perfect intimate dining experience. Stylish, beautiful, romantic—it's no surprise D'Italia is the resort's most popular restaurant.
Kampai – Pacific Rim: Take in the stunning ocean views as you enjoy the best of authentic Pacific Rim cuisine from India, Vietnam, China and Japan. Don't miss the area's freshest sushi or the authentic spring rolls.
La Isla Restaurant: This open-air palapa restaurant features continental breakfast as well as à la carte international breakfast, lunch and dinner, with a special focus on Mediterranean cuisine at dinner.
JoJo's Caribbean Seaside Grill:  A true seaside grill, JoJo's offers authentic, fresh Caribbean cuisine in the most idyllic of settings. As a non-meat, non-seafood eater, they did accommodate me quite easily and I had a delicious lunch that you might not expect from a non-vegetarian restaurant.
Fuentes – Culinary Theatre: A foodie's dream come true, Fuentes is the ultimate in dining and entertainment. With five open kitchens under a 90-foot vaulted thatched roof, Fuentes offers an epicurean adventure to satisfy both your appetite and your curiosity.
El Rincón Mexicano: With a broad menu to satisfy everyone, you can take in the culinary delights of Mexico with items like tacos, fajitas, fresh pico de gallo and more.
Tequila Tasting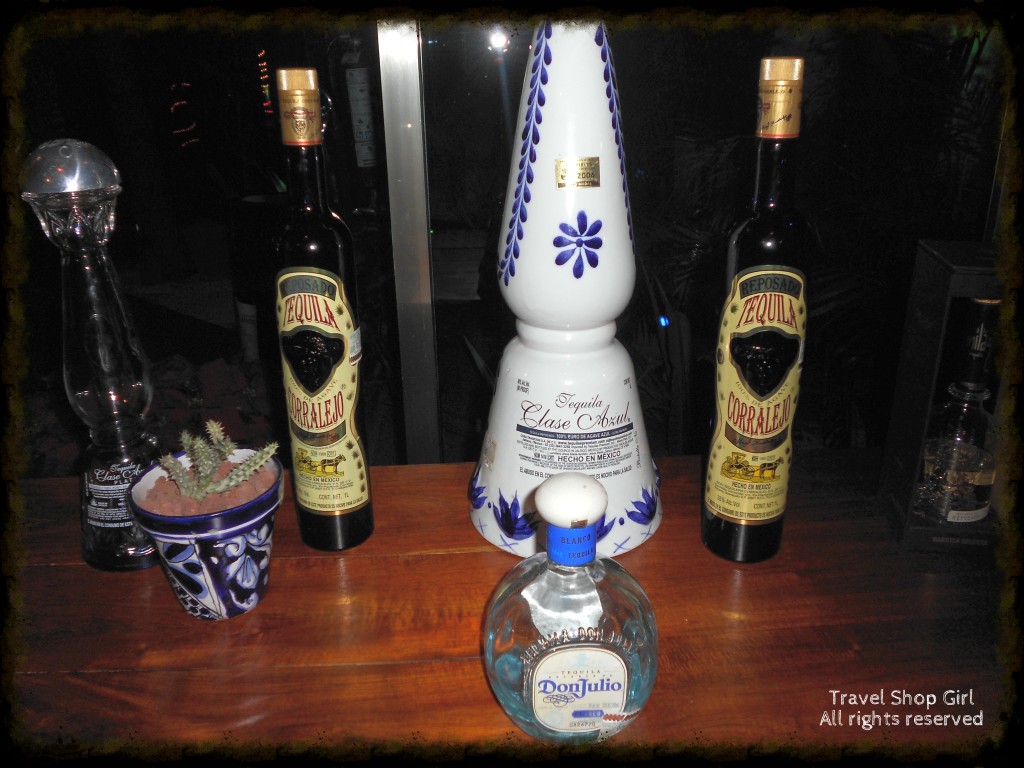 Just before dinner we had the opportunity to take part in a tequila tasting in a small area adjacent to the restaurant.  Whether you go alone and join others or have your own group, you can definitely expect to have a good time.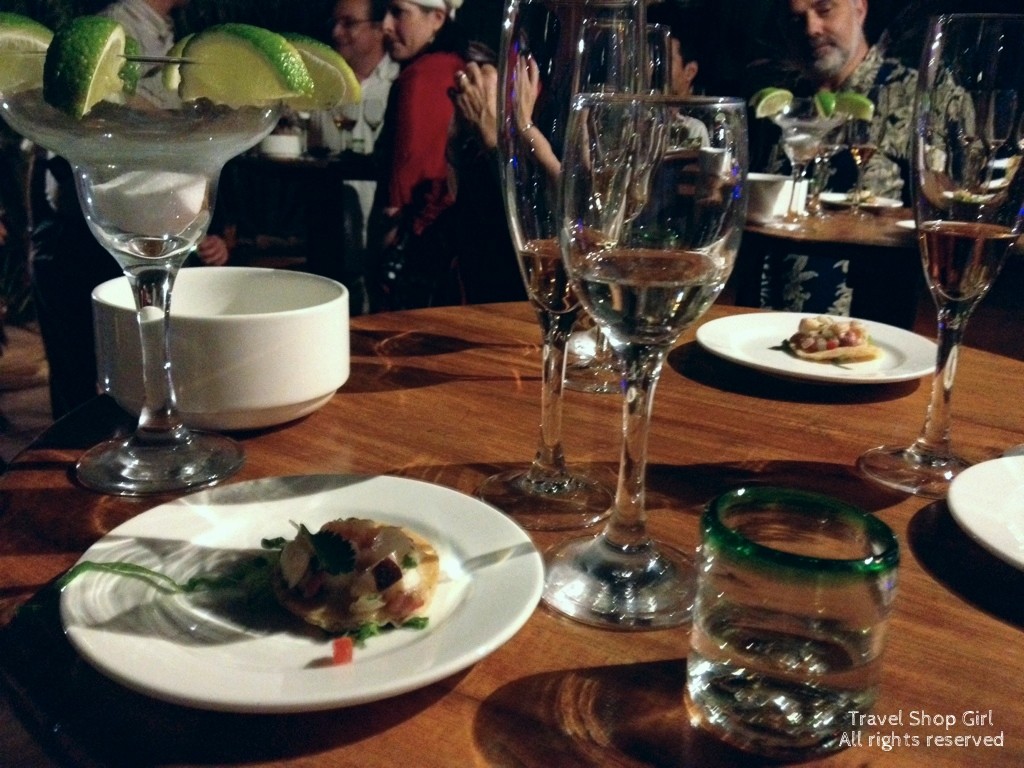 What I learned is that good tequila is like good bourbon or whiskey and is smooth and does not require salt or lime to combat the taste.  If you're sucking on a lime, you're not drinking good tequila.  If you're drinking añejo or reposado tequilas, you should be sipping them and not downing them in a shot.
El Rincón Mexicano
I was thrilled to have some authentic Mexican food while in El Rincón Mexicano and it was exceptional! We started with the corn chowder, which was delicious and creamy.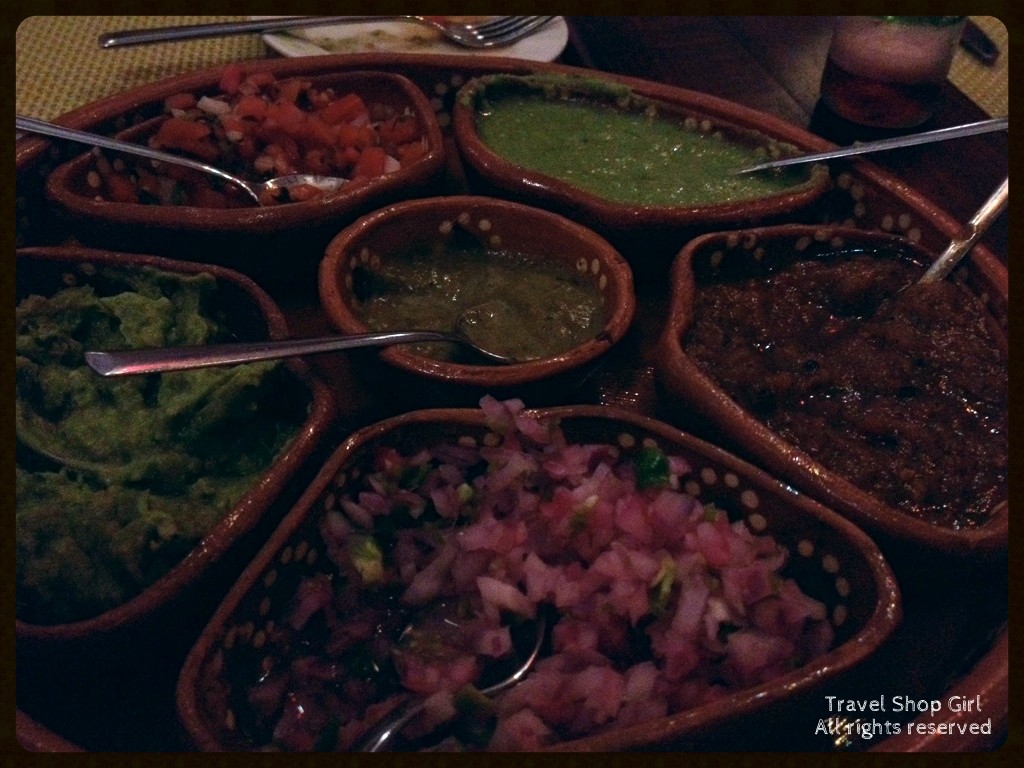 A huge tray with guacamole and a variety of salsas and pico de gallo was brought to the table along with fresh tortilla chips. Whether you are afraid of spicy food or not, you could find mild all the way up to super spicy, just the way I like it.
For entrees, the meat eaters in our special dining party could choose from the slow cooked brisket Mexican style in pasilla chili and tomatillo sauce or the El Rincón Mexicano Shrimp made with ancho peppers, cinnamon, brown sugar crust, buerre blanc, and a balsamic hibiscus reduction.
The chef accommodated my no meat request and made a ridiculously cheesy black bean and cheese chile relleno. So yummy!
Not to be forgotten was a delicious dessert of crepes with caramel, chocolate, and of course, tequila.
Gourmet Corners
To satisfy those sudden afternoon cravings, Gourmet Corners is the answer. Enjoy pizza fresh from a wood-fired oven at La Cabaña Pizzeria. Healthy Corner offers fresh fruit, juices and smoothies, while Las Olas serves various salads and sandwiches.
Room Service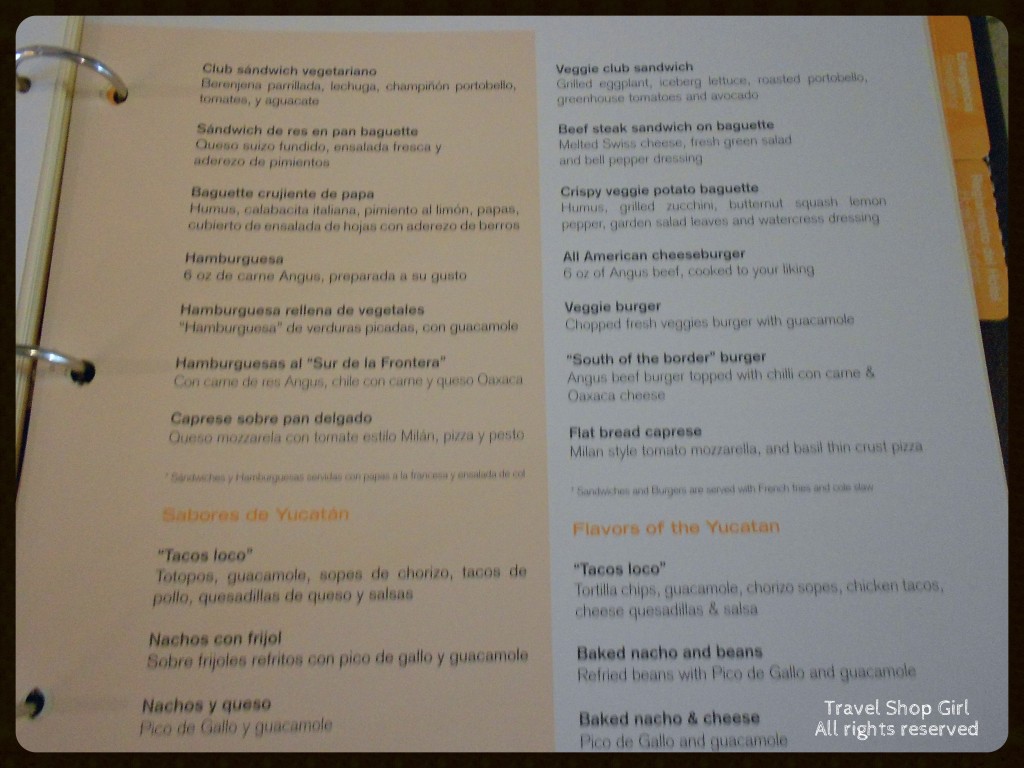 If that still can't satisfy you, there's always 24 hour room service.  With an extensive menu in English and Spanish, you can find something that will satisfy you any time of day.
I ordered breakfast through room service one morning and despite the heavy meat filled menu, they were able to accommodate my request for a cheese and veggie burrito with a side of beans and pico de gallo and coffee. Lots of coffee…
And, of course, some fresh fruit, which was delicious.  There's something about being in the Caribbean that requires you to eat fresh fruit, especially pineapple.  I think it is an unwritten rule that all travelers must abide by or face persecution.
Gourmet Inclusive Bars
Whether you want to sip on a martini or a daiquiri poolside, El Dorado Royale has you covered.
Martinis Lobby Bar: Sip martinis while taking in spectacular views of the Caribbean at the sophisticated Martini Bar, featuring more than 30 martinis and premium vodkas from around the world. With a pool table and outside seating, the Martini Bar is a great spot for a pre- or after-dinner drink.
Bar Las Guacamayas: Relax on one of the swinging chairs while savoring a cold drink.  Choose between a great variety of beverages served up with live music.
Swim Up Bars: Some resorts might have two or three swim up bars, but El Dorado Royale has a whopping nine swim up bars that serve gourmet snacks, premium cocktails, and other refreshing beverages and you never have to leave the pool.
Náay Spa Royale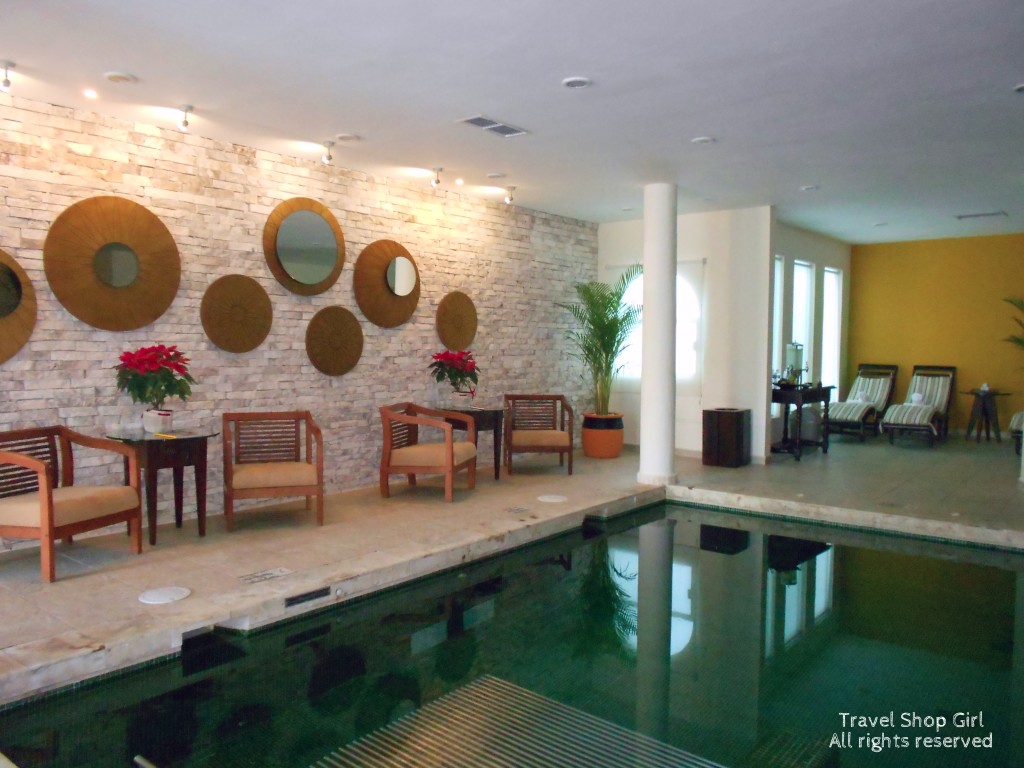 The Spa at El Dorado Royale, located in the center of the property, offers an assortment of treatments for the body and soul. Spa Royale was created with the same concept as the rest of the resort which is "rest, relaxation and romance." Guests may use the fitness room, sauna, and steam room while in the Spa.
Popular massage treatments include Swedish, shiatsu, hot stone massage, Thai massage, and more. Choose from the signature Beachfront Sky Massage, the ultimate massage experience or one of the most popular offerings of the the couples massage class. Other options include exfoliating body scrubs and mud massages, as well as deep cleansing, moisturizing and revitalizing facials. Full beauty salon services are also available.
Pools and Beach
With 13 swimming pools, one of which is a natural salt-water pool, plus an amazing beachfront, this sprawling resort is the ideal destination resort for laying out and soaking up the sun or going for a swim.
Whether you choose to lay out at the beach under a private palapa and swim in the pool, you can do as you like and always expect to have a great time. The beach is built up to prevent beach erosion and is rocky so either bring swim shoes or you might want to stick with the pool.
Maybe a lounge chair isn't enough for you. How about your own private bed on the beach? I would find it hard to sleep indoors if I had this around.
If you're traveling with friends and wanted to spend a day at the beach together, there's certainly enough room for everyone without feeling like people are on top of you.
Don't believe me? I'm telling you this place is so big you won't believe how much beachfront there is. With more than a mile of sandy beach, the resort seems to go on forever. Keep in mind that the private section called El Dorado Casitas Royale is adjacent to El Dorado Royale. The Casitas guests can use El Dorado Royale, but not vice versa. Basically, you can walk through the Casitas area, but don't expect to lounge on the beach or use a pool there unless you're a Casitas guest.
Sunrise at El Dorado Royale
I took the opportunity to walk all around the resort one morning when I was up early to get to the fitness center by 6 AM. To my surprise, the fitness center doesn't open until after 7 AM and I wasn't about to go back to bed. Bummer for me as I wanted to get my workout of the way first thing that  morning. Instead, I used this time to walk the entire resort and see things that I might not have seen if I hadn't done that. How about spotting a cruise ship off in the distance?
No matter where I walked, I was constantly amazed at the beauty that I was so fortunate to capture on the beach at sunrise. This sunrise was one of the most amazing I've ever seen. Combine that with the manicured gardens, clean sandy beach, and an abundance of seating and lounging options on the beach, and I really didn't want to leave.
Final Thoughts
If I were to recommend this resort to anyone, I would definitely say go if you're looking for a romantic vacation with plenty of beachfront and amazing food and drinks. If you want a vacation that doesn't feel overly crowded with an abundance of options for entertainment, spa options, and fun, then El Dorado Royale would make an excellent option for you. And please — don't miss an amazing sunrise. If you like the sunrise views, imagine dinner at sunset or even a candlelit dinner on the beach here. The only thing that can possibly beat the views is the amazing service that every guest receives so expect to be amazed if you vacation at El Dorado Royale.
El Dorado Royale
Address: KM 45, Carretera Cancún – Tulum
Riviera Maya, Q. Roo. C.P. 77710, México