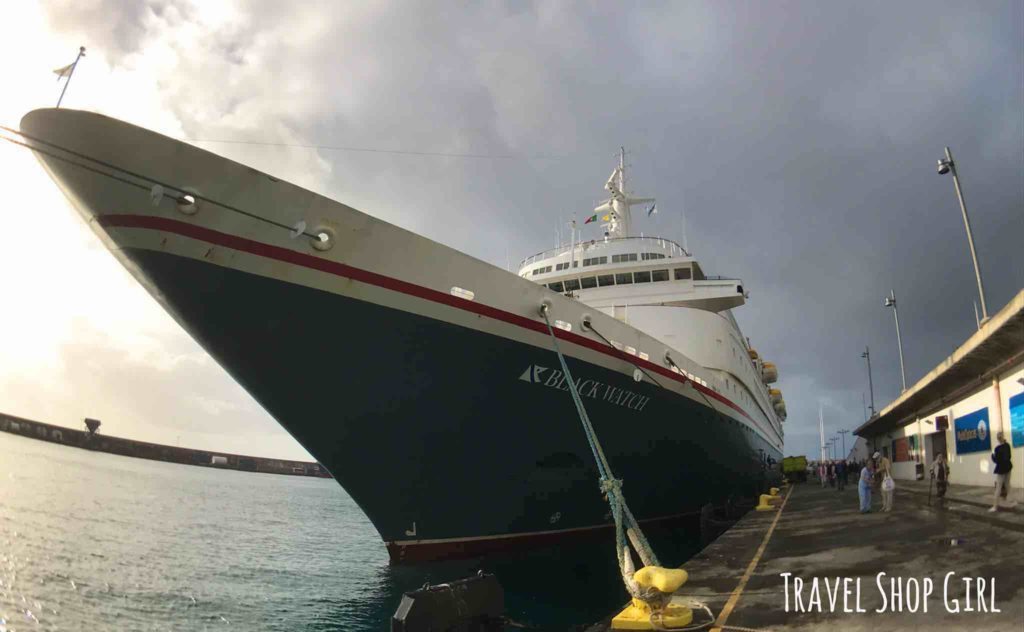 Our first stop on World Cruise 2018 onboard Fred. Olsen Cruise Lines Black Watch was in Ponta Delgada, Azores. Ponta Delgada, located on São Miguel Island, is the largest municipality and the capital of the Azores in Portugal. Our arrival time had changed and we weren't sure our tour arranged for us by CruisingExcursions.com was still on, but we walked into the port to look anyway.
Luckily for us, Miguel from CruisingExcursions.com was waiting for us in the port. He whisked us away in a comfortable Mercedes Benz for our tour of Furnas Lake.
Vila Franca do Campo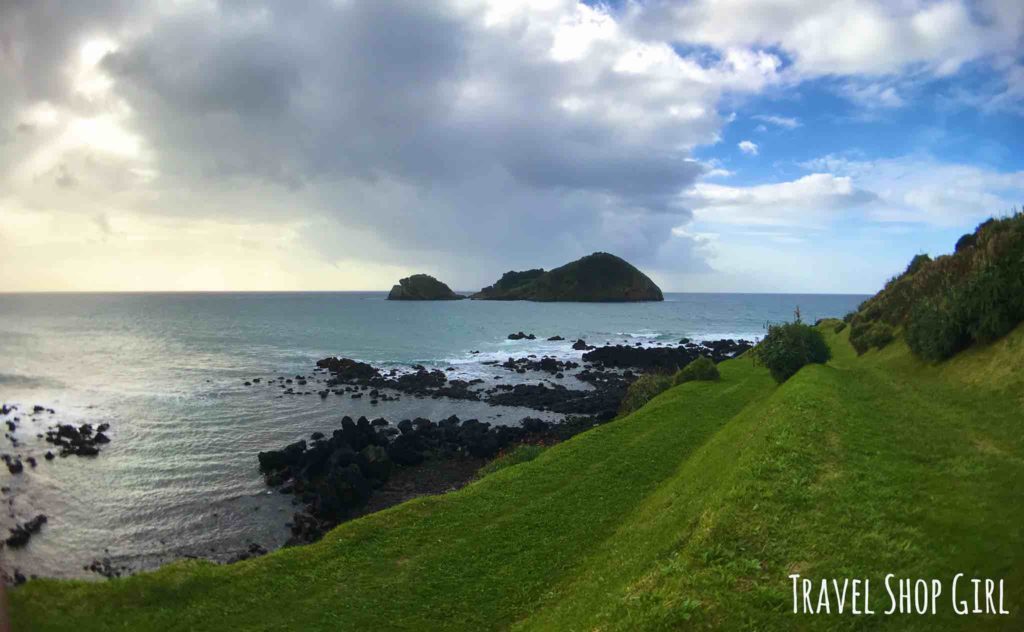 Miguel took us to our first stop on our tour in Ponta Delgada, which was Vila Franca do Campo. Here we could see the large rock, a volcano off in the distance. Vila Franca do Campo was also the islands first capital. If you love taking pics as much as I do, don't turn down this photo op if you get the chance.
Our Lady of the Peace Hill
Next up we paid a visit to Our Lady of the Peace Hill. To get here you need to drive a very windy road up to the top, but it was definitely worth it.
The view of the church and it's many winding steps up was worth the trip alone, but we were also treated to a beautiful rainbow alongside the cross next to the church.
This is the legend of Our Lady of Peace as inscribed along the wall of the church:
Some little shepherds were herding their flock up the hill when they found in a simple grotto a small image of the Holy Virgin. They told the clergy about the happening and soon after the little image was carried to the mother church of St. Michael, the Archangel. However, next day the image appeared once more in the rustic niche up the hill, where, in a suitable place, the building of a chapel was started. But, later that night, the layered foundations were miraculously relocated to a place nearby the simple grotto where the image was first sighted by the little shepherds.  The will of the Lady was evident, therefore the construction proceeded and soon the small chapel was built, most cherished by popular devotion.
Father Manuel Ernesto Ferreira
If you are up for a little challenge, take the steps up to the top where the church sits. The view looking down over the island and the water was also quite spectacular as it felt like you could see everything in the area and beyond.
Furnas Lake
Continuing onward with our tour, our next stop was out to Furnas Lake (Lagos das Furnas) and to Caldeiras at the Lake.
Locals used to come bring their food in the morning to cook all day in the heat created underground by the volcano.
The water here is hot. Like boiling hot, but what did you expect? That's geyser hot water so be careful. You can see the steam rising, the water bubbling, and you won't be able to escape the strong smell of sulphur that will fill up your nostrils even when you try to escape it.
Nowadays, restaurants are getting in on this practice and bringing their food here as well. They prep their food in the restaurant and have it ready to go underground by 6 am. Then at around noon time, they come back to collect their pots of food, including a local stew specialty, to serve to hungry patrons. It's a pretty clever way of harnessing free energy to cook your food. If you have the time and aren't a vegan, you should definitely consider having lunch at one of the local restaurants to try the stew. Where else do you get to eat food cooked this way?
Furnas Village
After driving out of Furnas Lake, Miguel drove us to Furnas Village. There are many geysers, hot-springs and fumaroles scattered in the center of the village.
Here we could see the fumaroles in the village, which are openings in the planet's crust, often in areas surrounding volcanoes, which emits steam and gases such as carbon dioxide, sulfur dioxide, hydrogen chloride, and hydrogen sulfide.
Miguel reminded us that we were now deep within the crater of the volcano. That's right — they actually built a village inside the crater of the volcano. Immediately my thoughts turned to things like is there such a thing like volcano insurance? What happens if the volcano erupts? Do they get advanced notice of an eruption? I give these people loads of credit for wanting to live inside a volcano as I don't think I could ever do it.
I needed to try the water because again, how often are you going to have the chance to say you drank water from inside a village that's inside a volcano?
Click To Tweet
Miguel encouraged us to try the spring water that flows here. One is regular water, one is mineral water, and one is hot water. Locals come down with their tea cups and use the hot water to make their tea. The mineral water tasted like sparkling water while the regular water definitely tasted different although I'm not sure why. I needed to try the water because again, how often are you going to have the chance to say you drank water from inside a village that's inside a volcano?
Pico do Ferro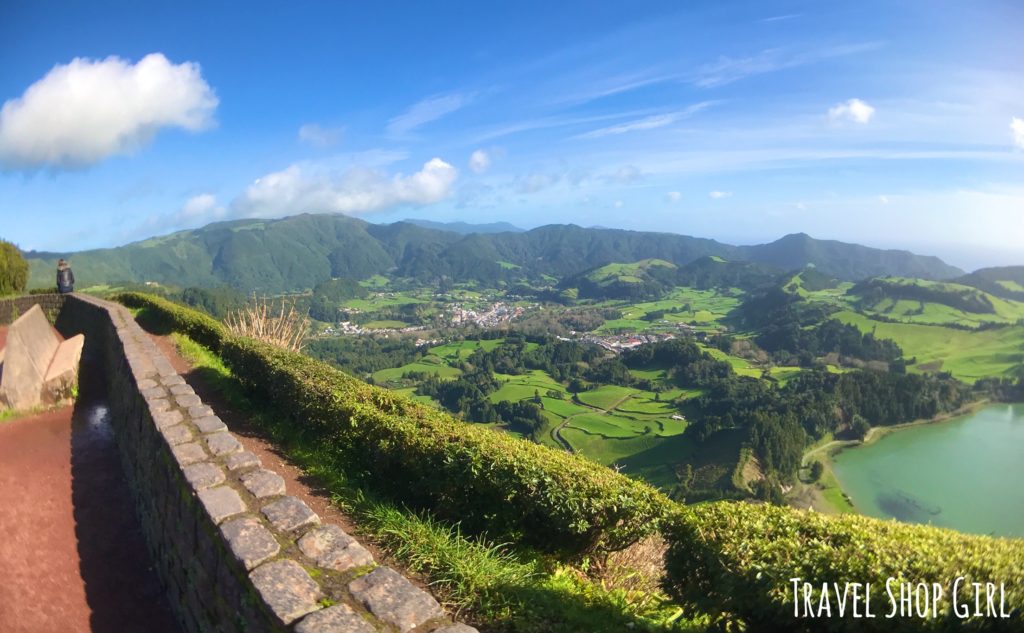 After trekking back uphill to the car, Miguel drove us probably to my most favorite stop on this tour, Pico do Ferro.
Here you could take in the entire view of Furnas Lake and beyond.
Now you can also understand why the locals call São Miguel Island the "Green Island" because it's always green. In an average day they will experience all four seasons (minus snow), but every day is a gorgeous day here.
If you have a chance to visit Ponta Delgada, I highly recommend taking a tour of Furnas Lake to see more than just the immediate downtown area. I love taking tours that take me further outside the immediate cruise port area. Why? Because then it gives me a reason to return and to visit for a longer period of time.
Back to Black Watch, But First…
After Miguel dropped us off, we did a little shopping near the port. First stop was in a small shop decorated with the most amazing artwork on the exterior. Could Travel Shop Girl go somewhere and not shop? I was looking for a few little things like a large coffee mug and a water bottle. I ended up finding an Azores mug, which is significantly larger than the small cups in the dining room. I should probably have an IV bag of coffee ready for me each morning, but this large mug will serve its purpose. I also found some coconut almond milk to bring back onboard in case I wanted to add it to tea, coffee, or cereal.
Since we hadn't had lunch, we decided on Burger King near the entrance to the ship. Can you believe they have a bean burger here and we don't in the US? After chowing down, I convinced Danielle to join me for a drink at Doris Bar. They had free WiFi and caipirinhas for 4 euros each so it seemed only natural to stop here.
A little while later we made the trek back to Black Watch with our bags full of goodies. Shortly thereafter, it was time for sailaway and time for us to say goodbye to Ponta Delgada.
I was so glad we had sunny day full of activities in Ponta Delgada because we were in for some bad news. Turns out that our next port stop of Horta was cancelled due to weather. Next stop on our itinerary is St. George, Bermuda.
Have you visited Ponta Delgada? Can you suggest other destinations in Portugal that you found equally exciting? Leave your comments below. Discover some other great destinations and travel ideas here on the Travel Shop Girl website .
On my new SPONTANEOUS TRAVEL SCALE of 1-5, with 1 being super easy and spontaneous and 5 being you better plan far in advance, Ponta Delgada scores a 3 for spontaneous travel. I traveled during low season so it was easy to get around and get a tour. However, during high season you can expect lots of tourists as more people discover the Azores.
While I was provided a complimentary tour from CruisingExcursions.com, as always all opinions and photographs, unless otherwise noted, are my own.