Finally after a few days at sea, we arrived into our port of Havana, Cuba onboard Fred. Olsen Cruise Lines "Black Watch." While we certainly love our new home at sea, Danielle (of CruiseMiss.com) and I were eager to go ashore and discover everything about Havana. How were we going to do this? By taking a walking tour and classic American convertible car tour with Havana Journeys. 
TSG Tip: Did you know that the city of Havana is nearly 300 square miles and receives about 1 million tourists each year?
1. A Great Tour Guide
We decided to try a tour with Havana Journeys while in Havana. After exiting the cruise terminal, we only needed to walk across the street to meet our guide for the day, Miguel. He's not only a part time tour guide but also a full time teacher of hospitality at the university in Havana. While there may be many tour guides available, remember that not all tour guides are the same. Getting a great tour guide can make all the difference in the world. 
With a wealth of knowledge about the city and its history, Miguel introduced us to all things Cuba by sharing with us the traditions and history of the Cuban people.
Miguel not only told us about the history, but showed it to us with places like the many squares like Plaza de Armas, Plaza de La Catedral, and Revolution Square.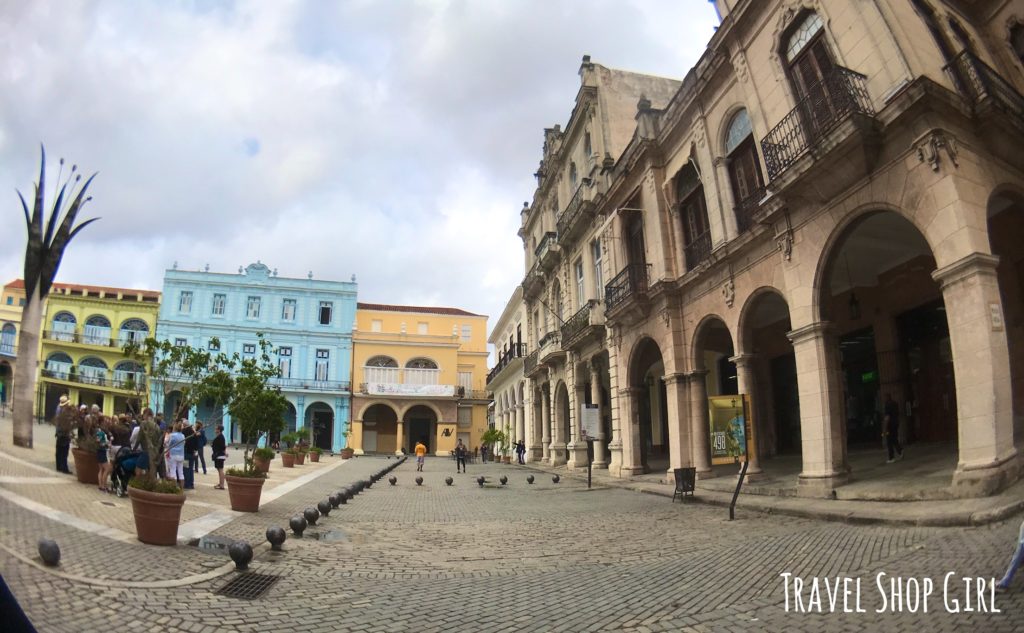 Other sights of interest on our walking tour also included important buildings of architecture, including many former government buildings that are now museums as well as some of the many statues in Havana.
TSG Tip: Today the city of Havana is considered three cities in one: Old Havana, Vedado and the newer suburban districts. In 1982, Old Havana was declared a UNESCO World Heritage Site.
2. Classic American Convertibles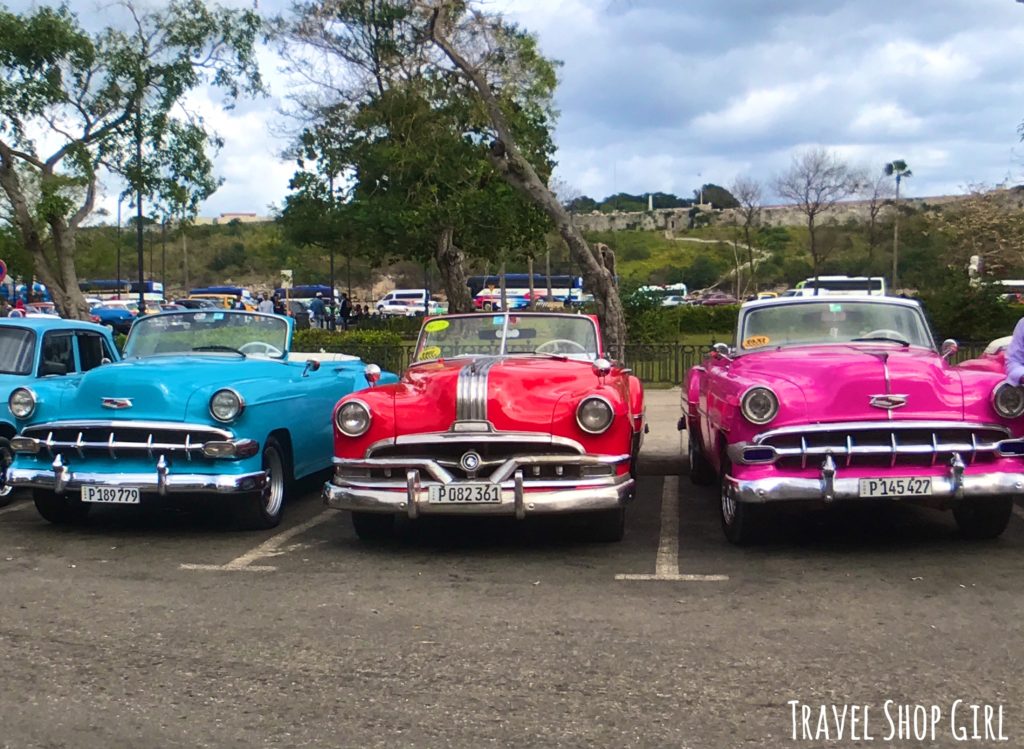 After our two hour walking tour with Miguel, he escorted us to a parking area where Miguel #2, our driver for the afternoon was waiting.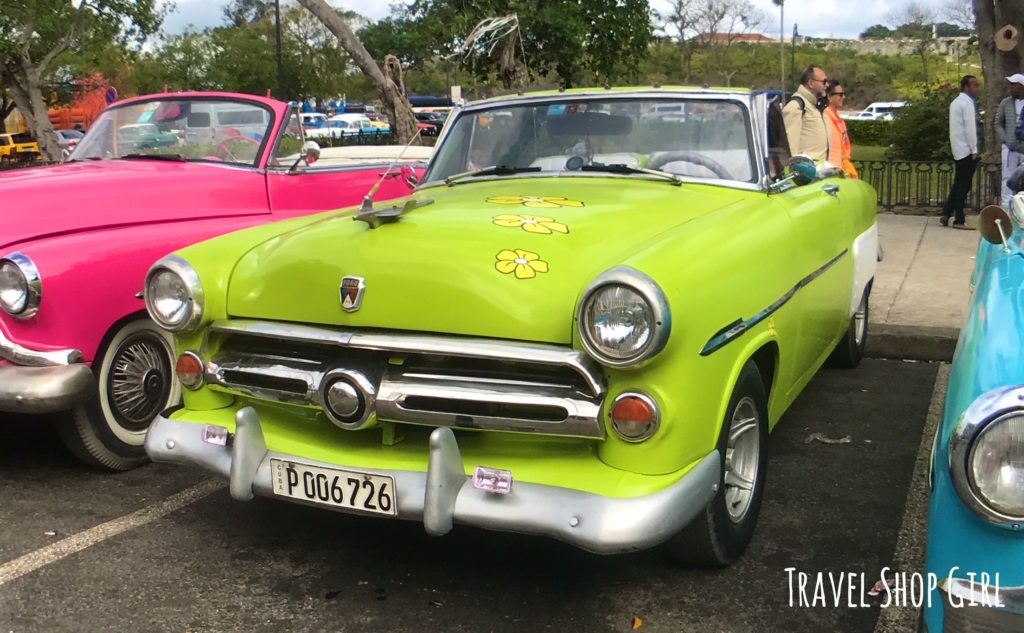 Dozens of classic American convertible cars were lined up and ready for a tour of Havana and we were going in one of them.
Our car was the blue and white one and soon we all piled in and headed off to see and learn even more about Havana.
3. Havana's Famous Sights
Miguel took us up to see the large Jesus monument, Cristo de la Habana, that overlooks the city.
Carved out of white Carrara marble by Cuban sculptor  Jilma Madera, it stands at 259 feet overlooking the city.  
The view overlooking the city is spectacular. At night from down in the city, you can see Cristo de la Habana glowing under the white spotlights and over the entire city.
Another stop on the tour was at one of the city's fortresses. 
Walls and forts were built to protect the old city. In 1898, the sinking of U.S. battleship Maine in Havana's harbor in 1898 was the actionable cause of the Spanish–American War.
4. Cuban Food in Cuba
I do love Cuban food, but was excited to eat authentic Cuban food while in Cuba. Before our tour was over, Miguel took us to lunch at Buenaventura, a traditional Cuban restaurant.
I was so pleased that they could easily accommodate my vegan needs with fresh, tasty authentic food.
I started my meal with a small salad of tomato, cucumber, and cabbage.
For my main, I had Arroz Campecho, a paella dish of rice and vegetables, which was so good. Of course, I had to ask for salsa picante (hot sauce) only because I like to spice up everything.
I washed it all down with a the best tropical fruit mojito I've ever had.
For a side dish I asked for yucca, which came in a large family sized serving dish. If you haven't had yucca, you definitely should try it. I grew up eating vegetables like yucca, plantain, etc. and I couldn't pass it up.
Danielle ordered garlic shrimp, which came with a large family sized platter of Moros or black beans and rice. This was really what I wanted to eat so she was kind enough to share. They then had to roll me out of the restaurant as I was so full.
5. A Drive Along the Malecon
After lunch we drove along the Malecon before driving back to the cruise port. The Malecon is a broad esplanade, roadway and seawall which stretches for 5 miles along the coast in Old Havana, along the north side of the Centro Habana neighborhood, and ends in the Vedado neighborhood.
This is definitely where you want to ride with the top down to take in the views and watch the waves crash along the seawall. 
Final Thoughts on Our Tour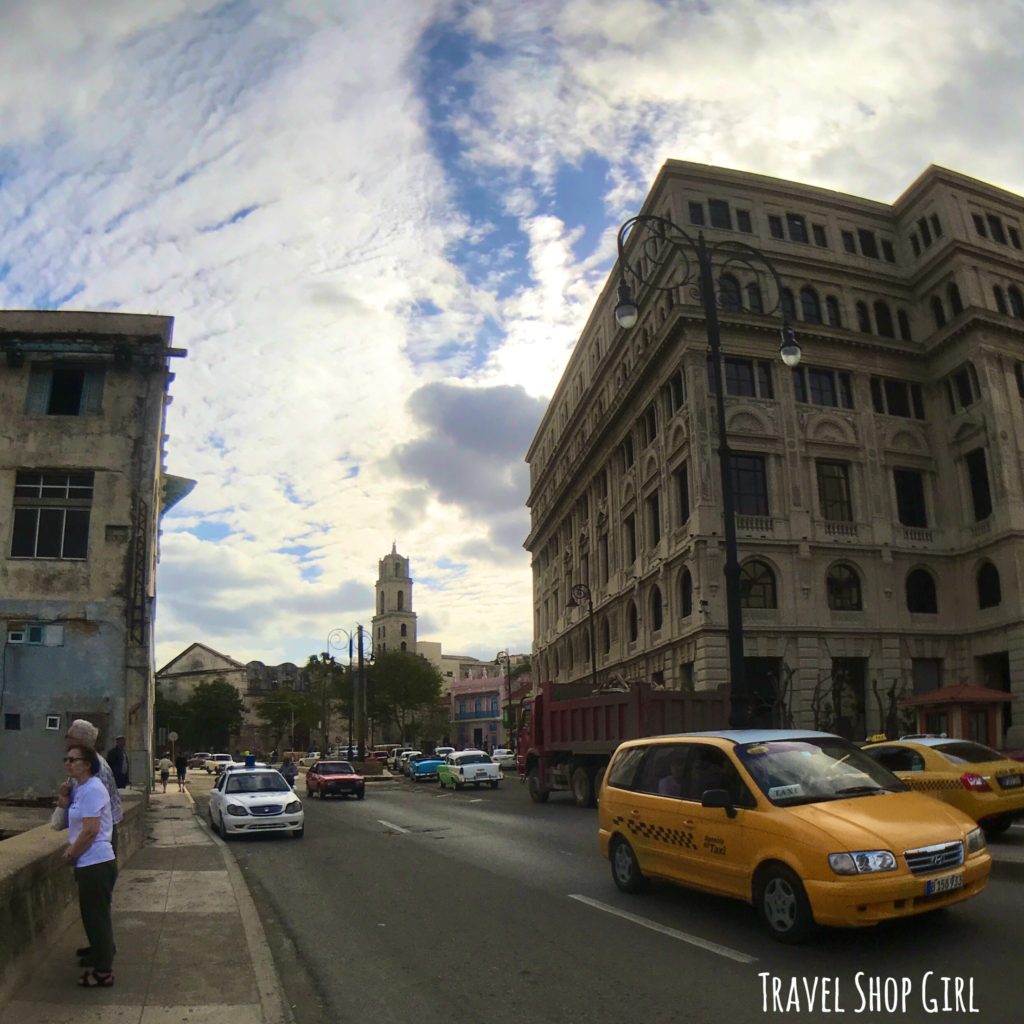 Overall, this five hour tour of Havana was educational, informative, and entertaining and the time flew by because of Miguel. I would definitely recommend seeking out qualified tour guides like Miguel if you have the chance to visit Havana.
I know that for me, this visit opened my eyes and made me realize that although I'd like to think I knew a lot about Cuba before my visit, I actually know nothing at all. So looks like I'll be hitting the books to become a little more enlightened.
6. Drinks in Havana
We enjoyed a night out in Havana by walking around the city and having a few drinks.
How can you visit Havana and not stop at any of the establishments that reference Ernest Hemingway? I also couldn't resist a Margarita at Hermanos, too.
7. Amazing Sunrises in Havana
The next day I got up extra early to watch the sun rise over Cuba and it was breathtaking.
As the pink changed to full on sunshine, my view turned toward the city of Havana from the ship.
Then I got to see a most spectacular sailaway from Havana and it will always rank in my top sailaways of all time.
While these are 7 of my best things to do in Havana while visiting on a cruise, I'm positive I could've discovered more if I had more time. Next stop on the world cruise is Cozumel, Mexico.
Have you visited Havana? Can you suggest other destinations in Cuba that you found equally exciting? Drop me a line and leave your comments below. Discover some other great destinations and travel ideas here on the Travel Shop Girl website .
On my new SPONTANEOUS TRAVEL SCALE of 1-5, with 1 being super easy and spontaneous and 5 being you better plan far in advance, Havana scores a 5 for spontaneous travel since it's you'll need a visa to travel here. Hopefully, that will change in the future or travel for Americans will become easier.