Norwegian Sky Cruise Review
Sometimes opportunities present themselves that you simply cannot pass up.  How could I possibly turn down the chance to sail on the Norwegian Sky?  Rates were ridiculously good and I wasn't about to miss out on sun, sand, and water.  Here's part one of my Norwegian Sky cruise review.
Upon arrival to the port, you first need to go through Security.  If you haven't cruised before, it's not like TSA at the airport.  Here they're looking more for alcohol and irons (as in clothing iron) than anything else.  I brought a 12-pack of bottled water, which they immediately disassembled and checked nearly every bottle to make sure it was actually water, which it was.  From there you move straight over to check in to receive your cabin card.  They'll snap a pic of you for security and you'll take your card and move up the escalator to the holding area. 
A word of advice before you get to the port:  HAVE YOUR PAPERWORK READY!!! Have your cruise documents printed out and your identification, be it a passport, driver's license, or birth certificate. Lines weren't moving quickly because people had to dig through their belongings to find it.  As a rule of thumb, I always have my paperwork, passport, and credit card right out before I set foot through the door to whiz right through the line.  After all, my goal is to get onboard as quickly as possible.   
Norwegian Cruise Line has a method to embarkation, which puts you into a group and then when that group is called, you can then board the ship.  Although I had arrived at the port before noon, the group embarkation process meant I was going to have to sit and wait for my group number to be called.  
TSG Tip: There are power stations to charge your phone so get comfy and charge up while you wait.  
Finally, my group number was called and I was able to make my way onto the ship.  As I only had a small suitcase and a backpack, I chose to carry my own bags onboard instead of checking them curbside with a porter.  This also meant I could participate in self-disembarkation at the end of the cruise, which is always fast and easy.   
Guests enter Norwegian Sky via Deck 6 and strangely enough, there was only one crew member advising everyone where to go.  I made my way past the Mark Twain Library and the three Hawaiian named conference rooms, and found my way up to Deck 11.  The Norwegian Sky was originally ordered by Costa Cruises although later purchased by Norwegian Cruise Line.  She first sailed in 1999 and was originally called the Pride of Aloha, which sailed around Hawaii and explains the Hawaiian theme and decor you'll see onboard.  In 2008 she was renamed Norwegian Sky and re-flagged to the Bahamas.  It was here that the company's "Freestyle Cruising" program was launched.
The main pool is situated on Deck 11, which is also where Great Outdoors Cafe and Garden Cafe, the ship's buffets are located.  
Just past the pool you'll find one of the many bars onboard the Norwegian Sky, Breakers Bar.  With plenty of outside seating as overflow from the buffets, you can sit and enjoy a meal and a drink if you like.  Although this area was relatively quiet during embarkation, I waited about 45 minutes for a server to approach me and ask me if I wanted anything from the bar although guests around me were asked.  
Instead of getting upset, I decided I'd probably have to go to the bar to get my drinks instead of waiting for a server in the future.  As you'll see, I didn't let this discourage me whatsoever from trying out some fun drinks, like the Rebellious Fish.  Poolside you'll receive your drinks in a plastic glass, but in other locations you'll receive a regular glass.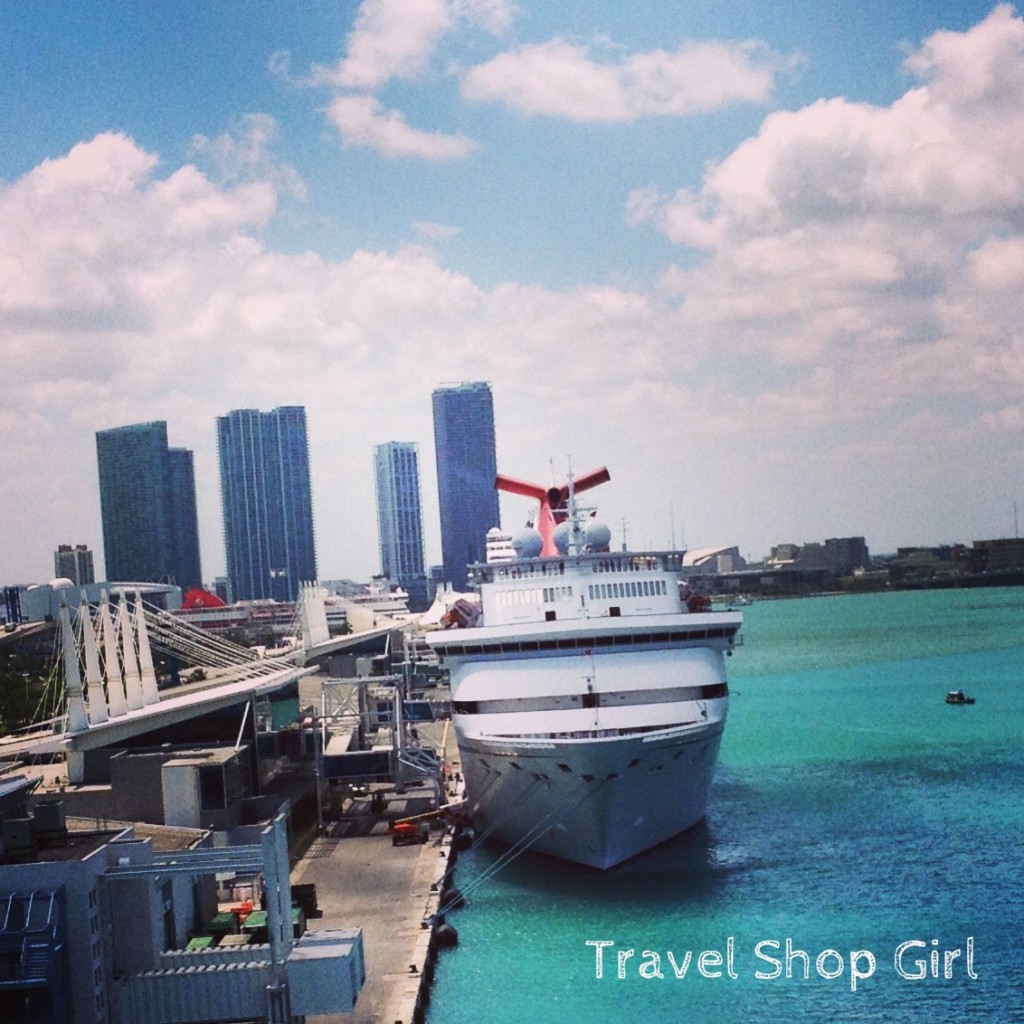 The Port of Miami is home to 13 cruise lines and one in seven cruisers in the world cruises out of Miami.  On this particular day, May 19, there were four cruise ships in port: Norwegian Sky, Carnival Ecstasy, Royal Caribbean Majesty of the Seas, and MSC Divina for a total of just over 11,000 cruise passengers in port that day.  
The mandatory muster drill was set for 4:30 pm and unlike some of her contemporaries, we were ushered outside to our assembly stations to participate in the drill.  Not sure where your muster station is located? Look at the map on the back of your cabin door or check your cabin card as it will be printed right on your card.  Simply match the letters or numbers to the assigned station and check in with the crew member.  No need to wear a lifejacket unless you're told you need one.  
As we were headed back inside, we watched the Carnival Ecstasy leave port ahead of us.  While the Norwegian Sky was sailing a 4-night Bahamas cruise, the Ecstasy was off to Key West and Cozumel, Mexico.  Fun!
Most passengers onboard wasted no time heading to the pool deck to start in on the fun and to prepare for the poolside sail away party.  While the Norwegian Sky is much smaller than most ships sailing today, she is well cared for and looks pretty good for her age.  She recently underwent a refurbishment last Fall that included new carpeting, new flat screen TV's in the cabins, as well as upgrades to the Bridge equipment for the Captain and his crew.  
It seems as though the typical passenger sailing on this type of cruise might be someone who hasn't cruised before, which in a way is bad because the smaller ships aren't truly representational of all that cruising has to offer today.  Having just gotten off Norwegian's newest ship, the Norwegian Getaway, and now sailing on the Norwegian Sky, suffice it to say that they're truly different experiences.  If you're looking to get away at a relatively inexpensive price, then a short Bahamas cruise might be perfect for you.  But if you're looking to have a cruise vacation that replicates what you see in the ads on television, then you should probably consider upgrading to a longer 7-night cruise on a larger and newer ship.  
In my next posts in my Norwegian Sky cruise review I'll cover the public spaces, dining, and my cabin as well as the three ports of call: Freeport, Bahamas; Nassau, Bahamas; and Great Stirrup Cay, Bahamas.