Norwegian Gem
What could be better to do on a warm and sunny September morning than to visit a ship in port? The Norwegian Gem was in town on her Canada/New England cruise yesterday and I was able to get onboard for a few hours and tour her while she was in port in Boston.
Fortunately for me, it's only a few minutes away and after parking in the garage across from the ship, it took only a few minutes to walk over to the cruise terminal. Black Falcon Cruise Terminal, the oldest continuously operated operated port in the Western Hemisphere, is easily accessibly by car and public transportation (Silver Line – SL2 or take the Red Line to South Station and then take the SL2 to "Black Falcon Avenue and Design Center Place.")
A member of the Jewel-class of ships from Norwegian Cruise Line, I immediately noticed the gem-like ceiling in the Crystal Atrium. Pretty!
A little background on the Norwegian Gem. Built in 2006, she entered service on October 1, 2007 and was the newest Norwegian Cruise Line ship until the Norwegian Breakaway entered service May 2013. This 15 deck ship can accommodate 2,394 passengers and 1,101 crew members easily. There are 1,197 total rooms in all categories with 182 suites and 360 balconies. Sailing from New York, she now sails cruises that go to the Bahamas and Florida, the Caribbean and up the coast of Canada and New England since the much larger and newer Breakaway took over her old Bermuda sailings. But don't count out the Norwegian Gem for fun and excitement, because there is plenty of that onboard. Best part is that now New York has another Norwegian ship in town.
The ceiling matched the carpeting in this area of deck 7 where you will find the main reception desk, shore excursion desk, Port O' Call shop, Java Café, and Internet Café. Despite the ship arriving into Boston, many stayed on the ship to drink, watch the movie playing on the large screen in the atrium, and swim in the pools. My guess is that they had an inkling that the Red Sox were about to capture the playoff spot Thursday evening and didn't want to share in Boston's excitement! Sorry Yankee fans.
The first stop on my tour was The Haven, the exclusive access communal area for suite guests in The Haven. From the special web site for The Haven:
This private enclave at the top of the ship has quiet places to dine, drink and relax, and an expertly trained staff to attend to your every need. Take a swim in a private pool, work out in a private fitness area and soak your tired muscles in a private hot tub. Order from a special Courtyard menu and spend your tranquil days at sea enjoying the luxury of complete privacy and personal service.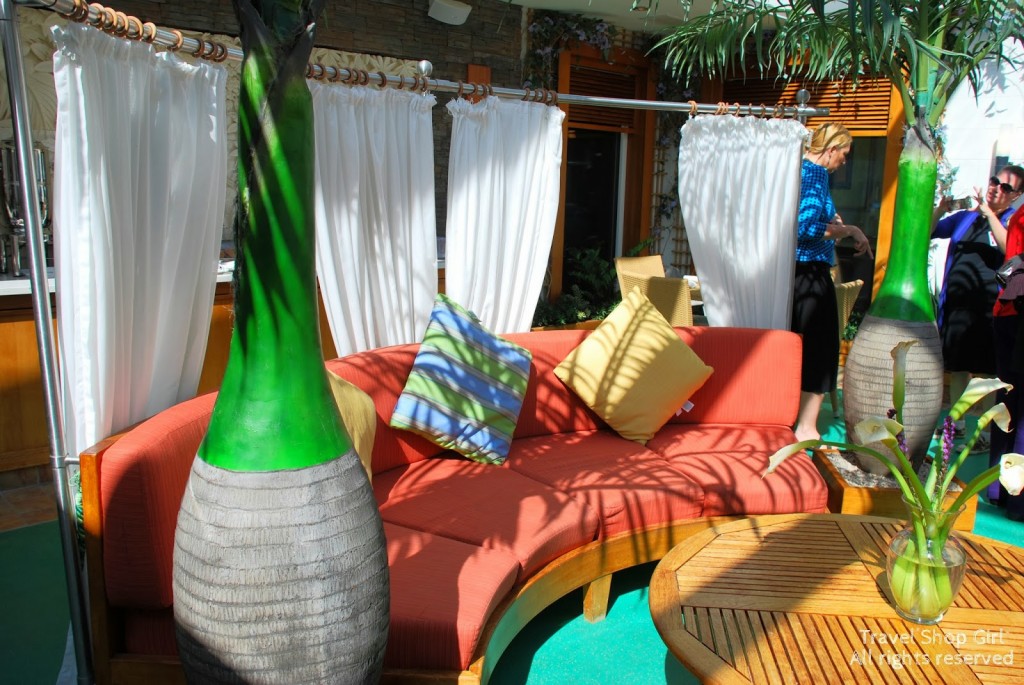 Not exclusive to only the Norwegian Gem, The Haven is available onboard the Pearl, Jewel, Jade, Epic,
Getaway, and soon on the Breakaway as well. Amenities include 24-hour butler, Concierge service, Courtyard Valet, white tablecloth in-suite dining, and escort to your suite. Exclusive benefits include exclusive access to the Courtyard with private pool, sun deck, hot tub and fitness area; priority embarkation and disembarkation; distinctive platinum keycard; priority boarding of tenders to shore; and complimentary limousine service from the pier to the airport for Garden Villa guests.
Dining: Next up was Cagney's Steakhouse, an American-style steakhouse that is well known and loved by cruise loves who sail on Norwegian Cruise Line. Cagney's is one of the many restaurants onboard as the Norwegian Gem has six complimentary dining options and several with a surcharge. Cagney's is one of the specialty restaurants onboard and does come with a $30 per person cover. However, most people on the Norwegian Gem probably aren't protesting the price when they know they are getting a Black Angus t-bone or Prime Rib, jumbo crab cakes, and truffle fries.
With so many choices onboard from Italian in La Cucina to Moderno Churrascaria, a meat lover's paradise, to Teppanyaki, you can easily find somewhere to dine at almost any time of the day. Perhaps you're feeling in the mood for French dining? Try Le Bistro French Restaurant.
We were lucky enough to enjoy our lunch in Le Bistro with a sampling of food from a variety of areas representing the various restaurants.
Since I don't eat meat, I abstained from the appetizer, but it seemed to be a hit with everyone partaking of the Barbecue Pork Spare Ribs. These were drum roasted and prepared and served with a hoisin barbecue sauce.
I started with the Endive, Apple and Roquefort Cheese Salad with Cranberry and Walnut Vinaigrette, which was simple, but crisp and delicious. Considering I haven't had fruit in months (trying to avoid sugar), the fruit was a tasty treat for me.
The entrees consisted of either a 14 oz. Ribeye Steak or Filet of Atlantic Salmon. As I wasn't eating either, I was still able to snap a few pictures.
My server was kind enough to bring me a side of vegetables, which was the Swiss Chard with lots of garlic and the cheese polenta. I'm also avoiding unnecessary carbohydrates so I avoided the polenta and dove right into the Swiss Chard.
Dessert was a chocolate tart served with fresh raspberries, pistachio, and vanilla sauce. I plucked the lone raspberry off the tart and nibbled on some of the pistachio crumbs and was content with a fresh, hot cup of coffee as my sinful dessert.
If you'd rather dine in the main dining room, you're in luck as there are two onboard the Norwegian Gem. The first is the Magenta, which is the smaller of the two and seats 306 and has contemporary inspired art work with decorative walls subtly changing colors.
The more traditional and larger of the two main dining rooms is the Grand Pacific, which is located aft on deck six with amazing views from nearly every seat in the room. This dining room is inspired by the first class dining rooms from the Matson Liner ships that sailed from San Francisco to Honolulu.
Bars and lounges: One of the many places onboard where you can find a drink is the Star Bar, which also doubles as the Concierge Lounge. The bar is "…themed around a gangster called Cagney who lived through and during the roaring 20's in America."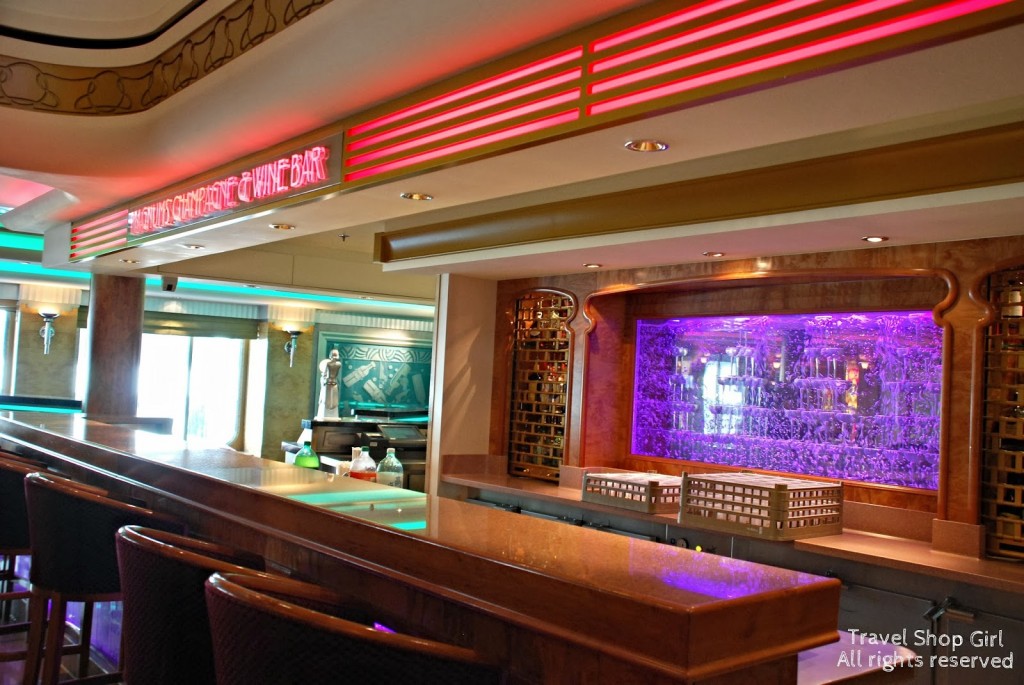 Inspired by the Art Nouveau era using Charles Rennie Mackintosh's design elements and colors, Magnum's Champagne & Wine Bar is a bright, fun bar has a moving water feature that is mesmerizing. With a nearby piano player, one could really pound back a few here or at the nearby Shakers Martini & Cocktail Bar. You won't want to miss the martini tastings usually scheduled during sea days.
For the manly men that might find the colors a little to bright and shall we say, feminine, walk a few more steps to Maltings Beer & Whiskey Bar. Masculine wood tones with a backdrop reflecting the production of beer. I can hear women everywhere asking their husbands, "Happy yet?"
What do you get when you combine bubbles, the use of lighting, color and ultraviolet artworks, loungers and velvet drapes? Why that would be Bliss Ultra Lounge and Night Club! This hot space becomes an adults only nightclub after 11:30 pm. Parents: You might want to make sure your teens are supervised in this space because another word for lounger is BED. Yup, unless you're looking to become a grandparent soon, you might want to consider the Sports Complex as an alternative place for your teen or provide sufficient birth control.
What Bliss does have that is fun for all ages is the industry's first bowling alley and is also equipped with plasma TVs. Rental shoes required, bumpers available, and price per game is $5.
If that's not your speed, but instead you'd prefer a show or two, head over to the Stardust Theater. This large theater that seats just over 1000 people is where you can watch Broadway and Vegas-Style shows. Located on decks 5 and 6, go at least one night to a show, be it the Welcome Onboard show, the comedy act, or one of the many others, but do go.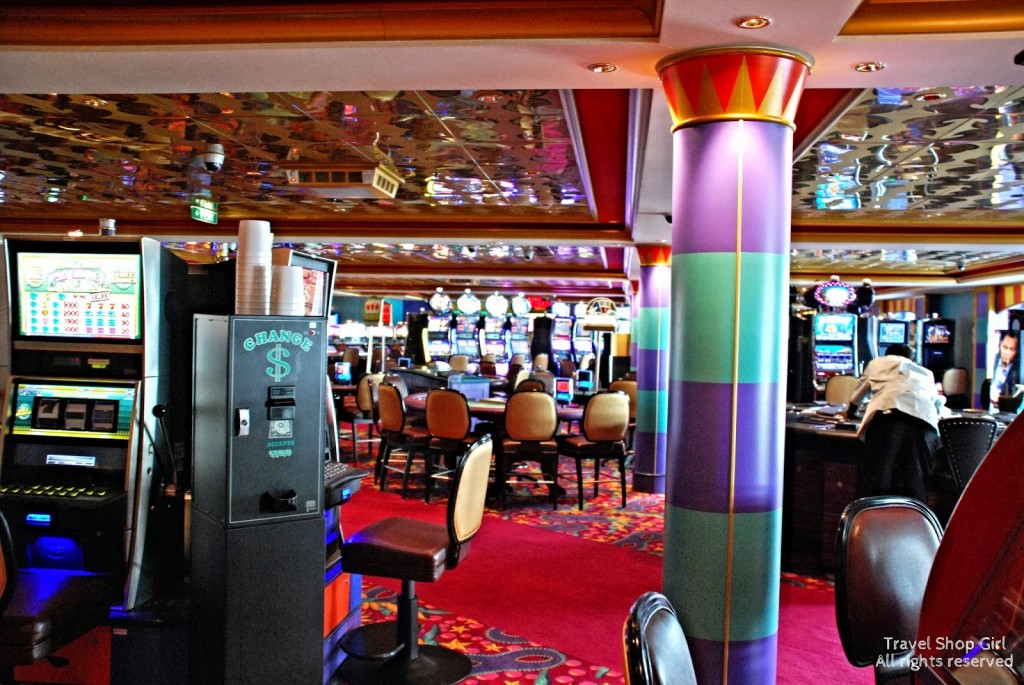 After the show, you can go shopping in one of the Trade Routes Boutiques or better yet, pop on over to the Gem Club Casino. Featuring "…a circus theme reflecting bold and brash colors of traditional traveling circuses at the turn of the century," this brightly lit casino is a full service casino with slots and table games like blackjack and craps as well as table service for drinks. I would recommend that you try something like these Online pokies before actually trying your hand at the many different slots and table games that are on offer. What is better than surprising everyone with your skills and coming away with the most money? That is what your cruise experience is all about after all. If you're not feeling the casino when you go in, but still want to play, there are an assortment of machines located elsewhere, including in Bliss and also in Spinnaker Lounge.
Pool area: Think it might be time to jump in and cool off in a pool? You bet it's time! It's always time on the Norwegian Gem. The Tahitian Pool is the ship's main pool on deck 12. Here you will also find the kid's pool just off to the side apart from the main pool, which is great for the little ones.
The main pool area actually has two pools and five hot tubs. The one pool that has the slide is for everyone as well as two hot tubs just off to the side. The other pool is in front of the Bali Hai bar and is the adults only pool. Here you will also fine three hot tubs, one of which is a covered hot tub. There are plenty of sunbeds and chairs on this deck and on deck 13 just above and overlooking the pool.
Fitness Center: Maybe you had one too many desserts last night at dinner or maybe you're simply someone who enjoys fitness, whether or not you're on vacation. If that's the case, then a visit to the Body Waves Fitness Center is probably going to be on your list.
Open from 6 am until 11 pm, the gym has plenty of cardio equipment, including elliptical machines, stationary bicycles, and treadmills. On this cruise the ideal time to run on a treadmill would be while the ship is in port as clearly no one was interested in being in the gym, but for this guy.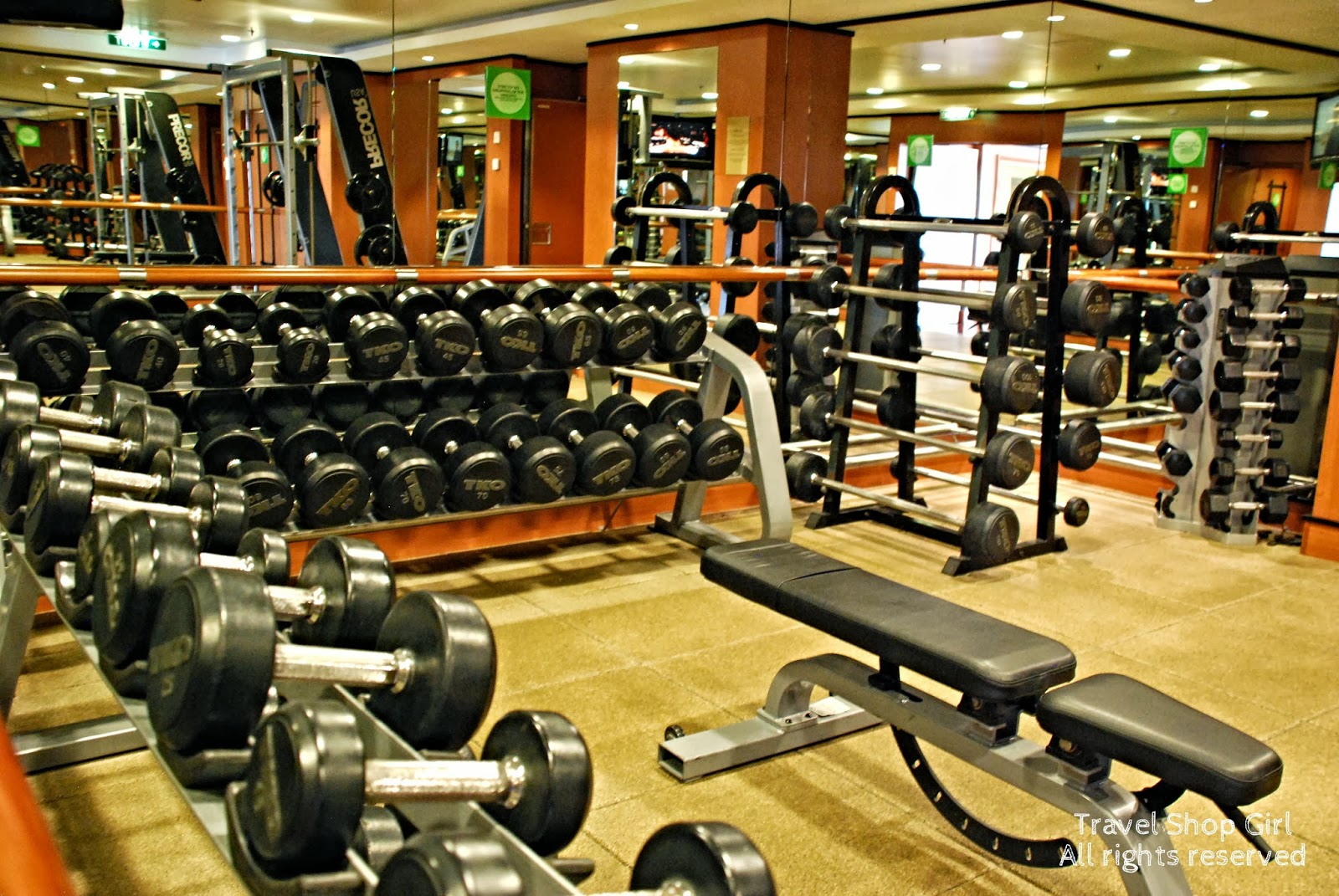 Just off to the side of all of the cardio equipment was a separate room with freeweights. If you were interested in an aerobics or fitness class, sign up at the fitness center entrance on the sheet that's on the table. Most classes are available for an additional fee. If that doesn't cut it for you, just remember the Sports Complex isn't far away and has the first rappelling wall at sea, only U.S. rated climbing wall afloat, a full sized basketball court, as well as the jogging track.
After that strenuous workout, you might want to relax in the Thermal Suite located only steps away from the fitness center inside Mandara Spa. You can soak in the Thalassotherapy pool, which combines the restorative properties of saltwater and heat with invigorating jet massage technology to create the ultimate relaxation experience. Use of this area is at an additional cost and includes the Thalassotherapy pool, hot tub, lockers, showers, robes, and flavored water and tea. There are only so many passes available to use this area so if it interests you, you might want to make your way to the Spa and sign up before sail away.
Cabins: Unfortunately, I only had the opportunity to view one cabin while on my tour and no, it wasn't one of the 2-bedroom or 3-bedroom family villas. I wish! Instead, I had a chance to sneak a peak at one of the Forward Penthouse with Balcony cabins (SE). Ranging in size from 489-578 sq. ft., this cabin sleeps up to three with a queen size bed and luxury bath and shower, living area, dining area, and large private balcony. Includes butler and concierge service, too. This cabin is located forward on the ship and although the perks are nice, the wind from this far forward may prevent you from using the balcony so if you're a balcony person, you might want to consider another location. Additionally, since it is located under the bridge, if you have your drapes open, you'll need to keep the lights off. They will also see you on your balcony so you should probably keep your clothes on, too.
My time on the ship came to a close and security was watching to make sure I didn't sneak back into The Haven. Within minutes I was off the ship and feeling extremely jealous of the passengers who were staying on the ship for a few more days.
I took this one last picture before I left from the parking garage of the ship near the terminal building. Cannot wait to get back on a cruise ship for a cruise and not a tour. Soon enough I'll be back onboard so come back to see where I'm headed! All of the pictures I took of the Norwegian Gem will be up on the Travel Shop Girl Facebook page by tomorrow so check there for more pictures of this ship and other ships, too.