If you're looking to relax and unwind and prefer relaxation in some other form than that of a cocktail, then you'll want to head directly to the MSC Aurea Spa while you're onboard the MSC Preziosa. 
Guests staying in the Yacht Club not only have private elevator access to the spa, they also benefit from exclusive oceanview massage treatment rooms reserved for MSC Yacht Club guests.  If you'd rather have a massage in the privacy of your suite, no worries.  Your butler can arrange any one of a number of massages (Balinese, reflexology, shiatsu, four-handed, and more) for you in your suite.  If you'd prefer a spa treatment, there's so many to choose from including the Thalasso Flowers & Sea. 
Once you enter the MSC Aurea Spa, you immediately feel relaxed.  Located forward on the ship on deck 14, the spa's decor is a combination of natural stone and wood with floor to ceiling ocean views.  This is how MSC Cruises describes the MSC Aurea Spa:
Relax and rejuvenate: Enter the zen-like atmosphere of our tranquil spas and your mind will transform to a state of pure relaxation. Don a plush robe and relax on a teak bed in our meditation area, surrounded by glass walls with spectacular views from the top of the ship. Just next door, private spa treatment rooms await. Strewn with delicate flower petals and soft, warm lighting you can enjoy rejuvenating treatments such as a Balinese massage with lava stones, shiatsu and reflexology. Follow-up with the total relaxation of our spa's sauna, steam room and whirlpool bath.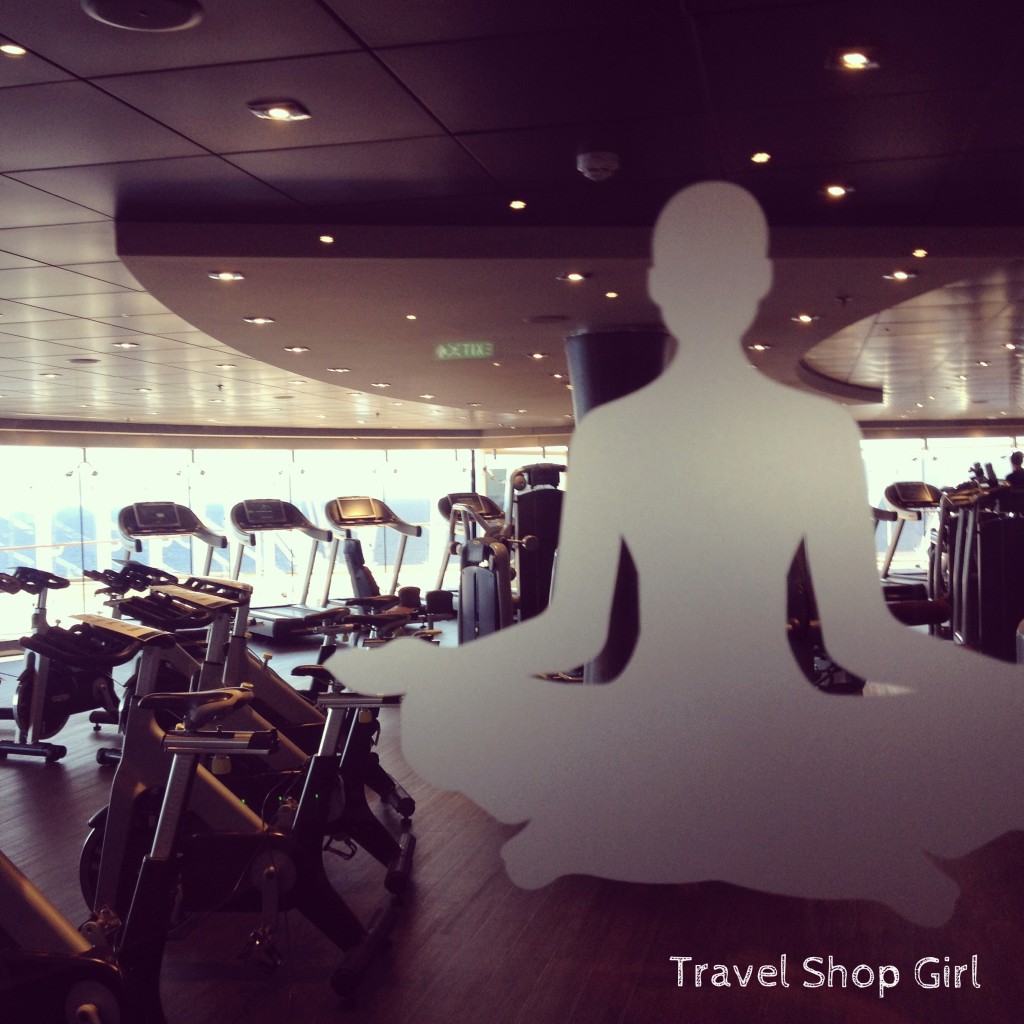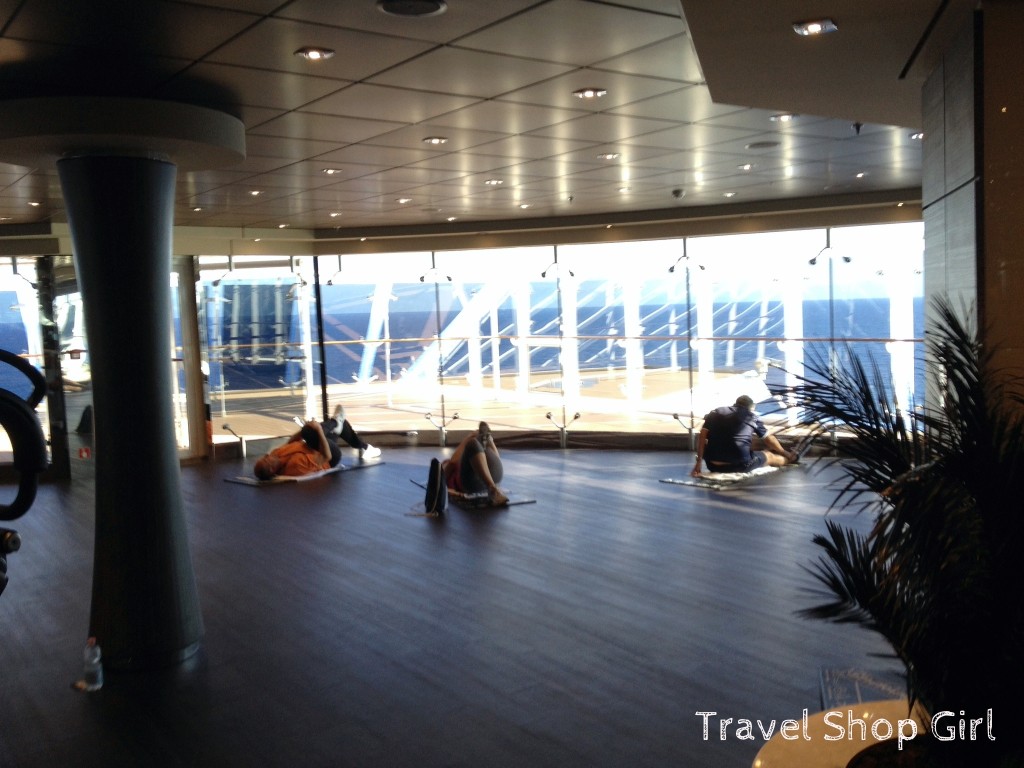 Did you know that in addition to the all of the gym equipment, you can schedule a session with a personal trainer or take a class like yoga, pilates, or aerobics?  
The class areas are fairly big, but as a result, the gym space as far as treadmills is on the smaller side.  They were almost always in use and you're limited to 20 minutes maximum at a time as the they automatically shut off.  This can be incredibly annoying in the middle of a workout and since more people are working out these days, my only wish is that they had far more treadmills.  Maybe even dedicated treadmills for walkers so they can walk to their heart's content on those and let runners run on the other treadmills. Perhaps this is their way of getting you to take a class or meet with a personal trainer, which you certainly can do while in the fitness center without limiting your workout to the treadmill. 
After a run on the treadmill or other cardio equipment, you can use their weight machines or free weights to finish out your workout.
I love this glass wall that separates the fitness center from the spa bar.  Gives a little privacy without forcing you to watch people working out while you sip on a smoothie.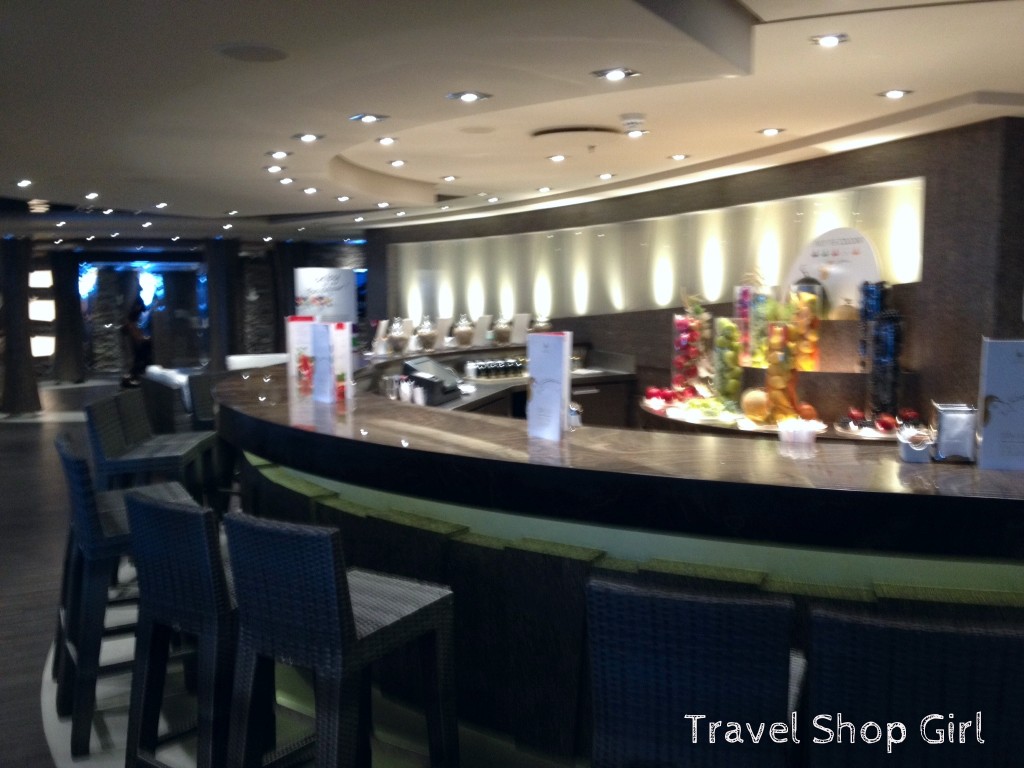 After your workout, walk over to the MSC Aurea Spa Bar and enjoying a refreshing fruit juice blend or herbal tea in relaxing comfort at the bar or at one of the seating areas.  
You can even shop for clothing and accessories in the spa store or sit and relax before heading back to your cabin.   This is definitely one area that you can't find with other cruise lines and it makes complete and total sense.  Who wouldn't want a cool drink after working out?  
Even with a port intensive cruise, the MSC Aurea Spa was always full, a reflection of what guests thought about the many services available.  The MSC Aurea Spa and Fitness Center has something for everyone whether your idea of relaxing is a facial, massage, or simply working out.