When you say the name Gordon Ramsay, you either find that people love this British celebrity chef or quite the opposite.  I'm one of the ones who is oddly intrigued while simultaneously scared to death of Chef Ramsay, but that doesn't stop me from watching everything he is in.  While his television persona may be terrifying, I do know that he has a passion for cooking and that was enough for me to search out one of his restaurants on my recent trip to London.  After perusing the GordonRamsay.com website, I decided that Maze by Gordon Ramsay in Mayfair was the perfect restaurant match for me.  Why? Because Maze has a dedicated vegetarian menu with intriguing options and that was beyond ideal.
We made our way to Mayfair and to the London Marriott Hotel Grosvenor Square, in which Maze is located.  Strangely enough I had considered staying here, but when later decided on SoHo instead.
Maze is described as follows from the website:
maze's French cuisine with Asian influences is innovatively presented in smaller dishes, allowing guests to experience more of Head Chef Alex Thiebaut's inspiring menu. The tastes and flavours of the dishes combined with offerings from the sushi bar combine to create an exciting and delicious dining experience.
The maze Sushi Bar also affords guests the opportunity to enjoy Chef Gohei Kishi's expertly crafted sushi dishes either as part of the menu in the main dining room or whilst enjoying a drink with friends in the lounge and bar.
The soft lighting, including the purple and wood spaceship-style lights, are a nice contrast to the wood tones and plush pink and purple seating areas when you enter the restaurant.  We were escorted to our table almost immediately and while it was a Monday lunch service, the restaurant was about half full.
Not one to shy away from the drink menu, I gladly looked it over and then took the server's suggestion of a Passion Fruit and Vanilla Martini.
Made with Madagascar vanilla infused Ketel one vodka and shaken with fresh passion fruit and sugar syrup, this was too good for words.  Let's just say if given the chance I probably would've stayed and had several.  It was light and yet every sip was packed with flavor.  A delicious choice!
We asked for the vegetarian menu, as you can see above, and were advised that food arrives on small plates.  Best to order a few and share and so we did.
Lunch began with an amuse bouche, which unfortunately I can't tell you what it was exactly.  It was a flaky pastry with something light and whipped inside and it tasted good, but I have no idea what it was.  I just hope (please, please, please God) that someone wasn't playing a joke on me and served a meat or fish item in advance of our meal.
Normally I wouldn't take a picture of the bread served, but I loved the little slate board it came on and the small hockey puck of butter.  Now onto the food.
Salt baked turnip, charred baby gem lettuce, and mayonnaise:  I purposely chose Maze in hopes of receiving delicious food and I wasn't disappointed.  This beautifully presented dish was one of my favorites.  It looks like a painting, doesn't it? The charred lettuce and salt baked turnip paired excellently.
Confit charlotte potatoes, sweetcorn, miso, fried onions: This dish was rich and satisfying with the fried onions adding a smoky taste to what one might think was an otherwise simple dish.  There was nothing simple about this dish at all.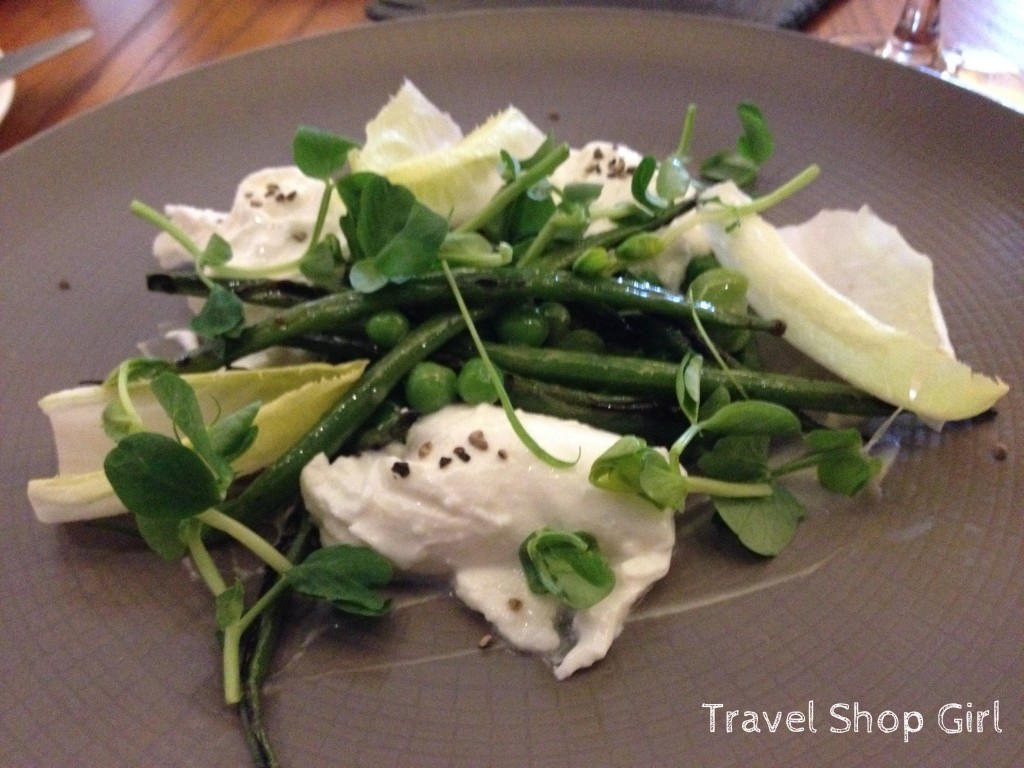 Peas, broad beans, chargrilled green beans, burrata, lemon purée: Another beautiful dish, what do you get when you combine some of my favorite vegetable choices?  An empty plate.  The burrata was soft, light, and rich all at the same time and the lemon purée somehow made this fresh dish taste even better.
Wild mushroom risotto, fried onions: How could I possibly visit a Gordon Ramsay restaurant without sampling the risotto?  Yes, it was as good as it looks.  Rich, creamy, and full of mushroom flavor, this was another favorite.
The dessert menu offered sweets or cheese, as well as coffee and tea.  I wasn't about to leave without a dessert so I ordered one to sample.
But who am I to complain, especially after receiving these beautiful and ridiculously fresh madeline cookies.  Just when I think it can't get better, I get a madeline!
White chocolate cheesecake, chargrilled pineapple, Szechuan powder: Interesting, right?  Not at all what I expected it to look like, which I guess was good.  The chargrilled pineapple was delicious, but I really expected it to have a stronger flavor from the Szechuan powder.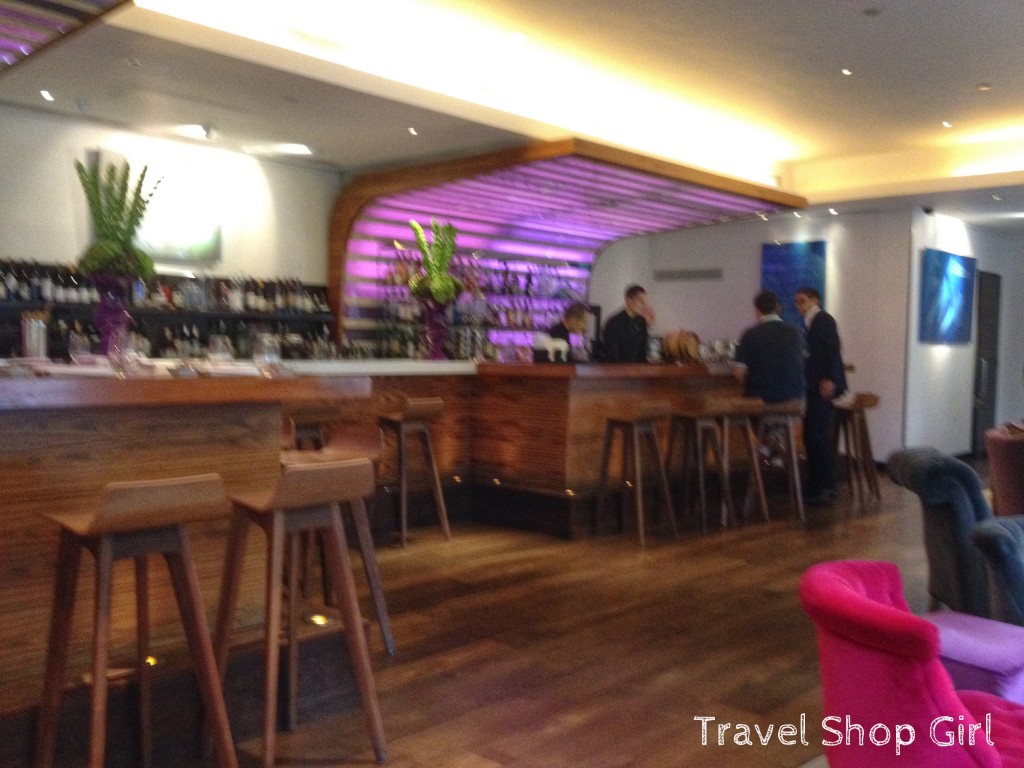 I shouldn't omit that the service is more on the formal side with well dressed servers and staff.  As such, it is probably in your best interest to not show up wearing a t-shirt and jeans.  But c'mon. If you're looking to go out to eat somewhere nice, you probably shouldn't show up dressed like a slob anyway.
The atmosphere, while less super casual and more slightly formal, was still comfortable and inviting and definitely not stuffy.  You can't feel stuffy in a restaurant with purple lighting now can you?  If you look closely you can see men dressed in suits, probably business men dining there for lunch.
Overall, because of the atmosphere, vegetarian menu, and the drink menu, I wouldn't hesitate to return to Maze for a meal or a drink the next time I visit London.   The only thing that could've made my meal even better is if I had seen Chef Ramsay in person or if he had served me my food himself. A girl can dream right?
Maze
10-13 Grosvenor Square
London, W1K 6JP
Phone: +44 20 7107 0000
Hours:
Restaurant
Monday to Sunday
Lunch 12pm – 3pm
Dinner 6pm – 11.00pm
Bar
Monday to Sunday 12pm – 12.30am