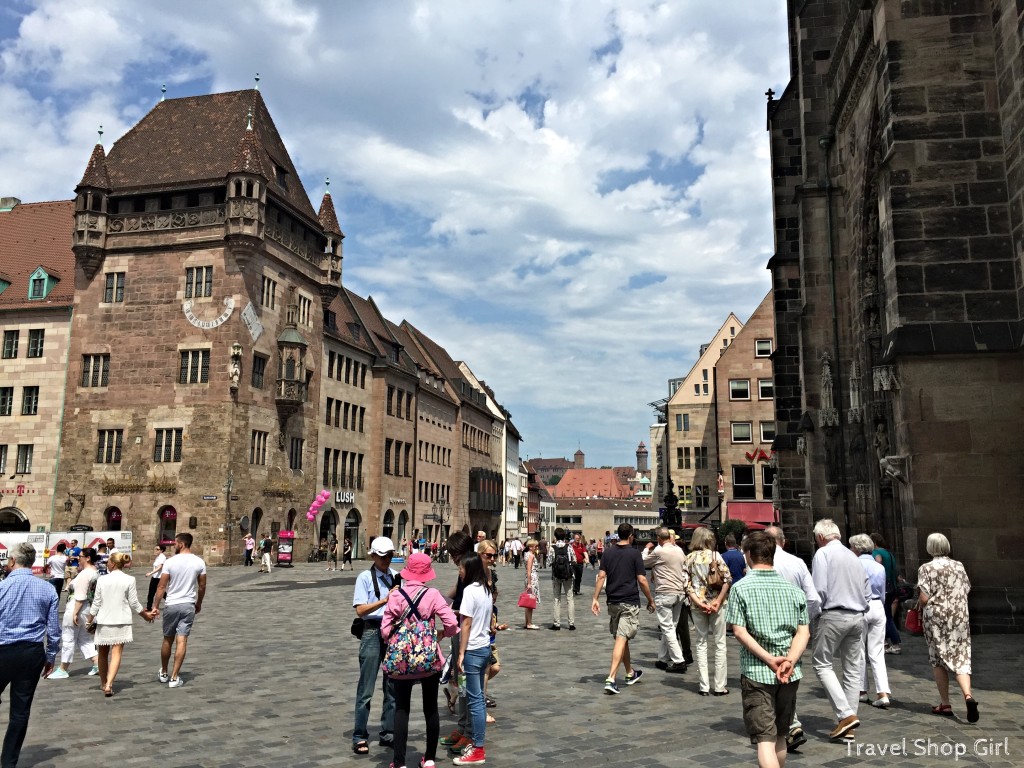 If you're jetlagged and exploring Nuremberg, what should you do first? When I arrived in Nuremberg to my hotel, I had been awake for more than 24 hours. It was unusually hot (90°F), I was overdressed, tired, hungry, and thirsty.  After checking into our hotel, Hotel Drei Raben, Karla and I headed off to grab something quick to eat before our plans for the afternoon.  We had pre-arranged a 1pm walking tour of the city which had specific instructions to meet at the entrance to the tourist office not far from the hotel.
With only about an hour before our tour, Karla and I decided to find somewhere to eat close to the designated meeting place.  As we walked, we saw that Nuremberg offers many places to choose from that included indoor and outdoor dining.
I admit that it was hard to keep moving toward our destination because well, it's not like you can't expect me to not stop and take pictures along the way.  Besides, how often do you get to see a giant, oversized sneaker on top of a truck?
But seriously, I have this thing for churches and cathedrals and once I saw Lorenzkirche (St. Lorenz or Lawrence Church), I found some energy on reserve to start snapping pics.
Construction on this large and ominous looking church began about 1250.  Tourism Nuremberg adds, "Originally built as a three-aisled basilica in the high Gothic style; later extended with an imposing late Gothic hall choir (1439-1477)."
Although badly damaged during World War II, it was restored and is now one of the most prominent churches of the Evangelical Lutheran Church in Bavaria.
With our stomachs growling, we pushed onward toward Hauptmarkt, the central square in Nuremberg where the annual Christkindlesmarkt or Christmas Market takes place in during the Christmas season. Since it was June, Saturday, and hot outside, there wasn't a Christmas market, but we did get to see and experience the daily farmer's market.
Time to eat!  Karla chose sushi while I opted for the tofu-vegan wrap from the Damas truck, which was insanely delicious!  I ate (inhaled) the veggie filling and tofu in my wrap before I could even take a picture.  Other vegetarian choices included a falafel truck parked right next door, but I would definitely recommend the super fresh, freshly prepared, and uniquely spicy tofu-vegan wrap.
After eating, we went off in search of the tourist office.  On any other day locating an address and going on a leisurely walking tour of the city would be easy, but somehow on this day it became a crazy search and rescue mission to locate the tourist office in Nuremberg.
We asked no less than five people to assist us and all five people had different answers and directions, including one person who insisted that the office had been closed.  Long story short — by the time we were able to locate one of the tourist board offices, it was long after the time of the tour and that meant no tour of the city.  The next day we learned that when I stopped for my tofu-vegan wrap, the office was only steps away. 🙁
But did that mean I couldn't discover more about the city without the tour? Absolutely not!  With the aid of a few items from the tourist office, including a handy map, we went off to discover and explore Nuremberg on our own, accompanied of course by none other than Albrecht Dürer (#meandmyduerer).
Up next are some of my favorite images of Nuremberg as we toured the city on our own.