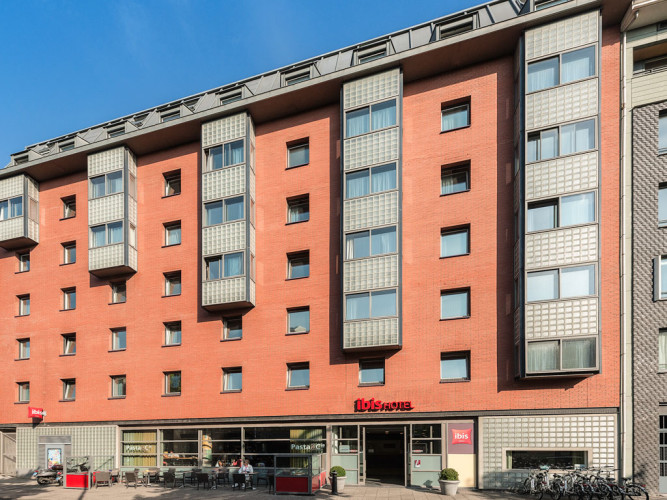 Have you ever been so excited to do something that you just couldn't wait for the big day? Think Christmas but bigger!  For this trip I was flying to Amsterdam, but not for the purpose of travel alone.  I was going to meet up with my friend, Danielle (of Cruise Miss fame) for the very first time in person.  Although we had both been to Amsterdam before, finding a safe and convenient hotel for two women was of the utmost importance to us.
While not a name many Americans might be familiar with ibis, it's a popular chain of hotels located throughout Europe, the Americas, Asia, and Africa.  They opened their first hotel in 1974 in Bordeaux, France and opened their 1000th hotel in 2014 in Indonesia. The ibis brand offers hotel accommodations to guests near city centres, airports, or railway stations and knowing that, you'll know you're near everything central when you stay at an ibis hotel.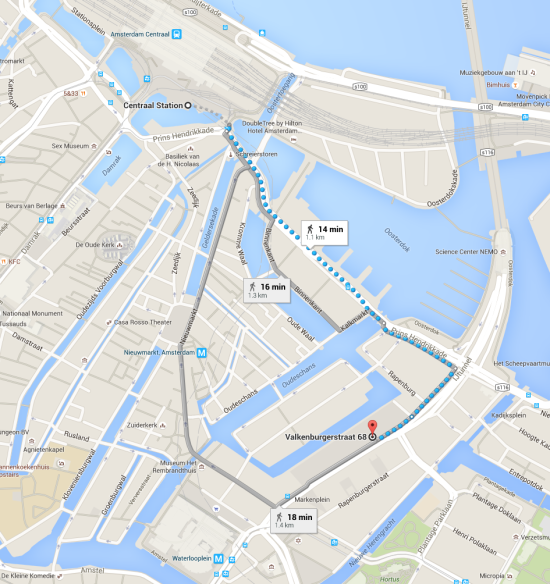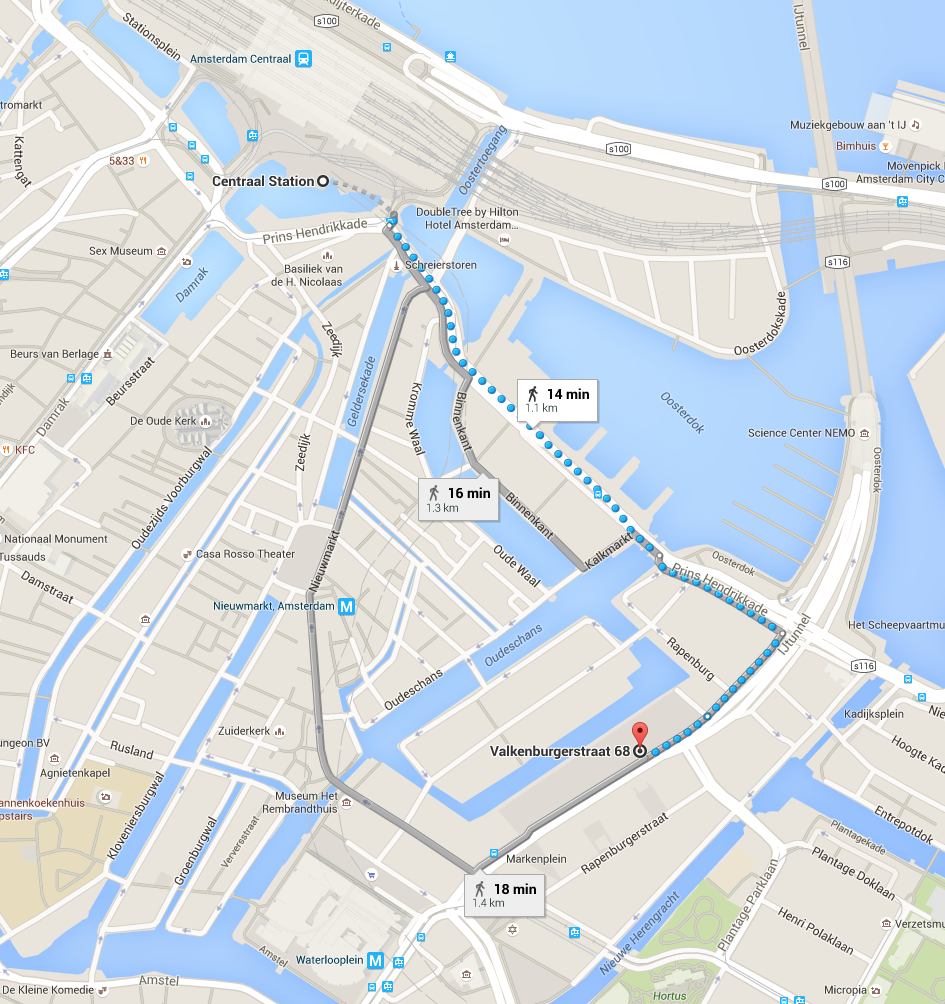 After arriving into Amsterdam, it was only a short 15-minute or so walk from Amsterdam's Centraal Station to my hotel.  ibis Amsterdam Centre Stopera is a centrally located and affordable hotel for anyone with a need to get out and explore Amsterdam because it's not only near Centraal Station, but also Rembrandtplein and Waterloopein metro stations, too.   If it's your first visit to Amsterdam, don't forget to watch out for bicyclists as they always get the right of way as there are way more of them than pedestrians.
After entering the front door, you only need to walk a few steps up to the reception desk.  Behind you, adjactent to the front door, is a small "store" where you can purchase beverages or snacks without having to leave the hotel.  This is perfect for late nights when you might have the munchies and don't want to have to run out to find food.
As Danielle had already checked in, I only needed to grab my key card, walk down the hallway and over to the lifts to get to the room.  I especially liked the added security of having to use your key card to activate the lift, a definite plus for solo travelers.
The 207 rooms at ibis Amsterdam Centre Stopera are available in different options including double beds, two twin beds, or even three twin beds.  Each bed is a "sweet bed," an ibis  bed that is tested through research to provide you with the best night's sleep possible and I can vouch that this is, in fact, true! From the high-tech mattress to the cocooning effect of the pillow and duvet, I slept like a baby.   The two twin beds are tucked into the headboard, but it was fairly easy to move them apart to give each of us a little more personal space.  When you're not sleeping, enjoying the free wifi and your choice of the many international channels available on the in room television. Danielle thought I was crazy, but I grabbed the remote and immediately flipped on British reality TV.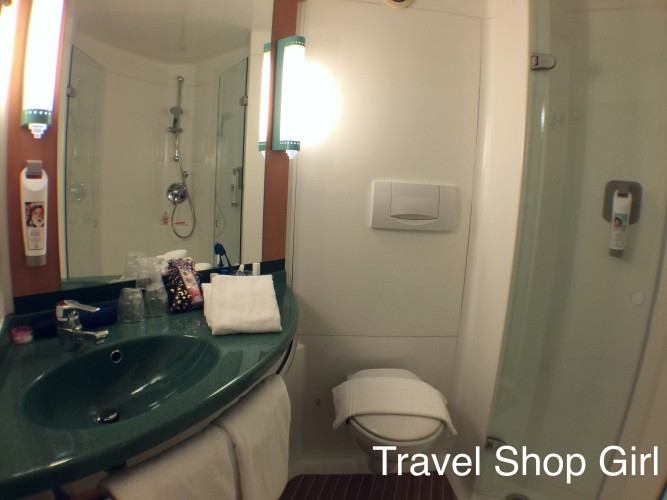 The bathroom was quite large and but for a small vanity for two women, the total size as well as the abundant shower space was far more than I've found in most hotel rooms.  You can scroll through the pics of the bathroom above to see how big it was.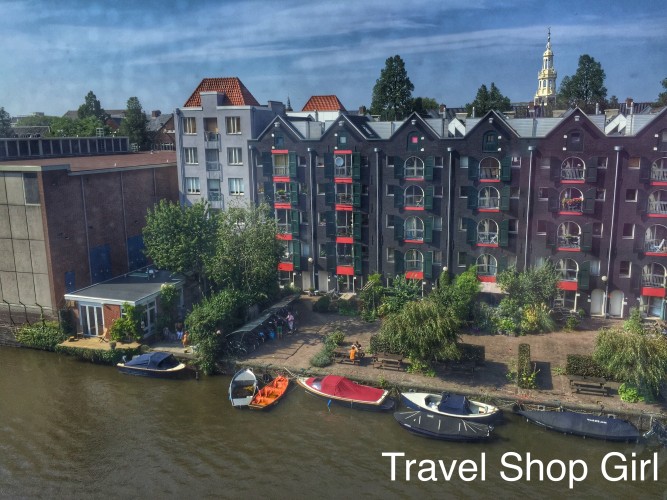 Then, of course, how can I forget that view from our room.  Perfectly and totally Amsterdam!
When you do decide to leave your room, it might be because you're hungry.  Whether you choose to try their all-you-can-eat-breakfast buffet, a snack, or a meal in the restaurant downstairs or maybe enjoy a drink from the bar, either way it is as it should be: Convenient.
One day we both felt like having soup before going out to explore and so I had a bowl of asparagus soup from the hotel restaurant, which I have to say was hot and delicious.
Overall, I loved my short stay at ibis Amsterdam Centre Stopera because of its great location with easy access to everything that we needed to see and do while in Amsterdam.  With a manned front desk, restaurant, store, and free wifi, it had everything that I could possibly need or want for a safe, clean and comfortable hotel stay.  In a nutshell, this hotel is perfect for couples, solo travelers, friends, and pretty much anyone else who are looking for a centrally located Amsterdam hotel.
The next time you think about where to stay in Europe, don't overlook brands you might not automatically be familiar with here in the U.S.  Try something new, like the ibis Amsterdam Centre Stopera and you might find yourself pleasantly surprised.
ibis Amsterdam Centre Stopera
Valkenburgerstraat 68
1011 LZ – Amsterdam
Telephone: (+31)20/7219173
---
While Ibis Amsterdam Centre Stopera generously provided me with complimentary accommodations, all opinions and photographs, unless otherwise noted, are my own.