Hotel Commonwealth – Kenmore Square, Boston, MA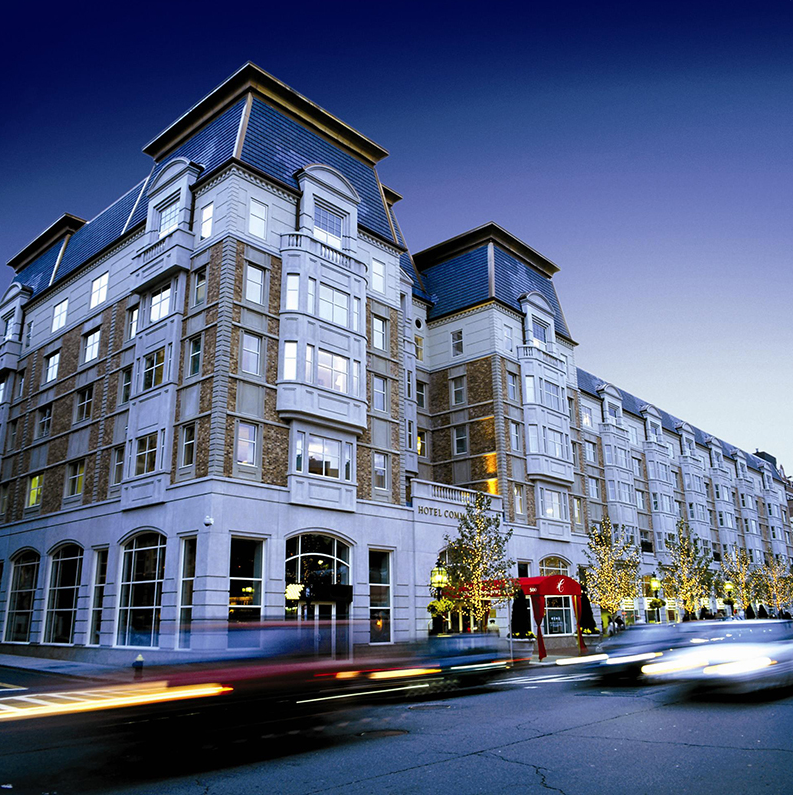 When you want to get away, why not stay close to home and treat yourself like I did when I stayed in Boston at Hotel Commonwealth. While I've lived in Boston for some time, I can honestly say that I've never stayed in a hotel in Kenmore Square near Fenway Park. I was all about a weekend away and Hotel Commonwealth turned out to be the perfect staycation experience.
Hotel Commonwealth first opened its doors in 2003 in Kenmore Square across the street from the famous Boston landmark, the Citgo sign.
Situated right in the middle of Boston, Hotel Commonwealth is right around the corner from Fenway Park and yet still close enough to see 200 Clarendon, formerly known as the Hancock or the John Hancock Tower.
As the official hotel of the Boston Red Sox, I fully expected a traditional Boston style hotel, but that's not what Hotel Commonwealth is like at all. With 245 guest rooms and suites, Hotel Commonwealth is what modern luxury hotels in Boston strive to be like. Below is a virtual walk through of Hotel Commonwealth and its 2014-15 expansion and renovation.
Hotel Commonwealth's renovation and expansion included a redesign of the original guest rooms, an additional 96 new guest rooms including a few new theme suites, renovation of the meeting spaces (with a potential custom chandelier being installed), and creation of an outdoor terrace facing Fenway Park. But probably one of the most exciting additions to the hotel is the two room, top floor Fenway Park Suite with Balcony, which includes memorabilia, direct views of Fenway Park, and a large walk out balcony with original Fenway Park seats. Go Sox!
The hotel lobby underwent a four month long and $1 million redesign that turned it into so much more than a lobby (I cna't help thinking they must have had to make use of a fair few skip bins sydney to get all the waste taken care of during the renovation). The check in process is more intimate than how most hotels operate with two lower front desks, which allows for a more relaxed and less formal check in. My check in was completely effortless and I felt like I was being welcomed into someone's home and not a cold and sterile hotel environment.
This area is warm and inviting and after checking in this space allows you to linger and meet friends, enjoy a drink, or sit and read in the comfortable seating.
Throughout Hotel Commonwealth's public spaces as well as guest rooms you'll find an abundance of artwork by local artists. I especially loved the wall of Boston Terrier pics near the lobby.
TSG Tip: With Boston University only steps away from the hotel, it shouldn't come as a surprise to see so many images of Boston Terriers since their mascot is afterall, Rhett the Boston Terrier. And yes, Hotel Commonwealth is a pet-friendly hotel, too.
After checking in we walked from the lobby to our guest room via the enclosed footbridge with views of the Prudential Center.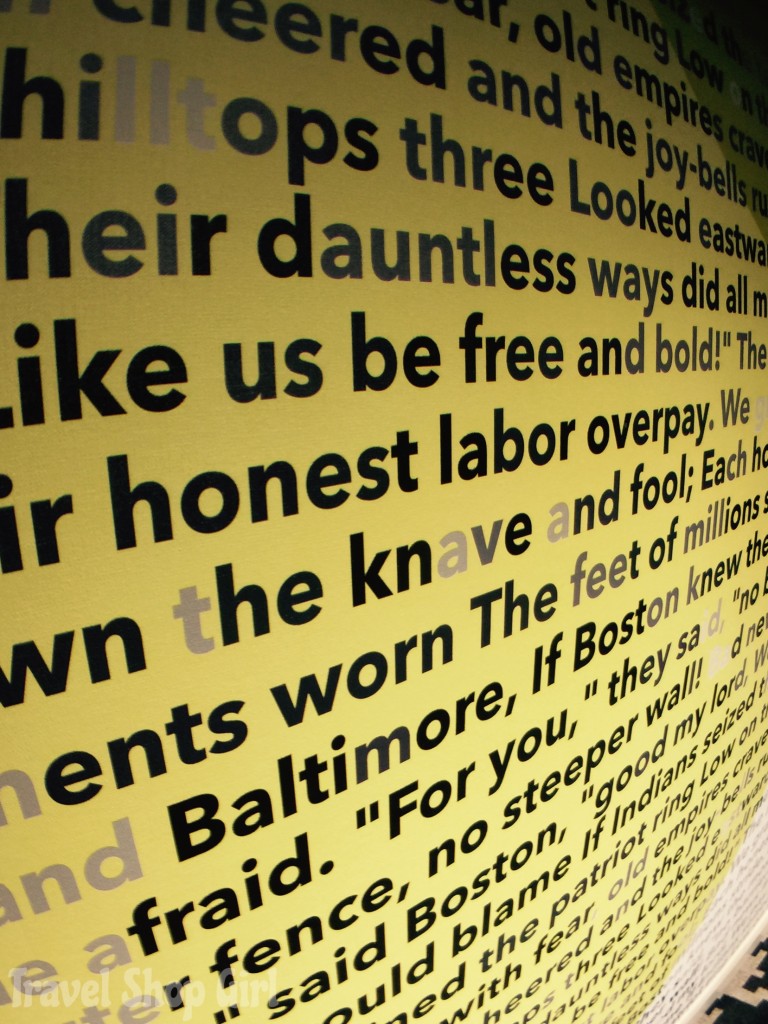 On the opposite wall was this huge wall of words. Now someone might think it was just a bunch of random words, but not me since this is the poem, "Boston," by Ralph Waldo Emerson, a native Bostonian. Here's a small excerpt:
What care though rival cities soar
Along the stormy coast,
Penn's town, New York and Baltimore,
If Boston knew the most!
For my stay at Hotel Commonwealth, we had the Kenmore King room which faced Kenmore Square with a view of the Citgo sign at night. This approximately 425 square foot room has a king bed with a custom upholstered headboard, imported Italian linens, plush down comforters, and luxurious pillows. Opposite the bed is a large flat panel Smart TV that sits on top of a white dresser that also holds a small refrigerator. Unfortunately, one of the drawers was broken and couldn't be used.
The in-room tablet allows you to set an alarm, order room service, and check out what's going on in the area. Unfortunately, mine didn't work past the main screen. If you bring a computer or tablet, free WiFi is available in rooms and throughout the hotel.
TSG Tip: If you're staying at Hotel Commonwealth, then you should definitely dine Eastern Standard, Island Creek Oyster bar, or the Hawthorne, all conveniently located inside the hotel.
The spacious marble bathroom with a glass enclosed shower has a beautiful wood barn door slider. My favorite part was the ample sized Malin + Goetz toiletries, one of my new favourites even before I arrived at Hotel Commonwealth. I was that impressed with what I saw that I even looked into reading something like The 5 Best Wall Mounted Toilets to see what I can improve on when it came to my bathroom. There's so much that I am inspired by.
TSG Tip: Did you know that Hotel Commonwealth also offers in-room spa services available by appointment?
My other favorite during my stay was the hanging door sign for the room that highlights the beloved Boston accent.
The 24-hour fitness center was a nice change from so many hotels offering strange hours to access gym equipment. Although small, it had treadmills, bikes, and weights although nothing to clean equipment down, which was a little strange.
One of the other additions made during the renovation and expansion was space for the hotel's valet parking. If you're familiar with Boston, then you know parking can be rough. Valet parking is $53 per night and instead of calling to pick up your car, text. That's the kind of techy service I just love.
When a hotel takes the time to address both big and small issues and makes you feel not only comfortable, but special, then you know this is a hotel that you'll want to return to time and time again.
Click To Tweet
After spending two nights at Hotel Commonwealth, I could see that the hotel has paid a great deal of attention to make sure everything works together seamlessly.
The artwork definitely looks like it is supposed to be there and fits in perfectly with the total theme of the hotel.
The furniture and styling isn't like anyone is trying too hard to do something so different that it wouldn't work with traditional Boston sensibility.
But most importantly the service is impeccable and seamless from the valet service to the porter to the front desk staff to housekeeping, everyone worked together in what appeared to be a choreographed and flawless execution of service.
When it was time to check out, I happened to mention in passing something about the tablet and the dresser drawer and I was surprised at how apologetic the front desk employee was and how quickly this was addressed. I was given a manager's card and asked to contact him to discuss the situation as well as having one night of valet parking taken off my bill. When a hotel takes the time to address both big and small issues and makes you feel not only comfortable, but special, then you know this is a hotel that you'll want to return to time and time again. Hotel Commonwealth is that kind of hotel.
Hotel Commonwealth
500 Commonwealth Avenue, Boston, MA 02215
617-933-5000