Yesterday's blog covered my arrival into Montego Bay and the Holiday Inn Sunspree Resort. Today I will touch upon the dining options available as well as shopping and the resort's casino. This all inclusive resort's rates include your accommodations; breakfast, lunch, and dinner; snacks from morning until night; local brand beverages and cocktails; non-motorized watersports; day and night entertainment and activities; children activity centre for kids from 6 months to 4 years and 5 years to 12 years.  In addition, you can plan an excursion off property through the Tour and Guest Services desk in the hotel lobby.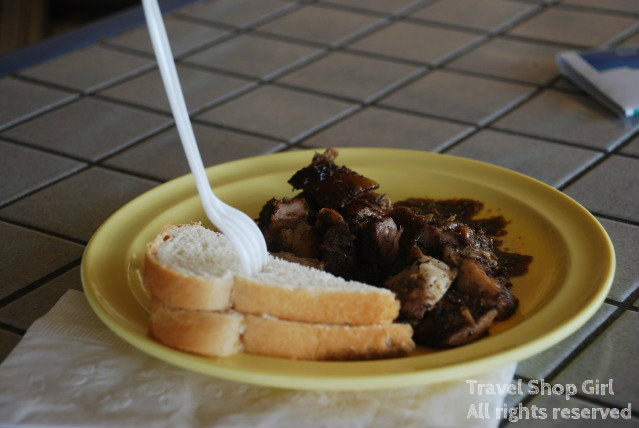 Dining options include an Italian restaurant (Sorrento), a seafood restaurant (Seabreeze), a Japanese Teppanyaki restaurant (Kenko), a Jamaican restaurant (De Terrace), and the resort's buffet restaurant (Port Side).   It is important prior to arriving at your destination to adjust your expectations so as not to be disappointed during your vacation.  If you're traveling on a budget, don't expect a fine dining experience and five star hotel accommodations.  Perhaps you're a "beach bum," someone who simply wants to spend all of their time on the beach and doesn't care that much about your room or food.  But if you are, then don't fall for the beautiful photographs on the resort's web site without doing more research.  I chose the Holiday Inn Sunspree Resort to stay at for one night because I had heard positive feedback about the resort and wanted to see it for myself.  The resort isn't bad, but it's not one that I could honestly recommend without caveats. That's primarily because of the accommodations, food, drinks, and the other basics.  The jerk pork from the Jerk Hut was rustic and authentic, but the overall food quality was inferior in the other restaurants we visited.
One of the specialty restaurants on property is called Seabreeze, which is a seafood restaurant overlooking the Caribbean sea. Reservations are required and when we called, we were told they only had a 9 pm reservation available, which we took.  We decided to walk around the property and arrived over at the restaurant around 8:30 pm only to see that the restaurant was a little less than half full.  I'm not sure if they were understaffed, if they like to push reservations to make the restaurant seem more appealing, or if they don't know how to make reservations, but I couldn't believe how few people were there.  There was a couple in front of us who tried to explain to the hostess that they would be leaving the next day and wanted to dine there that night, but she kept saying that they needed to make reservations.  Finally, the gentleman was insistent enough that she finally obliged and offered them a table.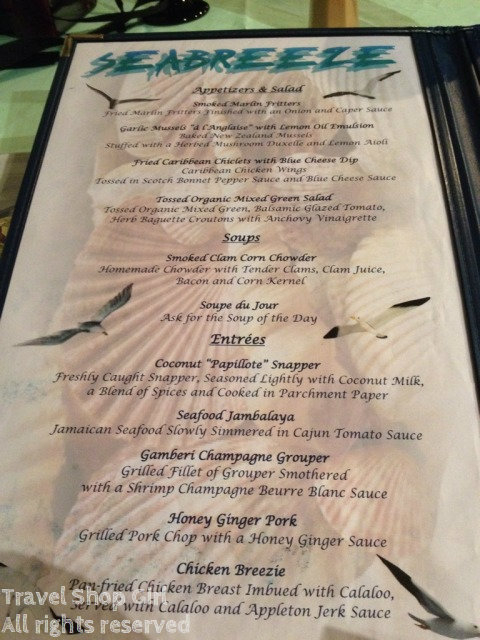 I can honestly say that I have never been to a restaurant where I was unable to order anything off the menu. Every single item had meat or seafood in it, including the soup and salad.  The smoked clam corn chowder with bacon was certainly not in the cards for me and the tossed organic mixed green salad was served with an anchovy vinaigrette.  Have you ever gone to a restaurant where you just knew you couldn't ask for something to be left off or changed because you knew it wouldn't arrive the way you asked? This was that kind of a restaurant. Service was painstakingly slow and I am talking escargot slow.  Melissa ordered the garlic mussels for her appetizer and the coconut "papillote" snapper for her entree.  I could have gone and worked out at the nearby gym, showered, and changed from the time her appetizer was served until her entree arrived.  I, of course, joked that they must have been outside catching the fish, but that wasn't the case. Instead, she was served burnt fish. You know it's bad when they serve it that way and either don't notice or don't care.  If you would like to see the rest of the menu, the second page of the menu is on the Travel Shop Girl FaceBook page in the photo album titled Holiday Inn Sunspree Resort.  In addition to the menu, you can view the other pictures that I took of the resort while I was there.
Port Side restaurant is the resort's main restaurant that offers buffet style service with a wide variety of local and international cuisine, according to the resort's literature.  Open for breakfast, lunch, and dinner, there is a variety of food available, but the quality leaves more than a lot to be desired.  Let me break it down for you like this.  There is a children's menu section that I saw mostly adults eating at.  At dinner, this section had potatoes and chicken fingers and they were probably a few of the highlights to the meal. There was also pizza and a salad bar, but when I shy away from the salad bar — that can't be good.
At breakfast the food variety included bread and bagels, cold cereal, and a made to order omelet station.  If you decide you want an omelet, grab a cup of coffee and plan to wait there a while since the line never seemed to move.  I saw a woman with a stack of toast piling on a large scoop of peanut butter and then jelly on her plate and thought that was strange until I couldn't find a single thing to eat for breakfast.  You may not think this could be true, but they even screwed up the jelly, which was pure sugar and sickly sweet.  At that point all I wanted was to have my coffee cup refilled and that was nearly impossible. Service was pretty poor and I have to believe there is a direct correlation to the amount the employees are paid and the type of service that was provided.  Don't expect anyone to go out of their way for you or to remember any request you make because you probably won't see them ever again.  I had to take a picture of this large vat of hardboiled eggs because I found it somewhat comical.  I would hate to have the job of making those eggs every morning although I think eating them might be as equally bad.
As the Travel Shop Girl, I can be truly forgiving of bad rooms or food as long as they have decent shopping available. The Holiday Inn Sunspree Resort did have two shops available which were nice.  The first had toiletries that you might need if you forgot to pack them, snacks, and food as well as souvenirs and alcohol to take back home.  The other store had clothing, jewelry, and more souvenirs.  I ducked into this store because my sunglasses broke on arrival into Jamaica and I was able to pick up a pair here for only $13. There is also a photo shop where you can have pictures taken although I didn't have a need to go there.  I was curious about the resort's casino as Jamaicans are Catholic and I was told casinos weren't allowed.  I then received clarification that blackjack, poker, and other table games aren't approved of, but slot machines are allowed. Adjacent to the business center sat the tiniest casino I have ever seen.  There is an attendant on hand should you win.  There were 10 cent and 25 cent machines and I played $5 for the experience, but don't think of this place as Las Vegas, but more like a small closet with slot machines.  It is what it is and if you're into it, you might like it.
If I had to recommend the Holiday Inn Sunspree Resort, I would be very careful in doing so.  Perhaps if you were a college student on a budget for Spring Break or if you intended to spend every minute of every date at the beach, but other than that, there are so many great resorts in Jamaica that I cannot understand why anyone would willingly choose this place.  There are many other resorts available for the same price or just a little more that would give you a tremendous experience instead of a subpar one.  Do your research and think about what is important to you before settling on the lowest priced option.  Going the cheap route may save you money before you go, but wouldn't you rather have a wonderful vacation instead of one full of regrets?