Best Vegetarian Restaurant in Stockholm, Sweden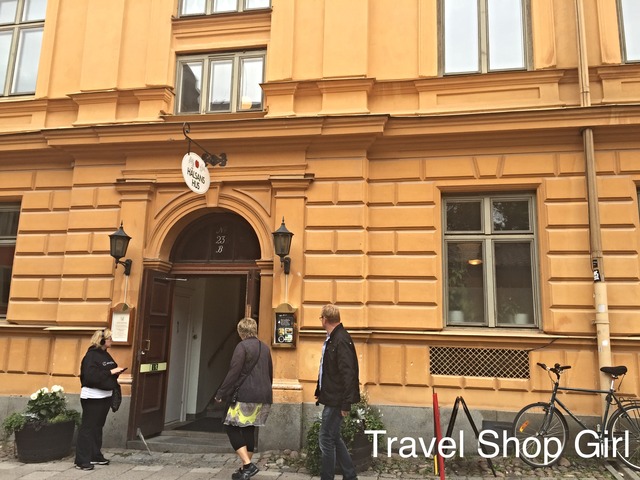 What's a vegetarian to do while traveling abroad? Search out the best vegetarian restaurants one can find. Getting to eat at a vegetarian restaurant means not having to order sides off a standard menu and nibbling on bread while everyone else enjoys their meal. These are the sorts of changes that I witness is the restaurants that I have visited recently. Before, there were not many options for vegetarians, but there are now. A friend of mine is actually in the process of setting up her own vegetarian restaurant. I'm so excited, she's just agreed upon her utilities after consulting Utility Bidder first. When you go to a restaurant, you don't normally think about how the decision of what items make it to the menu or not. You just pick what you want to eat. Businesses also have a budget plan they stick to. It is not always easy, but it is possible. For anyone working in a restaurant, with the use of restaurant operations systems, the management of your company has never been easier. From menu engineering to budgeting, everything is covered. You have to make everything a priority when you run a business, but there is no harm in getting help doing this. Through all of this, this is the reason as to why I can enjoy my favourite meals at my favourite restaurants.
Fortunately for me, while I was in Stockholm, I had the chance to visit a few vegetarian restaurants including Hermans Vegetarian Restaurant and Garden Café. Never been to Hermans? Here's how to navigate Hermans Vegetarian Restaurant in 5 easy steps.
1. Locate the restaurant: Situated on a hill overlooking the city of Stockholm in Södermalm, I heard that Hermans Vegetarian Restaurant was a must visit destination for any vegetarian visiting Stockholm. I planned my day around Hermans while touring the city of Stockholm one day and used one of the city's hop on hop off buses to get there. Whether you utilize a city bus or a hop on hop off bus, you only need to get off at the Tjärhovsplan bus stop, a short two minute walk from the restaurant.
Once I arrived, I walked over to the side entrance of the restaurant through the patio, but it's definitely easier to enter through the front of the building (see the picture of the yellow building's front entrance above). Simply walk up toward the end of the street and around to the front entrance.
2. Pay first: If you're going inside Hermans from the front entrance, step inside and go downstairs into the restaurant. Then walk on over to the counter to pay for your meal in advance. Hermans is a buffet restaurant and not a sit down restaurant with table service, which is why you need to pay for your meal in advance.
You can order the buffet, a drink, and even one of the many homemade vegan desserts from their in house bakery. Don't forget to grab a fork, knife, and napkin before you sit down to eat.
After you pay for your meal (125kr for lunch), walk over to the buffet located across from the cashier. Here you'll find a variety of offerings including salads, potatoes, rice, two different stews, and homemade bread.
TSG Tip: Definitely stop by at lunch where you'll get a great meal for less than the cost of the dinner buffet (250kr).
3. Find a seat: Even though it was slightly overcast, while there's ample seating inside the restaurant for up to 110 people, I chose a seat outside in the garden. With tiny nooks, crevices, and alcoves with seating throughout, the garden area seats another 200 guests. There's seating for as few as two at the small tables or you can choose one of the larger wooden communal tables and make friends with one of the many locals that patronize Hermans regularly. This place was so well structured and populated that there is no way they would need a texas restaurant consultant anytime soon!
4. Enjoy your meal: Why would you want to pass on a seat outdoors with a view of Stockholm, right?
First since we are talking about Sweden, how often do I get to use a true Swedish word in casual conversation? My meal was a veritable smorgasbord of salads, hummus, and a hot entree with rice. The best part was the fresh baked bread, which as you might suspect, was delicious.
While I would've preferred a sit down restaurant with table service over a buffet and while I prefer quality over quantity, I was able to load up on lots of great veggies and for that, I absolutely enjoyed my meal. For what it's worth — no, I didn't eat everything on my plate. I was more into sampling than devouring.
5. Enjoy the view: Probably the most important tip overall I can give you is to take the time to enjoy the view. Once you get settled into your seat, take in the much talked about view from Hermans Vegetarian Restaurant. With a view of downtown and the water, nothing goes better with your meal than this panoramic view.
TSG Tip: While you might think that the Anedin-Linjen M/S Birger Jarl is a cruise ship, it's not. While it served for more than 60 years as one, since 2013 it's been the Ånedin Hostel, an alternative and historical accommodation for those visiting Stockholm.
Not sure what you're looking at? Off in the distance is Gröna Lund, Stockholm's 15-acre amusement park that dates back to 1883. Not only does it have seven rollercoasters, but it's also a concert venue.
TSG Tip: Did you know Bob Marley played here three times? The capacity record of 32,000 was met in 1980 during his third concert.
If you want a better idea of how far up on the hill Hermans is, take a look at this picture of the restaurant, located high above the roadside, that I took after boarding the bus back to downtown. This definitely explains the great panoramic views of Stockholm you can find while at Hermans Vegetarian Restaurant.
When I travel it's often difficult to find healthy food, no less vegetarian food. To locate a vegetarian restaurant that offers a wide variety of healthy and tasty food, like Hermans Vegetarian Restaurant, was an absolute find and I definitely recommend it on your next trip to Stockholm.
Hermans Vegetariska Restaurang (Hermans Vegetarian Restaurant)
Address: Fjällgatan 23B, 116 28 Stockholm, Sweden
Phone:+46 8 643 94 80
Website: hermans.se
Hours: 11 am – 9 pm daily
Have you tried a vegetarian restaurant in Stockholm like Hermans Vegetarian Restaurant?