Another day and another trip and yes — that's me sounding excited!  I'll never tire of traveling or having the opportunity to take off at the last second to somewhere exciting. This time I was off to Europe and Germany to be exact.  Ideally I would fly Business Class or First, but that doesn't always happen.  This time I'm flying Premium Economy on Lufthansa to Europe.  Available as of late 2014, this class of service was created to offer something to Economy class customers who wanted more without the Business class price tag.  According to Lufthansa, "a return flight across the North Atlantic or to Asia will cost an additional EUR 600 on average.  "
Boston to Nuremberg: Flight 423 – 5 June 2015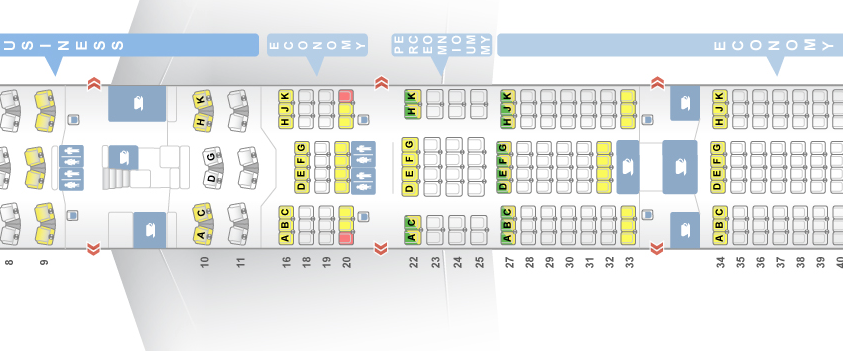 For this nearly 7 hour flight, I chose a seat at the front of Premium Economy section near the exit door, which meant that there wouldn't be any seats in front of me.  I thought I might have a view of Business Class, but on this airplane the seat arrangements are a little wonky.  First, Business, Economy, then Premium Economy, and then Economy again as you can see in the image above.  The 747-8 aircraft is the first sub-fleet to be fitted with the new seats and cabin class.
At 5'4″ tall, not having a seat in front of me was nice, but maybe not terribly necessary. Without that seat in front, the obvious disadvantage was the lack of under seat storage. Fortunately for me, I was able to get both of my bags in the overhead bin early to avoid having to search for a place for my bags.
But the biggest issue with this area was that people like to congregate right in front of your seat for the lavatories.  That was fine with that until several felt it was perfectly acceptable to sit on the emergency door exit where it is clearly marked DO NOT SIT HERE.  I made sure I had my seatbelt on in case the door should open so as not to get sucked out of the airplane.
For the front row seating in Premium Economy, the tray is in the armrest between the two seats as well as the entertainment screen, which also has a handy USB port, great for charging my iPhone.
Entertainment: Lufthansa offers movies, television show, and music.  For this long flight I had the chance to watch Kingsman: The Secret Service (love Colin Firth) and Big Eyes.  There were a good number of classic and contemporary options as well.
The included basic amenity kit had the expected eye mask, ear plugs, socks, a fresh wipe as well as a toothbrush and toothpaste.  Lufthansa makes a point of stating that a bottle of water is a perk with this class, yet when I asked I was told there wasn't any for my seat.  I ended up with several glasses of water from the beverage cart as a substitute.
While Premium Economy is generally served the same food as Economy, the notable difference between the cabin classes is that in Premium Economy you receive a menu, flatware and some basic dinnerware. That always makes airline food far more palatable.  That and the free wine!
Since I had pre-ordered a vegetarian meal online, I was sure I wouldn't need to worry about choosing off the menu.  But not so fast!  Apparently, the flight attendants gave my meal to someone else who didn't seem to question why they were given a special meal.  D'oh!  The flight attendant told me not to worry as one of the selections was a vegetarian option.  Perhaps he meant a carb only pasta selection (cavatappi pasta, roasted red pepper strips, creamy pesto sauce, and parmesan cheese).  I ate the salad and nibbled some of the cheese and veg and pushed the rest, including the chocolate brownie, aside.
Before landing in Frankfurt, the flight attendants came through the cabin with breakfast.  More specifically, a meat laden sandwich (turkey pastrami and deli chicken), which I turned down.  My breakfast included fresh fruit, a muffin, a roll, and a granola bar.  I ate the fruit and the granola bar, drank a ton of coffee, and called it a day.
After arriving in Frankfurt, the flight attendants gave each women departing the plane a rose.  How sweet is that?   Once off the plane I had to pass through Passport Control, which is set up on one side for EU passengers while the other is for non-EU passengers.  Of course, the one woman screaming about unfair treatment was of course, an American woman who tried to get on the shorter EU line and no, it wasn't me.
Acording to Lufthansa, Frankfurt Airport is "Germany's largest commercial airport [and] one of the most important air traffic hubs in the world. It is also the biggest of the five Lufthansa hubs and provides its visitors with many services, facilities and events."
My welcome to Germany as I waited to board the plane? Rain, but it was only temporary.  The gate agent wouldn't allow me to take my 20″ bag onboard and advised me to check it with the crew by the plane. To get to the gate we needed to board a bus and I swear it took 30 minutes to get there!  I thought for a moment they might be driving us to Nuremberg.
This was the view from the plane as we flew over the beautiful German countryside.
Budapest to Boston: Flight 424 – 16 June 2015
My flight from Budapest to Munich was on a domestic flight and the Lufthansa gate agent did not want me to take my 20″ carry on bag with me.  When she asked me to fit in the "cube" by the gate, it was so tiny — like that of a briefcase!  Maybe she felt pity on me, but she let me go and told me to "pack lighter next time."   Because of a slight delay with this flight, I had to run through the Munich airport to get to my gate.  The gate agent there told me not to worry — it was now time to relax.  Love it!
For my flight from Munich to Boston,  my flight was with a different aircraft configuration with First, Business, Premium Economy, and then Economy.
Here's a view looking back toward the rest of Premium Economy. That little glass divider is the separation between Premium Economy and Economy.  Seats in Premium Economy are wider and as such, there is a 2x3x2 configuration vs. 3x4x2 in Economy.
The seats, while wider than the Economy seat, are definitely thinner.  Was it comfortable?  Yes – no complaints there.
For some odd reason the Premium Economy section was really empty, which meant I didn't have to worry about the seat next to me or if there would be enough space for my bags in the overhead bin. After the flight took off, I was disappointed that the flight attendants didn't prevent those in Economy from moving up and taking empty seats in Premium Economy.  It wouldn't have bothered me but for the person who decided to sit behind me and kept pushing my seat the entire time.
Perhaps running through the Munich airport left me frazzled because I was something of a mess by the time I boarded the flight.  Not only did I promptly spill my entire welcome glass of orange juice all over the seat and floor, but then I also accidentally broke the headphones that were provided.
As I always travel with my own headphones, it worked out in the end.   It also meant it was time to grab a beverage that might help me relax more than OJ. Yum – Warsteiner.
I was seated in the second row and as is always the case, the person in front of me immediately reclined their seat way back.  Lucky me!
While there weren't any menus, meal service was similar to my previous flight.  I did preorder a meal, but was told not to worry.  As you can see my meal was the standard vegetarian option that anyone could choose, which in this case was pasta (again), salad, bread, cheese, and dessert.  The overall service provided wasn't as attentive as my flight from Boston to Frankfurt, but not enough for me to really feel bothered.
What a view as we flew on our way back to the United States.  I even spotted another plane in the distance.  Can you see it?
Overall, while I'm still a huge fan of Lufthansa, and will usually choose Lufthansa over other carriers. But I definitely prefer their Business Class service more than Premium Economy.  It's not just that the food is better or that the seats are better, which they certainly are.  It's more about the comprehensive level of service and attentiveness that you become accustomed to with Business Class. Once you go Business or First, it's hard to go back.
Having said that, for a last minute flight at a rate that was only slightly more than Economy, Premium Economy offered me the ability to have a comfortable flight to and from Europe without feeling squished into my seat and that's always a plus in my book.
Do you have a favorite airline that offers Premium Economy service to Europe?