Another day on our world cruise on board Fred. Olsen Cruise Line's Black Watch and today we visited Easter Island. This has long been on my bucket list of destinations to visit and since we are in the southeastern Pacific Ocean, all signs pointed to spending a day with the moai.
TSG Tip: Did you know that there are 887 moai statues on Easter Island?
Taking the Tender to Hanga Roa, Easter Island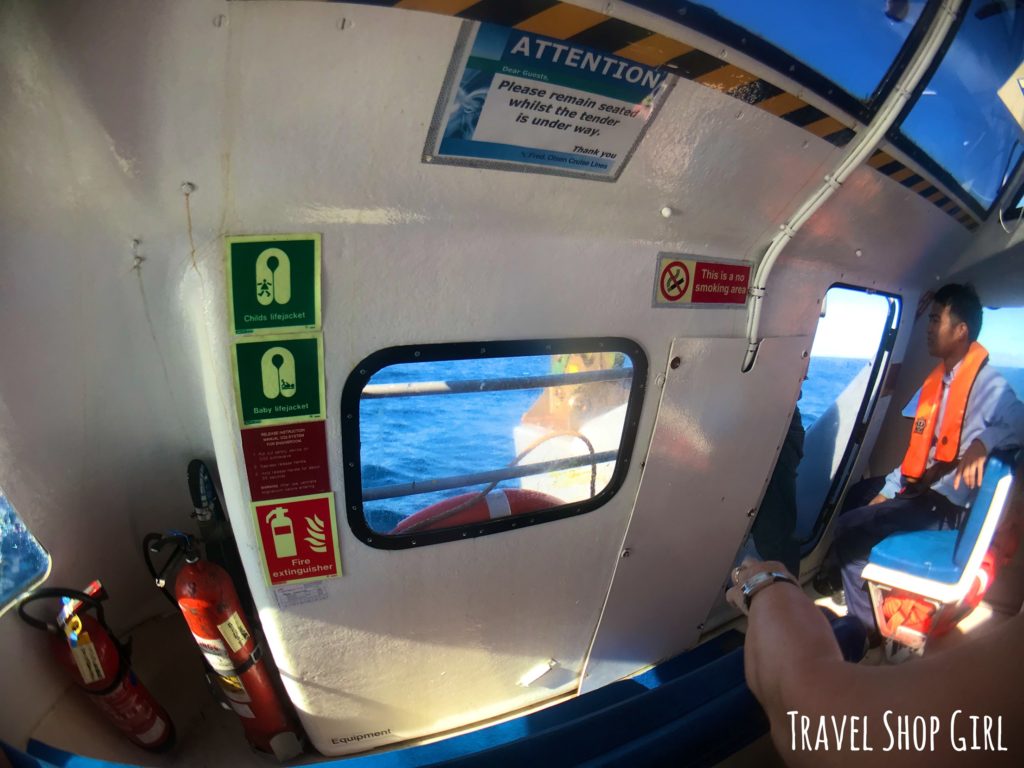 Black Watch was anchored off of Easter Island, which is off the coast of Chile. To get to land and into Hanga Roa, we had to take a tender from the ship a few minutes to the island.  The seas were rough, but the crew persevered and did an extraordinary job making sure all passengers were safe getting on and off the tender. Always looking for another adventure, I wasn't bothered by the choppy water. To be honest, it reminded me a little of being on a jet ski.
Mahantur Tours 
Once we tendered, we wandered a bit to see if we could find our tour guide. Our guide for the day was Roberto from Mahanatur Tours and he was patiently waiting for us as we were now arriving much later than we expected.
Roberto gave Danielle and I our own moai necklaces and guided us to our jeep that would be our transportation for the day. Soon we were off and headed for our first stop, a small convenience store to buy some bottled water as it was going to be a hot day on Easter Island.
A Little Background on Easter Island
Easter Island or Rapa Nui was named a World Heritage Site by UNESCO in 1995. In order to visit the many moai on the island, you have to purchase the $80 admission to enter the Rapa Nui National Park, but believe me, it's well worth it.
The first European visitor to the island, Dutch explorer Jacob Roggeveen, came upon the island — you guessed it — on Easter Sunday in 1722. The island's Spanish name, Isla de Pascua, also means Easter Island.
The island was settled by Polynesians and the population once was as high as 15,000. However, due to disease, fighting, and a host of other issues, the population dwindled to as little as 111 people. Today the population is close to 8,000 and 60% are direct descendents of the aboriginal Rapa Nui.
The moai were erected as tributes to those that passed. Each moai looks different and although you'll see a head and shoulders, you won't see arms and legs because they didn't feel they needed them in the afterlife. The moai stand over their descendents and protect them. I won't begin to pretend to detail the specifics about the moai or Easter Island as there is so much history and information that I couldn't possibly relay it all correctly. I suggest finding one of the many books out there and reading up on your own. In the meantime, follow me on my journey through Easter Island. 
Orongo
It was in Orongo that we learned about the history of the Birdman cult or Tangata manu. Men would swim out to Moto Nui to return with the first egg and would be declared tangata-manu.
Once Christian missionaries arrived on the island, this practice along with the moai, stopped. However, you can still see petroglyphs of the Birdman and Make-make, the chief god of the Birdman cult, all over the island still.
Motu Nui, with the smaller Motu Iti in front and the isolated sea stack of Motu Kau Kau between them. This was my view from the top of the 250 meters (820 feet) sea cliff at Orongo.
Rano Kau
Rano Kau is a 1,063 foot extinct volcano in Orongo and measures nearly a mile across. Visitors used to be able to go inside and see the many types of vegetation, including a fungus that later became the basis for Rapamycin, an anti-rejection drug used for transplant patients.
Rano Kau has a very sensitive microclimate that is needed to protect the remaining trees, plants, and other vegetation inside.
As a result, no one is allowed down in Rano Kau, but the view from over it is absolutely stunning.
We returned to our vehicle after perusing some of the items for sale in the parking lot outside the center in Orongo. Of course, I needed to purchase a little black moai statue for a mere $14. Danielle purchased a similar one in arena or sand color. After petting a few stray dogs on the way to the jeep, we then made our way to the next stop, Rano Raraku.
Rano Raraku
After you exit your vehicle, you'll need to walk up and get your admission ticket to the Rapa Nui National Park stamped again.
TSG Tip: While some people try to be cheap and avoid paying the park fee, don't even think of it. We watched people standing outside of the park areas on the road trying to take pictures. This is both dangerous and unnecessary. The money is used to maintain the parks and to protect you. Don't be cheap and just pay the admission fee and enjoy the experience.
Rano Raraku is an impressively large area known as a quarry for moai. Apparently, 95% of the moai on the island were carved from the rock in this location.
Some of the moai are incomplete and were never completely carved out.
In this one area there are 397 moai statues buried up to their shoulders and without their eyes hollowed out. Despite the civil wars on the island, these status were never affected or destroyed.
I loved how each one of the moai has its own distinct look and expression. While these were not the type of moai I expected to see, I learned here that all moai are different. 
I thoroughly enjoyed climbing up and around and over this area to investigate as many as we did.
TSG Tip: Make sure to look for Tukuturi, the kneeling moai. He's nothing like the others and is said to be a humanoid. Interesting, right?  
From up high on Rano Raraku, we could see our next destination, Ahu Tongariki.
Ahu Tongariki
Danielle made me laugh as she kept asking Roberto if we were going to see any moai that looked like the necklaces he gave us. Finally, her prayers were answered with a short drive to Ahu Tongariki.
Ahu means stone platform and this is the largest stone platform on the island with 15 moai. You can even see a moai with a pukao on its head.
Roberto said that there had been a king with red hair so I must be royalty.
Click To Tweet
TSG Tip: Roberto said that there had been a king with red hair so I must be royalty. If you look at the pukao on a moai or even a statue that's sold to tourists, the pukao is red. The king wanted leaders to have red hair and so they had to find a way to dye their hair red. Looks like I had a leg up on some of those men.
The 15 statues were restored in the 1990's after they were toppled in both civil wars and a tsunami that swept the island in 1960. They have since been sprayed with material to preserve them. These moai were probably the closest to what I was expecting to see on Easter Island.
Of course, that meant Danielle and I had to pose as moai for a pic. How'd we do? Do we blend in you think?
We even had a chance to walk behind the ahu to see the moai.
Anakena
Up next on our tour of Easter Island is our last stop of the day, Anakena. This beautiful white beach area is a destination not only for tourists, but for locals as well. I couldn't believe my eyes when I saw wild horses running freely along the beach.
After walking up from the car park, past a man with a puppy dachshund ("salchicha"), we made our way up through the white coral sand to the first of two ahus at Anakena Beach.
Ahu Nao-Nao has seven moai, two of which are no longer. These moai are different than the others as they are much thinner than any of the other moais we've seen and have shorter ears. They had been carved and ready to mount when the king said that he didn't like them and they needed to be changed. How I feel for those carvers who had to hack the moai down and try to make something new.
We took our pics and I decided to walk down into the water and get my feet wet.
I mean after all, how often will I get to say that I stuck my feet in the water at Easter Island or the South Pacific Ocean?
I could've stayed here for hours and just sunbathed and swam. The weather was hot, the sun was roasty toasty, but the water was absolutely perfect.
Back to Hanga Roa
After a wonderful day touring Easter Island with Roberto, it was time to head back to our home away from home, Black Watch. Roberto said we would need an entire year to see and learn everything we would ever want to know about Easter Island and that we didn't have.
Back at Hanga Roa, there were vendors selling more goods and a long line of people waiting for the tender back to the ship. It was unfortunately chaotic as usually you can see where to stand and wait on line for the tender. For this trip back, there was no line and no organization and people were getting frustrated and antsy about waiting.
The crew made sure everyone was safe and worked in the hot sun and heat all day long without any relief. This to me is yet another example of how incredible this cruise line and crew are.
Click To Tweet
We got back on the ship just before 6 pm, but other tenders took much longer due to the rough water conditions. I can't even begin to explain the professionalism and dedication of the crew on this as well as every other day, but especially this day. The crew made sure everyone was safe and worked in the hot sun and heat all day long without any relief. This to me is yet another example of how incredible this cruise line and crew are.
See for yourself in this short video. I stood for over 30 minutes as they tried to secure the tender and waited until the most opportune time to disembark passengers. I've been on other ships where many times you felt like you might go flying off into the water. This was so not going to happen here.
Final Thoughts
Our visit to Easter Island was definitely a highlight of this world cruise thus far. It was my most anticipated destination and it proved to be as good as, if not better than I ever expected. If you love history and want to see something completely different, I highly recommend a visit to Rapa Nui. 
Have you visited Easter Island? Can you suggest other destinations in Chile that you found equally exciting? Leave your comments below. Discover some other great destinations and travel ideas here on the Travel Shop Girl website .
On my new SPONTANEOUS TRAVEL SCALE of 1-5, with 1 being super easy and spontaneous and 5 being you better plan far in advance, Easter Island scores a 5 for spontaneous travel because I think to get the best experience possible, you should plan your trip and activities far in advance and not try to wing it at the last second. 
While we were provided a tour from the Chile Tourism Board and Mahinatur Tours, as always all opinions and photographs, unless otherwise noted, are my own.