A Taste of Austria
Ever notice that many of my posts revolve around food and drinks? If you guessed this one would be the same, you're right! Nothing prepares you for a future cruise port than good food and drink and Viking River Cruises definitely knows how to do this well.  On the fourth day of our cruise, after spending the day in Passau, Germany, we returned to the ship to unwind and prepare for our upcoming Austrian ports of Melk and Vienna.
To help set the stage for Austria, Viking River Cruises went all out with a truly spectacular Taste of Austria meal.  This elaborate meal allowed guests to dine on local Austrian favourites accompanied by beautiful melodies from Vienna and the Wachau Valley. Even the crew dressed up in their finest Austrian outfits.  Who doesn't want to see their maitre d' in lederhosen?
Did someone say beer?  Do we have enough?
If you're looking for something a little different and who isn't, why not try Specht Himbeergeist?  It's a type of German schnapps that is made by distilling a neutral spirit with fresh, ripe raspberries.
Each table in the dining room was set up with loads of fresh baked pretzels, cheeses, and enough food for an Austrian army.
You could tell that Viking River Cruises went all out and spared no expense for this special evening.  The evening's menu included Viennese Schnitzel, Grilled Chicken & Gravy, Käsekrainer Sausage, Potato Salad, and Cranberry Jam or Schweinehaxe & Gravy, Bratwurst, Sauerkraut, Meatdumpling, Breaddumpling.  Yes – that meant sides for me, but c'mon — it's not like there wasn't enough food for me to indulge in, right?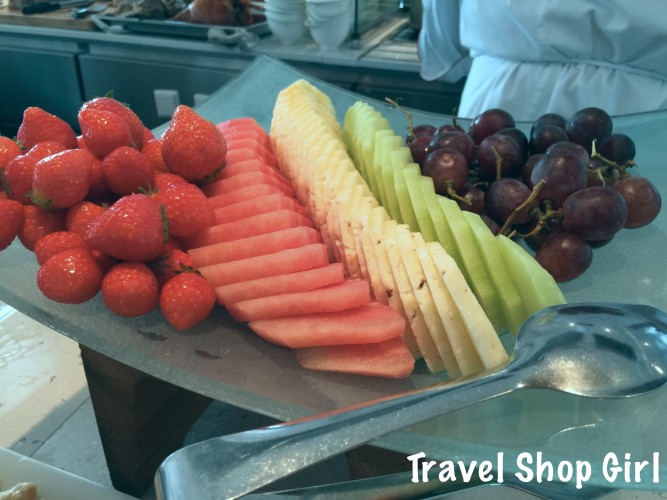 Well kids, meat does come from somewhere so you might as well know the source.  <see below>
Talk about fresh!  I may have cringed as I don't eat meat, but at least you know what you're eating is über fresh and that they used the entire animal in preparation for your meal.  Yet another example of how you know that you're always receiving the highest quality food and beverage while onboard Viking River Cruises.
Dessert time! One of the most famous Viennese culinary specialties is none other than sachertorte. Sachertorte is a chocolate cake that was invented by Austrian Franz Sacher in 1832 for Prince Wenzel von Metternich in Vienna, Austria.   What makes a sachertorte a sachertorte? A true sachertorte is a dense chocolate cake with a thin layer of apricot jam on top, coated in dark chocolate icing on the top and sides.  The "S" helps, too!
I broke down and indulged in the Kaiserschmarr'n, a shredded pancake, which takes its name from the Austrian emperor (Kaiser) Franz Joseph I of Austria, who was fond of this fluffy shredded pancake. The pancake is split apart with two forks into pieces while frying and sprinkled with powdered sugar and then served hot with apple or plum sauce or various fruit compotes.  It was decadently delicious!
Everyone was enjoying themselves and you can't help but smile when you see couples of all ages hold hands and/or embracing while listening to the local musicians who came onboard to play Austrian folk music.  It's all about being in the moment and this night was all about that.  I would definitely say that A Taste of Austria was a big hit on our cruise and Viking River Cruises did an outstanding job of presenting Austria to its guests.
During the meal we were invited to take a tour of the kitchen, which was much smaller than what I've toured on the much larger cruise ships.  Doing this made me completely appreciate what Viking's chefs are able to pull off considering the limited space they have in which to cook a meal.
Up Next: We sail onto Melk and then Vienna!
---
I was a guest of Viking River Cruises for this cruise, but as always — all opinions and photographs are my own.