Summer's coming! If you're like me, you know you want to work out, but when you travel, it's often hard to fit in a workout. So what can you do? Pack your pre workout stack into your suitcase, along with your favorite gym wear and there will be no room for excuses. You can skip working out altogether, do something on your own, or try something altogether new like I recently did with DailyBurn!
You've probably been online and seen the advertisements for DailyBurn, but skipped right past it. I've been going to the same gym for some time and doing the same type of workouts and I admit that I feel like I'm in a rut. I needed to mix things up and decided to give DailyBurn a try. Simply go to their website and sign up and in minutes you can start working out. You'll get your first month free! After signing up, you then need to enter in your weight, sex, and how long you want to work out. A workout schedule is produced with suggested workouts and you're good to go. There's also a meal plan, nutrition, and coaching options available.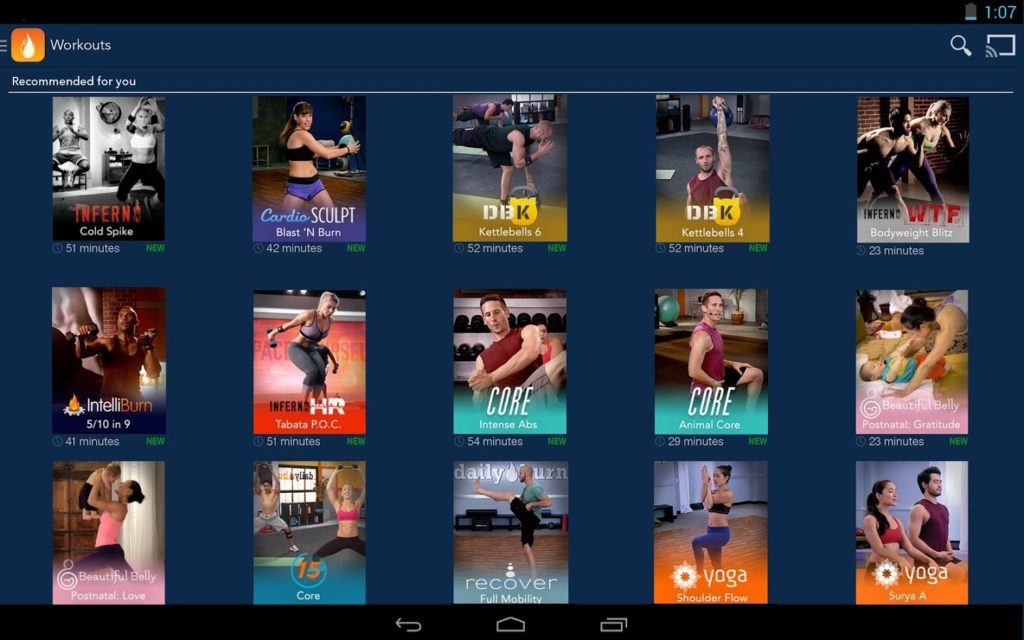 While the meal plan wouldn't work for me since I don't eat meat and it's definitely not vegetarian, I love the variety of workouts offered from Cardio Sculpt, Move!, Pilates, Black Fire with Bob Harper, DBK (kettlebell workout), and so much more. Whether you're a beginner or an advanced athlete, there's definitely something for everyone. Each workout features a regular version of the exercises along with a modified version that's easier as well as an advanced version for you showoffs! While you won't need much, if you want to maximize your experience you'll need some weights, a yoga mat, a kettlebell, and so on if you want to try some of the other programs.
As a gadget queen, you know I love gadgets of any kind I was ecstatic to learn that I could play the workouts on my iPad and mirror it on my TV with Apple TV. But even if I travel, I can just play the workouts on my iPad which means no more excuses about not working out. But not so fast! I saw that DailyBurn also offers a Bluetooth heart rate monitor to make sure you stay in the "zone," and of course, I had to have that. I ordered it along with Fuel protein powder and received discount pricing.
I ordered the heart rate monitor from DailyBurn so I could maximize my workouts and workout harder and it promptly arrived in the mail only two days later with the heart rate monitor and the protein powder. Let's get this out of the way. The Fuel protein powder, while vegan and packed with nutrition, tastes incredibly chalky. I think I'll stick with my AboutTime protein powder that actually tastes good.
The heart rate monitor comes as you see above with the monitor packed in a small package with no instructions in or on it although they do refer you to a website for details.
The website says to put the heart rate monitor on with the logo on the front facing up and the strap under your chest with the monitor in the middle. Put the strap on, turn the program and go. Simple right? Not exactly.
turned on Bluetooth on my iPad and yet I couldn't get the heart rate monitor to sync. I was convinced that it was defective, but I wasn't willing to give up so quickly. I noticed that they also advise to get the electrodes wet before wearing. I know I'm not stupid, but I had no clue what they meant. I thought the electrodes were on the monitor itself, but I finally figured out that the electrodes are those two pads on the strap itself as you can see in the images above.
Once I figured that out, I put the strap on my chest, hit "scan" on the program, and like that I was connected!
You can see here that the heart rate monitor is connected and my iPad now turns into a second screen to display statistics. I can get an accurate reading on the heart rate monitor, see where I am in the workout, and I can even peek ahead and see what exercise is coming up.
This isn't like workout videos of the past with skinny girls running through exercises quickly making you feel inept. Instead, it really feels like you're working out with friends. I know that probably sounds so corny, but it's true. They joke, laugh, and make the workout fun so time passes far quicker than you'd expect. I work out hard and sweat like crazy so it's definitely not so easy that I'm not getting a good workout.
Whether you have 10 minutes or 60, you can easily squeeze in a great workout with DailyBurn and I highly recommend it for an at home workout or for those times when you're on the road traveling. Have you tried DailyBurn?
DailyBurn
Cost: Free for first 30 days, $12.95 per month thereafter
Additional costs: Heart rate monitor, weights, yoga mat, supplements, protein powder, etc.
---
All opinions are my own and DailyBurn has not in any way compensated me for my opinion or this post. Consult a health professional before beginning any workout program.