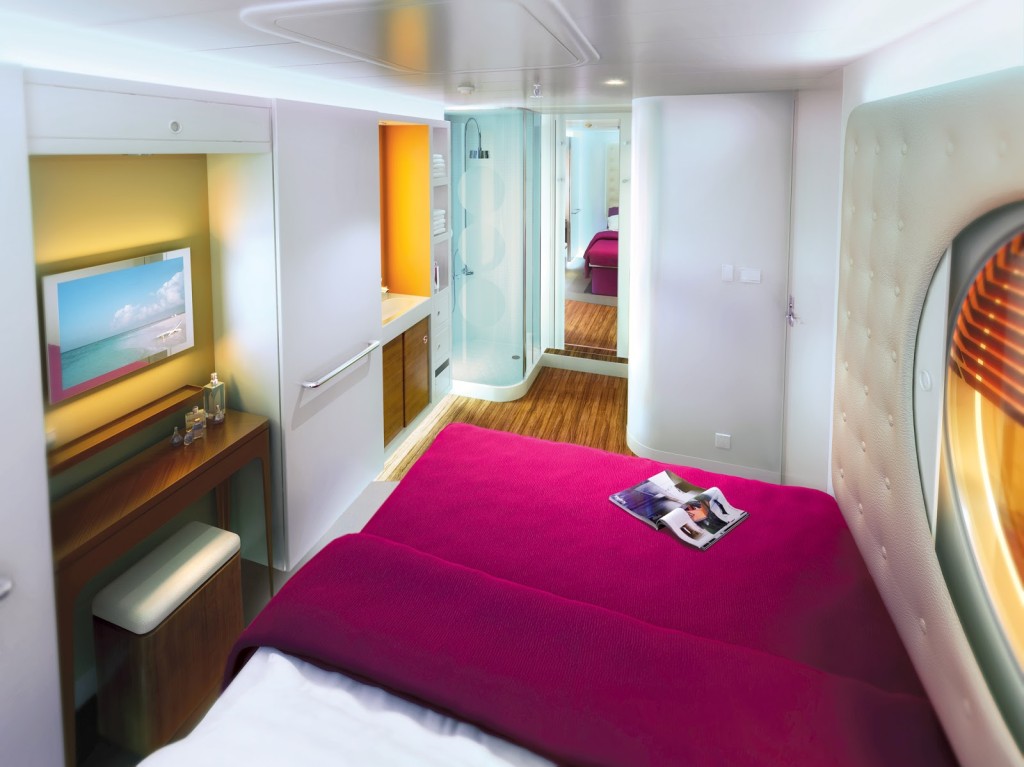 Recently I was looking over some of the images from the upcoming Norwegian Breakaway and I was completely enthralled by the Studio cabins.  Although not the first ship to have solo cabins (Norwegian Cruise Line's "Epic" had Studio cabins), these 100 square foot cabins allow those traveling by themselves the luxury of their very own cabin, but so much more. If you've ever thought about cruising solo, you should give it a try.
Traditionally, cruise lines have charged a surcharge for solo travelers to occupy a cabin by themselves.  This could mean that the traveler pays anywhere from 110% to 200% of the cruise fare in order to have that space entirely without a travel companion.  What that has meant is that before that solo traveler has even left port, they were paying substantially more for the same cruise as other travelers because they were traveling alone. Thankfully, Norwegian Cruise Line looked at this and understood that this might be a little unfair and created the Studio cabin.
On the Norwegian Epic, solo travelers enjoyed paying a fair price while enjoying a cabin all unto themselves. These cabins featured funky color-changing light effects, but something extra that you can also find on the new Norwegian Breakaway.  Solo travelers staying in Studio cabins also have their own Studio Lounge.  This two-story lounge on both ships is dedicated to Studio guests exclusively.  Here guests can enjoy breakfast in the morning and a drink (or two!) throughout the day.
Why is the Studio Lounge important?  Maybe the idea of traveling alone isn't a problem for you, but you would like to be able to connect periodically with people while on a cruise.  The Studio Lounge is a perfect solution for solo travelers.  Accessible by key card access to those in Studio cabins, solo travelers can connect and make new friends in the Studio Lounge.  Perfect for the shy traveler or anyone feeling like they are barging in on couples or families while traveling.
Back to the Studio cabin on the new Norwegian Breakaway.  Each cabin comes complete with a 26-inch flat screen TV, a full-size bed, and a bathroom that is split into two for more space.  The sink is outside of the bathroom and the shower is on one side while the toilet area is on the other side.  If you happen to be traveling with a friend, but decided you didn't want to travel in the same cabin, some of these cabins have connecting doors (see the mirror opposite the bed?) so you can open it as you need it without feeling like you're in the same cabin.
But Norwegian isn't the only cruise line with single cabins.  P&O cruise line based out of the UK and operated by Carnival UK also has single cabins.  P&O Azura has 18 single cabins on deck 6 and many feel that the single cabins are the best feature of this ship.  A little bigger than the Norwegian Studio cabins, these cabins measure about 130 square feet.  Additionally, P&O also offers outside single cabins on the Azura so you aren't forced to choose from only inside cabins if traveling alone.
While looking for single cabins, I was reminded that there had been some mention a few short years ago that Royal Caribbean was going to add single cabins to the Radiance of the Seas, but then nothing seems to have materialized.  Considering Norwegian originally intended Studio cabins to be budget friendly options for cruisers as couples and not as solo travelers.  When you realize that the cruise lines make the bulk of their profit not with the cruise fare, but with everything you purchase once on board, i.e., alcohol, the more people on board, the better for them.
Best advice I can give anyone looking to cruise solo is to shop around and look for the best prices possible. Sometimes it might be in a cabin designed for solo travelers and well, sometimes it won't be.  Big and smaller cruise lines and even river cruises are offering more competitive rates and you might find that a regular cabin on a cruise, even with the single supplement, might cost less than a cabin designed for a solo traveler. Research your options and consult with a travel professional for your best possible options.
Instead of waiting for someone to cruise with you and hoping that you'll be able to sail sometime in the future, go ahead and book a cruise and dare to be adventurous.  With so many options available, there's no reason to say no to one of the best travel options available today – cruising!