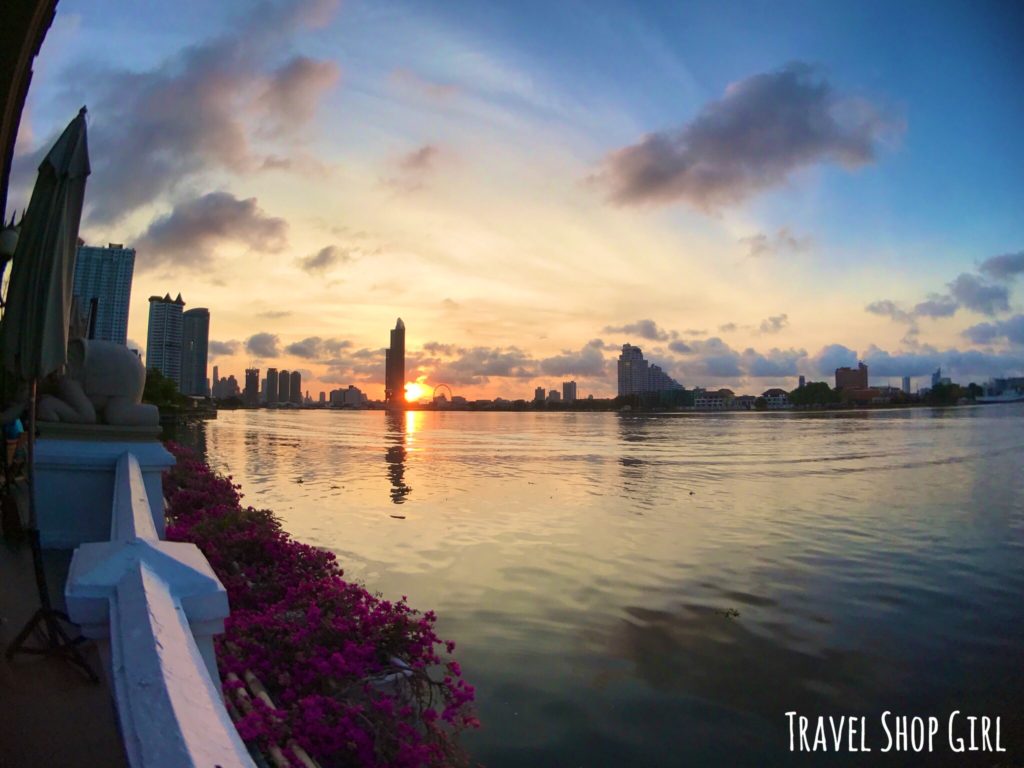 One of the best Bangkok secrets in my opinion, is the Bangkok Anantara Resort. During my trip to Thailand this year, I spent a few days there while sightseeing in Bangkok.  My overall experience to Thailand was one of a kind because of great resorts like this.
Maybe you're feeling overwhelmed as to where to stay while in Bangkok like I did. There's lots of great posts online like this one, but with so many choices how do you decide which is best? Sitting on the banks of the Chao Phraya River is the 396 room Anantara Resort. This resort is completely unlike hotels in the heart of Bangkok, like the Grande Center Point Terminal 21 I stayed at before my arrival here. This Anantara Resort is set on 11 acres complete with lush tropical gardens. I could name many, but here are eight reasons why tourists love Anantara Resort.
1. Anantara Resort Rooms Are Pretty Spectacular
My room at Anantara Riverside Bangkok Resort was a Deluxe Premier River View Room. That meant 38 square meters of living space and…
A chance to fall in love with this little towel elephant during my stay.
Included in the room was a large king size bed, LCD TV, and sliding glass doors to the balcony, but we'll get to that in a moment.
Also included was tea and Nespresso coffee making facilities, an in-room mini bar, a large closet with robes, and an in-room safe.
As if that weren't enough, the desk area comes with a complimentary smartphone to use during your stay. Great for when you absolutely need to connect to WiFi like I always do. Simply set it up before you leave and then connect your own device while out and about in Bangkok.
You know this place is special when you have fresh orchids in your room. No plastic or dried flowers here.
Let's say you're cold and heartless and aren't impressed by the room, the view, or the fresh flowers. The bathroom has to impress you as it's gigantic. With a separate glass enclosed shower, a large soaking tub, private toilet area behind the mirrored door, and a large vanity, this is a massive bathroom.
2. The Views from the Balcony are Incredible
Oh so you like the room now? Thought you might. So take a few steps over to the door, slide the glass doors open, and voilà – a balcony. Might I add with the most amazing views ever.
The view wasn't overlooking Chao Phraya River, but also the tropical swimming pool and jacuzzi.
Makes you want to jump right in and relax the day away, right?
3. Elephants Are Everywhere
Ok legit live elephants aren't everywhere at this resort, but you'll find replicas throughout. From ceramic to wood and everything in between, these beautifully sculpted elephants remind you exactly where you are.
4. The View from The Resort is Breathtaking
Thought the view from your room was spectacular? Wait for the views alongside the Chao Phraya River.
This is the main river in Bangkok and the major transportation artery for all types of boats including water taxis or longtails, river buses, and cross river ferries.
You can take the Chao Phraya River to see the main sites of Bangkok including the Grand Palace, Wat Phra Kaew (Temple of the Emerald Buddha), Wat Pho (Temple of the Reclining Buddha), and Wat Arun. More on those sites later.
5. Breakfast Is Insane
Maybe you're not a morning person so feast your eyes on this sunrise instead.
The breakfast buffet is available at stations located both inside and outside of the restaurant. There are options for everyone including American style cereal, juice, and pastries; British style full English breakfast; and Indian and Asian options, too. All fresh, all delicious, and all waiting to be devoured by you alongside the river.
And what a view it is. You'll find yourself lost in thought and daydreaming as you become entranced by the water views.
You can watch boats glide across the river as the sun changes the color of the sky around you.
As for me, I was focused on my breakfast. To start, I devoured more fruit in Thailand than I've probably ever consumed anywhere in my life. From passionfruit, mango, to the delectable dragon fruit or pitaya and the sweetest yellow watermelon, it was all so good.
Top it off with a few fresh baked breadsticks and hot brewed tea and this girl was so ready to take on Bangkok for the day.
While I only enjoyed breakfast here this day, guests can dine and drink in any one of the 10 bars and restaurants on property. Choose from a Japanese steakhouse, Pacific Rim cuisine, Italian, and more. You're definitely not going to leave this resort hungry.
6. Afternoon Tea is Like No Other
Does it always seem like I'm eating or drinking? If it does, it's because I feel like I always am. But how can you resist a completely different kind of afternoon tea, especially from Numero Uno Café? I started with a special iced tea and fruit combo. After all, was I about to turn down more fresh fruit in Thailand? I donated the macarons to an ever willing Mr. TSG.
Here's Mr. TSG's variation of afternoon tea including an espresso and a decadent chocolate cake.
I learned that they had a deconstructed vegan carrot cake on the menu and I so had to try it. It was thoughtfully presented and tasted rich, sweet, and just like what I remembered carrot cake to taste like.
7. Sunsets Like You've Never Seen
There's something about standing still for a moment on the other side of the world and enjoying something so simple as a sunset.
Click To Tweet
I've witnessed various hues of pink, yellow, and orange at sunset, but purple? Never in my life have I seen purple at sunset. No filters needed here. This is all Mother Nature in her glory in Thailand.
There's something about standing still for a moment on the other side of the world and enjoying something so simple as a sunset.
8. Loved Breakfast on Day 1? How About Day 2?
If I loved breakfast on day one, could it get any better on day two? Oh yes it could with an incredible sunrise over the Chao Phraya River like this.
Look at how the pink in the sky and the pink in the flowers compliment each other so well.
Breakfast day two at Bangkok Anantara Resort started once again with freshly prepared  fruit juice and an abundance of fresh fruit. I felt like a hoarder as I simply couldn't get enough. It was the perfect way to start off my full day of sightseeing in Bangkok.
Final Thoughts on My Stay at Anantara Resort
Let's just say I could've spent several weeks at this resort and not seen, done, or eaten everything I wanted while here. I loved that it's location next to AVANI Riverside and The Riverside Plaza, a 3-level shopping plaza, which provided me with additional dining and shopping options if I needed them.
I also appreciated the free shuttle boat to Asiatique night market as well as to Saphan Taksin skytrain station. Every staff member was so welcoming, polite, and professional, which made me feel more than just another guest there. The resort itself is immaculate and well taken care of, including the gardens and grounds. You absolutely can't go wrong staying here and I'd definitely stay here again if I have the opportunity.
Anantara Riverside Bangkok Resort
257/1-3 Charoennakorn Road, Thonburi, Bangkok, 10600, Thailand
Have you stayed at this Anantara Resort in Bangkok? Discover some other great destinations  here on the Travel Shop Girl website .
On my new SPONTANEOUS TRAVEL SCALE of 1-5, with 1 being super easy and spontaneous and 5 being you better plan far in advance, spending a few days in Bangkok at the Anantara Riverside Bangkok Resort comes in as a 3 for spontaneous travel. To secure a great room and get the best rates, you should definitely book in advance although I'm sure last minute rates and specials are available.