Continuing our trip from Washington, DC, the Two Chicks And A Road Trip adventure moved onward and we were now Baltimore bound. As the temperature creeped up to 95ºF, we were desperate to locate a breeze somewhere, anywhere. Why was this summer so crazy hot? It was a relief to find even a little breeze off the water in Baltimore.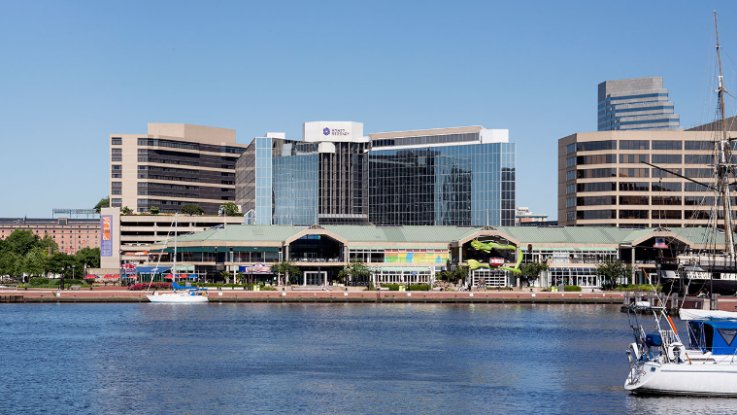 Our first stop was the Hyatt Regency Baltimore Inner Harbor our home base for our stay in Baltimore. With 488 guestrooms including 26 suites/parlors, the Hyatt Regency Baltimore Inner Harbor is the perfect location for anyone visiting Baltimore.
I had the pleasure of checking into the hotel with the amazing Kasandra who was naturally charming, funny, yet professional. Nothing makes check in easier than with someone who can make me laugh while also doing their job flawlessly.
Soon Danielle and I were on our way up to our rooms and floating by the many public spaces we spotted while on the elevator.
TSG Tip: Did you know that the Hyatt Regency Baltimore Inner Harbor has Bistro 300, Bistro 300 Lounge, Perks, and a seasonal pool bar? Enjoy a meal any time of day, drinks, and great conversation at any one of the in house venues or even by the pool.
For my stay in Baltimore I had requested a hypoallergenic or PURE room, but I never expected a suite. Room 1145/1147 was enormous and I have to say, I felt a little spoiled.
Why a hypoallergenic room? I'm that person who is allergic to down (feathers) and so a bad night's sleep results if I have what everyone else considers a comfy down pillow and duvet. But with the PURE room, you don't have to worry.
You'll sleep better, feel better, and you'll be glad you chose a PURE room for your stay like I did. I slept soundly, woke up feeling refreshed, and wasn't even slightly congested.
Click To Tweet
Here's how Hyatt explains the the purification process for each PURE room:
Application of PURE Shield, a unique barrier intended to minimize allergens on surfaces in the room for a more comfortable experience.
Installation of hypo-allergenic mattress & pillow encasings designed to provide a better night's sleep.
Delivering fresh, crisp air through the installation of a powerful air purifier listed as a Class II Medical Device by the F.D.A.
Recertification every six months to maintain the high standards of a Hyatt PURE room.
You'll sleep better, feel better, and you'll be glad you chose a PURE room for your stay like I did. I slept soundly, woke up feeling refreshed, and wasn't even slightly congested. The air purifier made a particularly noticeable difference. I had never even heard of them until recently, but my friend (who has three dogs) said she had read an article and had purchased an Air Filter for Dog Hair. Apparently there is a fair bit of pet hair and dander in the air that you can't even see, causing problems with allergies, and this air purifier will remove it. I wasn't convinced, but having breathed the air in this PURE room I am sold. It just felt clean and so easy to breathe.
It had not only one big bathroom with a glass walled shower and fantastic KenetMD toiletries, but two full bathrooms.
The second bathroom was located in the adjoining room, which functions as a sitting room. This second room would be great for the business traveler, couples, and families and can function in various ways. As for me, it was great or taking photos of Baltimore.
One of the things that drives me crazy when I travel is the lack of outlets to charge all of my many accessories. This wasn't an issue at all in my room at the Hyatt Regency Baltimore Inner Harbor. Not only were there traditional wall outlets, but also ones in the lights as well as a separate charging station. Plus something I don't usually ever see offered – a white noise machine in case you have problems falling asleep. Should you run out of something, anything — no worries. Simply check the "Convenience Collection" list and then call the front desk. They'll bring whatever you need to your room like deodorant, razor, or a vanity kit, for example.
Now what we've all been waiting for — the view, which was spectacular both during the day and at night.
I didn't think anything could beat that, but then sunrise happened. I have to say that my stay at the Hyatt Regency Baltimore Inner Harbor was beyond fantastic. Having an entire suite to myself is something that I dream of and to have one that was hypoallergenic to boot? That's nothing short of perfection. Combine that with great service, large rooms and suites, and an ideal location and I absolutely wouldn't hesitate to recommend it to anyone else Baltimore bound, whether for a short or longer stay.
Hyatt Regency Baltimore Inner Harbor
300 Light St. Baltimore, MD 21202
After getting settled in quickly at our hotel, we decided to head out for lunch. Our destination was the world famous Bubba Gump located in Harborplace.
While it may not be the first place a vegetarian goes to dine, they did have meal options for me.
Did someone say drinks? I had the Tropical Breeze and this bright neon green drink was perfect for a hot summer afternoon. It's made with Cruzan Mango rum, Midori Melon Liqueur, DeKuyper Blue Curacao, and pineapple and orange juices, too.
Want the food to keep coming? Want it to stop? Put the appropriate sign up on your table. I'm all about "Run Forrest RUN!" Feeling like a game of ping pong? Nope, that's just the table menu.
Lunch for me began with the Frizzled Onion Strings followed by a Caesar salad and garlic bread basket. I had seen a veggie burger on the menu online, but apparently they had just pulled it off the menu. I would've loved a veggie burger (Bubba Gump can you hear me?), but the salad and apps were great.
Meanwhile, Danielle was in heaven with all of her shrimp and seafood options. She had two starters, a traditional shrimp cocktail with huge fresh shrimp and the seafood hush pups, shrimp and fish with golden corn all deep-fried into hush puppy goodness. For her main, she chose the Shrimper's Heaven with hand-breaded coconut shrimp grilled shrimp, crispy golden shrimp and tempura shrimp with fries. I swear she sounded just like Bubba herself:
You can barbecue it, boil it, broil it, bake it, saute it. There's shrimp kabobs, shrimp creole, shrimp gumbo. Pan-fried, deep-fried, stir-fried. There's pineapple shrimp, lemon shrimp, coconut shrimp, pepper shrimp, shrimp soup, shrimp stew, shrimp salad, shrimp and potatoes, shrimp burger, shrimp sandwich. That, that's about it.
For the true Forrest Gump fan, check out the movie lines that adorn the tabletops. If you're lucky, the servers might engage you in a little Forrest Gump trivia. Speaking of the servers, it doesn't get any better than Miss Helen, a one of a kind, dedicated, entertaining, and professional server who was the epitome of service. I hope that the Bubba Gump corporation knows how good they have it with her on their team. I'd probably go back just to see her (and maybe for a drink, too!)
With views facing out to the waterfront or inside to the large and accommodating restaurant, an abundance of meal and beverage options, and great service, Bubba Gump is a great family friendly option in Baltimore that shouldn't be overlooked. Don't forget to stop in at the shop and load up on fun Bubba Gump merchandise, too.
Bubba Gump
301 Light Street Suite 1405, Baltimore, MD 21202
After lunch we walked around Harborplace before heading back to the hotel to get ready for the game. That's right – I was taking this Brit to her first ever American baseball game. Soon she'll be eating apple pie and singing along to the national anthem.
On the way to the game we stopped for a quick drink at Pickles Pub, a sports bar that's located across the street from Camden Yard. Danielle wanted a pre-game sports bar and that's exactly what she got. I got some kind of a cocktail with Jack Daniel's Honey that was supposed to have jalapeño in it but didn't. It was my own fault as this is a sports bar and they serve 99% beer and 1% cocktails they can't remember how to make because no one orders them. We didn't want anything fancy and this place has great energy and fit the bill. They serve drinks in plastic cups with no little umbrellas because well, it's a sports bar people. I had fun as I insisted on calling the bartender "Jack" instead of his real name because I thought he looked like a Jack. This was a great place to stop in before the game so if you're off to see an Orioles game in the future, stop in and tell Jack I said, "Hi."
Pickles Pub
520 Washington Blvd. Baltimore, MD 21230
But now it was time for our long awaited baseball game with the Baltimore Orioles playing the Colorado Rockies. Before the game started, Danielle was able to get a certificate showing that this was indeed her very first baseball game. How awesome is that?
Did we have great seats or what? This is from Lower Box 60 Row 2 along the 3rd base line.
We had a great view of the game and while it may have been Danielle's first ever American baseball game, she likened it to a British game I had never heard of before, rounders. If you're like me and aren't sure what that is, go here to read more about it.
Despite my protests, which were loud and definitely obnoxious, Danielle chose a Bud Light as her beverage of choice for her first baseball game. When in Rome…
You have to drink the God awful American beer and watch the game. But I couldn't get her to eat a hot dog or peanuts. Maybe next time…
It was a great baseball game despite the Orioles losing to the Colorado Rockies 3-1. But regardless of the score, it was a great experience for Danielle's first ever US baseball game. Toss in lots of chatting with each other and random strangers, a few drinks and a few selfies, and it was a perfect evening.
On day five we are driving to Philadelphia for some ghostly fun. Check out the many pics of our trip by reading all of the road trip posts and also searching the hashtag, #TwoChicksAndARoadTrip on Twitter, Instagram, and FaceBook.
---
While Hyatt Regency Baltimore Inner Harbor generously provided complimentary accommodations and Bubba Gump also provided us with a complimentary meal, all opinions and photographs, unless otherwise noted, are my own.