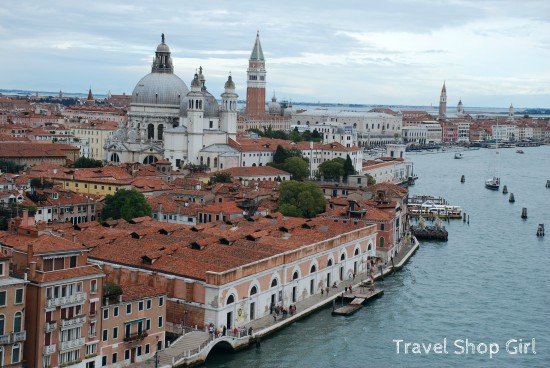 After two flights that took us from Boston to Paris and ultimately onto Venice, I was finally in Venice! But now I was going to have to make my way from the airport to my hotel.  On any other day this would be easy, but as I was sleep deprived and beyond tired, I was convinced that this would prove to be nothing short of interesting.  
After collecting our luggage, we headed out into the terminal to look for the ATVO window so we could collect our tickets to take the bus into Venice.  If you haven't already, you have to check out the Europe for Visitors website, which is chock full of information on travel.  It was from that site that I learned I could order my tickets online in advance and simply present the receipt at the transportation window to pick up my tickets.  By ordering online I also saved €0,50 per ticket.  If you don't want to order online, don't worry.  You can buy your ticket at the ticket machines by baggage claim or at the transportation window.  
I was able to get my tickets at the window from an employee who spoke English.  In case you're worried about communication, we found that the majority of people did speak English far better than we spoke Italian! Once I received the tickets, I knew I'd have to get outside to find the bus, but from what I read I had to get to doors C and D.  Problem was I couldn't see anything that indicated a door letter.  Back I went to the window to ask for assistance and was told to go out the doors opposite the counter.  Pretty easy!  From there I looked for the telltale blue ATVO bus with either "Venezia Piazzale Roma" or "Venice Express" in the front.  
TSG Tip:  Before you board the bus, you'll need to put your luggage in the luggage compartment underneath the bus.  But be warned that the bus does open on both sides and sometimes the driver will open the side of the bus into traffic.  This is crazy dangerous as the buses driving next to the parked bus get ridiculously close and if you make the wrong move, yes — you might end up under the bus.  So please be careful!
Before you find a seat you'll need to validate your ticket in the yellow box located outside or next to the driver's seat in the yellow box.  Place your ticket in the box and wait until it stamps before you remove it. Then grab a seat and enjoy the quick 20-minute ride into Venice.
If you're expecting a scenic ride from the airport into Venice, I hate to burst your bubble, but that's not going to happen on this ride.  The first picture above is what the windows inside the bus look like.  Not sure who thought that this was a good idea, but all the ATVO buses have this dot matrix type window that makes it impossible to see outside.  Instead of feeling disappointed, I used the short ride to change my shirt and freshen up before heading out to find the hotel.  
Upon arrival into Piazzale Roma, I felt prepared as I had plugged in my destination into Google Maps before I left and saved the directions to my phone.  However, the directions were confusing and so we were left to our own devices to attempt to locate the hotel on our own.  All we knew is that we had to head toward the "green area" and so we did that and trusted that our sense of direction wouldn't let us get lost. It was only after returning home that I realized that the directions put us on the far side of Piazzale Roma so we were looking for a rotary or roundabout to get to when technically that was our starting point already.  
Before we leave Piazzale Roma and the ATVO bus, I thought I'd mention my return trip back to the airport using the ATVO bus.  Since I had purchased a return ticket, I only had to validate the ticket again before boarding.  When we arrived at Piazzale Roma, there was an ATVO bus waiting, but it was headed to Treviso and not Marco Polo.  Be certain you board the correct bus and that you have a ticket before you board.  I saw one too many Americans acting wildly confused and disoriented about where they were, what they had to do, etc. 
You have other options for transport into and out of Venice such as the AeroBus, a water taxi, or vaporetto (ACTV water bus).  For this particular visit, I was interested in the most efficient way into Venice to get to our hotel and the ATVO bus seemed the most appropriate fit.  
Now how did we find our hotel?  I was tired and really just wanted to dump my backpack off, grab something cold to drink, and take in the view.  But not knowing where the hotel was and how far it would be can be stressful.  We walked maybe 100 feet up toward a bridge and then turned around to assess the situation.  It was then that I looked up and saw our hotel completely by accident.  I don't know how or why I did, but I'm so glad that I did.  The bright yellow building was our hotel, Hotel Arlecchino.  I chose the hotel for its proximity to the cruise port,  online reviews, its overall location, and it certainly didn't disappoint.  
As I lugged my suitcase over the bridge to get to the hotel I snapped this image.  Even hot and tired, I was already falling madly in love with Venice.  I only hope that I'm able to convey through my words, pictures, and video all that Venice has to offer in some of my upcoming posts.