To say I was ecstatic to return to Sydney would be an understatement.  The day I left Boston we were expecting a huge snowstorm and little did I know that this winter would be the worst winter yet.  But in Sydney it was summer and I was looking forward to the hot sun on my face and no coats, gloves, or boots.  While this wasn't my first trip to Sydney as I had traveled there once before in October of 2013, the city is still an exciting place to visit and one I know I haven't completely discovered yet.
After my six hour flight from Boston to San Francisco and then my 12 hour flight to Auckland, I only needed one additional 3 hour flight from Auckland to Sydney to make my trip complete.  In order to board my flight, I needed to have proof of my visa, which I had applied for and paid in advance online.  Once off the plane, I only needed to head through passport control, but to my surprise it looked like several planes had landed and the crowds were massive.
I resisted the urge to panic because Australia has a self-service passport control system called SmartGate, which allows anyone 16 years of age and older with an ePassport from Australia, New Zealand, United Kingdom, United States, and Singapore along with a few other exceptions to quickly skip the line and pass right through to baggage claim.  ePassports contain a RFID chip embedded in the back cover that contains the same data information as what is shown inside the passport.
Simply walk up to the kiosk, place your passport onto the reader and use the touchscreen to answer standard declarations, and then take the SmartGate ticket with you.  The next step is to insert the ticket into the machine when it's your turn, look at the camera, and retrieve the ticket.  That's it! From there you walk over to baggage claim to collect your luggage and proceed to the ACBPS and Department of Agriculture checkpoint.
TSG Tip: How do you know if you have an ePassport? Look for the special logo at the bottom on the front of your passport.  If it's there, skip the long lines and head to the SmartGate lines to begin the process.
Watch this quick video that shows just how easy it is to use SmartGate:
TSG Tip 2: After you collect your luggage, have your passport, the completed Incoming Passenger Card (which you should have completed while on your flight to save time), and your SmartGate ticket to turn over to an ACBPS officer when asked.  Lines can be long, people are tired, and you want to get out as soon as you can, right?
TSG Tip 3: For more information, read the Guide for Travellers – Know before you go from Australian Customs and Border Protection Service.
The overall process of getting through SmartGate, collecting your bag, and then turning the card over to an ACBPS officer isn't long at all and before you know it, you're out in the Arrivals Hall of the airport.  On my prior trip I detailed getting from the Arrivals Hall to AirportLink so I won't repeat that here.  The only thing that was different was that the price had increased from $17.20 to $17.80 each way.  I only needed to wait a few minutes for the train to arrive before heading to Circular Quay and the hotel.  While there are certainly other methods of transport available to get you into Sydney, AirportLink is easy, which is why I chose to use it again.
AirportLink website: www.airportlink.com.au
Current ticket price: $17.80 AUD
Of course, heading out of the airport I noticed a sign for an aviation company working within the airport called, "Menzies."  Unfortunate don't you agree?  Didn't anyone say the name out loud first?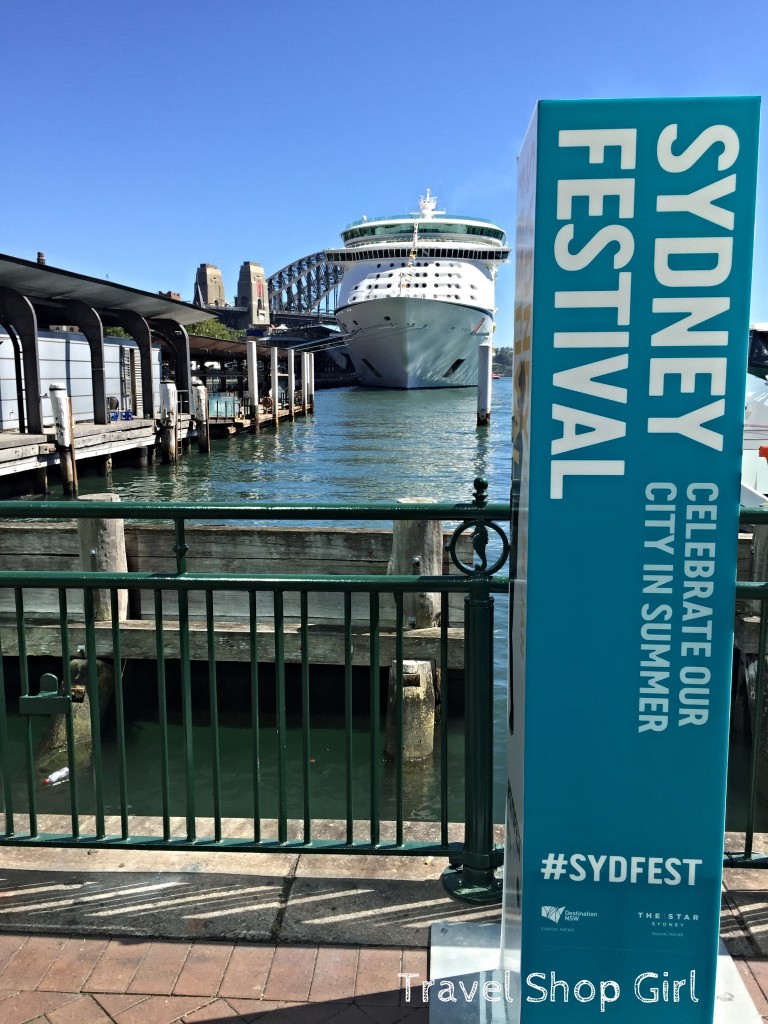 After only about 20 minutes, the train had traveled from the International Terminal at Sydney Airport to Circular Quay.  Feeling jet lagged, but excited, I dragged my suitcase behind me and practically bolted for the fresh air and sunshine.
Docked and waiting for passengers to board in the distance was Royal Caribbean's Voyager of the Seas. Of course, I became a total tourist and was taking pictures of the iconic Sydney Opera House and Sydney Harbour Bridge.  Although tired, I wasn't going to let sleep interfere with enjoying my short time in Australia.
In my upcoming posts I'll cover getting to the hotel, enjoying an afternoon of sun and fun while being completely exhausted, and then how this glorious weather went dark, grey, and rainy overnight.  More fun and pics to come from Sydney!