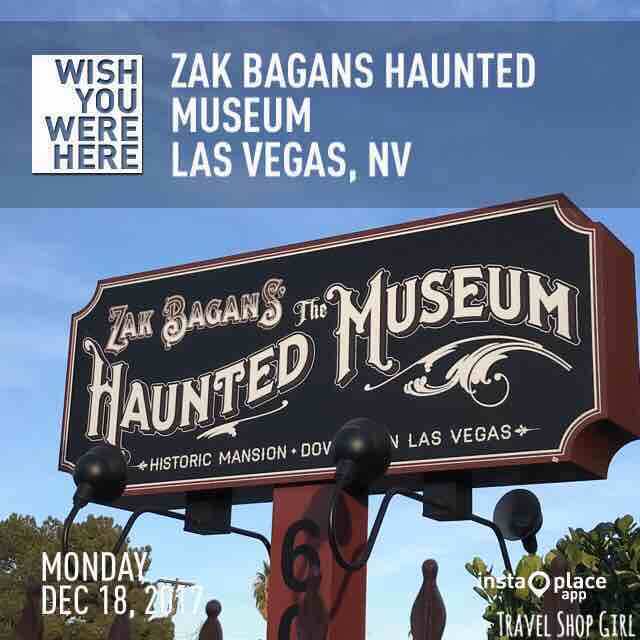 The first thing you think of when you think of Las Vegas is a haunted museum, right? If not, it should be especially with the opening of Zak Bagans The Haunted Museum. We all know how much I love paranormal stuff, like our all girls investigation of Eastern State Penitentiary or my recent visit to Burlington County Prison. If you're as into ghosts and paranormal investigations as I am, then this is the destination for you in Las Vegas.
My Arrival To Zak Bagans The Haunted Museum
When I made my Las Vegas travel plans, I went to the Zak Bagans Haunted Museum website and pre-booked my tickets. Why? Because I wasn't about to miss out on a chance of visiting while in Vegas. With my ticket information in my email on my phone, Mr. TSG and I headed over to the haunted museum and saw that there was already a line outside.
Upon arrival to Zak Bagans The Haunted Museum, you'll probably see two lines outside when you arrive like I did. One line was for people who already read and signed the disclaimer and were waiting to go inside. The other line was for me, new arrivals who needed the disclaimer. We read and signed the disclaimer and waited. Then the first line was ushered inside and we were sent over to stand where they had been. While not the most efficient process, I'll cut them a break as the staff and the museum is still new.
Waiting With Angry Joe Tasso
Standing out front with us organizing newcomers into the lines was staff member Joe. You might recognize Joe as Angry Joe Tasso from the Opera House at Bonnie Springs Ranch.
Take a few minutes to engage with Joe and you'll definitely be entertained like I was. He took the time to talk to those waiting and is a unique character to say the least.
So What's The Deal With No Pics?
Right about now you're reading this and thinking, "Why are there so many damn pics of the outside of the haunted museum when all I want to see is the inside?"
I feel your pain. Really – I do. But there is a strict no pics, video, or audio rule inside the Haunted Museum. Visitors to the haunted museum are allowed to take pictures of the exterior only as well as the ticket office, but that's it.
Think of it this way. Some art museums allow you to take pictures inside their museum while others forbid the use of cameras or video equipment. This is one of those no pics/video/audio kind of museums. You can take offense to that and not go inside or suck it up and enjoy the experience with your eyes instead of behind the lens of your camera.
TSG Tip: There's also a strict no equipment as in no ghost hunting equipment rule. Save your EMF detectors and digital voice recorders for Halloween night when it is allowed. Can you imagine an investigation in this place? So crazy, but I'd totally be down for it.
Inside The Ticket Office
Finally, Joe got the go ahead to send our line inside. We were ushered into the ticket office, where you turn in your waiver and collect your ticket for the haunted museum. On this small television you'll see Ghost Adventures episodes playing to keep you entertained while you wait.
I'm sharing this photo with you because a few minutes later something exciting did happen.
Click To Tweet
There isn't much to see or photograph here unfortunately. However, I'm sharing this photo with you because a few minutes later something exciting did happen. I ran off to the ladies room, and returned to chatting with Mr. TSG. I was facing the wall, he was facing forward, and he caught Zak briefly looking through the curtains on the opposite side of the room. That was the one and only Zak appearance during out time there and of course, I missed it.
If you're interested in buying anything, like the rosary beads seen in the protection case in this pic, you'll have a chance to visit the gift store at the end of your tour.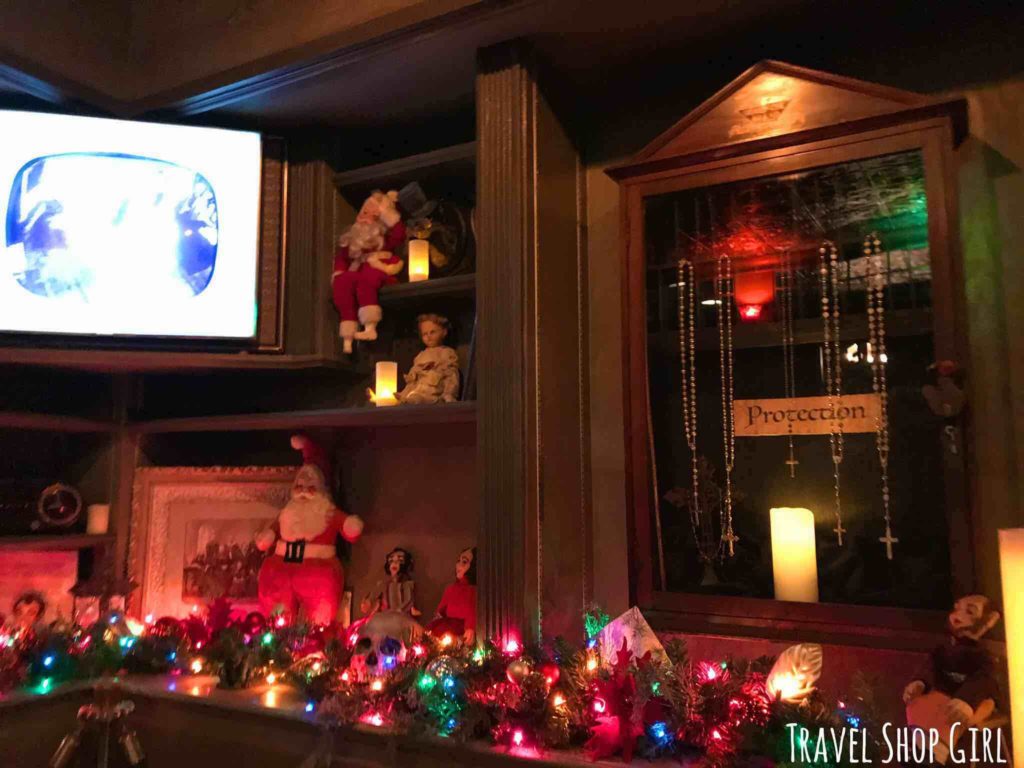 Meanwhile, take in all the creepy dolls here as they're just a small sampling of what's in store inside the haunted museum.
You've Been Warned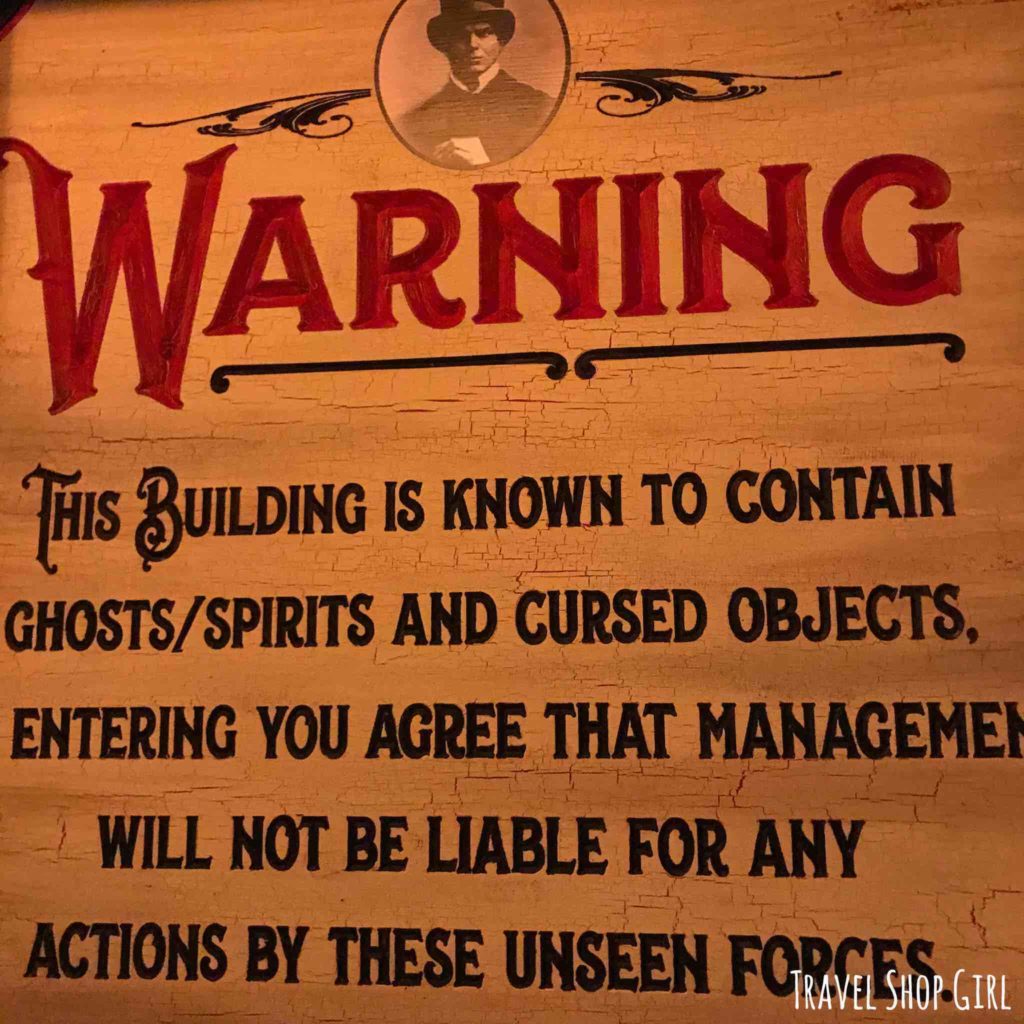 This sign made the entire experience feel completely real. We weren't going to a house that holds items to look over and then leave. This is some serious shit going on in here. Like real haunted items. Items that are possessed or have possessed or affected people.
To see a warning notice while we waited was scary, but I get why it's there. If someone drops dead, you were warned in advance. But old timey Zak does look kind of cute in the sign, right?
With my ticket in hand, Sarah, our tour guide, led us out of the ticket office and around the side of the haunted museum to the actual museum entrance. From there, we entered the museum and began an experience like no other I've ever had before.
What's Inside Zak Bagans The Haunted Museum
Don't ever expect that The Haunted Museum will stay the same. As Zak acquires new items, they will take up residence inside the various creepy filled rooms he's created. Here's a sampling of what you might see:
Dr. Jack Kevorkian's VW death van
Bela Lugosi's mirror
Peggy the doll – I couldn't even watch the Deadly Possessions episode when it aired for fear I'd be affected. Don't believe it? I'll let you decide for yourself.
The original staircase in a recreated cellar along with dirt from the Indiana "Demon House."
The Dybbuk Box, which inspired the movie "The Possession," starring Jeffrey Dean Morgan from The Walking Dead. We are all Negan.
Ed Gein's cauldron – if you don't know who he is, he's also known as "The Butcher of Plainfield" and the inspiration for many books and movies like "Psycho" and Buffalo Bill in the "Silence of the Lambs."
And much, much more.
TSG Tip: Bring something metallic to leave in the Dybbuk Box room. I literally was ripping my bag apart looking for pennies. I might've pulled the underwire out of my bra if I couldn't as I wasn't leaving that room with bequeathing some kind of gift so not to experience some kind of demonic wrath.
My Overall Thoughts
There's something about about anything demonic or possessed that makes me want to run and it took a lot for me not to run out to my car while I was there.
Click To Tweet
If you're an empath or have empathic tendencies, be prepared (surround yourself with the White Light of Protection, etc.) I have never felt so completely overwhelmed and felt pain all over my body from whatever is inside this place. Sarah did give us the opportunity to skip those items that have been known to cause problems with people and visitors like Bela Lugosi's mirror or Peggy the doll. I didn't hesitate for one second to opt out of seeing those two, among others. After experiencing Robert the Doll in Key West, I know firsthand that you don't mess around with possessed objects. There's something about about anything demonic or possessed that makes me want to run and it took a lot for me not to run out to my car while I was there.
While the Zak Bagans Haunted Museum is new and working out its kinks, if you're a Ghost Adventures fan, this is a must see Las Vegas destination. Some things that I wish were different would be the lines outside, groups of 12 are too large for the small rooms, and perhaps different tours for different people (haunted house tour vs. paranormal tour). I'd definitely prefer that the actors who were little people didn't refer to themselves with such negative terms that I personally find offensive. The overall ADD/frenetic vibe of the haunted museum and tour will probably iron itself out over time and the end result will always be worth the trip.
More Info on Zak Bagans Haunted Museum
Zak Bagans Haunted Museum
600 E Charleston Blvd, Las Vegas, NV 89104
Open Monday – Saturday from 1-9pm
Tickets are about $44 per person (including taxes and fees). Children under the age of 16 are not permitted to enter Zak Bagans The Haunted Museum.
Will I return to the haunted museum? Without a doubt in my mind I will and I can't wait to see what else Zak has in store for visitors. I only hope next time I can catch a glimpse of him and Aaron.
Have you visited Zak Bagans The Haunted Museum or any other haunted location? Can you suggest other haunted destinations for me to explore? Let me know in the comments below. Discover other great destinations and travel ideas here on the Travel Shop Girl website.
On my new SPONTANEOUS TRAVEL SCALE of 1-5, with 1 being super easy and spontaneous and 5 being you better plan far in advance, Zak Bagans Haunted Museum scores a 3 for spontaneous travel. If you're traveling to Las Vegas from out of town and you want to visit, I'd definitely pre-book tickets in advance to make sure you can get in.