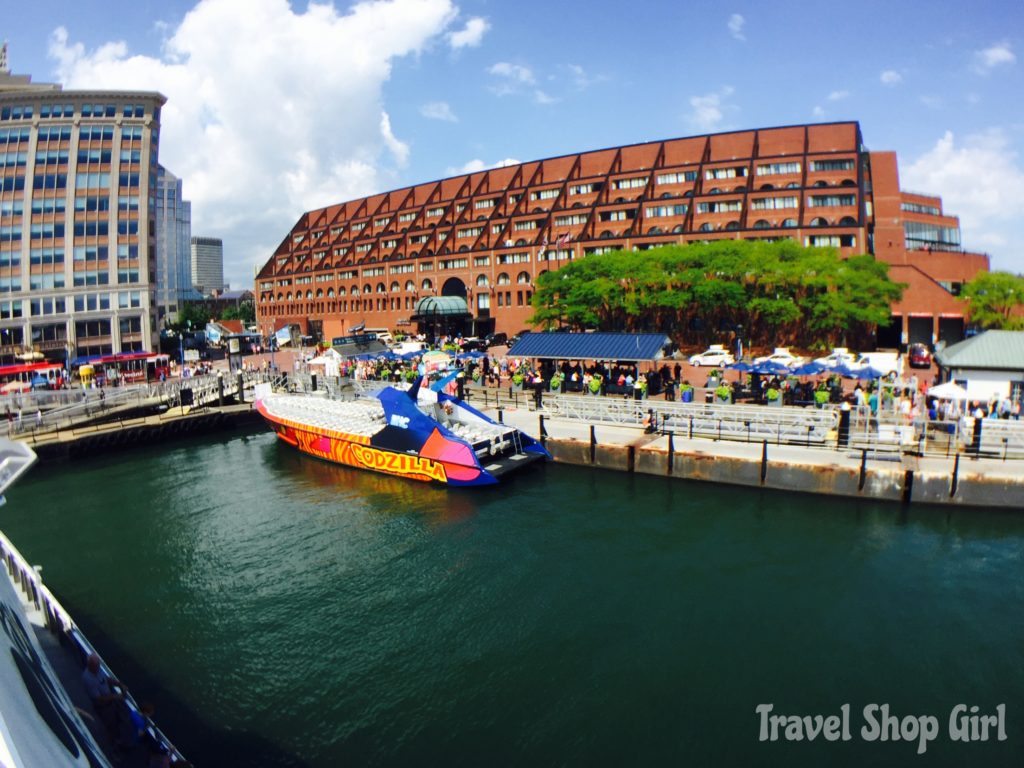 Sometimes the best things to do are those things close to home. As for me, this past weekend I had a chance to go out on a whale watch with Boston Harbor Cruises, part of the New England Aquarium. Whale watches take place between March and November every year and each vessel can accommodate up to 400 passengers. While there may be a variety of whale watches in the area which operate similar to these whale watching california trips, this is the only one affiliated with New England Aquarium.
TSG Tip: Buy your tickets in advance and queue up as early as possible. After purchasing my tickets online, I went to the will call window with my order number and collected my tickets at 11:15 am for the 12pm cruise. We were then told to make our way to the line around 11:30 am. We arrived promptly at 11:30 am and the line was almost to the ticket booth. The earlier you arrive, the more likely that you'll get a spot on the boat of your choosing. The boats are all on metal racking systems before they are taken into the sea so you get to see a huge amount of boats, all different shapes and sizes!
The boat departs from 1 Long Wharf in Boston, which is where New England Aquarium is located. After waiting in the line for 30 minutes, we were excited to get onboard the boat. There are three levels to the boat and we went up to the top where no seats were left, but we didn't mind standing up against the railing.
Soon we were sailing out of Boston Harbor and saying goodbye to the Boston skyline. Go down to the first deck to grab a snack, sandwich, or even a drink to enjoy on the open water.
TSG Tip: Might be the cheapest place in Boston to get a beer as a bottle of Harpoon was only $5.
The sail out to Stellwagen Bank Marine Sanctuary, where whales congregate every summer to socialize and feed. The trip each way is about 90 minutes and even in the hot summer months it can get chilly.
TSG Tip: Wear lots of sunscreen and bring sunglasses and a hoodie or jacket as it does get windy and cold. I brought a hoodie, which I never put on and sunscreen slipped my mind. I now have a bright red Rudolph kind of nose.
The best part of the whale watch was having New England Aquarium's head naturalist, Laura, share all kinds of great information about the whales with us. She told us to keep our eyes open for indications that the whales might be nearby. The first thing to look for would be surface blow, which is how the whale breathes, and sure enough, the captain had positioned our vessel to a spot where we saw activity almost immediately. Of course, I didn't have my phone handy when one of the whales went directly under our boat and came up right by us on our side.
Let me just add that I'm not a marine biologist so I do hope I'm doing the humpback whales justice trying to explain this to the best of my ability. While looking for whales, and in this case we were looking for humpback whales, there are specific things to watch out for while looking for activity. We first saw blow, but as you can see here, we also were able to see a peduncle arch, which is what the whale does before making a deep descent.
The tail of the whale is called a fluke and you can see both fluke down and fluke up dives. Both of these would indicate that the whale was making a shallow dive although fluke up would be an even more shallow dive than a fluke down.
This was early on into our arrival to see the whales and although in the distance, you can see a fluke up dive from one of our humpback whale friends.
We were so fortunate to not only have one whale in the area, but two pairs of two whales including Komodo, Lutris, Draco, and Warrior, the only female in the group.
Did you know that humpback whales have black and white markings on the underside of their fluke and no two have the same markings?
Click To Tweet
TSG Tip: Did you know that humpback whales have black and white markings on the underside of their fluke and no two have the same markings? Think of it like a fingerprint, but this is how they are able to determine what whales are out when they spot them in the water.
This was the last shot of the day as we witnessed the final entry of one of the whales into the water.
Then it was a nice 90 minute ride back to Boston going a smooth 35 knots (37.5 mph).
Soon we were off and back on dry land and what else was there to do but grab a quick drink before pounding the pavement once again.
First stop was the Reef, part of the New England Aquarium. Look for the tent alongside the wharf and step inside. Pick a table, pay for your drinks and food at the bar, and then they'll give you a number to have the food items delivered.
TSG Tip: This isn't a regular bar so don't order something off the menu as you will bring the two bartenders to a grinding halt. They take care of food and drink orders and I wanted to slap the guy who ordered a Bloody Mary at 4 pm for his girlfriend. Seriously? It's beer and cocktails off their menu so they can make them super fast. Got it?
My drink of choice was the Watermelon Lime Rickey, which contained Smirnoff vodka, fresh squeezed lime, and was shaken with chunks of fresh watermelon. While it could've used loads more lime, it was super refreshing and I might have to steal this recipe for myself.
The next time you think there's nothing to do at home, think hard and be creative. I honestly never thought of doing a whale watch before, but I'm so glad I did and it was a great way to spend a late summer Saturday afternoon.
Boston Harbor Cruises
One Long Wharf Boston, MA 02110