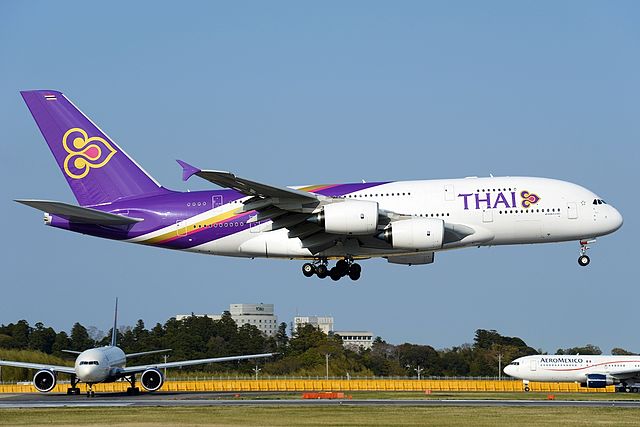 Continuing with my journey to Thailand, this is the second part of my trip and my Thai Airways Business Class review. The first part of my trip was with Swiss Air in Business so let's see how this flight compares with my earlier flight. After only about a two hour layover at Zürich airport, it was time to board my next flight. Flight 971 departed from Terminal E, Gate 39 where Business class passengers boarded on one side of the podium and a large crowd for Economy formed while waiting to board on the other side.
Thai Airways Business Class, or Royal Silk as it's called, occupies the first two cabins of this 777-300ER aircraft. There are only two classes of service, either Business or Economy. For a nearly 10 1/2 hour flight and 5,623 miles in the air, I was more than happy to be seated in Business.
My Arrival Into Thai Airways Business Class
My flight from Boston to Zürich was a little more than 7 hours, which meant my hair was looking a little crazy, my makeup was pretty much non-existent, and I was dragging. Despite all of that, we boarded the plane and quickly found our seats in the first section of Business. Thai Airways Business Class is arranged in a 1-2-1 layout with the single seats alternating direction and the duo seats alternating whether you sit right next to someone or not. Since Mr. TSG and I were traveling together, I chose the duo seats without the partition in the middle, as you can see in the image above of the seats behind us. All seats have direct aisle access.
My Seat in Thai Airways Business Class
The Business Class cabin is designed in shades of purple and lilac and seats 42. Don't worry about overhead bin space as there's one for each seat located down the middle and sides of the aircraft.
Beneath the entertainment screen at your seat is both room for your feet and storage during the flight. There's also two USB ports, but I wished they had been placed next to your seat instead of in front of you.
I put my backpack down so you can't see the seat itself, but trust me when I tell you that each Thai Airways Business Class seat is 20″ wide with 87″ pitch or legroom, and is a 180 degree fully lie-flat bed. What's in my backpack? I brought my airplane pajamas (thanks Virgin Atlantic!), my Beats headphones, and some snacks in case of a food emergency.
At your seat you'll find the entertainment and seat controls as well as an AC outlet and more storage.
After getting organized and finally taking my seat, the flight attendant came over with a glass of champagne before the flight took off for Bangkok. The crew's uniforms matched the aircraft in hues of purple and I loved the addition of a fresh orchid at my seat.
Thai Airways Business Class Beverage Menu
Additionally, we were provided with an expansive beverage menu (loved the tea options) and…
Thai Airways Business Class Cuisine Menu
A separate cuisine menu. As I had preordered a vegetarian vegan meal through the airline, I decided to browse the menu anyway. Stubborn Mr. TSG had decided not to preorder any meals and wing it and it would be on this flight where it would absolutely come back to haunt him.
Thai Airways Business Class Amenity Kit
Located at my seat was a Thai Airways Business Class Amenity Kit in a Furla bag.  Inside the Thai Airways branded bag were the following items: Brush and comb, slumber shade, earplugs, toothbrush, toothpaste, mouthwash, Acca Kappa lip balm, Acca Kappa body lotion, and slippers. Certainly not the worst amenity kit I've ever seen, but not the best either, but pretty much on the "meh" side of things.
Service
My biggest problem with the service on this flight was that the flight attendants were completely out of sync.
Click To Tweet
After takeoff, the flight attendants made the rounds with hot towels, drinks, and warm nuts. My biggest problem with the service on this flight was that the flight attendants were completely out of sync. The only reason I mention this is that I would be served and Mr. TSG often sat without anything for extended periods of time. When passengers are traveling together, you'd expect that not to happen. It was both awkward and uncomfortable.
Entertainment Options
The entertainment options onboard included some of the latest movies and television programs although not many, along with a detailed flight map.
Dinner
Since I had preordered a vegan meal (the airlines say vegetarian vegan), my food was delivered earlier than others in the cabin, including Mr. TSG. Gone are the trolleys you might still see on other airlines as the flight attendant carries everything individually to your seat along with linen and flatware. This is ideal especially if you want to sleep undisturbed. My starter was some kind of pepper salad, couscous, and I still don't know what that red stuff was in the front.
Remember how Mr. TSG didn't pre-order his meal? His flight attendant made an effort to find food that would be suitable for him and so he started with a salad. Bread was also served and yes, that was donated to Mr. TSG who was ravenous at this point.
For my entrée I received some kind of curried cauliflower with rice and some other vegetables on the plate. Since I'm not eating rice at this time, I had to pass on that along with the much despised baby corn.
My dessert was fresh fruit, which was perfect for me although I swear those little berries were the ones I was told to avoid eating as a child.
After his salad, Mr. TSG received a fruit plate and a cheese course. He was happy about receiving anything at this point, which was 20 minutes after I received my fruit course.
Ten minutes later, this small plate with two tiny samosas, a dollop of potatoes, and some veggies on the side arrived. While you can certainly appreciate the effort they made to find him something to eat, for a 6′ tall marathon runner, this was nothing more than a snack.
Sleep Time
After our meals were taken away, I completed the arrival and departure forms that were handed out. Then I immediately went into sleep mode and converted my seat into a bed. I donned the Thai Airways headphones that are provided, chose a movie (Arrival), and made an effort to sleep. Not sure if the seats weren't as comfortable as my last flight, but I had a harder time sleeping on this flight.
Breakfast
About six hours later, the lilac mood lighting indicated it was time to start waking up and prepare for meal service and eventually landing in Bangkok. I welcomed the fresh fruit and promptly turned over the muffin to Mr. TSG and ignored the soy yogurt.
Ten minutes later his breakfast service arrived and was similar to mine, but for croissants, regular yogurt, and less fruit.
My breakfast entrée was two small hash browns, tomatoes, mushrooms, and spinach. Overall, not bad and a much heartier breakfast than I usually receive on long flights.
For his breakfast entrée, which miraculously arrived at the same time as mine, Mr. TSG received an omelet with assorted veggies. The man is always hungry and ate it although I thought it looked somewhat spongy in texture. Then our trays were whisked away and it was time for us to land in Bangkok at Suvarnabhumi Airport.
Final Thoughts
Overall, I would say that despite some crazy turbulence where I was doing some heavy duty praying, the flight was uneventful despite the erratic service. Had the flight attendants been more in sync and delivered meals at the same time, it probably would've made a world of difference. I'll be honest when I say that I was expecting great service. Especially after all that I had read online, which is why I ended up being somewhat disappointed.
After nearly one day of flying, I was in Bangkok and ready to discover everything Thailand. Stay tuned for my upcoming posts about arriving into Suvarnabhumi Airport and then exploring Bangkok, Chiang Mai, Hong Kong, and Macau.
Have you had a chance to fly Thai Airways Business Class? Share your thoughts in the comments below. Then don't forget to check out the rest of the Travel Shop Girl website.