Remember how I said I was on a Mysterious Morocco and Seductive Spain cruise with Fred. Olsen Cruise Lines? On this day we were in port in Melilla, which I thought was in Spain. Technically, it's Spain, but it's considered an autonomous Spanish city in Spanish North Africa and Morocco has officially claimed it as an occupied territory. Confused yet? So was I, but let's try to figure this out.
Geography and Population
The map above shows where Spain is in relation to Northern Africa. The highlighted area in red is Melilla. In addition to Melilla, there is one other autonomous Spanish city, Ceuta.
With an area of a little less than 5 square miles, Melilla shares a border with Morocco and has a population of approximately 75,000 including ethnic Spaniards, ethnic Riffian Berbers, as well as Sephardic Jews and Sindhi HIndus. While Spanish is considered the official language, both Spanish and Riffian-Berber are the most widely spoken languages in Melilla.
TSG Tip: Did you know that you can take a bus from Plaza de España right to the Moroccan border. It's only 2km away.
On this the seventh day of our cruise, I was now officially sick with what I completely believed was a chest cold. More on that fun in another post, but for now I was pushing through and wanting to go ashore, even if for only a few hours. Since we arrived in what is an active port and not simply a cruise port, we couldn't just walk off the ship and into town. Instead, the city provides a free shuttle to and from Plaza de España in Melilla.
Once off the shuttle, all you have to do is set off on foot to discover what makes this city so interesting.
This is the main part of the city with lots of shopping and restaurants available. But don't just look for places to shop. Instead, look up and all around you at the architecture of the city. After all, you're technically in Africa, yet in a city that definitely looks like it's in Spain.
That's because this area has some of the best preserved Art Nouveau buildings in the Triángulo de Oro (the Golden Triangle), that you'll find anywhere in the world. In fact, Melilla has the largest concentration of Modernisme architecture outside Barcelona.
Plaza Héroes de España
Continuing on with our walk through Melilla, while looking at the Art Nouveau and Modernisme architecture, I also noticed that the tiled benches in Plaza Héroes de España are perhaps a nod to Spain's own Antoni Gaudí.
Parque Hernández
At the center of Melilla you'll find Parque Hernández, a nearly 14,000 square foot park built in 1902. You'll find an array of exotic plant species, shaded areas, and sculptures, including one of Captain General Venancio Hernández, the person whose idea it was to create this park. The park was renovated in 2010 with an investment of 3.6 million euros, which was partially financed at 80% by the European Union.
The park offers plenty of cover, either from the sun or as in our case, the rain. The locals, as well as tourists, love to pack a lunch and sit in the park and people watch.  I highly recommend a walk through Parque Hernández before you leave Melilla.
Coffee Break
Our next stop on this rainy day in Melilla was Cafetería Nuevo California. We both wanted something to eat and drink and this seemed like a perfect place to stop. I happen to love those perfectly manicured trees that line the streets and the bright red pop of color of the restaurant's tables, chairs, and awning.
In my last post while in Málaga, Marbella, and Puerto Banús I mentioned that I wasn't feeling well. I actually felt worse this day, which made me somehow forget how to say anything in Spanish. I ordered a Tortilla de Queso thinking I was getting, well a quesadilla, but instead, I should've known better because that's a cheese omelette. I don't know how I pulled it off, but I was somehow able to return it and order a café con leche and a cheese sandwich. I was just grateful I didn't start speaking French instead.
Melilla la Vieja
If you have the opportunity to visit Melilla, definitely consider visiting the fortressed area called Melilla la Vieja or Old Melilla, which was built during the 16th and 17th centuries.
The four sectioned fortress was recently restored and it's here where you'll also find museums (archeological and military), a church, battlements, drawbridges, and a series of caves and tunnels dating back to Phoenician times.
While some visit for the history and I know I should've been, too, I was all about the view, which reminded me of walking along the city walls of Dubrovnik.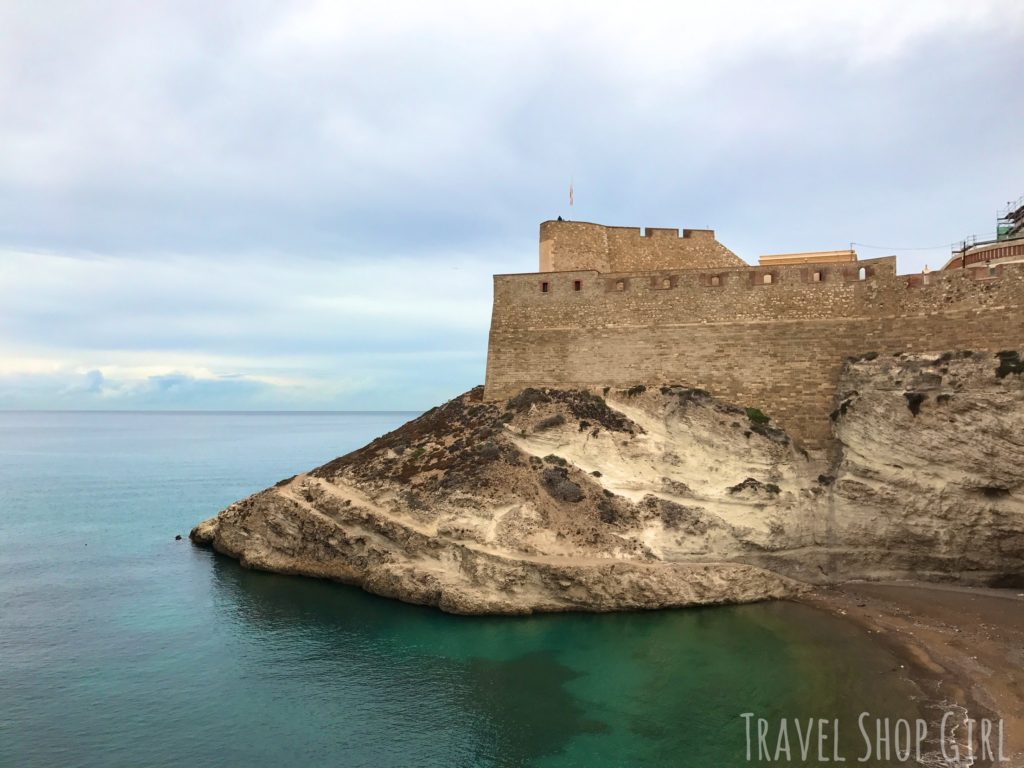 While I may not understand every aspect of the fortress, I do know that this area was declared a Historic-Artistic site and the work that went into preserving it is pretty remarkable.
TSG Tip: If you're a history geek, I highly recommend taking an organized tour of this area. For some odd reason it was difficult to locate any information on it in English even after I returned home.
As we left, Danielle spotted this store called Arte Arabe, which is stocked with Moroccan goods of all kinds including lamps, clothing, and more. The prices were good, but Danielle couldn't decide if she wanted to buy a lamp here or in Morocco. She decided against it and we decided to wrap up our time up in Melilla.
After walking all over Melilla, we returned to
Plaza de España
to wait for the coach back to the ship. While it wasn't a long and exhausting walk, we did get to see quite a few things in Melilla on our own including
Melilla la Vieja
on the right of the map above.
If It's Something Odd, You Know I'm In
Across from where we were waiting was a pharmacy with something I'd never seen before. I spotted the most amazing vending machine ever. It was genius as it had things that you might need in the middle of the night from cough and cold medicine to condoms to baby supplies and more.
Back to Balmoral
We didn't have long to wait before we boarded the shuttle back to the ship. Passengers on the shuttle even received straw hats and fans as a gift from Melilla. How nice was that? The ship was in port all day, but with the rain and cloudy skies, we soon found ourselves back onboard and in the Lido Bar waiting for sailaway.
As we began our departure, the clouds parted and the sun made an appearance for us at sailaway.
That night Danielle and I had reservations in The Grill for dinner and had the restaurant all to ourselves.
In between courses we took turns sneaking out to the pool deck to take pictures and to watch the sun slowly set over the Alboran Sea.
TSG Tip: In case you're like me and don't know where the Alboran Sea is, it's the westernmost portion of the Mediterranean. It lies between the Iberian Peninsula and the north of Africa.
While I spent my time in Melilla casually strolling the streets, I enjoy discovering a new port on my own and finding things by chance. The next port of call for my Balmoral cruise is Cartagena, Spain. Have you ever been to Melilla or Ceuta? If so, let me know what you liked or didn't like in the comments below.