Whenever I travel and wherever I may go, I usually have a few cameras in hand ready to take pictures at a moment's notice.  One of my favorite activities at the start of any cruise is to play the ship spotting game.  You know, can I identify that ship way over there without the aid of binoculars?  
On February 8, 2014 I was at Port Everglades in Florida preparing to begin my short 5-night cruise on the Celebrity Constellation.  After getting situated, it didn't take long for me to head up to deck 11 to take in my surroundings with a perfect view of all of the ships in port. 
There's no way one could possibly mistake this ship!  Royal Caribbean's Oasis of the Seas has a distinct look, but besides that, she's huge!  Even behind the steel structure at the port, you can still make out the name of the ship in two places as well as the Aqua Theater and the two rock climbing walls.  Perhaps you might think initially it was the Allure of the Seas, but that ship sails on Sundays out of Port Everglades while the Oasis of the Seas sails on Fridays.
Off to one side were two ships, the first of which was the easily identifiable Celebrity Eclipse.  I love that Celebrity Cruises makes sure that you can effortlessly read the ship name from a distance.  Since they paint it on the side of the ship in much larger letters than many other cruises lines, you can always identify a Celebrity Cruises ship from others.  The Celebrity Eclipse was the first ship I sailed on with Celebrity Cruises and I loved that cruise.  You can read all of my posts from that cruise here.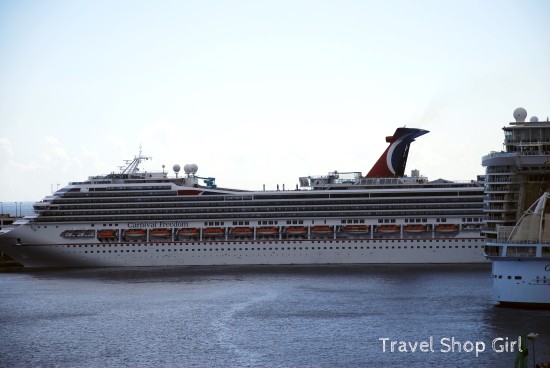 Situated in between the Oasis of the Seas and the Celebrity Eclipse was the Carnival Freedom with her telltale red Carnival funnel.  This was before her FunShip 2.0 refurbishment that she recently came out of after two weeks and $70 million in upgrades, but I'm sure she sailed at capacity like most Carnival ships tend to do. 
The last ship I spotted was the Holland America Westerdam.  You might remember this ship making the news this past week where there was an engine fire that forced the ship back to the port of Seattle.  Holland America ships are unmistakeable with the hull of the ship painted dark blue.  
Do you like to go ship spotting? What's the most number of ships you've spotted in a single port?