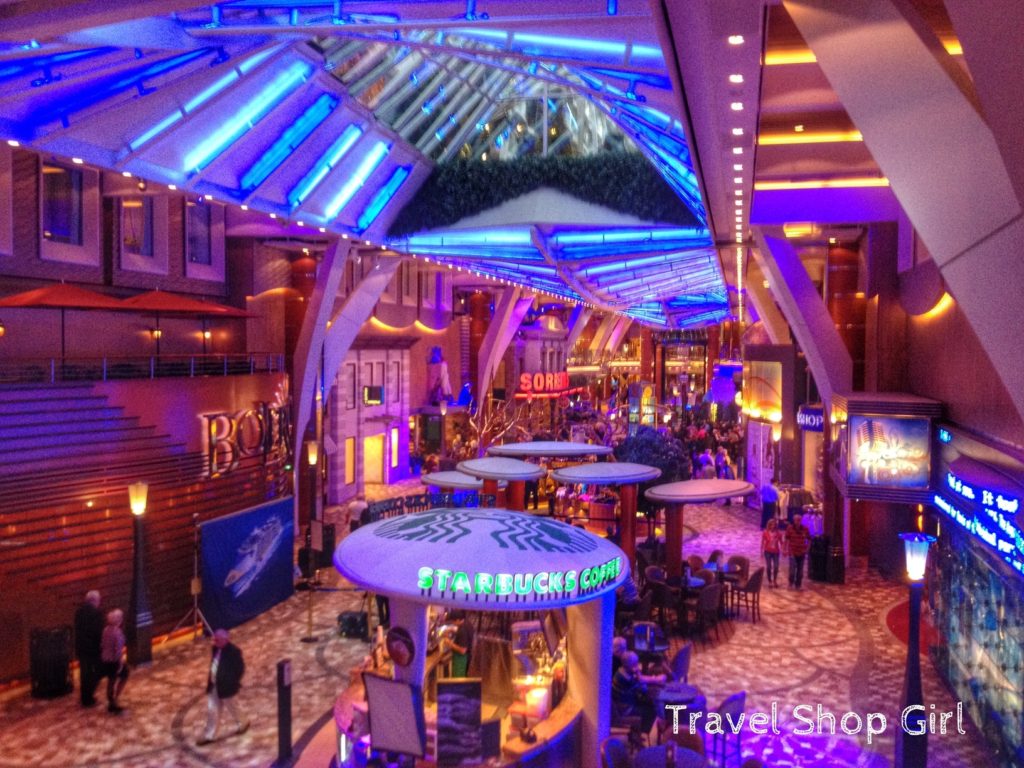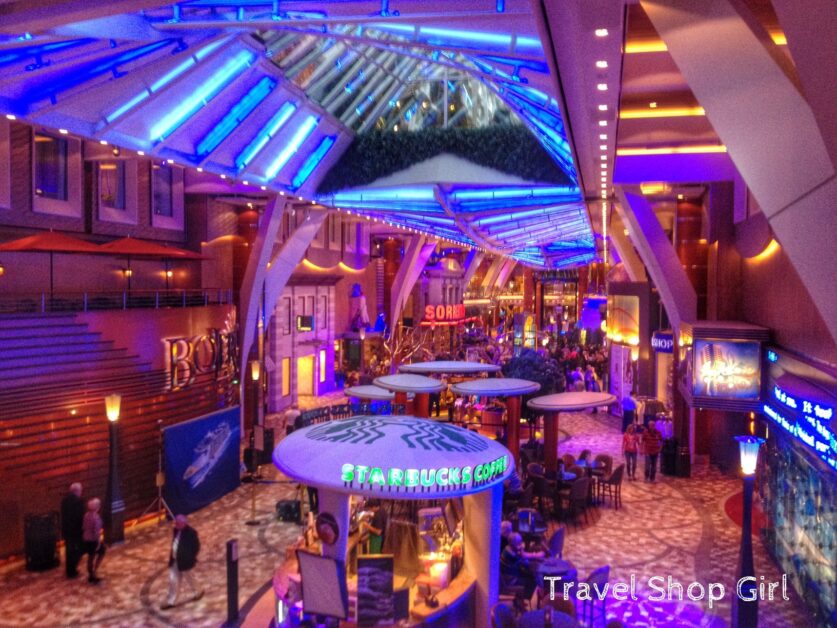 Royal Promenade Oasis of the Seas: The Royal Promenade is not new to Royal Caribbean. Onboard the Oasis of the Seas, the Royal Promenade is nearly twice as wide as previous ones created on the cruise line's Voyager and Freedom class ships.  Take a look at the "Crystal Canopy" sculpted skylights. They cut through to Central Park on deck 8 and allow natural light to flow down to the two level Royal Promenade is the center of the ship in many ways. This area includes Guest Services, shopping, bars, and so much more. 
Royal Promenade Oasis of the Seas Layout
Oasis of the Seas emerged after a short stint in dry dock in Rotterdam October 2014. Some changes were throughout the ship and in the Royal Promenade Oasis of the Seas.  A few new shops were added, but otherwise it remains the same amazing Royal Promenade we have to come to expect. 
What can you do while on the Royal Promenade Oasis of the Seas?  
Drink a mojito, salsa dance, or learn about art in an art auction at Boleros. 
Enjoy a glass of bubbly or learn how to make a martini in the Champagne Bar.  
Grab a delicious cup of coffee and/or a pastry from Starbucks
Book an excursion at the Shore Excursions Desk
Grab something to eat Sorrento's, Starbucks, or Café Promenade. 
Go shopping at one of the many stores! Think jewelry, photos, clothing, and more. 
Finally, pull up a seat and enjoy the fascinating entertainment available like "Move It! Move It!" with Dreamworks characters like Shrek, Fiona, Kung Fu Panda, and Puss 'n Boots. 
BARS AND RESTAURANTS
Feeling thirsty?  Because there are so many options, you can always stop for a quick drink at Boleros, the Champagne Bar, the Globe and Atlas Pub, or even Starbucks.  
If you're hungry, you can stop for a quick bite at Sorrento's (New York style pizza), Café Promenade (snacks, pastries, and sandwiches), or Starbucks.   
TSG Tip: Did you know that the large copper globe above the Globe and Atlas Pub opens to reveal the Atlas Bridge, a platform that unfolds 10 feet above the Royal Promenade as an additional platform for the performers?  
THE RISING TIDE BAR
:
I previously wrote about the bars and lounges on the Oasis of the Seas, but let's revisit the Rising Tide Bar while it's docked in the Royal Promenade.  
The bar operates during certain hours so when it's not in use, there's a lovely lit fountain show on deck five.  
When it is in operation, guests can move between decks 5 and 8 and enjoy the view as well a great drink. 
SERVICES
In the Royal Promenade you'll find Guest Services as well as Shore Excursions should you need any assistance.  
SHOPPING
As for stores, you can get plenty of shopping in the Royal Promenade with the following shops: 
Regalia: There are two Regalia stores now with one near Guest Services and the other adjacent to the Michael Kors store
Michael Kors
Prince & Greene
The Shop
Solera
Port Merchants
Kate Spade
Focus – camera and photo shop
TSG Tip: Check your bill on your television in your cabin before heading to Guest Services as it's usually quite busy.  Since you can figure out the problem without having to stand in line, that's always great for saving valuable vacation time!
NEW STORES
Two new stores onboard are the brand new, most noteworthy, and first Kate Spade Boutique and the Michael Kors store.  
Both officially opened on my transatlantic sailing from Southampton to Fort Lauderdale during the October 15-27, 2014 cruise with large crowds in attendance. Why? Because gift certificates awarded at random to be spent inside the new shops.  Sounds like a great reason to go shopping for me! These new shops were incredibly popular on my cruise so they look to be a hit already.
Have you been on a Royal Caribbean cruise with a Royal Promenade? How does it compare to other ships and cruise lines? Let me hear your thoughts on this topic in the comments below. Then don't forget to check out the cruise section here on the Travel Shop Girl website.