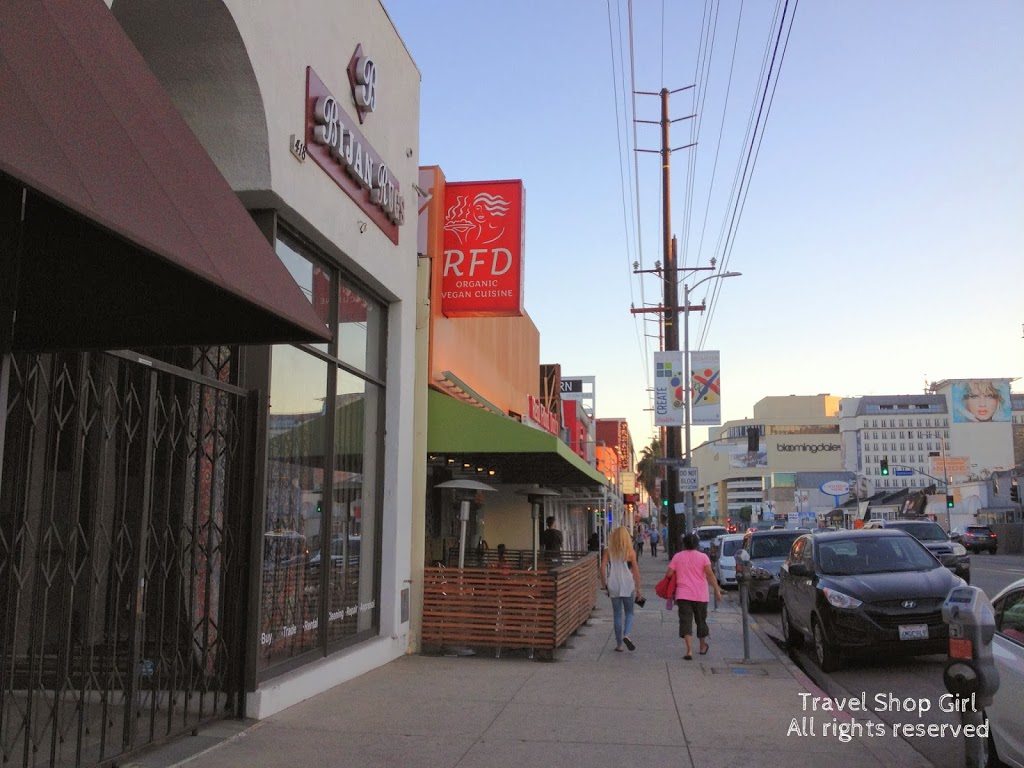 Before we left for our trip to Australia in October, we first spent a few days in California.  One of the things I love the most about California is that vegan and vegetarian food is readily available.  I read about Real Food Daily, which is Southern California's premier organic plant-based restaurant created by Ann Gentry and knew that we had to make our way over there and fast!  There's plenty of on street parking right in front of the restaurant at meters as well as valet parking after 6 pm.  Apparently, we were somewhat of an anomaly as we walked over to the restaurant from our hotel, which was all of one mile away.  Only afterwards did we notice that no one really spends much time walking, which is such a shame considering the constant gorgeous weather they have there.
When you enter Real Food Daily, the coffee bar and counter is immediately in front of you.  Turn to the left to find the hostess stand to be seated where we could choose to sit either inside or out on the patio.  We didn't have to wait more than a few seconds before someone came over and escorted us to a table.  Lea Michele, Julia Stiles, Jessica Biel, Tobey Maguire, and Jake Gyllenhaal are just a few of the many celebrities that frequent Real Food Daily so you never know who might be enjoying healthy, organic vegan food near you when you take your seat.
The decor of the restaurant is what I might describe as industrial chic with open rafters and exposed ductwork, minimalist artwork, and metals mixed with pale green, yellow, white, and pops of orange. One of the really cool things about the restaurant is that they used refurbished wood salvaged from Indonesia to make the table tops and the bar.
Real Food Daily can readily accommodate small groups of diners as well as couples or those dining alone. I did witness people of all ages enjoying their food as well as families with small children.  Real Food Daily is truly the kind of restaurant that welcomes everyone, whether a celebrity or parents with little ones.
To start our meal, we ordered beverages, which of course, for my husband meant trying a new beer.  His beverage choice this evening was Eel River IPA, a certified organic beer.  As for me, it was time to go big or go home and I decided to try a green juice for the first time ever.  I will admit that I've always been quite scared of beverages that are the color of grass, but I manned up and ordered the freshly made green juice, which contains kale, spinach, cucumber, celery, and parsley.  Our server, Jes, suggested that I have them add in a little fresh lemon to help cut the green, something she recommends for virgin juicers like myself, and I have to say that did help.  It was definitely green in color and in taste, but it was really good and was a great introduction to the world of juicing.  Other beverages available include smoothies, homemade lemonade, kombucha, organic wines, gluten-free beers, coffee, teas, and milkshakes.
The menu is divided into several sections with not only playful names for menu items, but an abundance of whimsical and exciting dishes.  Here are a few examples from each category:
Starters & Small Plates (Lentil Walnut Pate, Kimchi Maki Roll)
Soups, Breads & Spreads (Country Vegetable Miso, SPREADS Tahini Miso)
Salads (Pro Kale, Mediterranean Bowl)
Add Ons for Salads and Sandwiches (Miso Horseradish Kimchi, Tempeh Bacon)
Dressings & Sauces (Lime Cilantro, Wasabi)
Main Courses (Kung Pao, Pizzette, Tac-O' The Town, Salisbury Seitan)
Burgers, Sandwiches & Wraps (Real Food Burger, Spicy BLT, Tu-Nut)
Seasonal Specials (Classic Comfort, The Great Cardini)
Real Food (Real Food Meal, Real Food Bargain)
Basics (Seitan, Tempeh, Quinoa)
Fresh Juices (Red Head, Power C, Glow), Smoothies & Beverages (Choco Berry, Banana Maca)
Desserts (Double Layer Chocolate Fudge Cake, Carrot Cake with Cream Chz Icing)
Weekend Brunch (No-Huevos Rancheros, The Weekender)
My husband is relatively new to the world of vegetarianism having given up meat as his New Year's resolution back in 2011 for one month and he's stuck with it ever since. I will cut him some slack when he orders food that I might otherwise turn away from like, for example, Not-Chos.  What are Not-Chos?  This gluten-free dish is a towering plate of tortilla chips with melted cashew cheese, black beans, pico de gallo, tofu sour cream, and guacamole ($11.75).  He ordered the meal with taco mix (which isn't gluten-free), for an additional $2.95.  Let's just say that the man with the beer in hand easily devoured this dish.
My choice to start my meal was the Three Amigos, three soy free and nut free cauliflower chickpea fritters with spicy serrano avocado aioli and sweet red onion tamarind sauce.  ($11.95)  They were crisp,  hot and were a delicious way to start the meal.  They were small enough to whet my appetite without feeling like I was overindulging. The serrano avocado aioli was mild in flavor so I focused more on the tamarind sauce, which was delicious.
For his entree, my husband selected a sandwich, the decadent Total Reuben with a side Caesar salad.  This nut free sandwich consists of marinated tempeh, tofu cheese, sauerkraut and thousand island dressing on sprouted rye bread ($11.95). As I'm trying to cut down on carbs, I wasn't really into having a sandwich or burger, but the man loves sandwiches.  He thought that this was a perfect sandwich as not only was the tempeh perfectly prepared, but there was just the right amount of thousand island and sauerkraut, which made it seem so much like the reuben sandwiches he used to eat.  He chose the Caesar salad for his side dish, but he could have chosen a tossed house salad (no additional charge) or a basic vegetable or grain (for an additional $2.50).
Unless you're a vegan or vegetarian, you might not understand this, but when I go out to eat I generally have one or two options from which to choose on any given menu.  So to find an entire menu full of great food that I could choose from meant that I had a really difficult time deciding.  But when I saw The Essence, under Seasonal Specials, I knew I found my entree.  A luxurious gluten and soy free entree made of rosemary forbidden rice and apple stuffed portabella mushroom, peppered cauliflower mash, candied walnut Brussels sprouts with parsley and pomegranate ($16.95), the dish was almost too pretty to consume.  The cauliflower mash was heavenly and the pomegranates sprinkle over top is what made this entree spectacular.  I'm a huge fan of roasted brussel sprouts and was eagerly anticipating this dish, but was slightly let down as about half of them were definitely way undercooked.  I still think the dish was a success, but with a few tweaks could have been absolutely perfect.
Our meal at Real Food Daily was one of the highlights of my trip to LA.  When you have a chance to eat real food that is fresh and beautifully presented, it reinvigorates you and makes you want to cook like this at home.  Maybe you're not a vegan or a vegetarian and the thought of eating this kind of food terrifies you. Don't let it!  Think real food that tastes delicious, not weird nuts and berries unapproachable kind of food. Some people choose to eat vegan food that replicates meat dishes of their past while others, like me, don't like the taste of meat, but want healthy, tasty vegan choices.  Even if you're a meat eater, you'll still find enjoyable and satisfying dishes on the menu.  In a nutshell, Real Food Daily offers all this and more with appealing and complete organic food served in beautiful surroundings by a knowledgeable waitstaff.
Real Food Daily in West Hollywood is open from 11 am – 10 pm Monday to Friday and 10 am – 10 pm on Saturday and Sunday.  Weekend brunch is served from 10 am – 3 pm and they offer great choices like RFD Benedict, pancakes, waffles, french toast, and breakfast bowls like chia or açai. It's safe to say that if I lived in West Hollywood, I would be broke because I would probably eat every single one of my meals here.  Do yourself a favor the next time you're in California and visit one of Real Food Daily's locations in West Hollywood, Santa Monica, or Pasadena.  Now if I could get them to open a location in Boston…
Real Food Daily
414 N. La Cienega Blvd.
Los Angeles, CA 90048
Phone: 310-289-9910
Delivery: Call 310-289-9910 ext. 3
Fax: 310-289-9911
Website: www.realfood.com