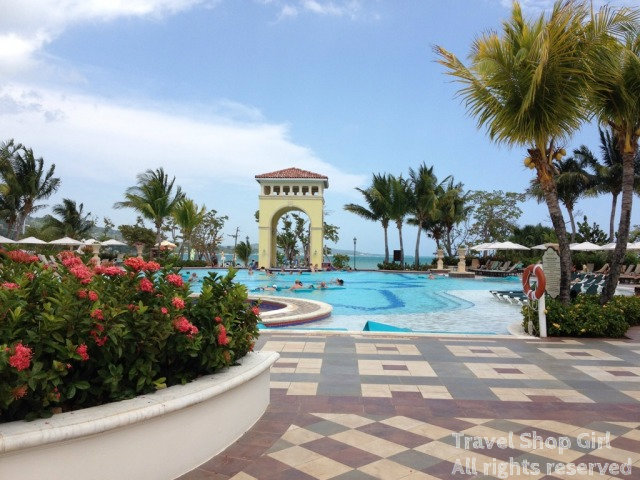 Have you ever thought about something so much that you knew everything about it before you ever saw it? Have you ever felt as though the real thing could never live up to your imagined version of it?  Well, that was me and how I felt about Sandals.  I have read everything I could ever get my hands on about Sandals and looked at not only pictures, but video of all the resorts, but I am here to tell you that there is nothing like seeing a property in person vs. the glossy marketing materials that a property puts out.  Quite often with vacation resorts, the  property never looks anything looks like their brochure or website, but I can honestly say that when I visited Sandals Whitehouse, it was better than I could have ever expected.
This is how Sandals describes their Sandals Whitehouse resort:
Surrounded by a 500-acre nature preserve, Sandals Whitehouse European Village and Spa is a resort of extraordinary proportions. Created to impress, it includes three pools, two miles of secluded alabaster beach that form a point from which you can see the sun both rise and set, seven restaurants that serve mouthwatering gourmet cuisine from around the world, a magnificent lobby with soaring marble columns and vaulted ceilings, and the optional yet irresistible pleasures of a Red Lane® Spa. This resort is truly a world unto itself, where time is all but forgotten and the only moment is now.
When I stepped off the shuttle from Montego's Sangster International Airport (MBJ) upon arrival to Sandals Whitehouse, I knew that my time there was going to be a memorable one.  Sandals Whitehouse is nestled in the south-west coast of Jamaica and is only 90km and about 75 minutes from the airport.  There was someone there to help us with our bags and someone else offering us cold water or rum punch.  We then entered the main building, which houses the main lobby and the front desk and were treated to a calm and serene atmosphere.  We were all able to check in a relatively short amount of time as the staff comes to you with all of your paperwork and room information to make the check in process a quick, efficient, and overall painless process.
Sandals Whitehouse is in a class by itself and provides a noble escape in a European-style village setting. This resort is truly "the jewel on the south coast" and an ideal location for both adventure travelers and those who just want to relax.  A European-style beach resort and spa, it features three authentic architecturally designed villages including the Italian village (closest to the main area), Dutch village (close to the Italian village and known as the most serene of the three villages), and the French village  (farthest away, but can be the liveliest for those looking for a more vocal group of fellow "villagers").  All rooms have a beachfront view with the entrance to each room facing inward toward the resort.  This was my view as I would exit my room, which was room 1217 in the Italian village.  The lush greenery abounds on this 50-acre resort and the lawn and gardens are meticulously managed.  The serene atmosphere can only lend to a romantic stay at Sandals Whitehouse, don't you agree?
There are a total of 360 rooms and suites at Sandals Whitehouse with 11 different categories of rooms available. That in itself is enough of a reason to research and utilize a Certified Sandals Specialist (CSS) travel agent to assist you with booking not only the right room, but the right resort for you.   I was staying in the entry level room for this resort, the Luxury Beachfront room on the second floor of the Italian village and I was more than pleased with my room.  There was nothing "entry level" about it as it had an absolutely stunning 4-poster king size bed, was ridiculously spacious in size, and most important of all, was spotless in every nook and cranny of the room and believe me – I looked!  The view overlooking the beach and the pool area was priceless and I could absolutely see sitting out on the balcony with a glass of wine with my husband and just relaxing.  Additionally, all rooms have tiled floors and mahogany furniture and every guest receives a Red Lane Spa amenity kit with full sized bottles of shampoo, conditioner, lotion, and aloe vera gel, just in case you spend too much time in the sun.
Speaking of sun, why would you spend any time in your room (ok maybe not you honeymooners!) when you have two miles of beachfront and three pools?  This is another view of the main pool from high atop Casa Blanca, the piano bar.  Every picture I took of the main pool looked like a postcard.  The entire resort is picture perfect and the piazza-style in the main area where all the bars and restaurants are only lends itself to an area where you can stroll, relax, and enjoy yourself. There is a total of six bars and seven restaurants, including Jamaican, Caribbean, Italian, Asian, Mediterranean Seafood, the Bayside International Buffet, and Café de Paris, a European Pâtisserie.  Continental breakfast is served via room service for all Concierge rooms and 24-hour room service is available to all Butler Serviced Suites.  There is a total of 32 one-bedroom Butler Serviced suites on property.
After you've eaten, maybe you'll want to go for a swim in the pool or at the beach. Or maybe you're feeling adventurous and decide to partake in one of the many watersport offerings available including going out in the glass bottom boat or maybe snorkeling, wind surfing, kayaking, knee boarding, wake boarding, water skiing, paddle boarding, or even scuba diving.  All water sport activities are included and the Discover Scuba Diving (Resort Dive Course) for beginners and International Dive Certification are available at additional costs.  There is also a great fitness center, basketball court, tennis court, and lots of other land sports including giant chess, board games, bocce ball, shuffle board, volleyball (beach & pool), darts, and squash. A stay at Sandals Whitehouse is all about relaxing and what better way to relax than when you're all done for the day then to stop in the Red Lane Spa for a massage, facial, or manicure.
On the second day of our stay, we ran into the honeymoon couple that rode in with us on the shuttle from the airport and they were upset about their stay. They had come from a large resort in Montego Bay, one definitely known more for their entertainment and nightlife and is the exact opposite type of resort that Sandals Whitehouse is.  Unfortunately, it didn't seem like their travel agent let them know about how laid back the resort is because they were completely unprepared for what this resort was all about.  If you are looking to party day and night, have lots of activities including constant drinking and dancing, then this might not be the resort for you. This isn't based on someone's age, but really more about what kind of vacation experience they are looking to have.  However, if you are looking for a romantic stay where you can simply unwind, relax, and enjoy the beach and the resort, then Sandals Whitehouse would be a great match for you.  Again, this is another reason to use a travel agent because Sandals resorts are not cookie cutter resorts and they are not all the same.  In fact, they are all quite different, which makes them so great.
I thoroughly enjoyed my stay at Sandals Whitehouse from May 17-20, 2012 and it pained me to leave! It would have been 100% better if my husband went with me, but even by myself I really enjoyed all that the resort had to offer. I took far more pictures than I could ever fit into a blog post here and as such, I will put them all up on FaceBook.  If you would like to see more pictures, please visit the Travel Shop Girl FaceBook page to see pictures of the resort, the food, the beach, the pools, and more.  Maybe you've been to Jamaica before and have visited Negril, Ocho Rios, or Montego Bay.  But if you haven't visited Whitehouse, you haven't visited Jamaica's untouched south coast, which is its newest destination area.  I highly recommend you visit it soon.
Have you been to Sandals Whitehouse?  I would love to hear what you thought of it.  Leave a comment here for others to read.  I had the opportunity to visit several other properties in Jamaica so up next is a visit to Sandals Negril.