One of the stops on our Carnival Cruise was to Nassau, Bahamas. We were experiencing unseasonably cold temperatures on this cruise, but we were thinking positive and hoping for a nice, warm day. When we arrived in port, we made our way into town to catch the local bus, the #10 jitney, to the Wyndham Nassau Resort & Crystal Palace Casino. We had contacted the resort before arriving to confirm day passes were available and off we went. Walking up the front walkway, we were extremely pleased with the appearance of the resort and its appearance inside.
We quickly made our way outside, eager to grab pool towels and head down to the water. Passing the volleyball net, we found no shortage of lounge chairs. A beautiful wooden walkway leads you from the bar down along the water and toward a gazebo on the other end. Enjoy a moment of solitude and drink or take a picture. Either way, there are unlimited opportunities here.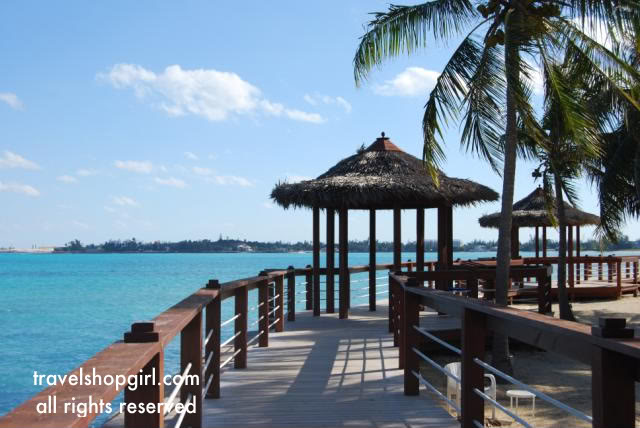 When we decided it was time for lunch, we packed everything up and headed inside to the Seaside Restaurant. Our day pass included lunch here and there were many different choices from conch chowder to pizza to traditional Bahamian food. When you exit the restaurant, don't forget to stop at Starbucks for a coffee or drop a few quarters in the slot machine at the casino.
After lunch we chose to sit out by the pool. The pool area is amazing with a huge slide, swim up bar, and a hot tub not to far away. The water was so cold, but a few in our group braved the elements to enjoy their only day in Nassau.
When it was time to leave, we walked back out front and only waited a few minutes before the jitney arrived and we were back in town. No one can pass up a little shopping and then we made our way to the Hard Rock Café for a hurricane in a souvenir glass. On the way back to the ship, we made a slight detour to Señor Frogs. The drinks are huge (in yard glasses!) and the experience is always one to remember. They are always so friendly there and with children in our group, we loved that they had entertainment for them as well. A clown in full costume made them balloon animals and hats, gave them beads, popcorn for everyone, and who could pass on the karaoke? I just love the ceiling there.
Despite the cold weather, we had a great time in Nassau. I always recommend trying something new when visiting a port that you have been to and also hitting up the old familiar places. This way if you do have somewhere you would like to go, you can still visit it without missing out on other parts of a city or island that you may not know exist.