Some people like to take a cruise to get away from it all, explore new ports of call, get dressed up and dine in specialty restaurants, and catch the latest entertainment. Yet there are many others whose ideal vacation is to simply choose the most ideal location by the pool and relax… every day… by the pool.  No matter what cruise you take, you'll definitely see a mix of passengers like those mentioned above.  On MSC Divina, pools, sun, and fun are all part of the cruise life.  Despite the great weather and abundance of pools, there was always an open lounge chair near a pool waiting and ready to be used.  No need to worry about chair hogs here as there are plenty of lounge chairs for everyone.
If you're thinking that this is the only pool on the entire ship, don't worry as it certainly isn't. With 5 pools and 12 whirlpools onboard the MSC Divina, there is plenty of room to stretch out and enjoy the sun and water without having to squeeze yourself in amidst strangers.  The main pool area on deck 14 is over 22,000 square feet with a main pool and a few side wading pools for the little ones or even for adults to stick their feet in and cool off while sipping on a beverage.  Nothing can beat the large LED Wall also located here which is used for movies throughout the day and also a stage.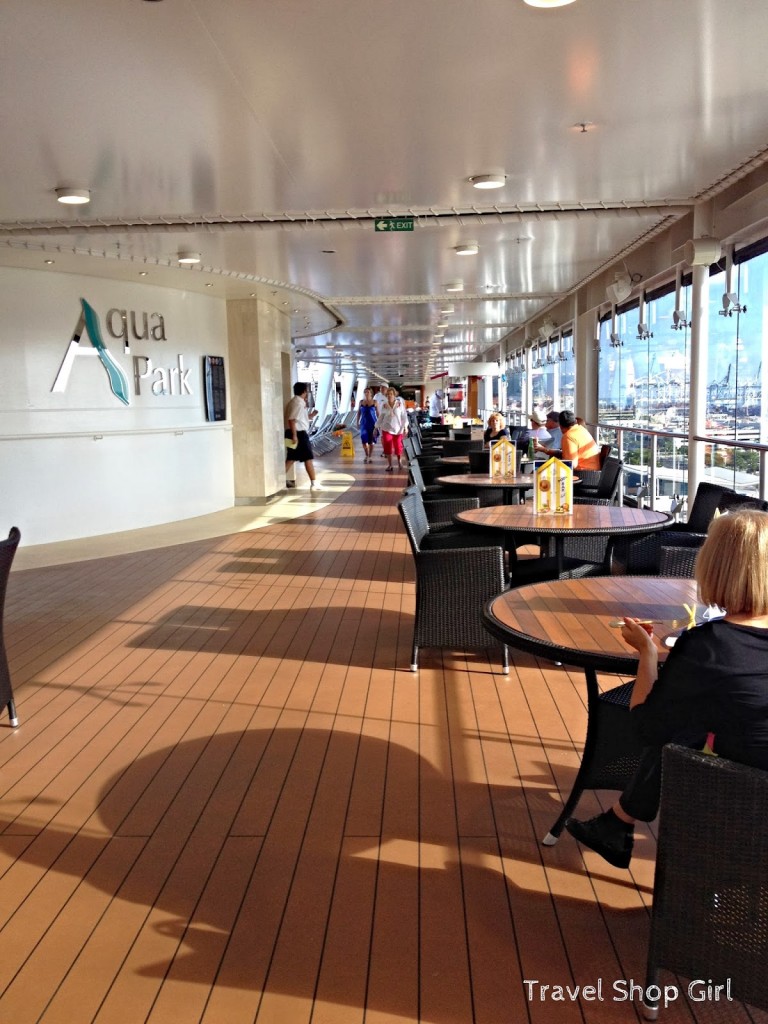 With so many tables and areas to relax between the pool and the buffet area on deck 14 in Aqua Park, you don't feel squashed into a small space with thousands of other people… ever!
The Garden Pool area is an aft swimming pool and Zen area featuring an outdoor pool, whirlpools and pool bar for adults only.  If you don't think you can relax here, you can't relax anywhere.
On this particular day, we were in port in Nassau and most people were off the ship.  Hence, the reason why you see a few children in the picture.  Other than these few people, it was extremely quiet and there were so many chairs available.
Whether in port or at sea, the view from here would be an amazing one especially through the wall of glass.