Trying something new can be a good thing, especially when it means breaking free from your predictable vacation plans. Maybe you choose the same cruise line, same cruise ship, and maybe even the same cabin when you choose to cruise. Have you considered jumping ship, so to speak? Would you try a new cruise line if you had an opportunity to do so?
MSC Cruises may be new to the American market, but isn't a new cruise line. Created in the 1960's as Lauro Lines, it was later purchased in 1995 by Mediterranean Shipping Company and the name was later changed to MSC Cruises. Although it has headquarters in Geneva, Switzerland, the company founder, Gianluigi Aponte is Italian and MSC Cruises is undeniably Italian in feel. MSC Cruises is the fourth largest cruise line in the world after Carnival Corporation, Royal Caribbean, and Norwegian Cruise Line. They have regularly had one new ship enter service since 2001 with the exception of 2005 and 2011 although they did have two ships in 2008 (MSC Poesia and MSC Fantasia). Their latest ship, the MSC Preziosa, was originally ordered by Libyan state-owned company General National Maritime Transport Corporation (GNMTC). Hannibal Gaddafi, son of the then Libyan leader, even requested a 120-ton shark tank designed for the ship. After the Libyan civil war commenced, STX France looked for a buyer and MSC Cruises purchased that ship and named it MSC Preziosa, which is identical to MSC Divina.
MSC Divina entered service in May of 2012 and the godmother of the ship is the beautiful Italian actress, Sophia Loren. MSC Divina is the largest ship in the MSC fleet and can accommodate nearly 4,345 passengers and over 1,300 crew members. Until November 2013, she alternated between Western and Eastern Mediterranean itineraries, but will now reside in the Caribbean while MSC Preziosa will now pick up some of those Eastern Med itineraries. With seasonal cruises out of Florida for the past decade, this is the first time MSC Cruises has positioned a ship year round out of Florida and we should all be pretty excited about that.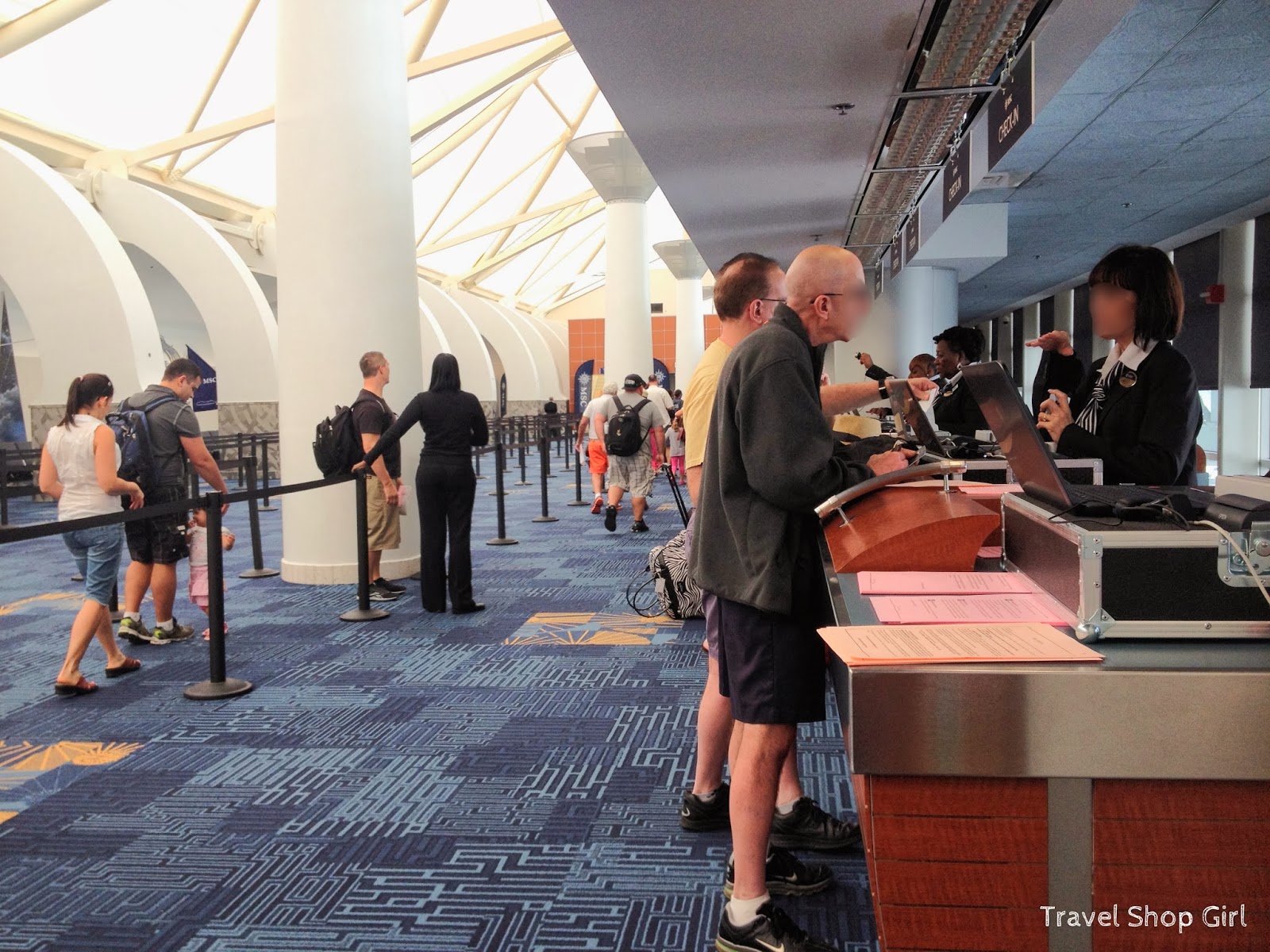 Leaving from the same berth as Celebrity Cruises, I immediately recognized the check in area at Miami Cruise Port.
After checking in, we were able to board the ship via deck 5. You are immediately at the center of it all and Divina Reception with two reception desks where you can check on your account and if you take a few steps down the hall, you'll also find the CyberCafé with the fastest connection speeds I have experienced on any cruise ship.
There is absolutely no way that you can miss the double staircase that spans decks 5, 6, and 7 and yes, those are Swarovski crystals in the stairs themselves!
The design of the ship is a combination of dark colors in some areas to light and bright in others. Somehow it all works despite my initial concern about how dark some areas feel. There is plenty of seating in all public areas and bars and all of the seating is cushy and comfortable.
Most cruises have a muster drill in the afternoon and then depart around 5 pm, but not MSC Divina. We had a sail time of 7 pm and I have to admit that I quite enjoyed the later departure time. Unlike other cruise lines, guests are expected to wear their life vests to their muster station, which is located inside the ship. We were in one of the main dining rooms and of course, I had to take a picture.
When the muster drill finished, we were then able to leave and enjoy the rest of our afternoon and the sailaway party out of Miami. The later departure time allowed us to explore the ship, grab a drink and lunch, and enjoy the gorgeous view of Miami from all around the ship.
The cabins were available after about 1:30 pm and bags were delivered throughout the day. This was the first time ever that my bag didn't find it's way to my cabin almost immediately. Before you think it, no I didn't have any contraband like an iron or alcohol in my bag. We were assigned early seating, which I thought was 7 pm, but was actually 6 pm and while I was running around looking for my bag, the time for dinner came and went and our only choice at that point was the buffet. Buffets are fine for the quick bite, but I generally tend to want to avoid them because of the repetitive nature of the food offerings. I'll cover food specifically in an entire post dedicated to dining later.
Looking for something to do before the ABBA show in the Pantheon Theater, we headed to Piazza del Doge on deck 6. This Italian square and piano bar is nothing like I have ever encountered on any other ship and reminded me of the ceilings inside the Venetian casino in Las Vegas although you have to remember I have yet to visit the Sistine Chapel from which it was inspired. You could sit at one of the tables at the center for table service of coffee, drinks, pastries, or gelato while listening to the live band. You could even go to a Japan Luxury Casino Destination whilst on the phone in your own luxury surroundings. For our cruise it was 70's dance music, but I imagine it changes depending on the cruise and available performers. On the outer edge of this area are shops including an onboard Effy shop — dangerous if you love pretty, sparkly things!
Seeing the time, we headed over to the Pantheon Theatre, which covers decks 6 and 7 and seats just over 1,600 guests. Not being a huge ABBA fan as the music predates me, I assume that they were quite good as the theater was packed for the ABBACADABRA: A tribute to ABBA, performing the music of "Mamma Mia." They threw glow sticks into the audience and had audience participation at every turn. Other entertainment in the Pantheon Theatre during our cruise included "The Witches of Paris" (a Parisian variety show), "Starwalker" (a tribute to Michael Jackson), and "Wonderland"(a wonderful world of imagination with acrobatics, strength, and stunts).
Here is another picture of the Pantheon Theatre during the day from a different perspective. Seats are comfortably spaced and cushioned for comfort. Rows are wide enough to maneuver easily through as well.