Food and cruising seem to go hand in hand. Feeling hungry? The MSC Divina main dining room choices are Black Crab or Villa Rossa. The Black Crab is located mid-ship on decks 5 and 6 while Villa Rossa is located aft on deck 6.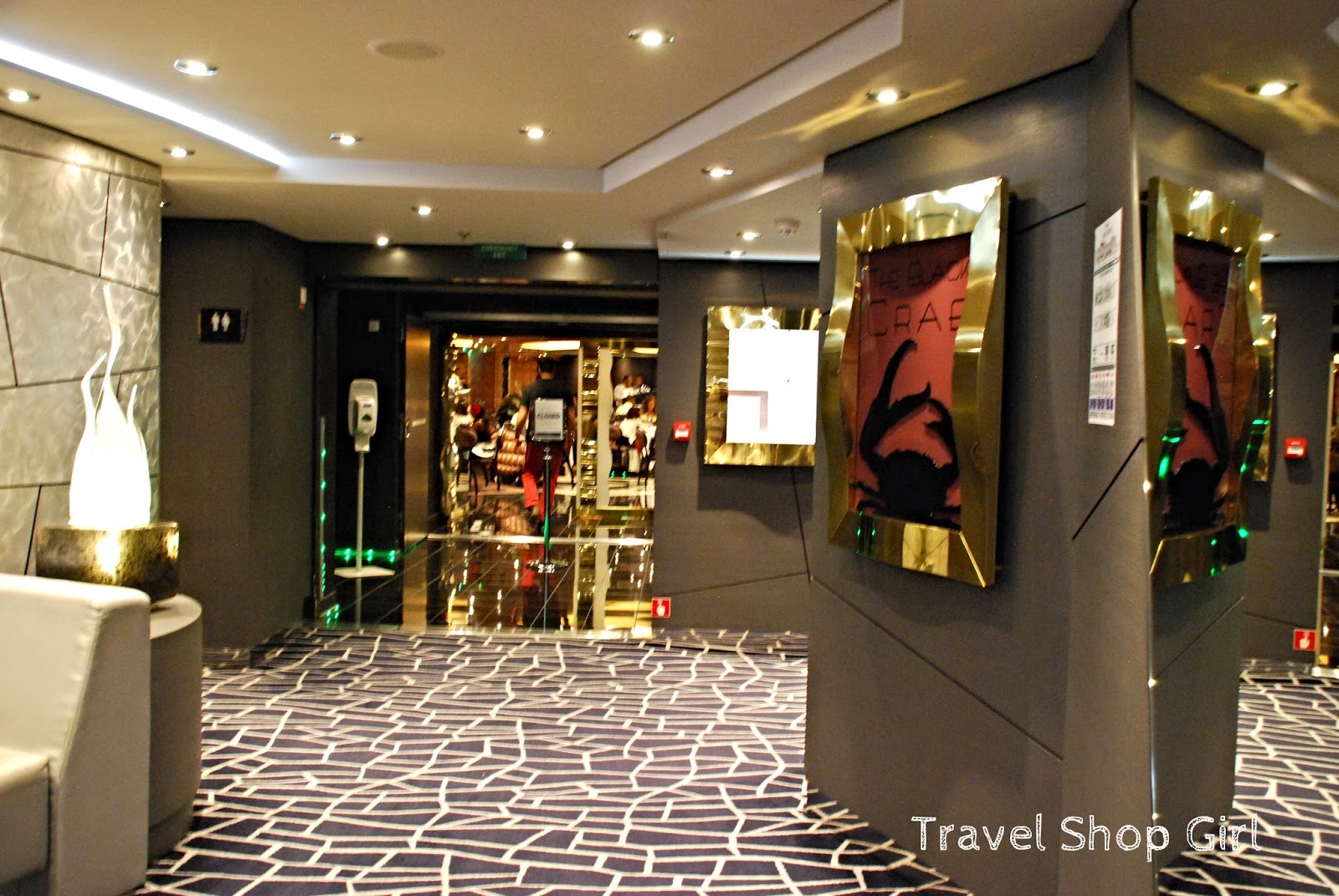 The menus are the same in both MSC Divina main dining rooms, but in order to accommodate everyone, both fixed and open seating, there has to be more than one main dining room. I generally shy away from fixed seating in the main dining room as I think this is what most people who haven't cruised think cruising is like. You know, you sit at a large table of people you don't know, get dressed up, and sit for a few hours for dinner. It couldn't be farther from the truth! Cruise dining isn't like that anymore, unless you want it to be that way.
We were assigned first seating at 6 pm in Villa Rossa and our table number was printed right on our cabin card. Villa Rossa is a lush dining room with red velvety chairs and window coverings with tables and banquette seating. Our table in this MSC Divina main dining room was a table of six, but for this particular meal we were the only ones who showed up so it ended up being a quiet dinner. The table was beautiful and plenty of space for us and more if more people had showed up. I even managed to find a similar marble dining table when I arrived back home, and it reminds me of this trip every time!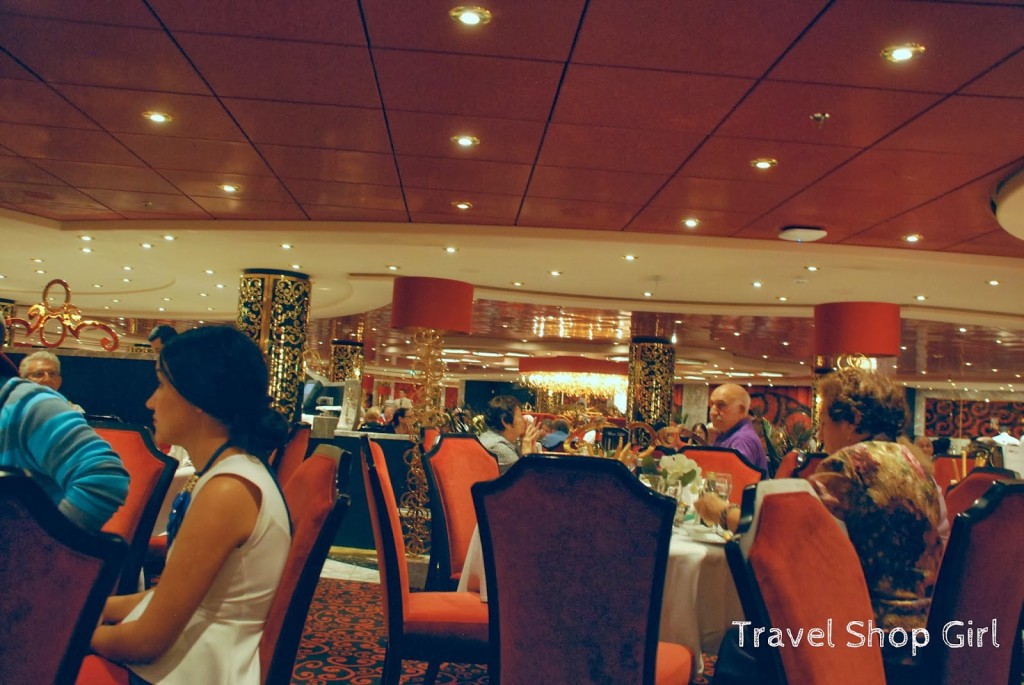 Villa Rossa is well lit and as is the case with most cruise lines, the food is served banquet style by a team of servers. What does this mean? You order off a fixed menu your appetizer, soup or salad, entree, and dessert, which is prepared in a large galley kitchen. Your table will usually have a head waiter and an assistant waiter who will work to ensure you are enjoying your meal. They run back and forth to the kitchen bringing huge trays of food to the guests in the dining room. Considering they will have a number of tables to wait on during the meal service, try to put in your requests all at the same time if possible. Feel like more than one appetizer or entrée? Go ahead! You're on vacation! After all, there's a fitness center onboard.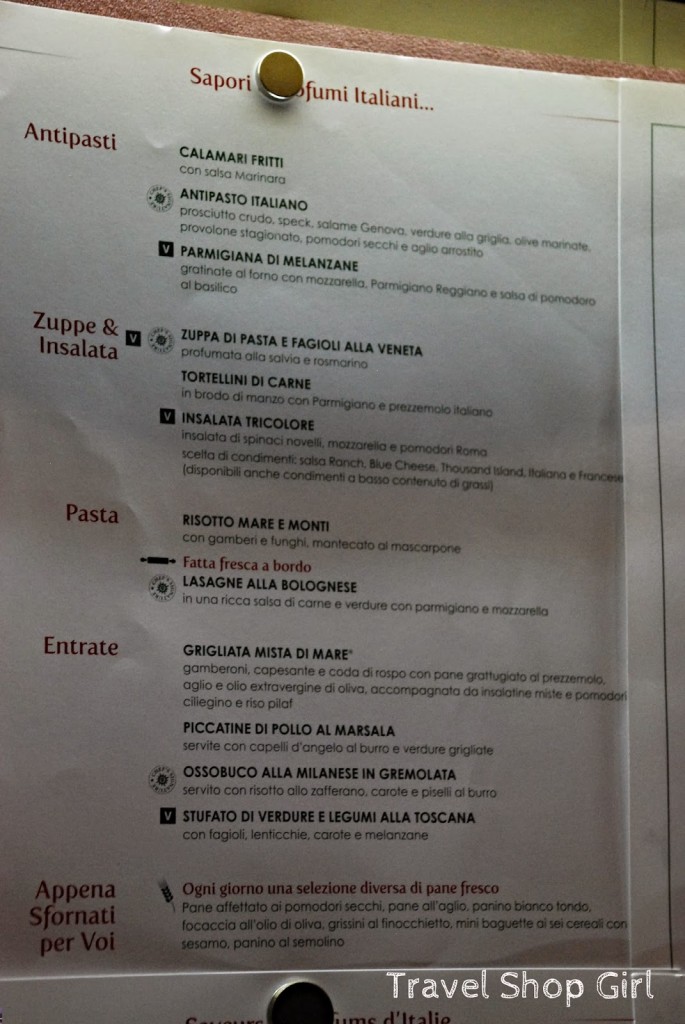 The menu on the last night of our cruise was the same for both dining rooms and was a traditional Italian meal with a wide variety of courses to please everyone's taste buds.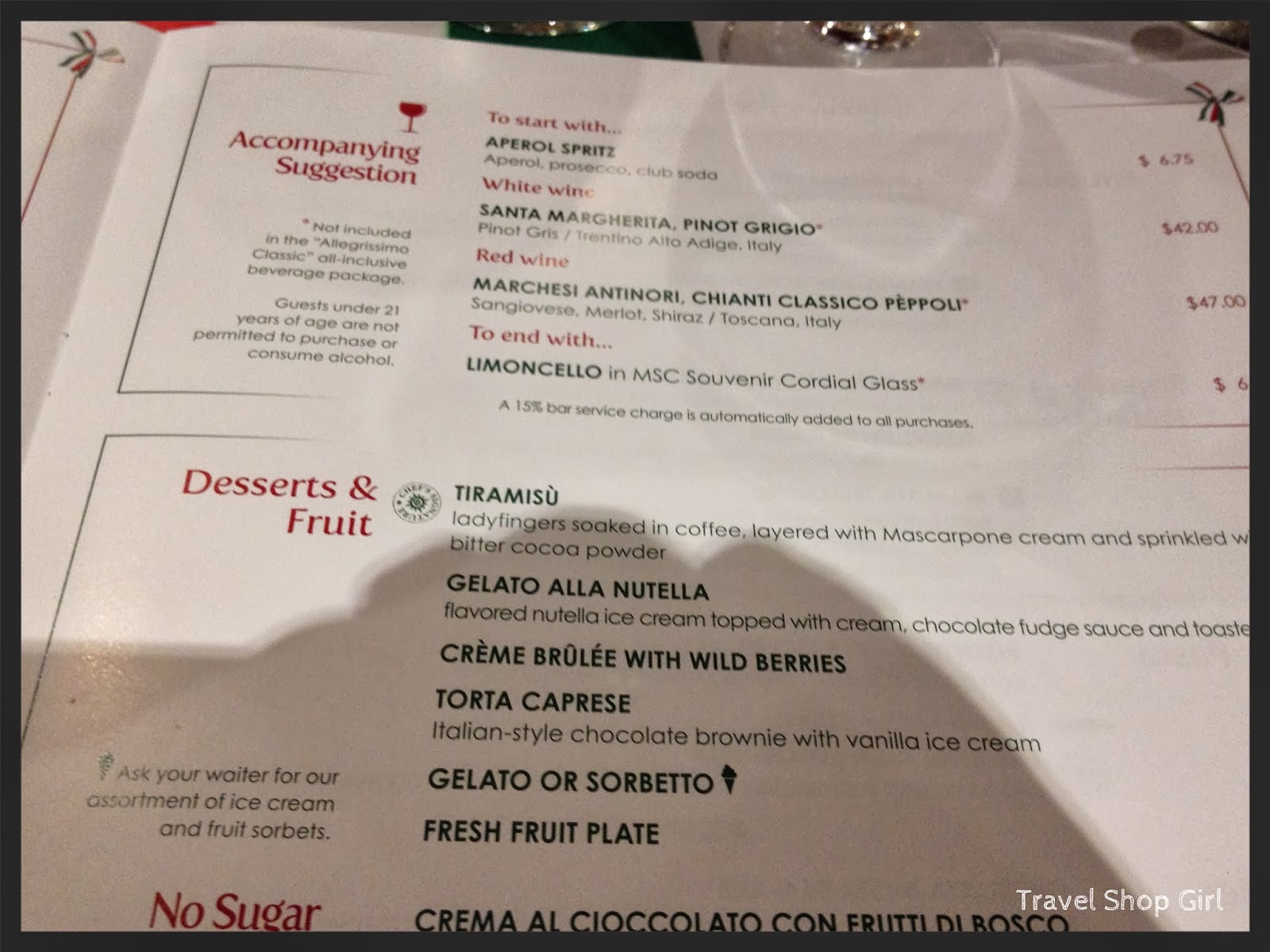 Here's another view of the menu so you can be sure that you'll see a menu onboard in English. I say live life dangerously and bring an English/Italian dictionary onboard with you and use it to translate the menu to keep things interesting. Ok, just kidding, but really…. why not?
Having worked in restaurants, bars, and hotels as a server and bartender and also a banquet server, there are some things that I might know that perhaps the average person without hospitality experience might not. For one, never order fried food in a banquet-type setting, either in the MSC Divina main dining room or elsewhere, because it won't come out exactly as you expect as if you were ordering made to order (á la minute) in a restaurant. Food is prepared in large batches, plated, and then delivered by the service team. So it's possible that your plate could be covered and sitting for a few minutes before it arrives to your table. The steam that's created under the dome is fried foods worst enemy. An example of this is the calamari fritti (fried calamari) that Anna ordered that came out somewhat on the pale side and super chewy.
I ordered the Insalata Tricolore and quite honestly, didn't really read the menu carefully. When asked what dressing I wanted, I ordered the Thousand Island, something I never eat and I'm not sure why I ordered it. The perfect accompaniment for this salad would have been simply balsamic vinegar and oil. You be the judge by the picture above and then maybe you can understand why I ate the tomato and cheese and left the spinach smothered in dressing alone. Why do I always forget to order the dressing on the side?
Anna decided to try the Pasta e Fagioli and we were both a little surprised by what she received. Perhaps we're a little jaded as we both grew up in New York with plenty of Italian friends whose families regularly served Pasta e Fagioli. One of my favorite Italian restaurants, Restaurant Verden, certainly doesn't serve it the way it was served to us. Traditionally, I've seen it served as more of a broth with beans and pasta, but this was more of a thick soup like pea soup. As I didn't eat it myself, I'm not saying it was bad, but it wasn't what she was expected. What I realize now is that this is a Northern Italian recipe that results in a thicker soup. This is why you should always A) read the menu carefully and B) be open to new experiences. The menu did state that this was a "thick soup of red beans and pasta flavored with rosemary and sage" and that certainly what it was.
After my salad, I had the Parmigiana di Melanzane (eggplant parmesan) and this is clearly where the meal took a significant turn for the better. Granted, I was completely smitten with the sauce from Eataly the night before and while this sauce was delicious, I still had Eataly sauce on my brain. Sometimes eggplant parmesan becomes a gloppy mess between the sauce, cheese, and painfully overcooked eggplant, but this was not the case. Such care was taken to ensure that each part of the dish stood on its own and collectively, it was a savory and memorable dish. Each layer of eggplant was able to stand up to the cheese and sauce instead of collapsing underneath the other ingredients. Don't tell anyone else wanting to dine in the MSC Divina main dining room, but it was so good I ordered a second one! I've never done that on any cruise with any other dish so that should tell you something about how good this dish was. If I had no conscience, I would have had about 10 more plates, but then I wouldn't have been able to leave the fitness center.
For research purposes, Anna decided to order the Lasagne alla Bolognese to help me report on the quality. Made fresh on board the MSC Divina, she immediately began her research and stated that the lasagne was quite delicious. The fresh pasta layers were sandwiched in between with béchamel sauce instead of tomato sauce and was stacked with several layers of meaty goodness. The top layer was covered in cheese and broiled for a little crispy, crunchy layer. I have nothing but praises for this dish and I didn't even eat it.
For my entrée, my only choice was the vegetarian option which was the Stufato di Verdure e Legumi alla Toscana (Bean, Lentil, Carrot, and Eggplant Stew). Unfortunately, I took a small taste and pushed the plate away. There was nothing wrong with dish, but since I haven't eaten meat in many, many years, I always feel terribly disappointed when I'm served a dish that you can tell a meat loving chef has decided us non-meat eaters would enjoy. In a nutshell, I eat what you eat and how you eat it with plenty of texture and flavor minus the meat and I wasn't really surprised this was a miss in the MSC Divina main dining room. But honestly, every cruise line I have sailed with seems to have difficulty understanding what non-meat eaters eat so I don't think MSC Cruises is any different. I was ecstatic that I had decided to have that second eggplant parmesan since I decided to pass on my entrée otherwise I might have left the table hungry although that seems highly unlikely.
Anna chose the Piccatine di Pollo al Marsala (Chicken Marsala) and remarked at how moist and tender the chicken was. Here's the description of this dish: "Chicken escalopes flavored with Marsala wine, served with buttered angel hair pasta and grilled vegetables." The pasta was overcooked and underneath the chicken, which she wasn't going to eat anyway, but it was sad to see the state of the pasta like that. The chicken and the vegetables were the highlight of this dish and showed that something simple can be quite delicious.
Although I had promised myself to watch my caloric intake on this cruise, the dessert menu was taunting me, especially when I saw Gelato alla Nutella (flavored Nutella ice cream topped with cream, chocolate fudge sauce and toasted walnuts). Yes, I was a bad girl, but who doesn't like Nutella? And that pretty heart shaped cookie was almost too good to eat (with the operative word being almost). We both had coffee with our dessert, which was considerably better than the coffee in the buffet, but certainly not an espresso type coffee. I could've spent all of my time in Caffé Italia or even at the bar up on deck 14 that served both regular drinks, but espresso and other coffee drinks.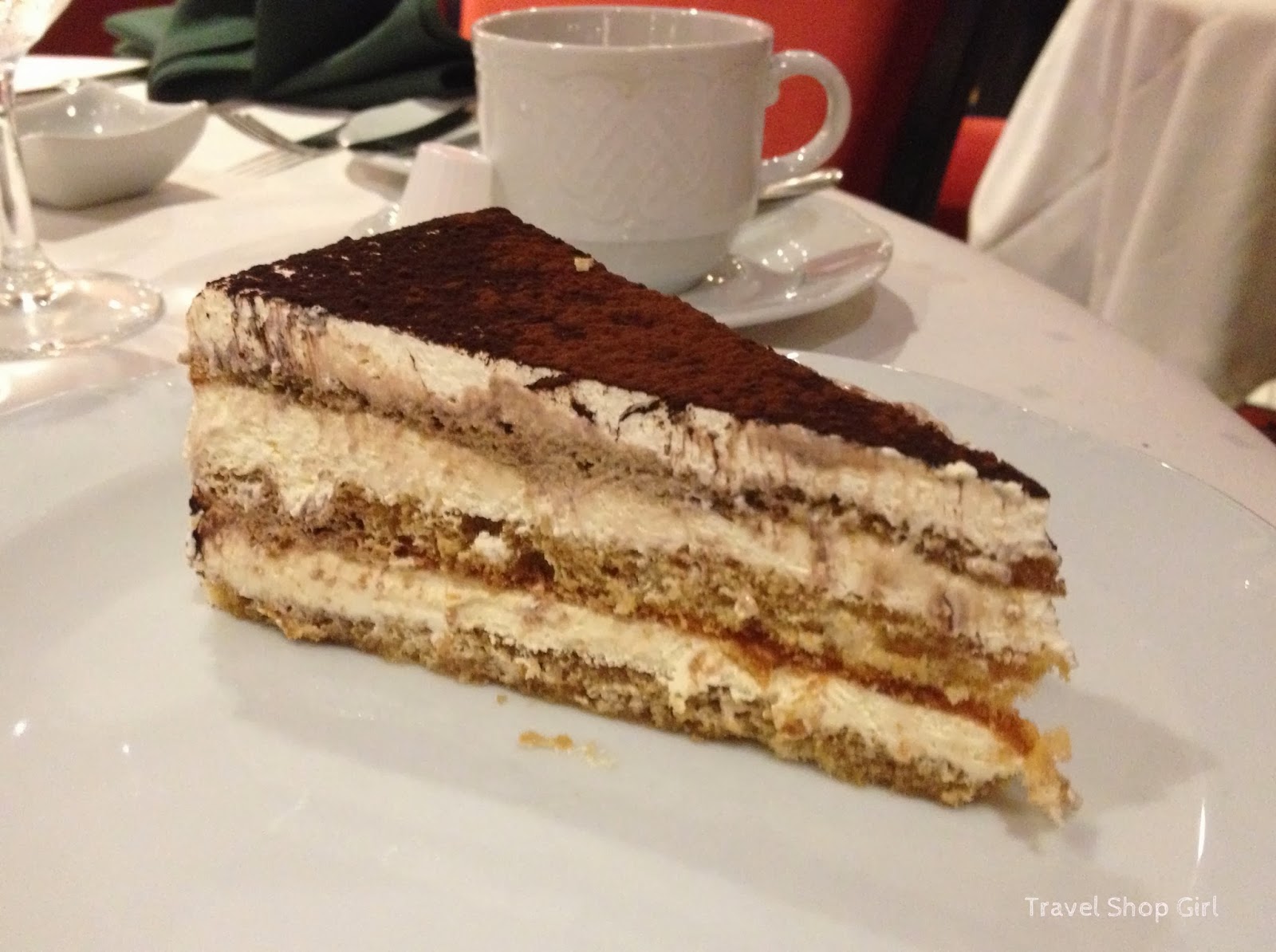 Anna ordered the Tiramisú and we thought it was strange when our server said he would bring us both out gelato and then her Tiramisú. When the music began and the servers began singing "That's Amore" while carrying huge cake size containers of Tiramisú around the MSC Divina main dining room, we suddenly understood. When they finished singing and the passengers had finished swinging their napkins overhead, the dessert was served and this dessert was as promised. In case you've missed out what this dessert is, it's ladyfingers soaked in coffee, layered with Mascarpone cream, and sprinkled with bitter cocoa powder. Sometimes this can turn into more of a mushy mess if done improperly and I've seen many restaurants that don't truly know how to make it. But I can promise you that MSC Cruises absolutely knows what they are doing and this dessert was both beautiful to the eye and delicious to the palate.
Overall, in comparison to other cruise lines in the contemporary cruise line market, I would say that MSC Cruises definitely obliterates the competition with their food quality, attention to detail, and service.
Click To Tweet
Did you know that you can enjoy breakfast or lunch in the MSC Divina main dining room? The Black Crab is open for breakfast from 7-9 am, lunch (including a 30-minute Express Lunch during port days if you're booked for an excursion), and dinner (either the 6pm or 8:30 pm seating). Villa Rossa is open for dinner for the first dinner seating at 6pm and for second seating at 8:30 pm. For set seating, the MSC Divina main dining room doors close 15 minutes after the start of the dinner seating. The earlier seating was probably a little too early for me and was definitely when families went with their young children to eat. If I had my way, I'd definitely choose the later seating to better reflect how I normally eat at home. The food and service in the MSC Divina main dining room was more of a hit than a miss, but for the lack of good vegetarian options, and for that, they get high praise from me. Overall, in comparison to other cruise lines in the contemporary cruise line market, I would say that MSC Cruises definitely obliterates the competition with their food quality, attention to detail, and service.
Read more about my cruise with MSC Cruises and MSC Divina in the cruises section here on the website.