Holland America Ship Review
Always interested in trying something new, my family and I ventured off for a week long cruise on the ms Eurodam, a Holland America cruise ship for February break and this is my Eurodam cruise review.
The Eurodam is part of the Signature Class from Holland America and she entered service in 2008, which was one of the reasons we chose her for this cruise as we wanted to sail on a newer ship. At nearly 87,000 tons, she is the sister ship to the newer ms Nieuw Amsterdam, which was launched July 2010. Both ships can carry 2,104 passengers and 929 crew members. The Eurodam is in port in the Caribbean from late October until early April and then spends the remainder of the year in the Mediterranean and Western Europe (April/May); the Baltic, Norway, and British Isles (May through August); and onto Canada and New England (September/October).
Should you take a Eurodam cruise, you'll find that the ship offers many new dining options including Tamarind, a Pan-Asian restaurant with all female servers; Canaletto, an Italian specialty restaurant; Pinnacle Grill, a steakhouse that transforms itself one night during the cruise into Le Cirque. Don't forget the traditional Lido Buffet and flexible dining with As You Wish dining. There is also a Culinary Arts Center, presented by Food & Wine magazine.
With this groundbreaking, industry-leading program, you'll learn tricks of the trade from our own accomplished chefs or renowned guest experts– and explore your culinary passion as you explore the world.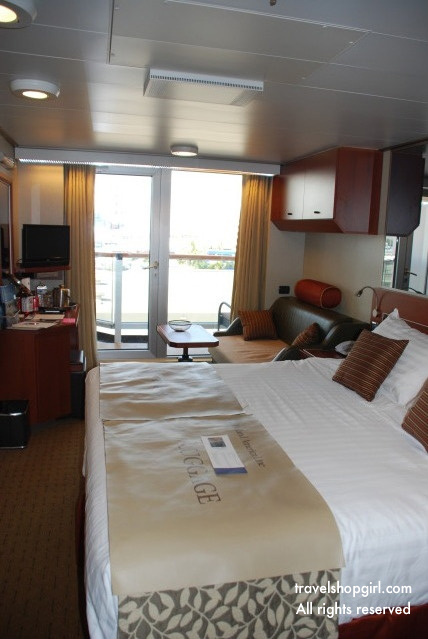 Accommodations: With four types of staterooms, there is definitely something for everyone from interior to ocean view to verandah to suites (superior or deluxe). On our ms Eurodam cruise we had a cabin on deck five, a deluxe verandah ocean view stateroom. These staterooms have two lower beds that convert to a queen size bed, bathtub/shower, sitting area with couch that converts to a bed, private verandah and floor to ceiling windows. These staterooms range in size from 213-379 sq. ft. including verandah. Lots of amenities with this stateroom including bathrobes, which were incredibly soft; 100% Egyptian cotton towels; magnifying lighted makeup mirror; Elemis soap, shampoo, conditioner, lotion, and shower gel; complimentary fresh fruit basket daily; and a flat panel TV with DVD player. The room size was great for three people, but at night it was a little tight if you wanted to go out on the verandah after the sofabed was made up.
Pools: With only two pools on the ship, swimming or lounging by the pool might be a little tough. One pool is a dedicated family pool and the other pool is for adults, but that one is located near the Lido Buffet and bar and is surrounded by tables and chairs and I can't say that many people seemed to use it. The family pool seemed far too crowded and there aren't that many chairs available as you can see in the picture. The upper deck above the family pool has a retractable roof, which is nice if you want to swim and the weather is bad they will simply close the roof. However, that valuable real estate that might have held deck chairs is now gone. Granted there are deck chairs all over the ship, but if you want to lay out by the pool, plan to get there extremely early to take one of the few chairs out there or fork over money for one of the cabanas by the pool or on the upper deck.
The overall condition of the ship is excellent as one might expect for a relatively new ship. That's why I was surprised to hear that the Eurodam will go to drydock on April 2, 2011 for ten days in Freeport, the Bahamas. Apparently, this is the normal schedule for any ship and although I can't see the need for any cosmetic changes or updating, perhaps a little work under the hood and other not so obvious places are in order. Since Holland America is part of Carnival Cruise Lines, I would hope that they would change up some of the decor including the carpeting in the hallways to reflect the finer aspects of design that Holland America has. I liked the dark wood and the rest of the decor as it was far more stylish than most ships. Yet the gaudy carpeting distracted me enough to remind me of the connection with Carnival.
This is an abbreviated introductory review of my ms Eurodam cruise as I will be detailing all of the aspects of the ship and ports in future posts. I would definitely recommend this to any couple looking for a laid back cruise where spending time with one another is the point of the cruise. I would not recommend this ship for families as there is just not enough to do for children or teens or anyone looking for something to do while on the ship since there isn't much planned. If you enjoy how cruising was in the past where dinner is an event and you want to sit out on your balcony to pass time, then you will definitely enjoy the Eurodam.
If you're looking to try a new cruise line or new ports of call, consider Holland America.