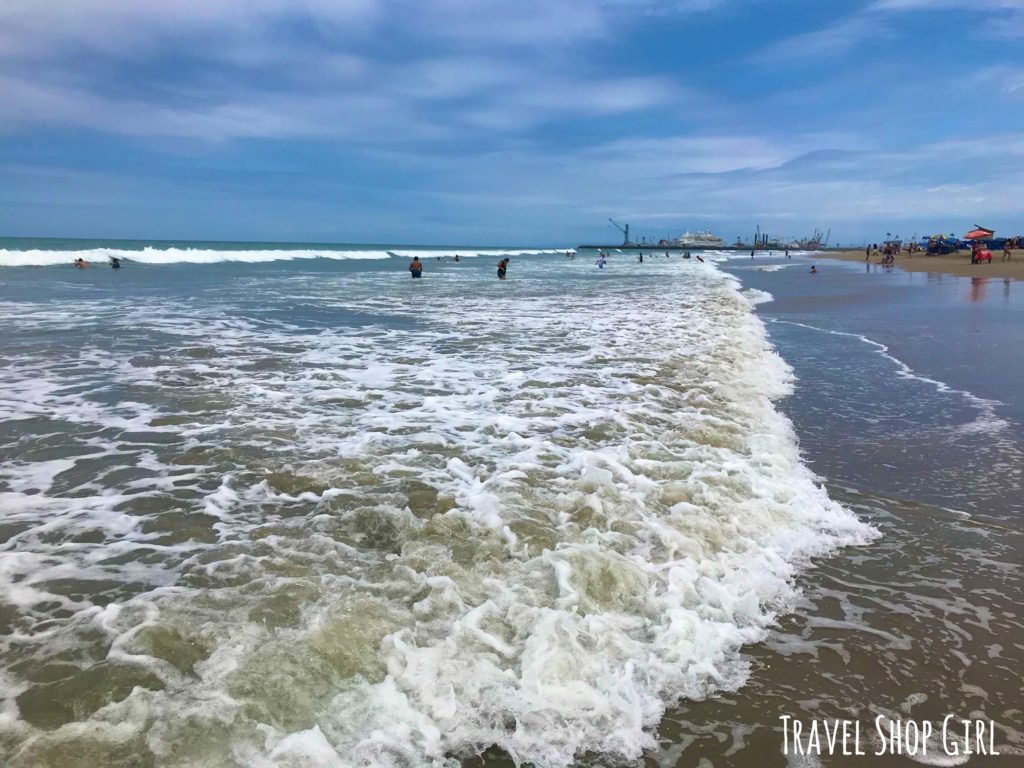 If you're looking for some sun, fun, and sandy beaches in South America, look no further than Manta, Ecuador. With a population of close to 200,000 and the largest seaport in Ecuador, our world cruise had us in port for the day in Manta.
From Black Watch Into Manta, Ecuador
As we departed Fred. Olsen Cruise Line's Black Watch we walked passed the chiva tour buses to get onto our a shuttle. When we arrived in the city of Manta, we could already feel the heat bearing down on us mighty quick. It was definitely going to be a hot day in Ecuador.
Shopping At The Mall In Manta
Danielle and I jumped out of the shuttle and walked out of the port gates and into the city while trying to get our bearings on where we wanted to go. We heard there was a mall, we needed to get a little shopping done, and so we headed off.
The mall was massive with all kinds of stores including one where you could buy appliances, TV's and scooters all in the same store. Whether you need furniture, clothes, food, or household items, you could definitely find it here. As for us, we were looking for snacks and I found my plantain chips and Danielle was happy to locate some yucca (cassava) chips. I also priced alcohol for fun and found that a bottle of Patron was selling for about $170 USD. Ouch!
Off To Murcielago Beach
With our snacks in hand, we headed across the street to Murcielago Beach or Playa el Murcielago. This touristy beach has everything you could need from restaurants, bars, handicraft stalls, shops, and of course — lots of sandy beach and water.
Danielle and I walked around hoping to find some good bargains in the shops, but all I found was a bathing suit, but still. Strangely enough I found this tattoo shop, no not a temporary tattoo sticker kind of place, but a legit tattoo shop on the beach. Definitely not a good idea.
Playa el Murcielago Beach Bars
It was hot, we were thirsty, and that meant it was time to get a drink. We found a table at Restaurante Las Velas and ordered a few Cuba Libres and free WiFi.
With views like this and a drink in your hand, what more could you possibly ask for?
After our drinks, we moved to the restaurant next door and met up with a few more people from the ship. More drinks and even some food. Yes – Danielle ordered pizza in Ecuador, but I ordered patacones (plantain) and loved them, but couldn't finish them all. Luckily, Mick had joined us and kept eating them and saying they tasted like potato. Ha!
Views of Playa el Murcielago
In between drinks and having a good time, it was absolutely necessary to stick my feet into the water and feel some sand between my toes.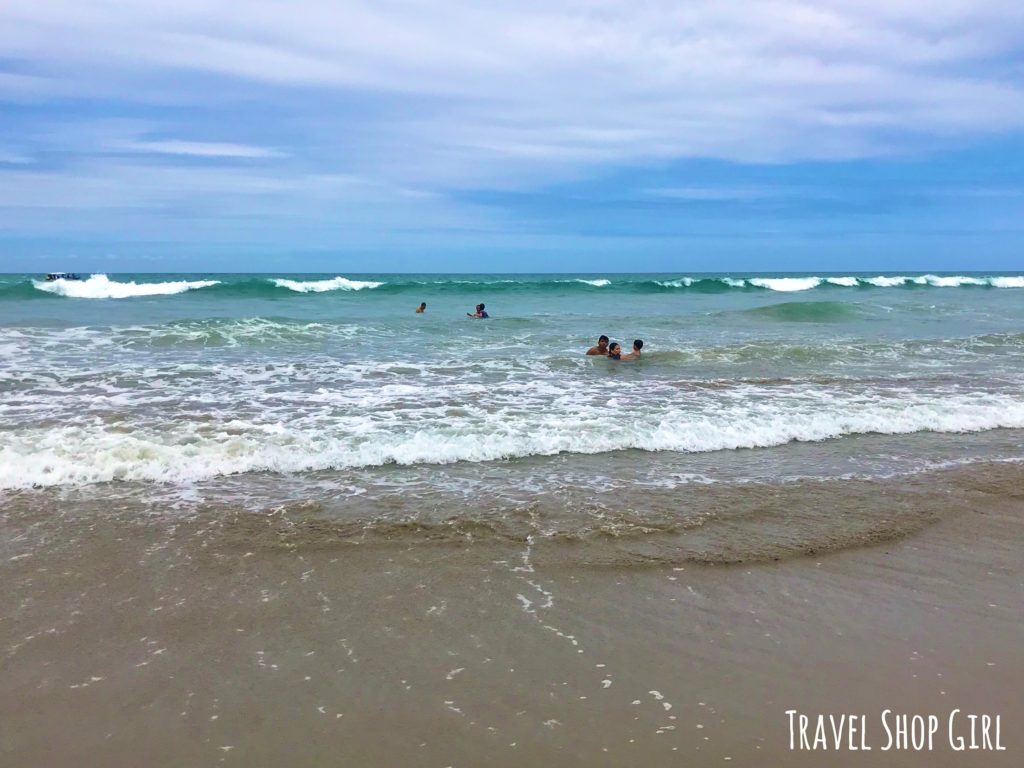 In between enjoying the water dancing around my feet, I spotted the most beautiful Dogo Argentino dog hanging out in the water with his owner. Yes – I ended up spending a great deal of time just hugging that beautiful dog and then talking with his owner. Nothing beats a hug with a beautiful dog in the ocean.
I was even able to spot the beautiful Black Watch from my spot on the beach.
Lessons for Foreigners
When it came time for us to leave, the waiter brought our table of six the check and we all nearly fell over dead. He had charged us for 49 drinks, which wasn't possible in the short amount of time we were there. Luckily, someone was able to straighten him out as it may have been a table of "gringos," but definitely not gringos borrachos (drunk foreigners). Always pay attention when traveling and don't feel afraid to speak up for yourself.
Final Thoughts on Manta
Manta is definitely an enjoyable port of call and easy to access for cruise ship passengers. After an enjoyable day at the beach, it was time to return to our home at sea, Black Watch and prepare for our next port: Callao, Peru.
Have you visited Manta? Can you suggest other destinations in Ecuador that you found equally exciting? Leave your comments below. Discover some other great destinations and travel ideas here on the Travel Shop Girl website .
On my new SPONTANEOUS TRAVEL SCALE of 1-5, with 1 being super easy and spontaneous and 5 being you better plan far in advance, Manta scores a 3 for spontaneous travel since there's plenty to see and do on your own whether arriving by cruise or plane.