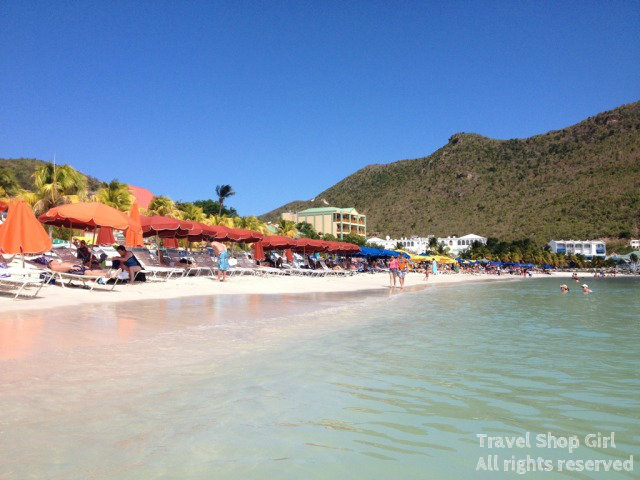 Have I already mentioned how much I love St. Maarten?  We're still on the Celebrity Eclipse: Day 5 of our cruise and today we're in St. Maarten. We were trying to figure out how many times we've been to St. Maarten and we've actually lost count.  I don't say that to brag, but instead to show how much we enjoy going and how it now seems like a second home to us.  I knew we wouldn't be the only ship in port that day so I had to remind my husband and son to stop messing around so we could have breakfast and go.  A quick walk down to the Tuscan Grille on deck five for our Captain's Club breakfast and we chose a table near the window for a wonderful view out of the back of the ship.  A Hazelnut Latte for me along with some fruit and a croissant and I was ready to hit Philipsburg.
We packed sunscreen, beach towels, and we were off for the beach.  If you've never cruised before, the process of disembarkation at a port is relatively simple.  If you're at a port where the ship docks, you can walk or take the elevator down to one of the lower decks.  On Celebrity Eclipse, this is deck two.  Be sure to bring your cabin card, which has its own unique name depending on the cruise line.  On Celebrity it is called your "SeaPass" card.  You'll have to pass through Security and place your card in the slot before exiting the ship.  This is how Security determines how many passengers are off the ship, but more importantly at the end of the day they can be sure everyone is back on the ship.
Once you exit the ship, you walk through a small shopping area in the port and you can either take the water taxi directly over to Philipsburg or you can walk.  I always recommend walking because it is fast, but if you take the water taxi, you might miss some of the sights along the way.  For example, where else will you see an animal shelter that sells water and beer to raise money for the animals?  You'll pass a boatyard where they are working on boats as well as the ferry terminal if you wanted to take a ferry over to St. Barth.  There are signs pointing you in the right direction so you can't get lost.  That and the fact that lots of people choose to walk vs. taking the water taxi and you can walk along with everyone else.  On the way back we saw so many goats noshing on grass on the other side of the road and that's what I call a bonus that you won't get on the water taxi.  If you do decide to take the water taxi, make sure you get on the right one as they have different stops including all the way to the cruise port terminal.
My son's sandals broke on the ship so we stopped to pick him up a new pair and I bought a cool Union Jack tank top.  We always pick the same spot on the beach in Philipsburg and that's in front of Taloula Mango's and the Blue Bitch Bar.  However, as we were close but not quite there yet, someone approached us about beach chairs.  He wanted us to sit in this one area and would give us three chairs and an umbrella for $20.  However, it wasn't where I wanted and as I kept walking, Miguel who works in front of Taloula Mango's was there and waiting to give us our seats.  It pays to be choosy as we ended up with three chairs and an umbrella for $15 and it was where we wanted and we had the best chairs on the beach.  I hate the lounge chairs with the plastic that leaves you with striped legs when you get up.  These are lounge chairs with thick pads on top to keep you comfortable all day.  Miguel, also known as the "Naughty Professor" is a charmer and will keep you entertained all day.  Remember Jack and Jana from our day in St. John?  We had told them about Philipsburg and apparently they had beaten us off the ship and hightailed it over to Miguel's for chairs.  We ended up right next them on the beach – how strange is that?  I'm sure they thought we were stalking them.
There are plenty of excursions you can participate in while on St. Maarten, including a catamaran sail around the island, you can spend the day at Orient Beach, you can rent a car to explore both the French and Dutch sides of the island, and so much more.  When we are only in port for a few hours, we love spending the day in the water at the port as it is relaxing, fun, and relatively inexpensive.  The salt water's buoyancy makes for interesting swimming and you can literally spend the entire day in the water, which is what I try to do if I can.  You can rent a jet ski as well and if you get bored, there are many, many stores close by.
Speaking of shopping, what kind of shopping can you do in Philipsburg?  You can do high end shopping that includes diamonds, tanzanite, emeralds as well as watches, electronics, and then typical souvenir shopping, too.  A great store for souvenir shopping near the beach is Caribbean Traders.  You'll know that you're at the right store because there is a huge gorilla stuffed animal out front in a hammock chair.  Inside they have everything from t-shirts, jewelry, hot sauces, coffee, sandals made from recycled yoga mats, sunscreen, magnets, keychains, etc.  It's a great store to hit if it's your last port for shopping as you can definitely find something for everyone here.  If you're looking for something more high end, do your research before you leave home and have an idea of how much you would be willing to pay before you enter the store.  There's always room for negotiation, but you'll have an upper hand if you know all about the item and pricing before you step into the store.
For lunch we went to Taloula Mango's and let Miguel know we would be back so he would hold our chairs.  Strangely enough, our server, Andy, remembered us from our last trip to St. Maarten in November.  He said that he remembered us because on that particular day there was a problem with our food order, the restaurant was packed, and people were upset and complaining about the food and service.  But we were the only ones who didn't and were chill and relaxed about it and he said because of that it made an impression on him and he appreciated it.  The weird thing is that we were so in our zone that we weren't paying attention to anyone else and hadn't noticed that people were complaining.  But I'm glad that our laid back attitude was appreciated and that comes from years of working in the restaurant and hotel industry.  I don't think most people can appreciate the hard work that servers and bartenders do on a daily basis, but I certainly do.  Andy also mentioned that his mother and I share the same name so as far as I'm concerned, it looks like I have a son in Philipsburg, St. Maarten!
It was hot and I was ready for a drink so I ordered the Ruff Sex on the Beach (vodka, peach, Malibu, Midori, cranberry, and OJ), while my husband ordered a mix bucket of beer (five beers for $10), and my son ordered a Virgin Pina Colada.  The guys were hungry and ordered almost everything off the menu.  The funny thing is that my son doesn't really eat that much chicken anymore, but loves the Haitian Voodoo Wings from Taloula Mango's.  Described as "one full pound of jumbo chicken wings with our secret Haitian Voodoo Hot Sauce, celery & carrot sticks, and a refreshing blue cheese or ranch dip." He gobbles these up every time without complaint and loved that Andy brought him some extra hot sauce on the side.  The mini falafel appetizer is also great as they are little falafel balls with hummus on the side – yummy and light.  We waited until 12:30 pm to grab lunch because that is when the music starts outside and if you take a seat on the second floor, you get a great view of everything up and down the beach and of the cruise ships in port.
On this particular day, besides the Celebrity Eclipse in port, there was also Ruby Princess and Carnival Valor.  The Carnival Valor was on a 8-day itinerary and had to skip the port of Grand Turk due to bad weather.  We met people from both ships in the water that day and one couple was from Ontario, Canada on their first cruise on the Ruby Princess and loved it.  I love talking to people who are on their first cruise as I like hearing what their expectations were and how they match up with reality.  Most people, even today, don't have any idea what cruising is all about and to know that less than ¼ of North Americans have cruised is still amazing to me.  Where else can you experience new locations almost every day and yet still have your same hotel room without having to pack and unpack each day?
Before leaving the beach, we never leave Philipsburg without stopping in at The Candy Store.  The bright yellow store on the way back to the ship is a must see store.  With candy lining every inch of the store as well as water, ice cream, and popsicles, we like stopping in and saying "hi" every time we're in town.  The owner was getting ready to head back to Toronto for four days since there would be a lull in cruise ship arrivals due to the cruise lines repositioning the ships to the Mediterranean and Europe.  Before leaving we always ask for the WiFi password and then we sit out front and check our email before heading back to the ship.
For dinner that night we ate once again in the Moonlight Sonata dining room.  I was surprised that Jhona Parcon, the hostess, greeted me by name as we approached the podium.  With a couple thousand guests on board, I certainly can appreciate how hard it is to remember people's names, yet she makes the effort to remember everyone.  Our server on this night was Rolondo and the assistant waiter was Benjamin.  Our duo also went by Batman and Robin although it wasn't clear who was Batman.  They were happy, smiling, and clearly dedicated to their jobs.
My son had his favorite Baked French Onion soup yet again for his starter and the chef's recommendation of the Veal Cordon Bleu for his entrée.  I will admit that as a non-meat eater it disturbs me that he ate veal, but as a mother I'm just glad that he stepped out of his comfort zone to try something new and he actually enjoyed it.  This was a heavy dairy evening for me and I'm starting to wish I had more non-dairy choices.  I chose the Cream of Broccoli soup, which was divine and so bright and full of broccoli.  If you love broccoli like I do, then you will absolutely enjoy this soup.  I also had the Boston-Brie-Berry Salad with toasted walnuts and orange vinaigrette.  With only three small pieces of brie, you could easily bypass the dairy on this one and enjoy the fresh salad, which was very good and full of blueberries, raspberries, and blackberries.  For my entrée I chose one of the starters, the Creamy Parmesan Polenta with a fricassee of wild mushrooms.  My husband did the same thing, but had the salad as the entrée, which was still the same sized salad.  Rolondo was nice enough to ask us if we wanted to order special food for the following evening, including a stir fry or tofu, and since we knew we were on the waitlist for Murano, we politely declined.
We stopped in the Eclipse Theater to watch the guest performer, Lindsay Hamilton perform. From the Celebrity Today for Wednesday, April 18, 2012: "Lindsay Hamilton has played many of the most coveted roles in musical theatre history, including Eva Peron in 'Evita' and Fantine in 'Les Miserables.'" She won critical acclaim for her role in Jerry Hermans "The Best of Times." She played the title role of Gigi in the cast recording and has sung for HRH Prince Charles at a private function.  She recently created the role of Frieda Von Richtofen, wife of writer D.H. Lawrence, in a new musical called 'Scandalous' which is Broadway bound. Her astonishing voice and personality make her one-woman show a night to remember."  As you can see, cruise ship entertainment can be of good quality and highly entertaining.  Onboard our cruise there was a juggler, a magician, Lindsay Hamilton, as well as the Celebrity Production cast.  If you're looking for a show, you can find one every night while onboard.
Next up is day one of our two days at sea before heading back home.  How am I ever going to leave this ship?