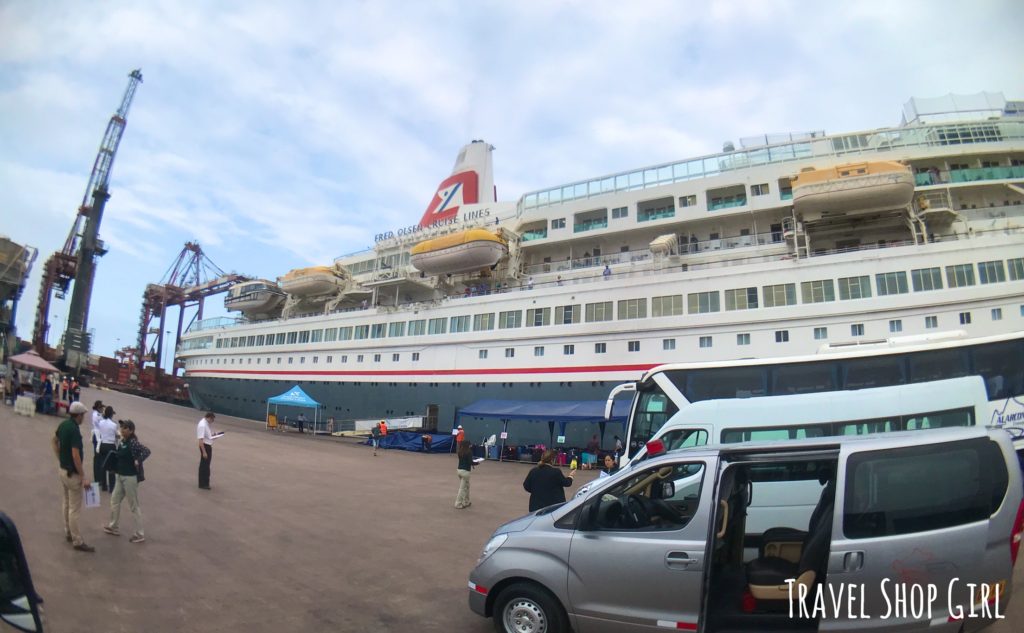 Our first destination in Peru on our world cruise on board Fred. Olsen Cruise Line's Black Watch is the port of Callao. Located approximately 9 miles west from the center of Lima, Callao is the chief seaport area of Peru.
Black Watch docked in Callao and Danielle and I had to take a shuttle into the city of Lima. Why? It's a commercial seaport and we couldn't just walk off the ship and into the city on our own. The ride in took about an hour each way because of traffic, but the views were both interesting and impressive.
Our Tour With Haku Tours
Fortunately for us, we were on one of the first shuttles into Lima so we could meet up with our tour guide for the day, Jean Paul of Haku Tours. While we could've chosen any one of a number of tour companies to use to explore Lima, Haku Tours really spoke to us. Tours with Haku Tours aren't simply showing you the touristy part of a city like many companies do. Instead, we were able to participate in a tour that showed what true Peruvian life is from those that live in Lima.
Lima's Reality Tour
Our tour started with a Shanty Town tour, which Haku Tours says is "an eye opening tour experience that challenges common preconceptions about poor areas. Over 80% of people from Lima live there."
We didn't know what to expect, but Jean Paul gave us information about how thousands of people migrated to this area in the 1970's. Today it has a population of over 500,000 and even has its own leaders, many of which are women (go girl power!). Jean Paul also told us that the people in the shanty town were some of the friendliest people you could ever meet.
After a short drive to the south of Lima, we arrived and exited our vehicle. No, not this one as Danielle and I plus our driver, Jorge, Jean Paul, and his trainee tour guide, Yonathan, couldn't fit into this tiny little vehicle. However, it's a perfect mode of transportation in Villa el Salvador and it can maneuver the tight and windy roads in this area.
The Market
Only a few feet away from where we parked we could see the marketplace. There were tons of vendors lining the street selling fruits, vegetables, and so much more. The people that live here have friends and relatives in the Andes who make the 6 hour trip each way to bring their goods for sale.
Now this is where it gets really interesting for me, especially as I'm a vegan. The food is super fresh and the prices were low, making it affordable for everyone. So you can understand the pricing here, that's 1.8 Peruvian Nuevo Sol or $0.56 USD for about 2.2 lbs of passion fruit.
But there were also things I had never seen before like black corn and the biggest maracuya (passion fruit) I'd ever seen. The black corn isn't eaten as is, but instead the inner core is cooked and used as medication.
Everywhere we turned, there were more vendors and more items for sale.
Here Jean Paul is telling us about how Peru has over 3,500 types of potatoes. Now that's a lot of potatoes!
This vendor was kind enough to let us try some of the mangoes that she was selling. I do love mangoes and these were some of the sweetest I've ever tasted.
Community Spirit
I felt a genuine and real sense of community here.
Click To Tweet
The absolute best part about the market was how friendly each and every person was that we saw and chatted with. They didn't avert their eyes when you walked by them and instead said hello and smiled. I felt a genuine and real sense of community here.
My heart also melted with the little girls as they walked along with their mothers and spotted me. Not one, but several of them came up to me and asked me where I was from and then started touching the tattoos on my arms and my crazy red hair. It was all from such an authentically innocent place, which made me love this community even more.
Off to See A Shaman
Jean Paul led us inside a building, where we stopped to see a shaman about some cold medicine for Yonathan. He prepared an extremely viscous potion that seriously had the consistency of cheese when he completed it. Yonathan was supposed to down it quickly like a shot of alcohol, but the poor thing couldn't tolerate the taste and just tried to sip the medicine/cheese. Hopefully, it made him feel better.
Chicken and Fish
We weren't just observers of the touristy side of Lima. Instead, we got in and saw how real people live and helped out a few families along the way.
Click To Tweet
As we walked along inside the marketplace, I realized how much it felt like the many indoor markets I visited while in Thailand last year. Jean Paul was buying food to take to some of the families we would be visiting and so Danielle and I decided to buy some extra  fruits and vegetables to give to more families. How could we not? This is yet another reason why I'm so glad we did this tour with Haku Tours. We weren't just observers of the touristy side of Lima. Instead, we got in and saw how real people live and we were able to help out a few families along the way.
Fruits and Veggies
In addition to more fruits and vegetables, they were selling chicken, fish, herbs and herbal medicine, too.
If you were too busy to prepare a meal, you could even buy pre-chopped vegetables from a woman who arrived early in the morning to chop all the veggies.
Danielle Goes To Work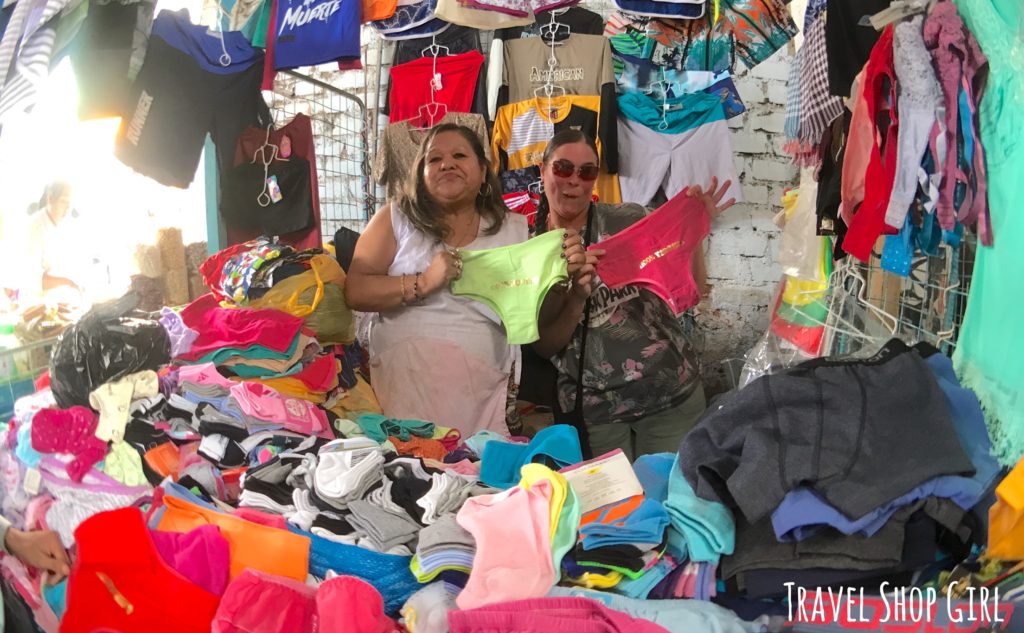 I spotted a tailor in the corner near the fishmonger as well as someone selling DVD's. But my absolute favorite was the woman selling clothing including some interesting underwear. She convinced Danielle to get behind the stall and take a picture with her because she likes to have her picture taken.
Delivering the Food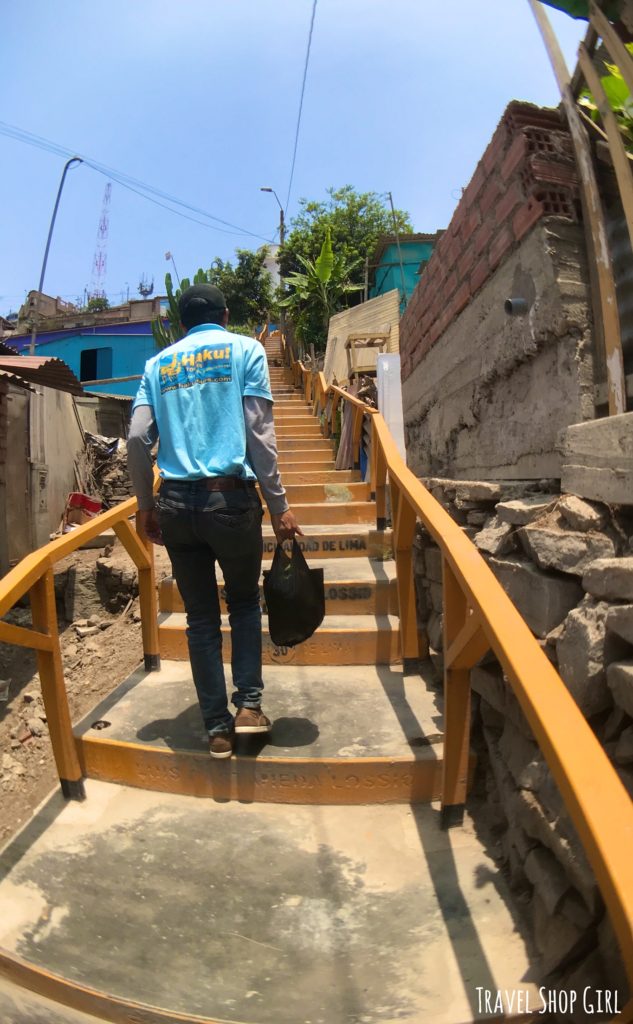 With all of our bags of food ready to go, Jean Paul led the way for us to start making our deliveries. We got to talk the same dirt roads and stairs that the people in Villa El Salvador walk daily. It was hot, the sun was beating down on us, but we pushed on.
Along the way we got to take in the view of Lima from up high in Villa El Salvador. Anywhere else these views would command massive amounts of money in real estate. However, that's not the case here.
There's no grass, many of the people don't have running water, but share with their neighbor. Most importantly, they're not complaining because they're all family and one big community.
We met a young girl as we passed through who was selling little plastic bracelets. Danielle and I each bought one and learned this little go-getter was doing a nice job marking up her costs. I expect her to do quite well in the future in business.
Haku Tours Is More Than Just Tours 
Haku Tours doesn't just do tours for tourists, but also makes an impact in the community. They have been influential in starting daycare centers and community kitchens in Villa El Salvador. Jean Paul even bought dog food to feed some of the animals that live in the community. You can't visit here and not be impressed and moved to want to return to volunteer.
Soon it was time to return to our vehicle and prepare for the next part of our tour, the City of Kings and Queens Tour.
City of Kings and Queens Tour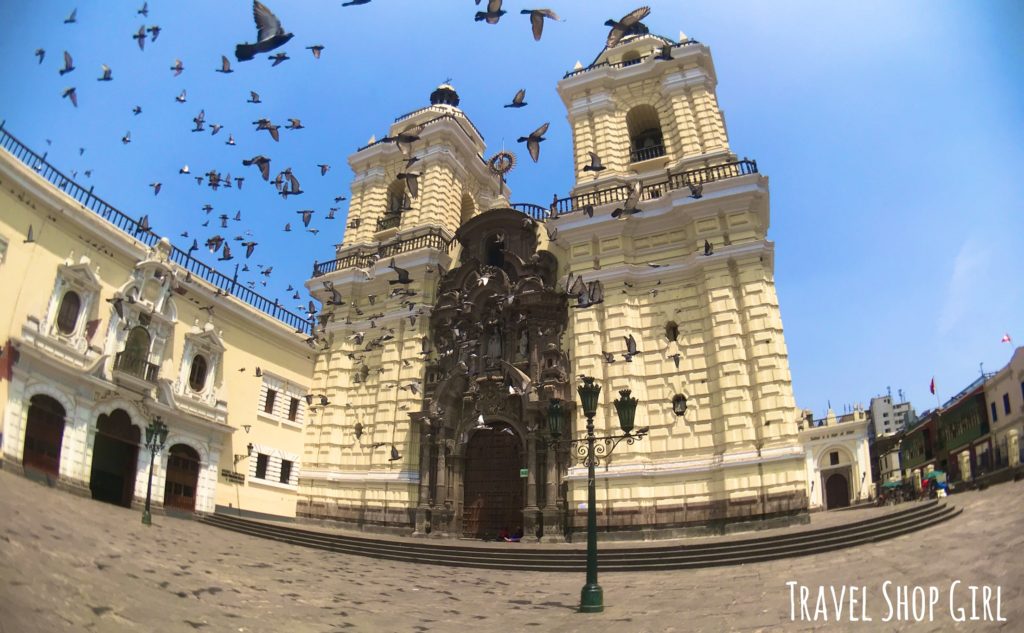 After driving back into Lima, we were now ready to get out and about and see more of this great city. Our first stop was at Convento de San Francisco, a monastery and beautiful example of Spanish Baroque architecture. Inside you'll also find an extensive library of over 25,000 books in a setting that will make you feel you stepped into a Harry Potter movie.
But the best part of this monastery was what is underneath in the catacombs. A former cemetery, it's believed that at least 25,000 people were buried here. Unfortunately, I wasn't able to take photos so I can't tell you what it looks like, but I did open my Ghost Radar Connect app and started receiving messages immediately.
TSG Tip: I loved the Last Supper painting by Diego de la Puente who made it authentically Peruvian. You'll see things like potatoes, a guinea pig, and chilis in the painting along with children, none of which were present in the original painting by Leonardo da Vinci. This painting was made to convert the Incas to Catholicism by having them see themselves in the painting.
Churros and Inca Kola
Since we started the tour late because of having to get a shuttle into Lima, we didn't have time for lunch, but Jean Paul was still going to hook us up with some food. We stopped for authentic Spanish churros and an Inca Kola, of course. They were big like croissants and filled with caramel. I ate a little of the outside and drank my Inca Kola. Even Danielle who doesn't like churros, loved her Peruvian churros.
Plaza Mayor
Next up was a visit to Plaza Mayor for pics before returning to the ship. Located in the Historic Center of Lima, Plaza Mayor is surrounded by the Government Palace, Cathedral of Lima, Archbishop's Palace of Lima, the Municipal Palace, and the Palace of the Union.
No trip would be complete without a little shopping and poor Jean Paul and Yonathon waited patiently for us as we sifted through t-shirts, alpaca sweaters, Pisco, and more.
Final Thoughts
Overall, I was extremely impressed with Haku Tours desire to enlighten visitors to Lima while not exploiting the people of Villa El Salvador.  I felt more like a participant in the day's activities and not a voyeur, which I liked. Most of all, I got to see how real people live and not the artificial and touristy parts of Lima exclusively. I highly recommend Lima's Reality Tour with Haku Tours if you decide to visit Lima, Peru.
Have you visited Lima? Can you suggest other destinations in Peru that you found equally exciting? Leave your comments below. Discover some other great destinations and travel ideas here on the Travel Shop Girl website .
On my new SPONTANEOUS TRAVEL SCALE of 1-5, with 1 being super easy and spontaneous and 5 being you better plan far in advance, Lima scores a 2 for spontaneous travel since it's affordable, easy to get to, the country and the people are amazing, and I definitely feel the need to return.
While we were provided a discounted tour from Haku Tours, as always all opinions and photographs, unless otherwise noted, are my own.