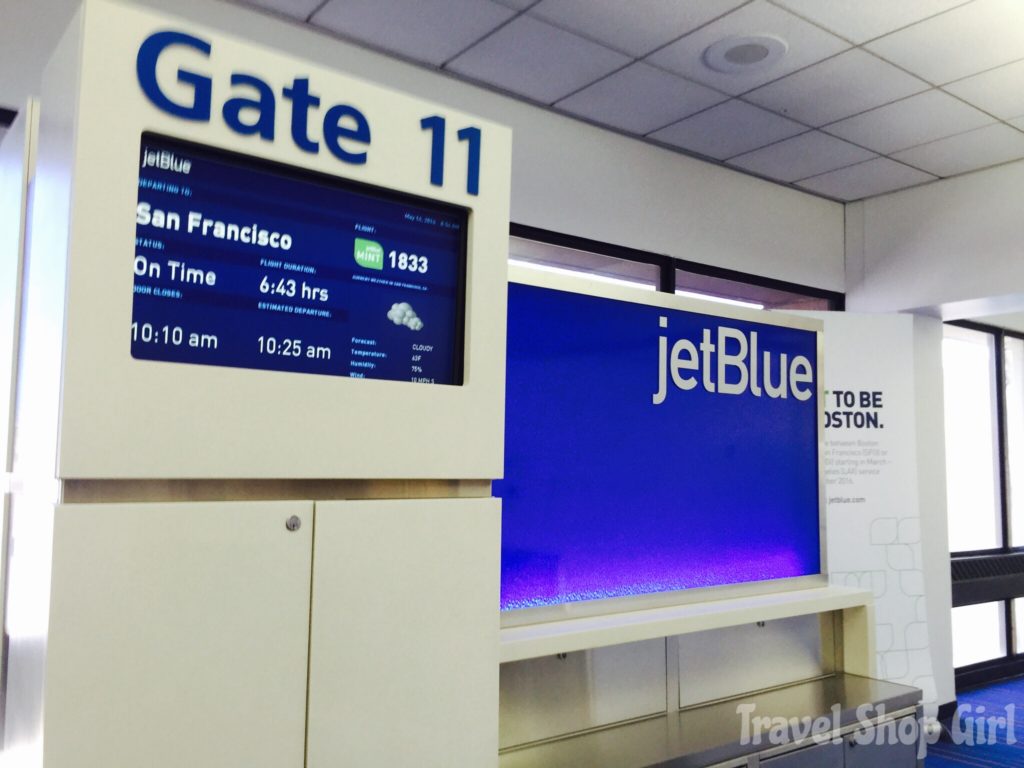 Don't we all want to be comfortable when flying long distances? JetBlue Mint is JetBlue's newest service class that offers its passengers some of the most comfortable seats and incredible service available for domestic flights.  Once I saw that flights were available from Boston, I decided a trip to San Francisco (SFO) was needed.  Other Mint cities from Boston include Barbados (BGI) – seasonal through 4/30 and resuming 11/5/16), Los Angeles (LAX) – begins 10/20/16, and Aruba (AUA) – seasonal Saturday service begins 11/5/16 with daily service 12/23/16 – 1/2/17.  JetBlue Mint is also offered from New York (JFK) to these same cities as well as St. Lucia (UVF) and St. Maarten (SXM).
With no bags to check in, I flew past the check in counters and through the TSA Pre-Check line with TSA.  If you did want to check a bag, you could check two for free at the dedicated Mint check in counter at the airport.  Flying Mint means you automatically get through security faster with Even More® Speed, but since I have Global Entry, it allows me to benefit from the TSA Pre-Check line.
Once onboard, I began oohing and aahing at the spacious seats in Mint and was immediately greeted by our Mint flight attendant, Alexa.
TSG Tip:  Think flight attendants are all the same?  Think again.  Alexa was the most professional, courteous, and thoughtful flight attendant I think I've ever met.  She was always one step ahead of us by always trying to anticipate our needs.  She did all of this without being intrusive or overbearing.  Thanks Alexa!
If you're traveling with a companion, the two side-by-side seats are perfect.  If you're traveling alone, the configuration alternates between doubles and a Mint Suite. The Mint Suites even have their own door for privacy.
TSG Tip: Did you know that these seats are the widest and longest flat beds (at up to 6'8″) in the domestic premium air market?  Did you know that they have air cushions adjustable firmness and wait for it… MASSAGE?
The Mint widescreen monitors are 15″ and feature up to 100 channels of DIRECTV, 100+ channels of SiriusXM Radio, and several in-flight movies.
Here are a few of the features that you'll find while sitting in Mint on the A321:
A "glove compartment" to put things that you might want access to during your flight like glasses, tissues, etc.
A bottle of water and a place to keep it alongside a place for your phone.
The TV control.  While the TV is a touchscreen, you can also use the remote.
Charge your phone or anything else with the USB port or regular outlet.
TSG Tip: While I normally charge via USB, the port seemed loose and refused to charge my phone.  Luckily, I was able to correct that quickly by charging via the 110 volt power outlet.
Nothing says "Welcome onboard!" better than a cool, refreshing drink like JetBlue's RefreshMint.
Alexa served us this cool and refreshing drink is made with honey-infused limeade and fresh mint and served with or without vodka.  C'mon — did you think I'd try this without vodka?
Then we were and on our way to San Francisco after taxiing down the runway and out of Boston Logan International Airport.
Boston as seen from the air with its beautiful skyline and the airport in the foreground.
Here's another aerial view of Boston as seen from my seat in Mint onboard JetBlue.  
Forget the old-fashioned and overworked amenity kits of the past. JetBlue has partnered up with Birchbox to offer probably the coolest amenity kits ever seen in the air.
Click To Tweet
Forget the old-fashioned and overworked amenity kits of the past.  JetBlue has partnered up with Birchbox to offer probably the coolest amenity kits ever seen in the air.  Both the men's and women's JetBlue Mint Birchbox amenity kits are filled with editor-approved beauty, grooming and lifestyle products.  As a monthly Birchbox subscriber, I was elated to see that they creating the JetBlue amenity kits and that they were filled with great goodies.
TSG Tip: The amenity kits change depending on the route.  The men's westbound Birchbox amenity kit included a 3.38 oz shampoo, which I thought was strange considering the 3-1-1 rule.  Luckily, it wasn't an issue getting through the airport on our return flight.
Passengers are provided with NourishMint in-flight menus for dining.  There are different menus depending on the month, route, and time of day.
TSG Tip: I had contacted JetBlue but somehow my request for the vegan menu didn't get through and wasn't noted on my reservation.  When I contacted JetBlue via their website a day or two before my flight, I actually received a phone call from Nani in Customer Commitment who went out of her way to call Boston Logan International and arrange for a meal for me.  Can service get any better than that?
Drinks anyone? I started meal service off with a glass of Lioco Indica Rose while Mr. TSG enjoyed a Bulleitt bourbon on the rocks with his appetizer of taro chips and green aioli dip.  The vegan menu appetizer was supposed to be veggie chips and hummus, but considering the amount of food served, I was fine without it.
My vegan menu offerings included a lentil taco salad, which was my favorite and made of spiced quinoa, lentils, and black beans and topped with a homemade chimichurri sauce and accented with sliced tomatoes, lettuce, and tortilla strips for crunch.  Next was the falafel veggie burger, which was left on my tray.  It fell apart and lacked flavor, unfortunately.  Lastly, the butternut squash polenta was not good at all.  My concept of polenta was not what this was.  It was alarmingly sweet and I picked off the walnuts and left the rest on the tray.  Overall, it was a good effort, especially for airline food, but still could be better.  I'd rather have less food and better options.
I hadn't ordered the vegan menu for Mr. TSG and he was happy with that as he didn't like any of my options. Alexa was able to modify a few of the regular options to accommodate him.  His Kale cobb salad came with chicken, which he didn't mind picking off (he's ridiculously weird).  The Burrata Stuffed Ravioli was vegetarian and was served with eggplant caponata sauce and pine nuts.  Alexa didn't serve the poached lobster on the Chilled Tomato Soup made with English cucumbers and radishes so it became a vegetarian option for him.
TSG Tip: Did you know that JetBlue Mint's small plates menu was created by renowned New York restaurant Saxon + Parole? Passengers receive freshly prepared meal options and no aluminum foil covered trays.  Promise!
For dessert we both received the seasonal fresh fruit salad with Blue Marble organic blueberry ice cream.  I ate the salad, which was fresh and delicious and passed on the ice cream.
Later in the flight we also received a little box from Mah-Ze-Dahr Bakery containing shortbread cookies and a marshmallow.  Interesting to say the least, but looking around it seemed like no one ate the marshmallow.
With my belly full and the cabin extraordinarily dark since all the shades were pulled down, I decided to try out the lie flat seat.  According to my FitBit, I actually fell asleep for about an hour.
TSG Tip: Did you know that there are "wake me for service" indicators at each seat in JetBlue Mint? So nod off and don't worry about missing a meal.  They've got you covered.
My return flight from San Francisco to Boston on JetBlue Mint was a similar experience.  One of the downsides to flying Mint is that JetBlue doesn't have an airport lounge, but we were still able to get into one on our own and enjoy a few hours of peace and quiet before boarding.  Once onboard, Avery, our Mint flight attendant, offered us a RefreshMint.
This was the view from my seat looking back toward the rest of the cabin and a Mint suite.
With the shades up the view of the cabin you can see the layout of the cabin.  Did I mention the overhead bins are the same as in Coach, but with fewer seats you don't have to worry about getting your bags in safely?  All bags have to be stowed while in Mint as nothing can be left on the floor during takeoff or landing.
Soon we were in the air and leaving San Francisco.
I started meal service off with a Bloody Mary made with Grey Goose vodka.
Since I had pre-booked my vegan menu, I received a paper menu for the flight.
My eastbound vegan meal commenced with a deviled potato appetizer, which I sampled, but left as I wasn't exactly sure what was in it.
My vegan meal came on my tray along with an odd accompaniment of a Lender's plain bagel but I was hungry and it was time to eat.
Lunch began with the yummy herby lentil salad with green beans, avocado, toasted pecans, baby gem lettuce & pomegranate molasses vinaigrette.  That was delicious and exactly the kind of food I enjoy eating.
The mushroom risotto was more of a mushroom pilaf and so I ended up picking out and eating just the mushrooms.
The roasted root vegetable salad had far too much of the champagne vinaigrette on top.  I would prefer that they offer the opportunity to have the dressings on the side so you can add your own amount if you wanted.
Mr. TSG was fortunate enough to be able to enjoy his eastbound meal without changes to the food.
His appetizer was a Portobello mushroom mousse with grilled sourdough baguette slices.  Surprisingly enough, he ate it and liked it, something I never thought would happen.
His entrée choices included the Reginetti pasta with carrot "Bolognese" and pumpkin seed pesto; chilled corn soup with huitlacoche madeleine, avocado and smoked chili paprika oil; and grilled escarole salad with a toasted sourdough baguette, parmesan cheese and garlic aioli dressing.
Dessert options were once again the fresh and delicious seasonal fruit salad and Blue Marble organic ice cream.  If you're still hungry or need a snack, the flight attendants do come through with the traditional JetBlue snacks including fresh fruit like bananas and apples and snacks like Doritos, PopCorners chips, Terra Blues, Snyder's pretzels, or Skeeter nut free chocolate chip mini cookies.  Don't forget Mint passengers also receive complimentary alcoholic beverages.  But please, don't be that drunk passenger onboard.  No one wants to witness that mess.
I was able to check on our flight progress through the entertainment center where I could listen to AltNation on SiriusXM or watch a movie since DIRECTV was non-functional during our flight.
I watched or at least had on all of the movies at some point just to do something.  My iPad wasn't working and I didn't feel like fussing with it.  I did have FlyFi open, JetBlue's complimentary WiFi and that helped, but I was still bored. Yes — I was watching Kung Fu Panda 3 here.  What about it? 🙂
Flying back home I got to witness one of the prettiest sunsets I've ever seen while flying JetBlue Mint.
Would I fly JetBlue Mint again? I've been flying JetBlue often out of Boston for domestic flights and now with Mint I can't imagine flying any other class of service.  I'm flying JetBlue again in July and I think I'm going to have a hard time on the short flight to Newark (EWR) in Coach.  When I fly anything other than Coach, I'm looking for bigger and more comfortable seats, better service, and more amenities and JetBlue Mint checks off all those boxes.  If you're toying with the idea of flying Mint, it's the kind of service that you'll definitely want to try for your next long haul domestic flight.