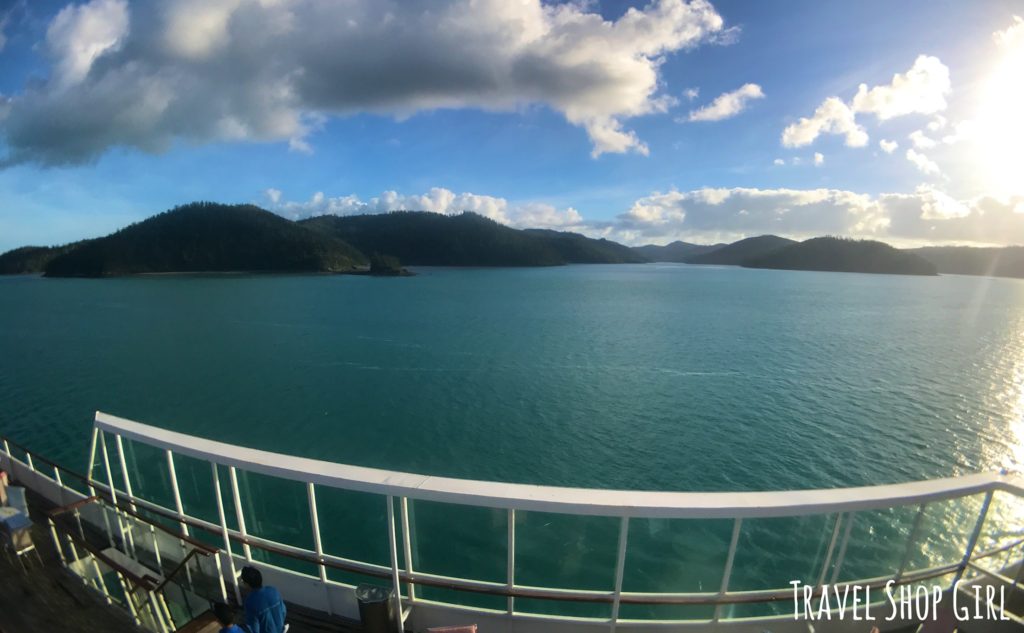 It's a new day on our world cruise on board Fred. Olsen Cruise Lines Black Watch so it's time for a new port. Today we're in port in Hamilton Island, Australia and that can mean only one thing. Sun, sand, water, and shopping.
Located 551 miles north of Brisbane, Hamilton Island is the only island located within the Great Barrier Reef. 
Taking the Tender to Hamilton Island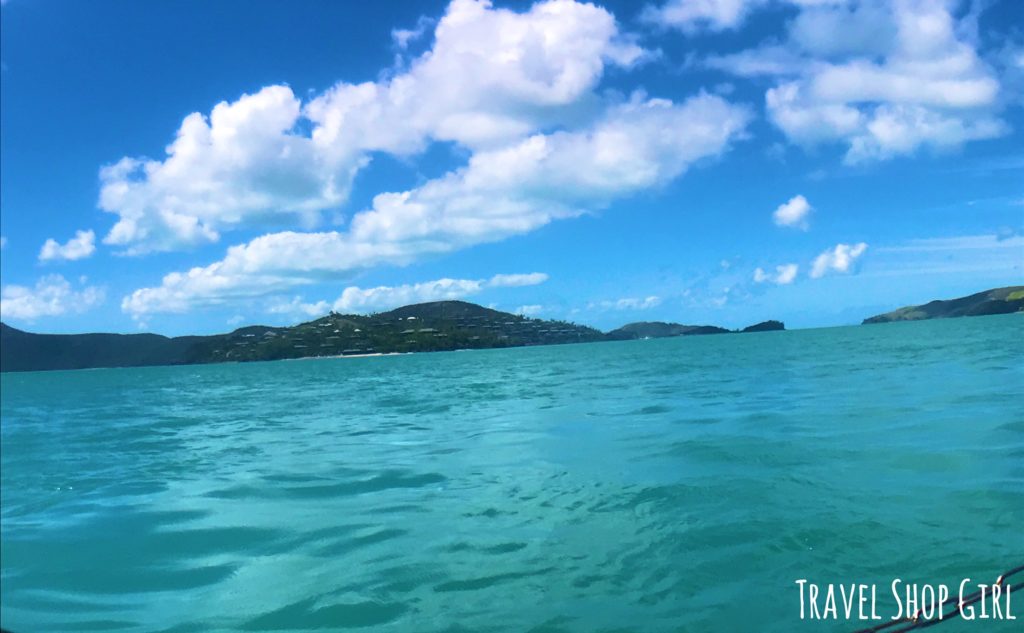 As Black Watch was anchored off the coast, passengers needed to take a tender in from the ship. Danielle and I  were anxious to spend the day at the beach and were ready to go in early after a quick breakfast at Glentaner. However, independent guests had to wait until those on tours went first. This completely makes sense, but for two sun worshipers waiting for their beach day, it was torture. Remember, we lost our beach day in Tahiti as well as when we lost the ports of Bora Bora and Rarotonga.
From the Tender to the Shuttle
Finally, our tender number one was called and we piled on in the boat and made the quick trek over to shore. From there it was a quick walk to the free shuttle around the island offered from the city. We jumped onboard and were able to see some great views and learn more about what was on the island.
Finally A Beach Day
The second of the three stops the shuttle offers is at a beach resort at Catseye Beach and this is where we got out.
Within minutes we were walking along a white sand beach and I was quickly kicking off my flip flops and clothes to get in the water. As someone who isn't fond of being seen in a bathing suit, it was so hot I just didn't care.
I twisted my red hair up and onto the top of my head and quickly found my way into the cool water.
Always Reapply Sunscreen
This is where my story gets interesting. Before I left the ship, I liberally applied my Australian Gold suntan lotion.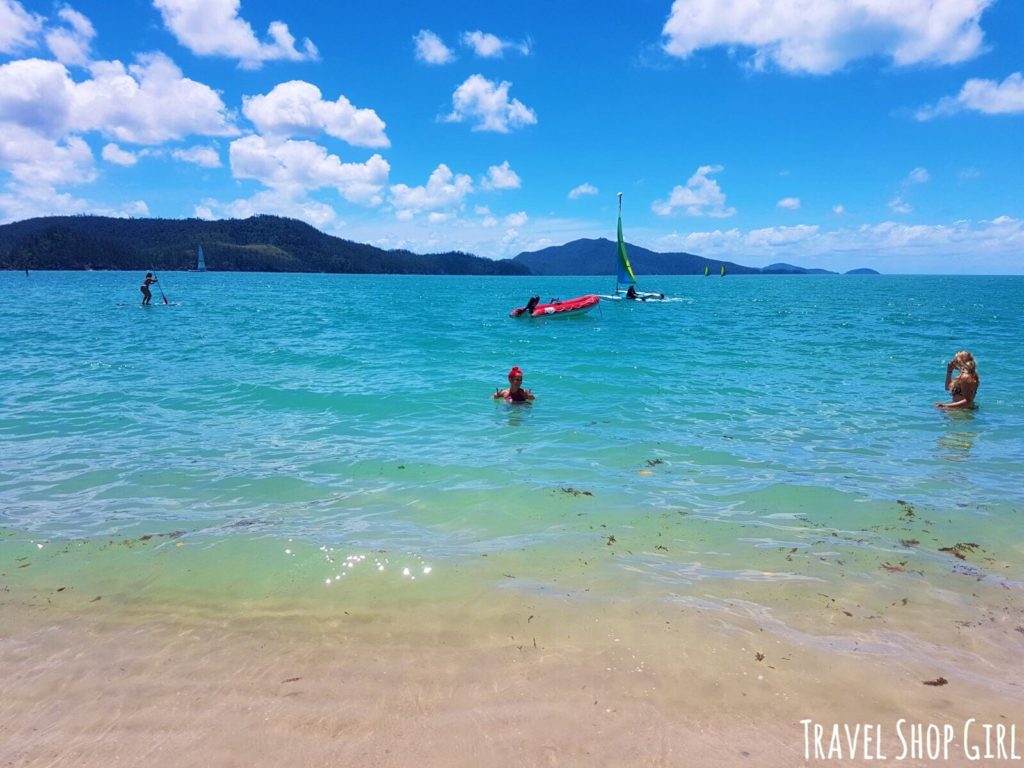 However, once in the water, I cooled off and dismissed the idea of reapplying. The sun didn't feel hot, I ended up in partial shade thanks to the looming palm tree overhead, and I wasn't that bothered by the sun.
However, fast forward to that evening and my back, bum, and legs were a nice shade of bright red. That's right – I was sunburned to a crisp. I even posted a pic on Facebook and got some interesting recommendations from holistic homeopathic to over the counter remedies. My solution was Australian Gold aloe vera gel which relieved the pain while moisturizing my skin.
Back to the Beach
Regardless of the sunburn, this was our best beach day thus far. Granted, it was our only beach day but still our favorite. Danielle was overheating so she found a little shade by the rocks. If I felt hot, I'd walk a few steps to the water. Nearby was a restaurant and stores if you wanted anything and Danielle picked me up a bottle of water and a slushee for herself.
A few hours later we felt we had enough sun and we went back to the shuttle stop for a ride back to the first stop. Little did we know it was basically down the hill and we could've walked.
Lunch Time
There are several stores and restaurants in the marina including take away shops like the Bakery or the Fish and Chips shop. When we were on the shuttle, I noticed the Marina Tavern with outside terraces so that's where we ended up.
As we approached, we could see many cockatoos hanging out on the ledges all around the tavern. Several steps up and we were inside and looking over the menu.
Guests order and pay at the bar and receive a pager to notify them when their meals are ready.
Danielle ordered the calamari and chips with a side of aioli and I ordered the Tandoori  chicken wrap without the chicken. Clearly this is not something that's usually done, so the supervisor on duty, Alice, had to check with the chef. So no tandoori but I had a mushroom wrap with salad and chips, which was really good.
Meanwhile outside on the terrace, someone didn't watch their food and the cockatoos started gathering around. Soon it was a white swarm of birds and feathers and meals were destroyed and people were losing their minds. The next time you see a bird coming near your food, grab your plate and go instead of leaving a feast for a crowd of rowdy cockatoos.
Shopping in Hamilton Island
After lunch we decided to check out some of the boutiques like Salt and the General Store. Prices are definitely on the higher side but I was able to find a nice pair of Billabong shorts on sale with an additional 20% off so not too shabby. Danielle found a t-shirt at the General Store and before melting entirely, we decided to return to the ship.
Taking the Tender Back to Black Watch
To get back to the ship, we would need to get on a tender. Since Hamilton Island is fairly small, locating where the tender was located was simple.
We didn't have to wait at all as a tender was waiting and we quickly climbed on board.
Always looking for the best seats for pics, we chose seats near the entry and soaked up the sun and the breeze once we started moving. Our tanned feet looked incredible against the blue waters of Hamilton Island.
Since it was a quick ride, we spotted Black Watch right away waiting for us.
Soon we were back on the ship and getting ready for dinner. But before dinner we enjoyed a drink on the deck before sail away. My latest drink choice is a simple one: Vodka, sparkling water, and lime, which is also known as a "Skinny Jack."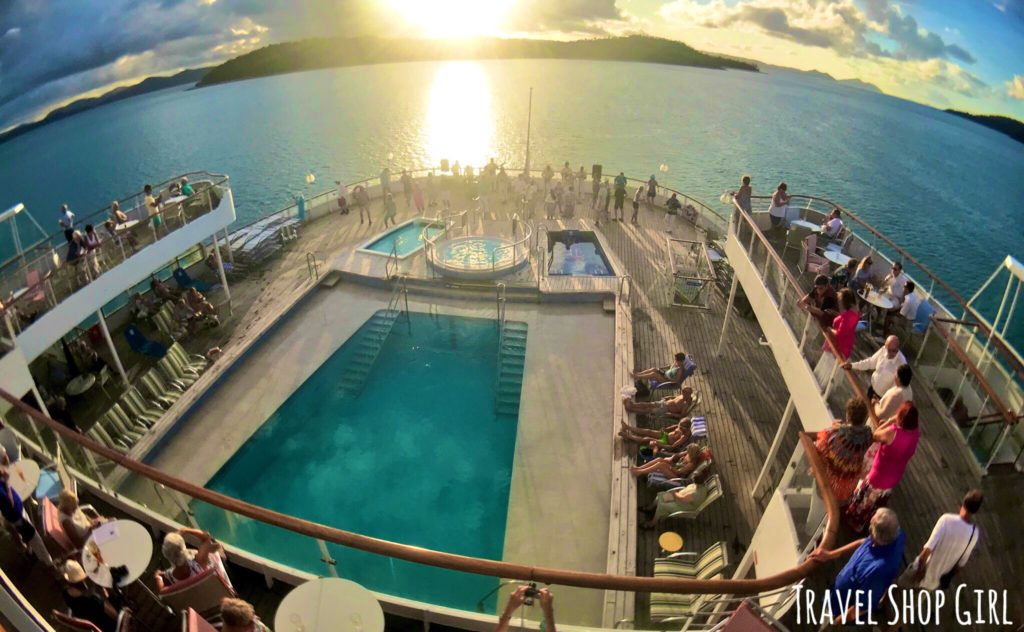 While I enjoyed my drink, other passengers lined the aft decks to enjoy the sail away party festivities. This including music, dancing, and drinking. I have to admit that I tend to watch to enjoy the bad dance moves. Yes, I know. I'm a horrible person.
Dinner and A New Member to the Family
Danielle and I quickly changed out of our beach clothes and showered for dinner. This is when I could really appreciate the severity of my sunburn and so could everyone else.
After dinner we went up to see some of our cruise friends on deck 8 and that's where we had a lovely surprise. Denise and Christian had purchased for each of us a cute little stuffed turtle that had "Cruise Whitsunday" on their bellies. Since she knew I was a cruiser and of course, Danielle is the one and only CruiseMiss, it seemed like the best gifts ever. I've named mine Whit and Danielle's turtle is Hamilton. They now join Sydney the Australian Gold koala bear and Callao the alpaca in our cabin. Seems like our cabin is turning into a wildlife refuge.
Final Thoughts on Hamilton Island
Without a doubt, I'm so glad that Black Watch has the port of call of Hamilton Island. I had never heard of it before and I'm not sure I would have ever sought it out if I had. While we were hoping to get to Whitehaven beach, which is rated one of the best beaches in the world, I had an incredible beach day with my BFF and wouldn't trade that for anything in the world. If you are looking for sun, sand, water, and shopping, then you should consider a visit to Hamilton Island as well.
Have you visited Hamilton Island? Can you suggest any other destination in Australia that you found equally exciting? Leave your comments below. Discover some other great destinations and travel ideas here on the Travel Shop Girl website.
On my new SPONTANEOUS TRAVEL SCALE of 1-5, with 1 being super easy and spontaneous and 5 being you better plan far in advance, Hamilton Island scores a 3 for spontaneous travel as it might be difficult to get to on short notice, but once there, I promise you won't want to leave. 
While Australian Gold has provided me with sunscreen products, as always all opinions and photographs, unless otherwise noted, are my own.