Because of its unparalleled beauty, Jamaica is widely considered a must-see destination in the Caribbean. From the sprawling white sand beaches of the coastline to the fog-covered mountains rising from the inland, Jamaica offers something for every traveler.
Read on to learn more about the top Jamaican tourist attractions so you can make your next trip to beautiful Jamaica unforgettable.
The Blue Mountains – Fog Covered Giants
Jamaica's legendary Blue Mountains can be found near the center of the island. The highest point of Jamaica, Blue Mountain Peak (7,402 ft) is located in this range. On clear days, the island of Cuba (which is roughly 130 miles away) can be seen from the peak.
Within these peaks, the popular Blue Mountain coffee brand is produced. Take one of their facility tours to see how their world-famous coffee is made and discover why it is one of the most sought-after brands in the world.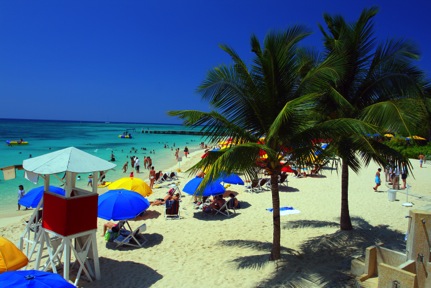 Doctor's Cave Beach Club – Public Exclusivity
Developed in 1880 by Dr. Alexander McCatty, Doctor's beach is often referred to as a bathing club. It has been known as a top Jamaican beach for the last century. Make sure to stop by this attraction when you are in Montego Bay, as its temperature range is between 78 and 84 degrees Fahrenheit year-round.
For a $6.00 day pass, you can share the same beach as local members. For the same amount, you can rent umbrellas, pool floats, and chairs to make your time spent here a lifetime memory. The history and accessibility of Doctor's Cave makes it one of the top Jamaican tourist attractions.
Ocho Rios – Activities Galore
Take a trip to the north coast of Jamaica to the town of Ocho Rios (which means "8 Rivers" in Spanish.) As a port of call for cruise ships, the town has a variety of family-friendly vacation activities, including scuba diving and other water sports. At nearby Dolphin Cove, you can swim with trained dolphins — a memory that will last you and your family a lifetime.
Ocho Rios is also where many believe Columbus took his first steps on Jamaica's shores. Also, the first James Bond film, Dr. No, was filmed here. More recently, Piranha II: The Spawning's primary filming location was also in Ocho Rios.
Bluefields Bay – Historical Serenity
Bluefields Bay, where Captain Henry Morgan and his armada were stationed before they sacked Panama, is home to one of the most beautiful beaches in Jamaica. Located in the southeastern area of the island, Bluefields Bay is where families go when they want to enjoy time to themselves. Compared to other beaches on the island, Bluefields receives much less tourist traffic. That means you can bathe in the crystal blue bay waters in peace and hassle-free.
Stay at the local all inclusive luxury resort, Bluefields Villas, and be waited on hand and foot by a fully trained staff that will cater to your every need. The resort activities include snorkeling, tennis, and even a deep sea fishing experience where you can have your catch cooked for you that night. Experience this top Jamaican tourist attraction the next time you are on the southern part of the island — you will not regret it!
Want to learn more about Jamaica?
For more about Jamaica and how to plan your vacation to a top luxury resort, visit BluefieldsVillas.com.
This is a guest post by Nick Malinow