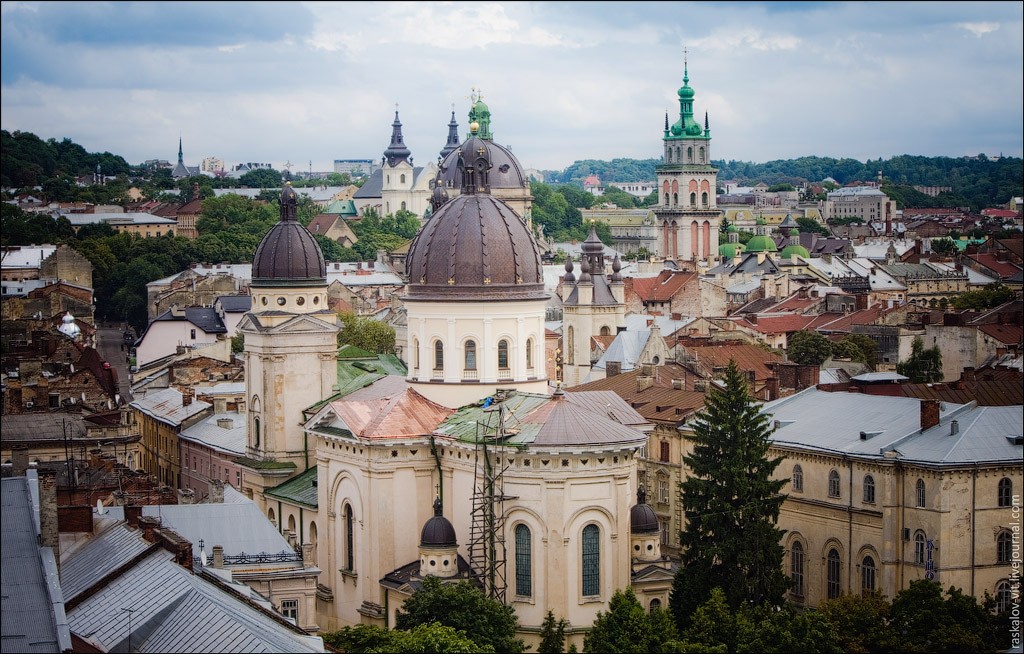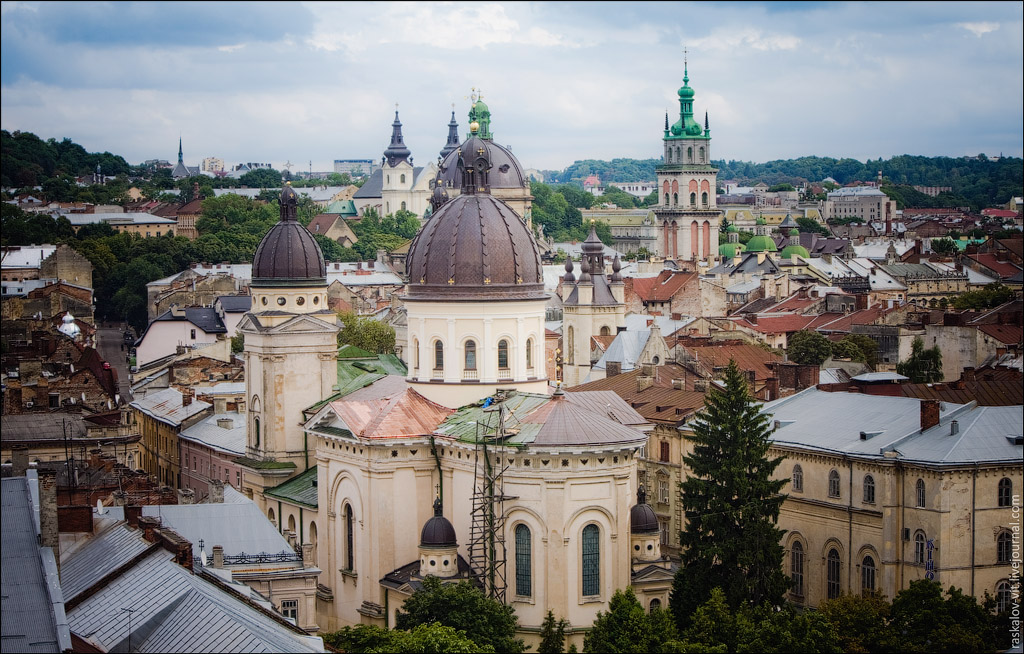 This is a guest post by Tim Louzonis
Already headed to Central Europe? Looking for someplace a little different for your next trip? Mysterious and lovely Lviv, Ukraine is one of Europe's hidden gems. Located about 45 miles from Poland, Ukraine's cultural capital of 700,000 people is as an emerging tourist destination after serving as a EURO2012 host city for soccer matches this past summer.
Over its rich history Lviv has had many names depending on its ruler – Polish Lwów, Austro-Hungarian Lemberg, and (Soviet) Russian Lvov.  The city once occupied an important stop on the Silk Route to China and this east-west trade enriched Lviv. Imagine a city where you can see wonderful examples of Austrian, Polish, Armenian, Jewish, German, and Ukrainian cultural influences within a few hour stroll. Today Lviv is a bustling university town and emerging IT outsourcing center with a vibrant arts scene.  These are just a few of the many reasons to visit Lviv, Ukraine.
Things to Do in Lviv
Lviv is regarded as one of the best-preserved medieval cities in Europe. In this walkable city about 55% of Ukraine's of cultural monuments are within a 2-3 mile radius. To see the top sights, three days or less can be enough. Here are a few ideas for your trip.
Day 1 – Explore Lviv's Old Town
Wander Rynok Square. Every building is the city's Old Town is part of a unique open-air museum recognized as a UNESCO World Heritage site.
Climb to the Top of the Ratusha (City Hall). Take in one the best panoramic views of historic Lviv and snap some photos.
Walk Along Prospect Svobody.  On this central avenue you'll find Lviv's Opera House (one of the most beautiful in Europe), the Shevchenko Monument, the National Museum and Adam Mickiewicz Square.
Museums and Churches. Lviv is steeped in religious history and tradition. There are almost 100 functional churches, including the Armenian and St. George. (Yuriy) Cathedrals, which are popular tourist spots. Museum goers should consider the Pharmacy Museum, Lviv Art Gallery at Potocki Palace and the icon collection at the National Museum.
Souvenir Shopping.  The open-air "Vernisazh" is good place to find traditional Ukrainian handcrafts especially vyshyvanka (embroidery). If you're a sweet tooth, make your way to Lviv Handmade Chocolate just off Rynok Square.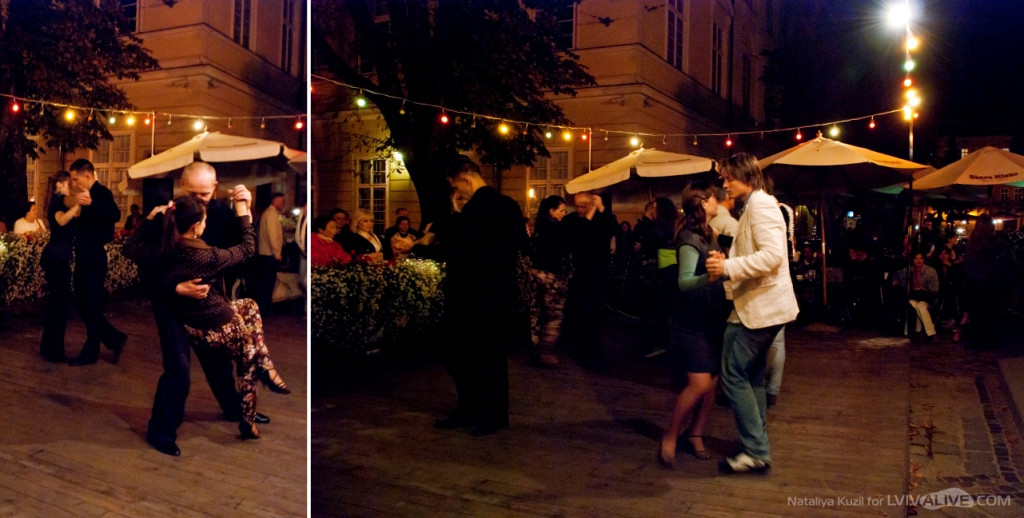 Day 2 – Continue Exploring the City
Walk to Lviv's Highest Point. Vysokyi Zamok (High Castle) offers you the chance to get a little exercise and to catch a magnificent view of Lviv, Ukraine.
Visit Lychakiv Cemetery. One of Europe's oldest cemeteries this popular tourist attraction has often been compared with Pere Lachaise in Paris.  Many of its funeral monuments are works of art.
Catch Some Live Music.  Lviv's pubs and clubs like Kvartyra 35 (Dzyga), Hrushevky Cinema Jazz, and Robert Doms Beer House (near the Brewery Museum) offer a chance to hear some of the city's talented young musicians.

Day 3 – Off the Beaten Path
Visit Shevchenkivskyi Hai. This open-air folk and rural life museum offers you a chance to experience Ukrainian village life without living the city limits.
Stryiskyi Park. This park is considered Lviv's most beautiful park. Combine your visit with open-air dining at Delice Restaurant.
Day 4 – Castles of Lviv Region
"Golden Horseshoe" Tour. Take a day-long tour to see the most prominent castles in Lviv Region–Olesky, Zolochivsky and Pidgoretsky.

Days 5-7 – Carpathians, Chernobyl or Kyiv (Kiev)
If you have more time in Lviv, a weekend in the Carpathians Mountains can be a nice way to get some fresh air and enjoy outdoor sports year round. Resort towns like Slavs'ke, Yaremche, and the Bukovel Ski Resort (one of Eastern Europe's largest ski resorts) are only a few hours train ride from Lviv, Ukraine.  Adventurous types might want to consider a day-trip to Chernobyl. Or, you can take the night train to spend a few days in Ukraine's capital city Kyiv (Kiev).
Lviv Eats and Sweets
You're probably familiar with traditional Ukrainian foods like borshcht and varenyky (pierogies in Polish), so try lesser known dishes like kruchenyky (meat rolls stuffed with mushrooms, or Carpathian banosh (a hearty polenta-like dish often served with bacon and cheese). For a different take on Ukrainian cuisine, visit Smakolyk, a cute cafe that specializes in serving organic food at very reasonable prices.  Save room for dessert and have a piece of rich syrnyk (cheesecake) or a strudel with a delicious cup of coffee at one of Lviv's popular sweet-shops like Veronika and Cukernia.  And did you know that a man from Lviv opened Vienna's first coffee house and was the first person to serve coffee with milk?
How to Get to Lviv?
Direct international connections to Lviv include flights from Vienna (Austrian Airlines), Munich (Lufthansa), Warsaw (LOT Polish Airlines), Frankfurt (Ukraine International Airlines). If you're already planning a trip to Krakow, Poland, then it's easy to add a side trip to Lviv, which you can reach by air (Eurolot) or on the night train (about 6 and half hours and ). Due to the shortage of low-cost flights to Lviv, budget travelers may want to consider flying to neighboring Poland and getting to Lviv by train.  Lvivs' Airport and Central Railway Station are both close to the city's historical Old Town (5 miles or less). Most hotels offer transfer services and it's strongly recommended that you arrange to be picked up when you arrive.
Where to Stay in Lviv?
It's a good idea to choose accommodations in Lviv's city center, a majority of top sights are walkable and it can be difficult to use public transportation if you don't speak Ukrainian, Russian or Polish. Most of Lviv's upscale accommodations, like the Leopolis Hotel, are located right in the Old Town. There's currently a shortage of conveniently-located midrange hotel options, but reasonably-priced apartment rentals can be had in the center.  Budget hotels offer basic rooms for about $35-45 a night, while the average hostel bed will cost you about $11 per night.
Still Curious About Lviv?
Read more travel tips for Lviv, Ukraine, including dining and nightlife guides, an event calendar, and more.
Tim Louzonis is an American expat and founder of LvivAlive.com. He has lived in Lviv, Ukraine the past four years. You can email him at tim@lvivalive.com.