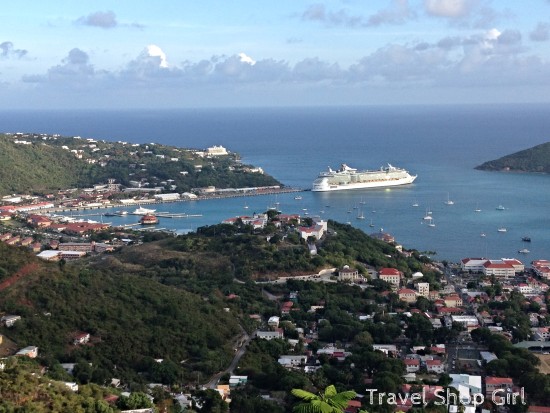 While a girlfriends getaway might mean forgetting about work, responsibilities, and life back at home, you should never forget about taking in the view while on vacation.  I highly recommend taking a few hours to take a tour of the island so you can take in the sights and the views.  Then you can return to baking on the beach, frozen drink in hand. 
Located at the top of St. Peter Mountain, World Famous Mountain Top is the oldest and highest attraction on St. Thomas.  Situated 2100 feet about sea level, you can see why this has become a popular tourist attraction.  When you first enter Mountain Top, you'll think you've been brought here to go shopping.  While you can go shopping, proceed through the store to the back for the real treat. Depending on what kind of mood you're in, the treat will either be the breathtaking view or the banana daiquiri at the bar.  
The view is like no other from this vantage point.  Did you know you can see over 20 different islands from Mountain Top including St. John, Tortola, and Jost Van Dyke?  National Geographic magazine rated the view as one of the 10 best in the world.  While the best view is one on a clear day, no matter when you visit Mountain Top, you'll enjoy whatever it is that you're able to see.  Besides, anyone will tell you that should it rain, give it a few minutes and the weather will clear up in no time. You can always pass the time waiting enjoying a banana daiquiri (or two!).  While the daiquiri was said to have been invented in Cuba in 1898, the banana daiquiri was created here at Mountain Top in the 1950's.  You can question the veracity of this statement or ignore me completely and simply enjoy a cold, delicious drink with an unrivaled view of paradise.  
TSG Tip: Plan your visit to Mountain Top during a day when cruise ships aren't in port to avoid the large crowds.  While the masses can benefit you while you are in town to help you get some of the best shopping deals, you don't want to wait in line to take in the view.  If you feel compelled to buy souvenirs, stock up on them here and then you won't have to later. 
Mountain Top
3A-18 St. Peter Mtn. Road
St. Thomas, USVI 00802
Phone: 340-774-2400
www.mountaintopvi.com
Trust me when I tell you that a good driver in St. Thomas who can provide a comprehensive tour of the island with stops for great photos is worth everything.  I was fortunate enough to have had a tour with our driver on this trip, Campbell Rey, back in 2011 and he was as professional, thorough, and of course, sweet as ever.  Our first stop had us taking in the view over downtown Charlotte Amalie with views of Havensight Mall and Crown Bay, the two cruise ports for St. Thomas.  
TSG Tip:  St. Thomas is a popular cruise port and even if you've been here before several times, never turn down the opportunity to grab your camera and take in the views.  After all, what were you planning on posting to FaceBook or Instagram?  Pictures of you shopping for shoes? 
For anyone who travels to the USVI, going to the beach is probably high on the list of must see destinations.  On that list you'll definitely find Magens Bay, a popular white sand beach great for relaxing, swimming, and sunbathing, but maybe not best for snorkeling due to the sandy bottom.  A popular destination for families because of the calm water, popular can equate to crowded.  While I didn't get to Magens Bay on this trip, I did get to see it from different vantage points on the island and my previous experience wasn't stellar enough to warrant a second trip.  While my first experience wasn't great, it wouldn't put me off to visiting again, but I always prefer to visit new places, including beaches while I travel.  Other beaches on St. Thomas include Coki Point Beach near Coral World, Sapphire Beach, Lindquist Beach, and Morning Star.  While taking in the views from up high, I also spotted a lizard!  
TSG Tip:  Discuss in advance with your group of friends what kind of beach you intend to visit.  Some people love crowds while others prefer more of a deserted island kind of feel.  If you have several opinions, remember that you have choices while visiting the US Virgin Islands so mix it up and enjoy the sun, sand, and water.  That means no complaints with so many options!
Our last stop provided us with yet another view of downtown Charlotte Amalie with Havensight Mall to one side and Crown Bay to the other.  As the sun began to make its descent, it cast a slight pink hue over the city and the last cruise ship in port.  I had a chance to zero in on Marriott's Frenchman's Cove where I would be off to later that night as well as my own hotel perched on the little hill overlooking the bay.  
Do yourself a favor and don't skip the view.  While you're at it, make an attempt to learn at least a factoid or two while on your girlfriends getaway.  It would be a shame to have visited and to later reveal you only spent time at the beach.  Who knows? You might find that you like your destination so much that you'll want to return at a later date with a special someone for a romantic getaway. 
Next time we'll focus on a few of the activities in St. Thomas, USVI.