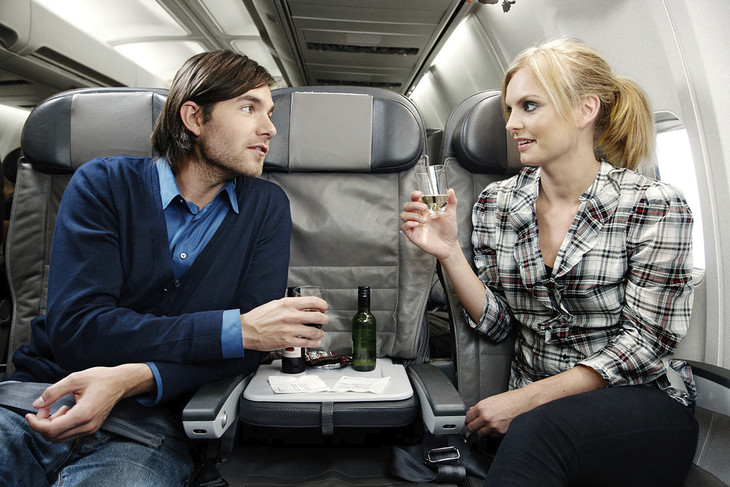 One of my all time favorite destinations in the world is Iceland and my favorite way to get there is with IcelandAir and boy do I have a lot of Iceland travel tips. Having visited Iceland on more than one occasion (January/February 2012, December 2012, February 2013, and August 2013), my recent trip in October allowed me to stopover in Iceland for nearly 48 hours before heading onto London. While this may sound like a short trip to you, anytime Travel Shop Girl can visit Iceland is an opportunity I'll never pass up. Of course, the best way to get to my destination was IcelandAir and this time I was flying Economy Comfort on IcelandAir.
IcelandAir BOS to KEF
At Boston Logan International airport, I got into the longest line I've ever witnessed for an IcelandAir flight. But I do love that IcelandAir monitors its social media pretty much round the clock because when I tweeted about having to stand in a really long line, I received an almost immediate response and an apology for having to wait. Then an employee walked through the line to make sure people were where they were supposed to be. Sure enough, I was in the wrong line as Economy Comfort could go into the Saga Class (Business) line and within a matter of minutes I had checked my luggage and was going through security.  
TSG Tip: When you decide to book a flight with IcelandAir, check all the classes of service. Sometimes Economy Comfort on IcelandAir can be less than Economy and sometimes even Saga Class can be less than Economy Comfort. What is Economy Comfort? It's IcelandAir Premium Economy class, a small section located close to the front of the plane. 
IcelandAir Lounge Boston
Sadness set in only once on this trip when I discovered which lounge I'd end up using. IcelandAir no longer allowed Economy Comfort on IcelandAir passengers to use the Virgin Lounge at Logan. Instead of the comfy and welcoming Virgin Lounge, which is now exclusively for Saga Class guests, I had to make my way to the AirFrance lounge. The IcelandAir desk agent said that the AirFrance lounge was nice as it was recently improved. My last visit to this lounge was in September of 2013 when I flew British Airways to Edinburgh and unfortunately, it had not changed at all.   
This lounge can get extremely crowded and outlets are limited for charging electronics. Beverages include wine, prosecco (vs. champagne considering it's the AirFrance lounge), water, Pellegrino, soda, and liquor. Food is snack food like cheese, crackers, crudité, soup, and oddly enough, sushi. Since the wait time to board wasn't long, it served its purpose. It was a private place to sit away from the crowds in the terminal.  
TSG Tip: The AirFrance Graf Lounge is all the way on the end of Terminal E and down a flight of stairs after turning right after departing Security. However, the departure gate is all the way on the other end of the terminal so pay attention to your boarding time. Be sure to allow yourself extra time to arrive at the gate, especially during peak travel times. 
Economy Comfort IcelandAir 
Why fly Economy Comfort on IcelandAir? I've flown both Saga Class and Economy Comfort IcelandAir classes and I have to say I love IcelandAir Economy Comfort class. While I do like the larger seats and more legroom in Saga Class, there aren't any vegan or vegetarian options available. Those items don't warrant the extra price and as such so Iceland Air Premium Economy or Economy Comfort works out to be perfect for me. Look over some of the benefits in Economy Class that are available like early boarding and lounge access, having the middle seat empty which means no intrusion on personal space, and complimentary meal and beverages make Economy Comfort on IcelandAir the ideal class of service.  
Here are all the benefits of flying IcelandAir's Economy Comfort class of service: 
Business check-in and lounge access
Early boarding and disembarking
6-abreast Economy seats with the middle seat blocked for your comfort
More legroom 33" / 84 cm
In-flight entertainment system
Complimentary headphones
Universal electric outlet
Blankets and pillows in every seat on North American routes and available on all other routes upon request
Complimentary meal on all routes
Complimentary beverages, excluding champagne
You get more Saga Club points by flying in Economy Comfort
Travel kit – North American only
An electric outlet for a laptop or mobile device is below the seat.
IcelandAir Economy Comfort Seats
A tiny little curtain separated me in my seat in row 5 from Saga Class. The seat layout goes from the smaller six seats per row to four seats per row. This allows for a roomier and more comfortable flight with lots of IcelandAir legroom.  
TSG Tip: How can you get a Saga Class seat at an Economy Comfort class price? Before you choose your seat, use a website like SeatGuru. This lets you look at the seat layout for that flight in advance. What you'll find on certain plane models, like the 757-200, is that there are a few Economy Comfort "Saga Class" seats. These seats are located directly behind Saga Class and in front of IcelandAir Economy. You get the big cushy seat without the big price tag. Economy Comfort on IcelandAir is technically is rows 7,8, and 9, but rows 5 and 6 are also Economy Comfort with the Saga Class seats. Score! But beware: Saga Class passengers in front of you that might insist on reclining their seats. This can reduce the overall room you have available. 
The IcelandAir Boeing 757-200 has 120 seats in Economy, Economy Comfort has 41 seats, and Saga has 22 seats.
TSG Tip: The newer Boeing 767-300ER drastically reduces the layout of seating for the beloved IcelandAir Economy Comfort Class. The 2x3x2 configuration means that there are only three rows with a blocked middle seat in Economy Comfort after all. Now IcelandAir Economy has 216 seats, Economy Comfort has 18 seats, and Saga has 25 seats. Definitely feels like their focus is on the cheaper IcelandAir Economy seats by doubling that class.
Iceland Air Inflight Entertainment
Depending on the individual flight with IcelandAir from Boston to Iceland, the flight times vary from around 4 1/2 – 5 hours. My 8:45 pm flight was to arrive into Keflavik around 6 am and I was prepared to work and maybe watch a little of the in-flight entertainment.
IcelandAir Economy Comfort Meal
I ended up choosing a Gull beer and oatmeal for dinner and listening to some Icelandic music. There was zero work to be done that night.  
TSG Tip: Don't overlook the in-flight magazine. Not only will you find some of first rate duty free items for purchase, but they also have some of the best reads. Check out the snippet above about Christmas trees in Reykjavik.  
IcelandAir Stopover
My flight out of Iceland was also on IcelandAir, but I wasn't flying IcelandAir back to Boston. On this afternoon I was flying from Keflavik Airport to London after my stopover in Reykjavik. IcelandAir describes their stopover this way:
What is an Icelandair Stopover?
Since the 1960s, Icelandair has encouraged passengers to make the most of their time by enjoying an Icelandair Stopover. On your next journey across the Atlantic, take advantage of the option to stop in our beautiful home for up to seven nights at no additional airfare. 
Check in for IcelandAir at the Keflavik Airport is always fast and easy. Check your bag and if you have any oversized or odd sized luggage, you'll need to check that in at a separate area. From there you'll walk upstairs to Security and wait in line again. I recommend looking around while you wait at the beautiful sculptures, stained glass, and other airport art. You should also visit the duty free shop as well as some of the stores in the waiting area. If you visit the Blue Lagoon, you can even pick up items at the airport and avoid having to put your purchase in your checked luggage. 
IcelandAir Economy Comfort Lounge Access
Economy Comfort and Saga Class passengers can then walk over to the Saga Lounge for a bite, a drink, and can sit back and relax before their flight. One area that has food like sandwiches and snacks with drinks and on the other side an abundance of desserts including macarons and other sweets. This lounge is ALWAYS super clean and is always well staffed with friendly and helpful employees. There are also lockers, showers, and fast Wifi. Forget your iPad? There's even a few available in case you forgot yours. Mr. TSG likes the fully stocked refrigerator with local beer. What more can you ask for from an airport lounge? 
TSG Tip 2017: If you loved the old Saga Lounge, you'll flip when you see the new lounge, which I visited before my flight in July 2017. It's massive with tons and tons of seating. Try to grab one of the loungers for a real treat.
IcelandAir Boarding Time
When the time comes to board your IcelandAir flight, you'll make your way downstairs to wait in a line outside the gate. Show your passport again at the gate, then board your flight.  
IcelandAir Beverage Service
Since this was an afternoon flight, I treated myself to a Bloody Mary, my favorite in flight beverage, made with Reyka Vodka and Mr. & Mrs. T Original Bloody Mary Mix. I also chose a snack box filled with hummus, olives, bruschetta, and crackers and just ignored the meat inside. If you want to see the current Saga Shop Kitchen menu, go here.
It was then time to sit back and gaze out my window during my flight that bridged my two favorite destinations: Iceland and England.  The clouds were billowy and soft under the bright sun before it began to set. My flight to London left at 4:10 pm and arrived three hours later at 8:10 pm. That's not a typo as London is 1 hour ahead of Reykjavik. But first we had to circle a few times do to traffic. I love being in the loop with the inflight map to watch all of our moves along the way, which I was with Economy Comfort on IcelandAir.
Next up are my two glorious days in Iceland! Did you enjoy this IcelandAir Economy Comfort review? Have you flown Economy Comfort on IcelandAir to Iceland or another destination? Know of any IcelandAir reviews I should read? Share your thoughts in the comments below. 
TSG Tip: Read all of my IcelandAir reviews, including more Economy Comfort on IcelandAir reviews here.
TRAVEL TIPS ICELAND: Instead of flying direct to your final destination, the next time you fly to Europe, consider a stopover in Iceland.  It can break up a long flight, but it also lets you spend time in one of the most amazing countries on the planet. I love the IcelandAir stopover. Can you tell?