My first day in St. Thomas was quickly coming to a close and with much planned for the remainder of my stay, I eagerly anticipated all that there was to do. The
USVI Board of Tourism
had prepared a thorough schedule of activities for me to enjoy and experience all that St. Thomas has to offer. First up was dinner at the
Old Stone Farmhouse
, which apparently reopened recently under new management. They explain that they the restaurant is a "…200 year old rum plantation, converted decades ago into a fine dining destination restaurant. The exterior of the old farmhouse is carefully maintained in its original beauty, while the interior has been transformed into a warm inviting dining room filled with antiques and works of art. You are dining at home, while sharing an experience with us here at
OSFH
."
Once you enter the Old Stone Farmhouse, you realize that this restaurant is different. The building oozes history and from the time you step inside, you're treated like more than just a special guest, but like an old friend. Once seated, we were each presented with a personalized menu sealed with a special wax seal bearing the restaurant's initials. I wasn't even bothered by the misspelling of my name because how often do you get a personalized menu? Inside was an abundance of flavors and styles that Executive Chef Greg Englehardt has created to transport the guests dining at OSFH. After returning from his honeymoon in Southeast Asia, Chef Englehardt's menu is influenced by "aromatic ingredients like ginger, lemongrass, spicy chilies, and rice noodles."
After our drink orders were taken, we were informed about the OSFH Signature Entree – "From the Chef's Butcher Block." From the menu: "Enjoy creating your own steakhouse/seafood house entree. Combine any of our local and imported selections of meats and fish." Sounds like any other restaurant right? Wrong! The selections are less than ordinary, but you not only hear about them, you actually walk into the kitchen and meet the chef who then details all of the information about the choices available. So what is available? Remember, I don't eat meat or seafood so I really took one for the team and by team, I mean my readers. Choices included:
New Zealand Lamb Chops
Certified Angus Beef Tenderloin, Strip Loin, Ribeye
Australian Kangaroo
Wild Boar Chops
Local St Thomas Catch- from our proud fishermen. Cut daily from beautiful whole fish wahoo, snapper, mahi
For the meat eaters reading this, you can see the cuts of meat before you order and talk to the chef about how you might want it cooked. He also offers up little zucchini muffins and if you like, you can also add your signature to the hundreds on the walls in the kitchen.
Back in the dining room, we sat down and I continued to take in my surroundings from the tastefully added Christmas decorations, which were low key, but festive, to the lighting and music. Our drinks arrived and their wine menu includes wine by the glass or the bottle as well as bar drinks. After everyone placed their dinner orders, our server brought our first course which was a small taste of coconut soup. Although a primarily meat centered menu, they did have a few vegetarian options on the menu. I should add that the Chef's Butcher Block menu is fully customizable, which allows you to order maybe one scallop and a lamb chop or a few of everything or you can add onto one of the entrees on the menu. As they do rely on their suppliers to provide their products fresh, on the night we went neither the Branzino nor the Maine Lobster was available, but with so many other options, believe me when I say no one went without food that night.
My appetizer was the
Stir Fry Tofu
with Thai chili, carrot, ginger, garlic, eggplant, scallions, and mushroom sauce. Perhaps it is because I love to cook and because I do prepare tofu regularly, but the tofu unfortunately lacked flavor. A simple fix to this dish would be to freeze the tofu, thaw it out, press it, and then prepare it. Once you do this, the texture of the tofu is spongelike and holds in the flavor much better than the flaccid tofu that you often see in restaurants.
For my entree I ordered the Traditional Pad Thai Noodles with roasted West Indian pumpkin, toasted curry pumpkin sees, tamarind juice, peanuts, and fresh herbs. A richly spiced dish, a few bites into this and I definitely would warn those who do not like spicy food to ask for this dish with a little less heat. I know they will accommodate requests so do mention if you want it hotter or not so hot. In this picture you can see the pumpkin on the top of the dish and the pumpkin seeds scattered throughout the dish.
Others at my table dined on meat including the wild boar, lamb chops, and scallops. This picture is of the Pan Seared Jumbo Sea Scallops with jasmine rice, macadamia nuts, sweet and sour bell peppers-pineapple condiment, and teriyaki sauce. Everyone seemed to enjoy their meals and soon the plates were cleared and thoughts of dessert filled our heads.
With the dessert menu presented, it was difficult to turn down the incredibly tantalizing desserts. Here's what they had:
OSFH Signature Banana Foster Flambé: Cruzan rum caramel sauce, sour cream ice cream
Soft Serve Ice Cream: Tonight's flavors: Chocolate, Vanilla, Coconut, Papaya-Tamarind
Crispy Lemon Cheesecake Spring Roll: Thai chili tamarind chocolate dipping sauce, cinnamon sugar
Chocolate Intemperance: Chocolate mousse, cream cheese chocolate brownie, roasted peanuts, caramelized white chocolate sauce
Chai Tea Creme Brulee
A few people shared the Banana Foster Flambé, which I have to say left everyone a little flummoxed. Without any flame, where was the flambé? Despite the lack of flame, everyone enjoyed that little plate. Another plate at our table was the Chocolate Intemperance, which was ordered by a 7-year-old and thoroughly enjoyed. I had asked the waiter for a recommendation and he suggested the Papaya-Tamarind ice cream, which I did order. I only wanted a few bites and that's all I had as unfortunately, the taste of the papaya and/or tamarind was so subtle I could barely taste it. Probably better in the end for me as I would have eaten it all if it had more of those flavors.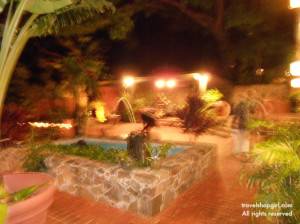 Overall, the Old Stone Farmhouse respects the history of the building and land it occupies while also embracing world flavor and delivering an unexpected dining experience to its patrons. In addition to regular dinner service, the Old Stone Farmhouse also creates wedding receptions among other private party options. This is the kind of restaurant to go to when you feel you've done it all and want to try something different or maybe you are simply looking for a great meal.
Whether you've been to St. Thomas several times or planning your first trip, consider making a reservation to the Old Stone Farmhouse. My recommendation is to to stick to the OSFH Signature Entree from the Chef's Butcher Block as this is what OSFH excels at, so focus in on the meats and seafood and you will definitely enjoy your dining experience in St. Thomas. While you're in the kitchen meeting the chef, do take a moment to sign the wall and if you look carefully, you'll see that Travel Shop Girl signed the wall as well!