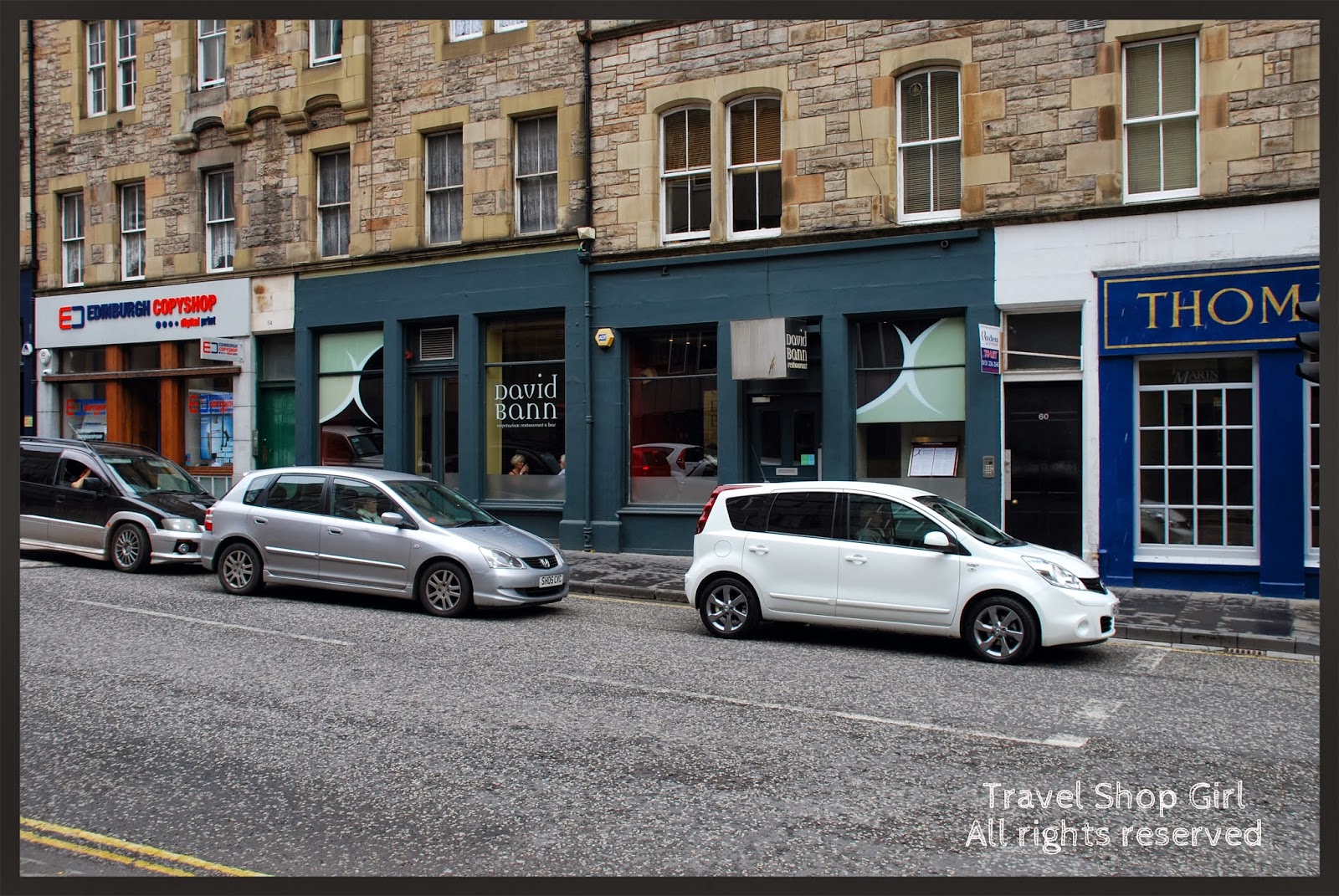 There are so many things that I love about Edinburgh, but one of the best is that finding places to eat for non-meat eaters was relatively easy and plentiful.  During our "Paranormal Underground" tour with Mercat Tours, we walked past David Bann Vegetarian restaurant and knew that we would have to come back for a meal.
Located on St. Mary's Street just off the Royal Mile, this isn't a fast food restaurant, but a comfortable sit down vegetarian restaurant complete with full service and wine, beer, and mixed drinks that serves vegetarian, vegan, and vegan upon request food.  If you like, you can go to their website to see their full menu.  After entering, we only waited a few seconds to be seated.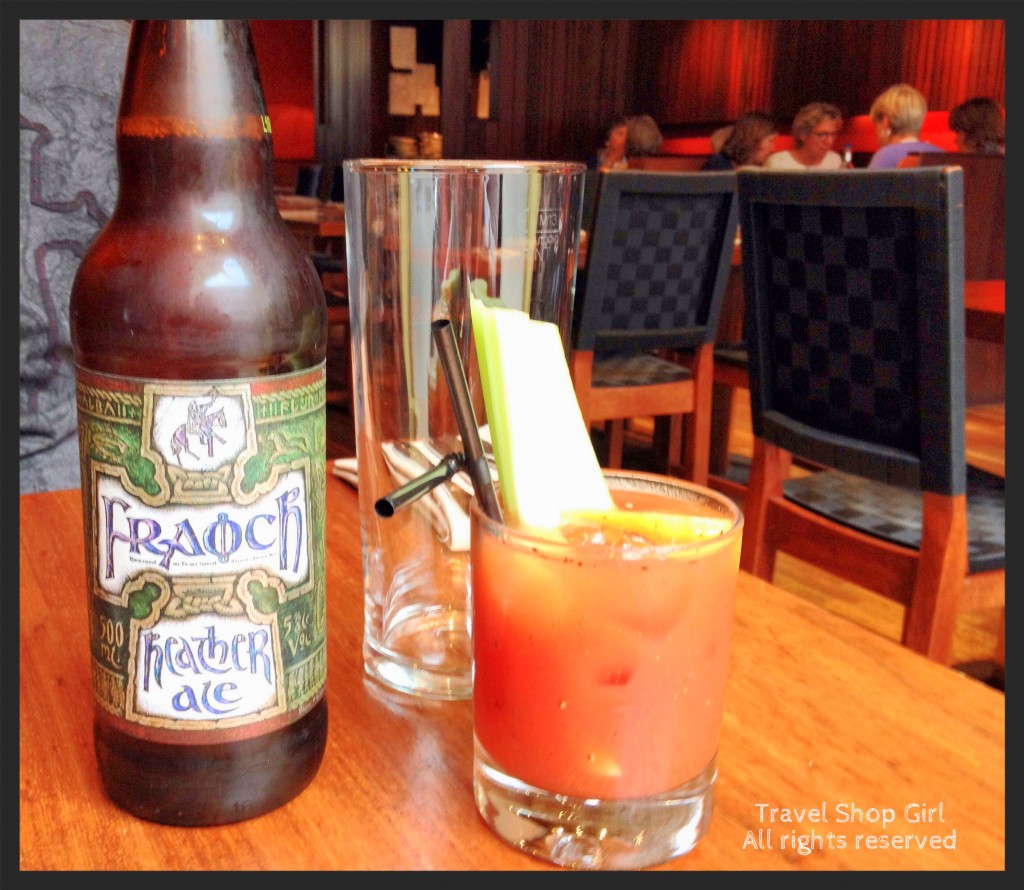 We started off with a few drinks and I decided to try a Bloody Mary (£6.25) while Rich opted for a beer.  My Bloody Mary was served in a rocks glass, unusual for this kind of drink and while it was good, it certainly wasn't great only because of the small amount of beverage offered.  I'm picky only because I love a good Bloody Mary.  Rich's first choice of beverage was the Fraoch Heather Ale. (£3.95) He always aims to try the local beer wherever we travel and this was his first choice.  This beer tasted so different and it had a peaty aroma, from the filtering of water through the peat in Scotland.  It also had a spicy, herbal finish.  This is the kind of beer he definitely wouldn't hesitate to order again.
The interior of the restaurant is modern and well lit.  You can sit at either a table or a booth and they were good about not seating guests right on top of each other while it was still relatively quiet inside.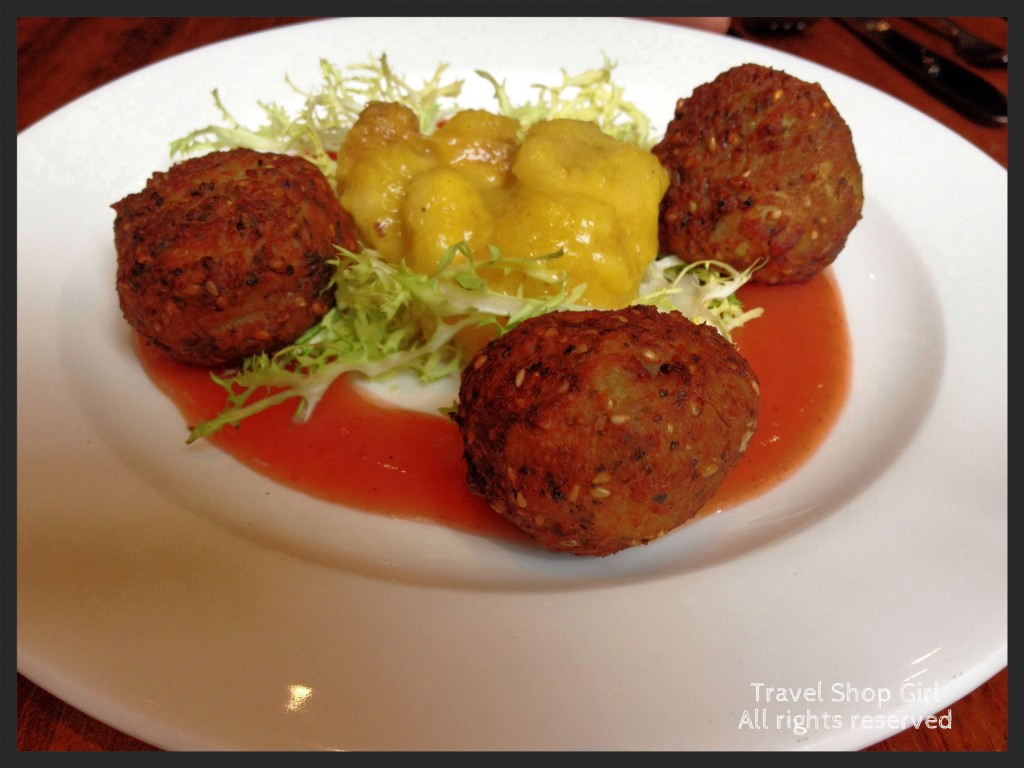 To start our meal, we began with a starter of Thai Fritter of Broccoli and Smoked Tofu: Fritters of home smoked tofu and broccoli with peas, fresh ginger, green chili, lime leaf, lemongrass, sesame and coriander. Served with fresh banana chutney and plum dressing. [Vegan] (£5.75) The description of this appetizer is great, but they just didn't deliver on what they promised.  While good, it wasn't as flavorful as described and the banana chutney was more like mashed bananas. There was also no smoked flavor at all to the dish.
Rich's entree was the mushroom strudel with celeriac sauce and dauphinoise: A loaf of mushroom baked in Heather Ale, Ardrahan smoked cheese and rosemary, wrapped in filo pastry.  Served with potato and celeriac dauphinoise, Mediterranean roast vegetables and celeriac sauce. (£12.95)  Beautifully presented, this carb heavy dish wouldn't have been my first choice, but since he's a runner, I knew he would burn the calories off in no time.  An overall satisfying dish, he loved the mushrooms in  the strudel, which wasn't overly cheesy.  The dish was good, but not great and unfortunately, not memorable, but definitely overpriced.
My entree choice was the aubergine, chick pea and cashew koftas: Spicy koftas of roasted aubergine (eggplant for my American friends), chick pea and toasted cashews in a spicy aromatic coconut courgette (zucchini) and tomato sauce.  Served with coriander rice, pineapple chutney and mint yoghurt raita.  [Vegan] (£11.90) If I see koftas on a menu anywhere, I'm a happy girl.  However, I should know better than to order this from a non-Indian restaurant as while they certainly did try, there seemed to be a theme here.  It was good, not great, and definitely overpriced.  Trying to watch my carb intake, I skipped the rice altogether.
There were only two servers working while we were there, but they seemed to be doing either a lot out back or nothing at all.  The one server was actually sitting at the front reading a paper.  It did take quite a while to get service when we needed another beverage, but Rich was able to grab one of them and order the Kelpie Seaweed Ale.  (£3.95) He ordered it because it was advertised as a "chocolate ale with the aroma of a fresh sea breeze."  It has a dark flavor similar to Guinness, but the sea elements weren't as noticeable as one might have hoped for with this beverage.
If you happen to be a vegetarian or vegan walking along St. Mary's Street and are famished, then do stop in at David Bann Vegetarian restaurant.  Maybe I have been watching far too much Gordon Ramsey and Food Network, but I suspect that Chef Mike, as in microwave, may be hard at work here. Perhaps the food is prepared in advance on large trays and kept warm in back or they are reheating the food in a microwave, but I honestly don't think that anyone is fresh preparing food made to order.  For the price, you could do far better at just about any place in Edinburgh, even if that means ordering a salad or going to Marks & Spencer.  I had really wished this would be a great dining experience but between the mediocre food and less than stellar service, unfortunately it is not a place I would return to or recommend.
David Bann
56-58 St Mary's St, Edinburgh EH1 1SX, United Kingdom
Phone: 0131 556 5888