Crumbs Kitchen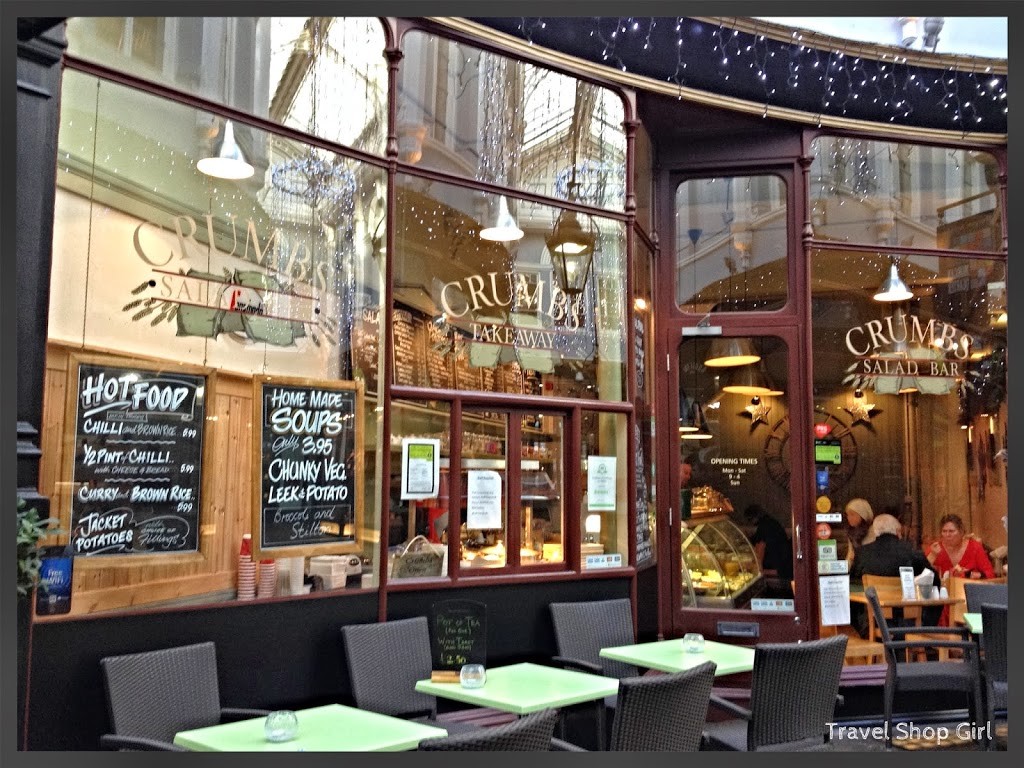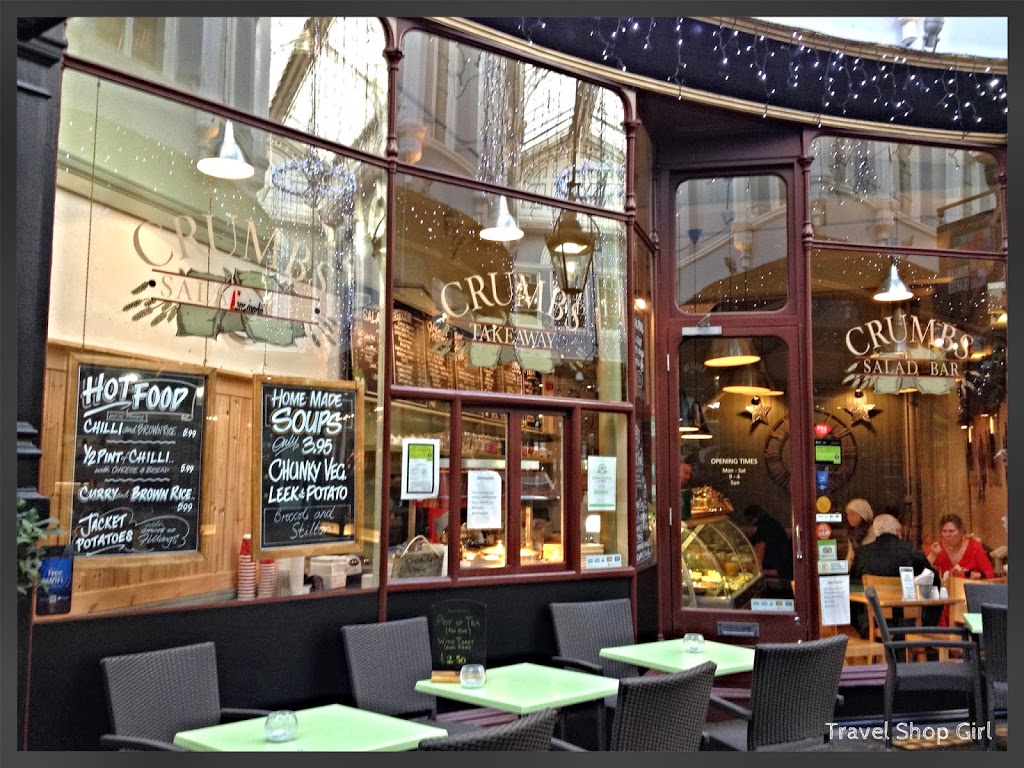 For our annual New Year's Eve trip last month, we were up to the letter "C" and that meant this year we were in Cardiff, Wales.  Always on the lookout for a healthy place to eat during my travels, I heard about Crumbs Kitchen and knew we would have to go there as soon as humanly possibly.  They were the first vegetarian restaurant and Cardiff and although now under management, they proudly maintain that they are still the best vegetarian restaurant in Cardiff.  Located in Morgan Arcade, the restaurant has plenty of seating both outside in front of the restaurant as well as inside on the first and upper floors.   Although the seats are outside, they are still under cover inside the Arcade.  If you're unfamiliar with Morgan Arcade, you might think you're running around in circles, but don't worry — you'll eventually find Crumbs. There are six historic arcades in Cardiff, Morgan Arcade being one of them, and they have worked hard to retain many of their original features.
Upon entering Crumbs Kitchen, you will find yourself right smack in front of the refrigerated case where you'll also find the menu board and someone to take your order.  You can choose from soups, sandwiches, salads, chilli, curries, and of course, my personal favorite, jacket potatoes.  Don't forget to order something to drink, either a hot beverage like coffee or a cold bottle of water or juice.  Once you place your order, you'll pay for your food, grab your cutlery from the red box where the cash register is located, and grab a seat. The decor is simple and it feels like you might be over a friend's house who invited you over to lunch.   Crumbs also offers food for takeaway, which isn't a bad idea during lunchtime when the queue is out the door and there probably won't be any seats inside.
My husband started his meal with a bowl of Cream of Broccoli and Stilton soup.  Admittedly, I don't really like Stilton as I think it is such a strong tasting cheese.  Considering I had hardly been eating dairy at all until the past several months (trying to up protein while traveling since I don't eat meat and not everyone has tofu), it's still kind of weird to be ordering anything with cheese.  But I digress.  The soup was extremely thick, but super tasty.  I even liked it despite it containing Stilton.  The broccoli and Stilton were a perfect match for this soup and the thick grainy bread held up to the soup without issue.  The soup and bread were served on the cutest little cutting board, too.
As this would be our first meal in Cardiff, I didn't hesitate to order my first UK jacket potato.  Several minutes after sitting down, the server brought me my entree.  The plate contained my jacket potato with cheddar cheese and a side salad in a tin plate, the kind I would expect someone's grandmother to have.  It definitely added to the charm of the restaurant although I was surprised at how the employees were less than friendly and don't really interact with patrons.  The food was delivered and we never saw employees again, except when they took other people's orders or maybe wiped a table down.
I suspect my husband ordered his jacket potato with beans and cheese expecting something spectacular. This traditional dish is simply a baked potato with Heinz beans and cheddar cheese – nothing more, nothing less, but altogether quite good.
Our meals were good, but they turned out to be what one might expect of a basic jacket potato.  I was a little concerned when my husband pointed out to me a sound I had somehow ignored throughout our meal.  Yes, it sounded like Chef Mike was in the kitchen preparing our food.  Who's Chef Mike?  The microwave!  This would explain why our jacket potato didn't have a crisp exterior, but was more soft and wet and not at all like a crisp, oven baked potato that I had wanted.
Customer service, or lack of customer service, seems to be the biggest complaint those to Crumbs have, which is really kind of sad.  They have a loyal following, but this could really improve their perception, not only with tourists, but with locals as well. Crumbs Kitchen has a second location in Swansea in addition to the original, which makes the one in Cardiff Crumbs Kitchen Cardiff should you try to find out more information about them online.
Were I to visit Cardiff in the future, I might visit Crumbs Kitchen again, but this time I would order a salad prepared and served in one of their large wooden bowls as this dish is one that people rave about online. You pick and choose what is mixed in and added to your salad, although if you think there's too much cheese on the potato, you should've seen how much was on the salad!   For the price we paid, I definitely wanted more. More variety, better food, and the staff to at least smile on occasion so it didn't feel like I was an intrusion. While Crumbs Kitchen boasts that it's Cardiff's first vegetarian restaurant, there's nothing on the menu that other restaurants, vegetarian and non-vegetarian alike, don't already serve their guests.  The limited and somewhat antiquated menu is great for the non-adventurous who think being a vegetarian means eating no meat and all carbs.  But for a more well rounded diet, vegetarians and vegans need protein and like everyone else, variety.  Restaurants need to not only focus on decor, but on updating a menu that reflects their guests needs and expectations as well as providing service that has them coming back time and time again.
My wish for Crumbs Kitchen is that they will decide to update and modernize their menu to attract more guests while also training their staff to provide better all around service.  I believe these changes could easily ensure Crumbs Kitchen's longevity in Cardiff and with visitors.

Crumbs Kitchen Cardiff
33 Morgan Arcade
Cardiff
CF10 1AF
Website: www.crumbskitchencardiff.co.uk